Playbill streams Broadway's 'Bandstand' by CCM Acting alumnus
Richard Oberacker's Tony Award-winning musical features the work of multiple CCM alumni
Playbill streams the 2017 Broadway musical Bandstand, written by UC College-Conservatory of Music alumnus Richard Oberacker (BFA Acting, '93) and Robert Taylor, through April 17, 2020. The Tony Award-winning musical tells the story of World War II veteran Donny Novitski, who forms a band with fellow veterans and enters a national contest to become America's newest musical sensation.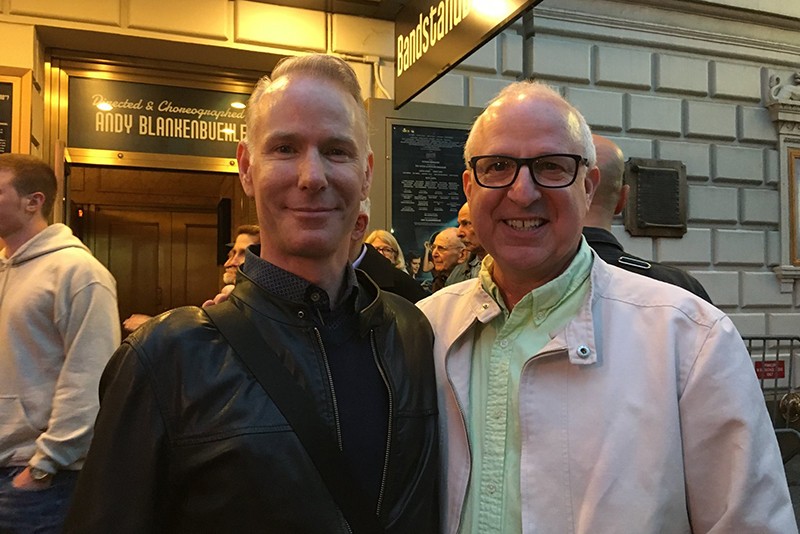 The first Playbill Playback, a new series in which old and recent favorite musicals can be streamed on Playbill.com, Bandstand is available for streaming online through April 17. A portion of the proceeds raised with the stream will go to The Actors Fund.
The Bandstand stream will also feature an interview with co-stars Laura Osnes, Corey Cott and Beth Leavel as well as director-choreographer Andy Blankenbuehler and co-creators Oberacker and Taylor.
In addition to Oberacker, alumni from across CCM are involved in this award-winning musical. Geoff Packard (BFA Musical Theatre, '04) plays Wayne Wright, a trombonist in the veteran band; Max Clayton (BFA Musical Theatre, '14) is in the ensemble; Greg Anthony Rassen (MM Orchestral Conducting, '03) is the co-orchestrator, music supervisor and music arranger; and David Kreppel (BFA Musical Theatre, '92) is the vocal music arranger.
Bandstand was the first theatrical production in history to be certified authentic by Got Your 6, an organization that advocates for authentic portrayal of the military across entertainment.
Featured image at the top: Playbill Playback series graphic. Photo/Playbill.com
1
WVXU: UC study examines hesitancy to treat childhood anxiety...
February 3, 2023
The University of Cincinnati's Jeffrey Strawn and Jeffrey Mills and Cincinnati Children's Hospital Medical Center's Angela Scott joined WVXU's Cincinnati Edition to discuss a recent study examining hesitancy to treat childhood anxiety with medication.
3
WVXU: After decades of efforts, researchers hope they're closer...
February 2, 2023
It has been more than 40 years since five patients in California developed symptoms of a mysterious disease. The virus that causes AIDS was identified a few years later, and a blood test for HIV became available in 1985. In the 1980s and early 1990s, contracting HIV was practically a death sentence. Nothing seemed to stop the virus from attacking a patient's immune system and progressing into AIDS. And while there are now treatments that can render the virus undetectable in a patient's bloodstream, a cure for HIV has been elusive. WVXU's Cincinnati Edition explored the history of AIDS and the latest on treatments, with one of the featured experts being Carl Fichtenbaum, MD, of the Division of Infectious Diseases at the UC College of Medicine.
Debug
Query for this