CCMpower: Empowering students through unique experiences
Molly Getsinger graduates this spring with a Doctor of Musical Arts in Choral Conducting
Molly Getsinger is a rising star in the conducting world, and graduates this spring with a Doctor of Musical Arts in Choral Conducting from UC's College-Conservatory of Music. A musician at an early age, her earliest musical memories are of taking piano lessons and singing in the school choir. When she entered high school, she had the opportunity to conduct her marching band as the drum major, and her passion for conducting was born.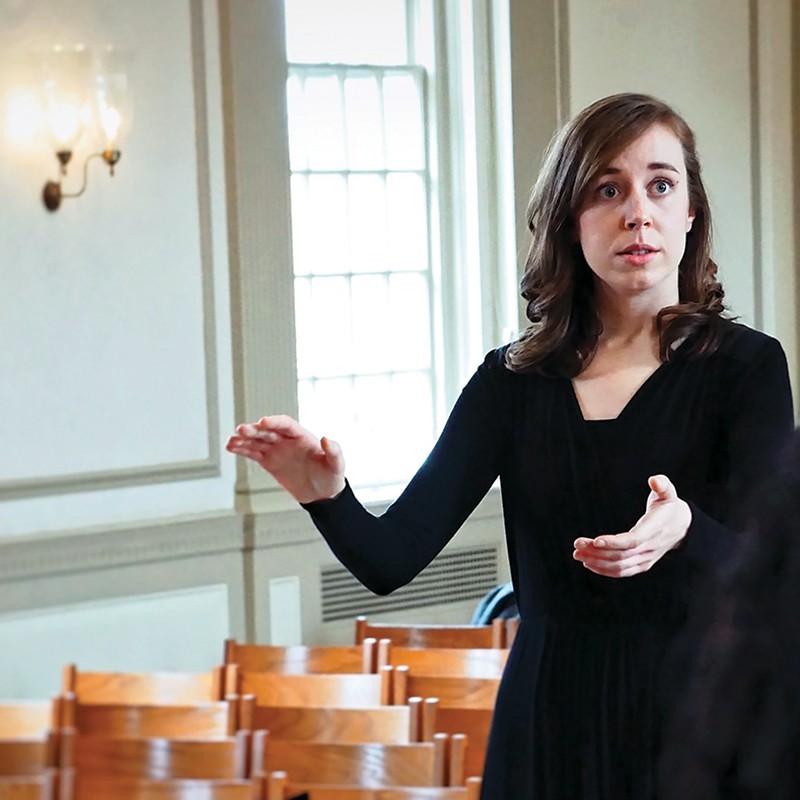 While completing her master's degree in choral conducting at Westminster Choir College, an alumnus of the CCM choral conducting program was her mentor. Joe Miller (MM, '92; DMA, '97) saw Getsinger's incredible potential as a conductor and encouraged her to pursue a doctorate at CCM. After leading Westminster Choir College's choral activities for more than a decade, Miller returns to CCM as the new director of choral studies in fall 2020.
The strong reputation of CCM's choral and conducting programs and the unique opportunity to direct the UC Women's Chorus was "a major draw" for Getsinger. She feels that the network of support that comes with being a CCM student and future alumna is one of the things that sets her education here apart from other schools.
"The network of CCM alumni is vast," Getsinger says. "I continue to meet new people and make new CCM connections at every professional conference I attend. During my time at CCM I have also had the opportunity to teach in both the Choral and Music Education departments, a level of experience which not many other programs are able to provide."
Something else that sets her CCM education apart? The encouragement and ability to explore non-traditional educational experiences that will help Getsinger grow as a conductor and artist. She received funding support from CCMpower to study abroad this past summer. Getsinger traveled to Portugal with Brett Scott, CCM Associate Professor of Ensembles and Conducting, for an immersive choral experience with the students at the Escola Superior de Artes Aplicadas.
Her time there included the opportunity to teach conducting and rehearsal techniques to music education and undergraduate students, as well as receive feedback on her own instruction and conducting from international choral professionals. Getsinger also conducted the Women's Choir of the school in concert and worked closely with two CCM alumni, Goncalo and Paulo Lourenco, who are successful conductors in their own right. Getsinger received partial funding for her trip from CCMpower, without which she would not have been able to participate in the experience.
"This trip provided me with a variety of learning opportunities as a teacher, conductor and student," Getsinger says. "It was a fantastic experience that allowed me to develop personal and professional connections that I will continue to turn to throughout my career."
I believe these kinds of educational experiences are incredibly important and formative for students, and I am immensely grateful to have been given this opportunity!
Molly Getsinger
Who will you empower NEXT?
CCMpower is providing critical emergency resources to students amid the COVID-19 outbreak. Your gift will help provide support to CCM students who are now facing extenuating circumstances related to housing, food and other vital resources. On #GivingTuesdayNow The Carol Ann and Ralph V. Haile, Jr./ U.S. Bank Foundation will match every dollar given to CCMpower, up to $10,000.
Story by Sarah Mizelle Miller
Featured image at the top: Provided by Molly Getsinger