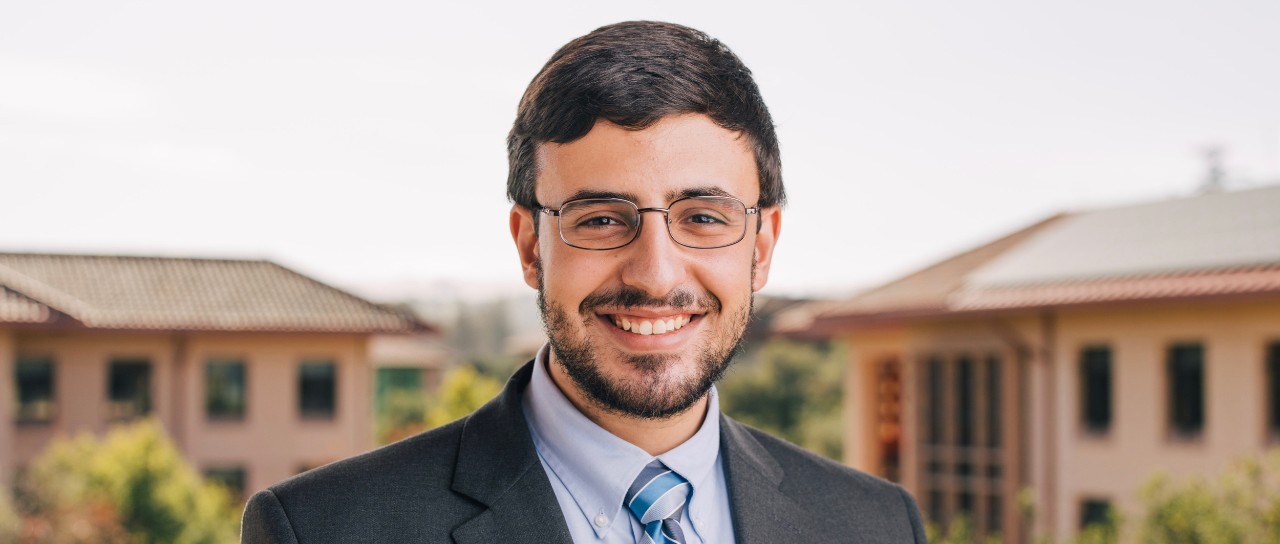 Scholar scores another first for UC
UC grad receives university's first Knight-Hennessy Scholarship to Stanford Medical School
As University of Cincinnati alum Mohamed Elzarka embarks on making an impact on the world's health care inequities, he becomes the first Bearcat to receive the prestigious Knight-Hennessy Scholarship (KHS) award to Stanford University.
Announced by the KHS program May 4, Elzarka joins over 75 other scholars chosen from more than 6,000 applicants and coming from 26 different countries. "He will become part of one of the most esteemed scholars programs in the world," says Jenny Hyest, director of UC's Office of Nationally Competitive Awards.
"The program seeks scholars who can 'outthink, outwork and outcare' others. That perfectly describes Mohamed Elzarka," adds Hyest. His achievement aligns with UC's strive toward academic excellence as part of its Next Lives Here strategic direction.

Launched in 2016, the KHS program is the largest fully endowed scholars program in the world, providing up to three years of full funding for graduate students as they pursue a diverse range of studies including doctoral programs, medicine and law.
According to the KHS program, the scholars in the 2020 cohort hold passports from 26 different countries and earned undergraduate degrees at 16 international and 34 U.S. institutions. As a cohort, they will pursue degrees in 39 programs at Stanford.
Stanford's unique program cultivates a diverse, multidisciplinary community of emerging leaders such as Elzarka, a UC honors student, who got a jump-start on addressing society's complex challenges through his academic achievements and acts of service.
Already making an impact as a "UC first" in 2017, Elzarka was the university's first Truman Scholar. The Truman Foundation's mission is to select and support the next generation of public service leaders with a significant stipend toward graduate studies.
Before graduating with bachelor's degrees in neurobiology and liberal arts, Elzarka developed a strong belief that health care is a basic human right while on his UC Honors study abroad experiences in Guatemala, South Africa and Botswana. All of his community participation and leadership positions have one thing in common: his deep desire to promote global health equity and social justice.
Inspired by his experience interning at a community clinic in an underserved Cincinnati neighborhood, he also conducted research on expanding mental health care access among Spanish-speaking patients in some of Cincinnati's most underserved communities. In addition, Elzarka developed a new mental health curriculum for first-year students and founded the Mental Health Ambassadors — a peer support system for mental health for UC students, helping him garner his Truman Scholarship and UC's Presidential Leadership Medal of Excellence.

As the recipient of a Fulbright scholarship, Elzarka spent a year closely investigating post-conflict trauma, mental health care infrastructure and psychosocial support services in eastern Europe before completing his master's degree in public health last spring.
"The depth of Mohamed's commitment to mental health care access and global health equity can be seen in almost every facet of his local, national and international engagement," says Hyest.
"His contributions as the director of advocacy for the GlobeMed student outreach group, his master's thesis research on mental health challenges in Sarajevo while a Fulbright grantee in Bosnia and Herzegovina and his work as a health policy intern for the U.S. Senate Committee on Health, Education, Labor and Pensions — they all reflect those core commitments."
"My family is very proud of me and I am incredibly grateful to have always had their support," says Elzarka. "From an early age they taught me to care deeply about the world around me and were instrumental in helping me along my journey, so they have always been my best source of support."
As he participates in a collection of community experiences at Stanford as a Knight-Hennessy scholar, Elzarka will also engage in workshops and meetings with leaders, join domestic and global study trips and enjoy a host of personal development opportunities. 
While he is not committing to any specific specialty in medicine just yet, Elzarka says he's not shutting any doors.

"I hear students occasionally change their interests as they explore new opportunities in school, but I know whatever I go into, I'll remain passionate about supporting the equity of health care, especially mental health care for the most underserved communities."
Learn more:
Featured image at top: Mohamed Elzarka on Stanford University's campus during his program visit. Photo/Provided
Impact Lives Here
The University of Cincinnati is leading public urban universities into a new era of innovation and impact. Our faculty, staff and students are saving lives, changing outcomes and bending the future in our city's direction Next Lives Here.

Stay up on all UC's COVID-19 stories, read more #UCtheGood content, or take a UC virtual visit and begin picturing yourself at an institution that inspires incredible stories.