UC's Siemens Simulation Technology Center participates in national conference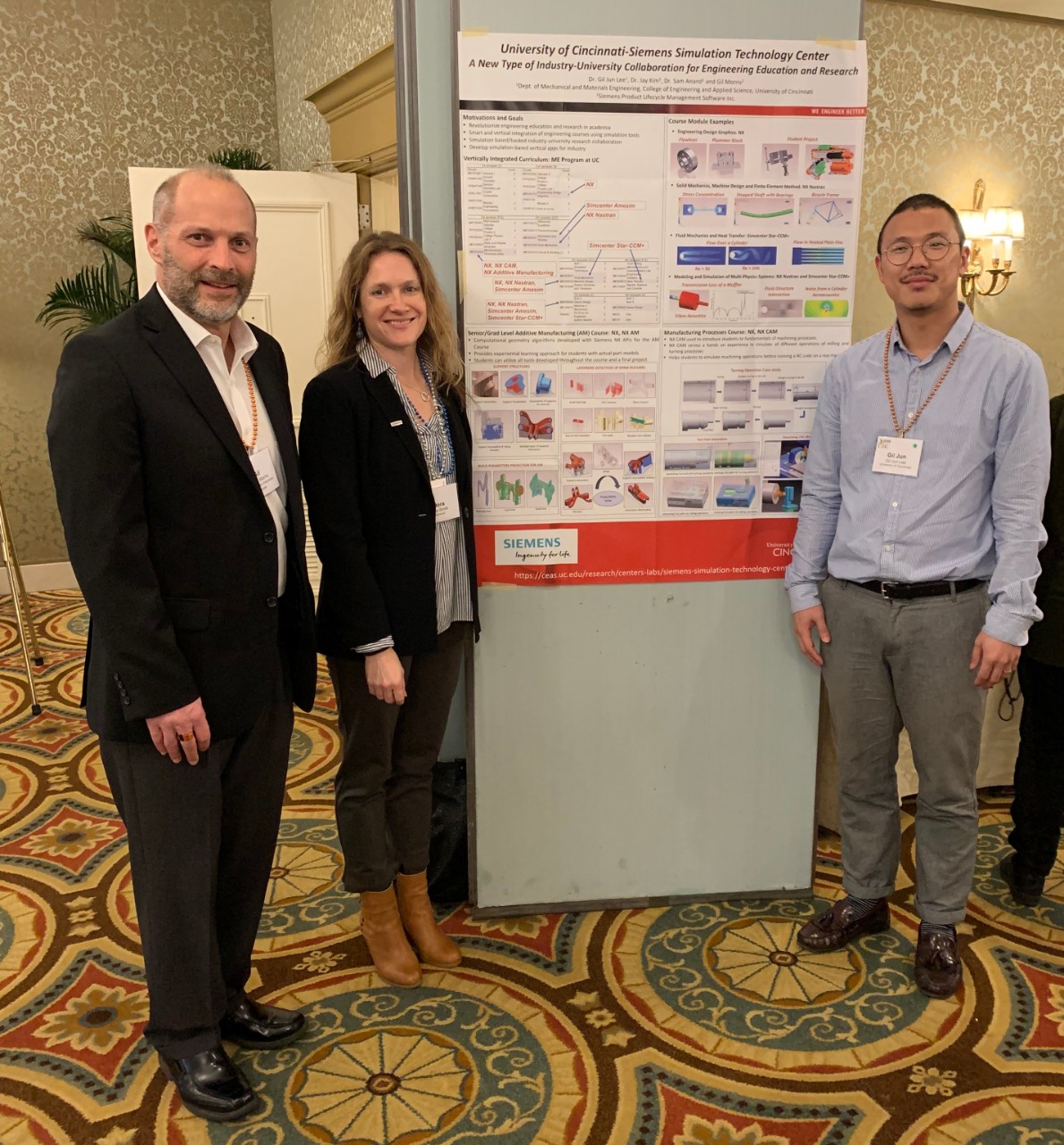 University of Cincinnati visiting assistant professor Gil Jun Lee, Ph.D., attended the American Society of Engineering Education's conference for industry and education in New Orleans.
He was joined by Dora Smith and Gil Morris from Siemens PLM team. This conference was organized by various divisions that work to collaborate academic, industry and government programs and partnerships.
Lee presented the poster of the simulation center at the conference highlighting the role of the simulation center in integrating Siemens PLM software's in Academic curriculum at UC.
The poster detailed how various Siemens PLM software's are integrated into coursework starting from freshmen year till senior year and graduate level courses. Along with course work, Siemens PLM software's are also used for research work and we are also developing apps for additive manufacturing.
This new approach of teaching is helping students get co-ops and connect to the industry where simulation software is used extensively. The new graduate engineers are better prepared to attack real-world problems in industry.

Learn more about the poster and abstract.
1
UC students plan documentary in Eastern Europe during the war 
December 2, 2022
As global media descends on Eastern Europe to cover Russia's war in Ukraine, two University of Cincinnati students are planning to cover the region from a different angle. Hunter Shallcross and Tanmay Srivastava, both digital media collaborative majors in the College of Arts and Sciences, have planned a trip to multiple European countries to film their own documentary, titled "The Edge of Chaos." The trip is scheduled for May of 2023.  The pair became friends through their passion for film, and soon started partnering on projects. Last February, Shallcross and Srivastava became interested in the way culture and art are changing in countries on the edge of Europe due to the war, and decided to develop the idea into a documentary. "Everybody is flocking to Eastern Europe to document what is going on. We want it to show the artistic side," says Shallcross. "The shots, the camera angles, and the narrative we want to tell about relationships and personal issues that go beyond war."  They began pitching their documentary idea to various professors and making any connections they could to bring their idea to life. Last May, they even attended the Cannes Film Festival, to get some first-hand film experience, while networking with people there. 
2
Venture Lab, Center for Entrepreneurship merge to boost...
December 1, 2022
The UC Venture Lab and the UC Center for Entrepreneurship will merge into a single unit. The newly integrated team will be led by Kate Harmon, executive director of the Center for Entrepreneurship and the El and Elaine Bourgraf Director of Entrepreneurship.
Debug
Query for this