Music at home: Women-focused new music ensemble performs online during pandemic
The New Downbeat ensemble features numerous CCM students and alumni
In 2019, UC College-Conservatory of Music student and now alumna Caroline Sackleh (DMA Bassoon Performance, '20) created a music collective that focuses on highlighting the skills of women musicians and performing the works of living composers. With that vision in mind, New Downbeat was born. The ensemble now boasts over 20 performers and six affiliated composers, most of whom are CCM students or alumni.
"I had really wanted to create a group for women musicians for some time, and I finally started asking my friends and colleagues if they would want to do something like this with me," Sackleh says. "Luckily for me, most people said yes, and the group grew to a size well beyond what I was hoping for! Following that came the idea of partnering with composers and having us, as a collective, see the music from conception through to performance."
Not only did the ensemble grow quickly, but within just nine months of its inception, Sackleh raised enough funds to rent the Woodward Theater in Cincinnati's Over-the-Rhine district for New Downbeat's inaugural concert in January 2020. The next big project that Sackleh has in mind for the group is the premiere of a large-scale work commissioned in honor of the 2021 International Women's Day.
While most live performances have been cancelled due to the coronavirus pandemic, New Downbeat fulfills its mission by commissioning and performing short works in at-home concerts, then sharing the videos online as its 2020-21 virtual season. Each of the composers working with New Downbeat were asked to compose three miniature works (usually less than five minutes long) for either solo performers or very small ensembles.
One such work is by current DMA student in composition and New Downbeat member Nicolas Bizub (MM Composition, '18). He wrote "Bright Unrest 1" for solo cello, which was premiered by Sarah Huesman (MM Cello Performance, '20) earlier this month. With his three works for New Downbeat, Bizub is trying to musically capture the deep unease that this time is inspiring in everyone.
"With each work I seek to capture not only the sense of deep unrest imbued in this moment, but also the possibility for truly positive change because of this moment," Bizub says. "In Bright Unrest 1, I sought to capture the mercurial nature of experiencing hope within a dire situation, just like many of us are experiencing during the pandemic."
The creation of new musical works, especially those for a particular soloist, is often a collaborative effort between composer and performer. Bizub says that technologies like Zoom make that collaboration possible despite distance but there's another aspect of his work that Bizub misses more.
"Composing is an interesting cyclic sort of feedback loop — composers write a piece, performers interpret that piece and perform it for an audience, and the audience then gives feedback to both the performer and the composer," he adds. "But because the audience is absent from this feedback loop, I am feeling like I don't really yet know how, not just this piece, but all the other works I've written in quarantine are being received. That leaves me feeling a bit lost."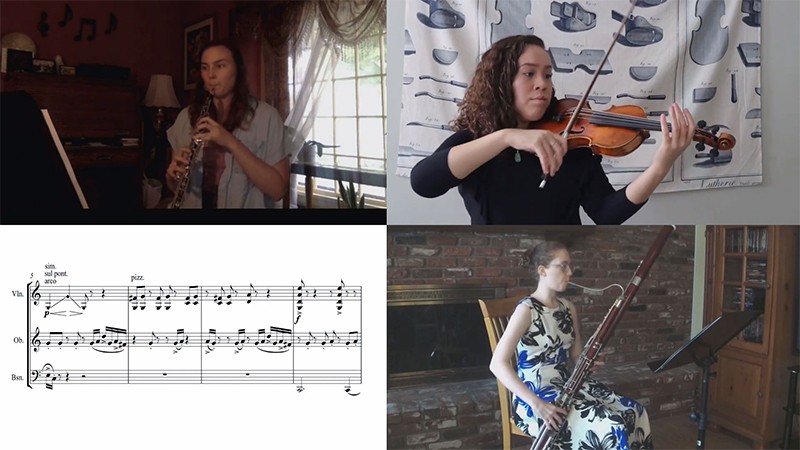 Another recent digital premiere from New Downbeat is "Southern Summers" by Fulbright Scholar Brian Raphael Nabors (DMA Composition, '19; MM Composition, '15). Nabors is also one of six composers who have been co-commissioned to write new orchestral works by New Music USA's Amplifying Voices Program, supported by the Sphinx Venture Fund.  "Southern Summers" was premiered by CSO/CCM Diversity Fellow alumna and violinist Alexis Shambley (MM Violin Performance, '20; BM Violin Performance, '18), oboist Emily Damelio (BM Oboe Performance, '18) and current CCM bassoon student Kathleen Moran in New Downbeat's virtual concert on October 2.
Although digital, at-home performances may not be what dreams are made of for musicians who mostly play for live audiences, composers like Bizub are still grateful for the opportunities that working with an ensemble focused on new music can provide — opportunities that may not be as readily-available with more traditional groups.
"There are so many wonderful voices in the world of contemporary music who are writing right now about experiences happening right now," Bizub says. "Working with a spectacular group of performers dedicated to bringing some of those voices and experiences to a public platform is a total dream."
"I love hearing my friends' works and love hearing my friends perform. That we can continue to do this during a pandemic is incredible, and it has given me so much hope and a sense of community during this isolated time."
New Downbeat is a new music collective in Cincinnati featuring women musicians who work exclusively with living composers. Rooted in intersectional feminism, New Downbeat aims to create a positive platform for women to share their musical talent. We perform new works written by living composers as a means to promote music outside the classical canon and foster a more collaborative relationship between composer and performer. New Downbeat was founded by Caroline Sackleh in February 2019, towards the middle of her doctoral studies. Wanting to provide more performance opportunities for women combined with her desire to work closely with composers on their music, she started the process of working towards her vision. New Downbeat's inaugural concert took place in November 2019, and the group only continues to flourish. Currently, New Downbeat has 20 musicians, six composers in residence, and one audio/visual technician. 
Feature image at the top: The musicians of New Downbeat collective.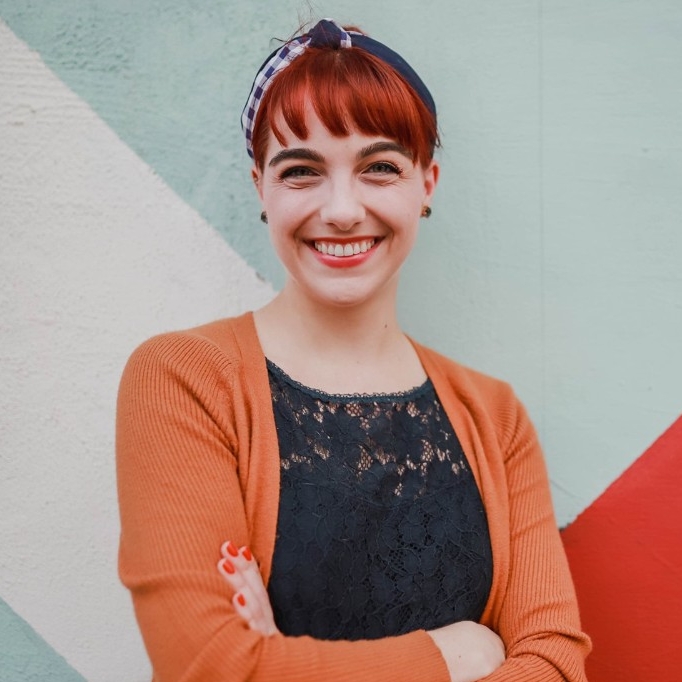 Alexandra Doyle
CCM Graduate Assistant , Marketing + Communications
Alexandra Doyle is a doctoral candidate studying clarinet performance at CCM. Alexandra's master's degree is also from CCM, and she holds bachelor's degrees in clarinet performance and journalism from the University of Houston.
1
Cincinnati Opera and CCM announce details of next Opera Fusion:...
March 24, 2023
Cincinnati Opera and the University of Cincinnati College-Conservatory of Music (CCM) are pleased to announce the next events in their joint program, Opera Fusion: New Works. The two new operas—Robeson by Scott Davenport Richards and David Cote and The Righteous by Gregory Spears and Tracy K. Smith—will receive workshops this April and May, and the public is invited to attend a sneak peek.
Debug
Query for this