Cincinnati Business Courier: CCM uses innovation to adapt
A spotlight on how the college is teaching, learning and performing during the pandemic
Faced with the unique challenges presented by the COVID pandemic, UC's College-Conservatory of Music brought its performing arts programs into even closer collaboration with its media arts programs to give students and faculty new ways to create and share their work with a global audience.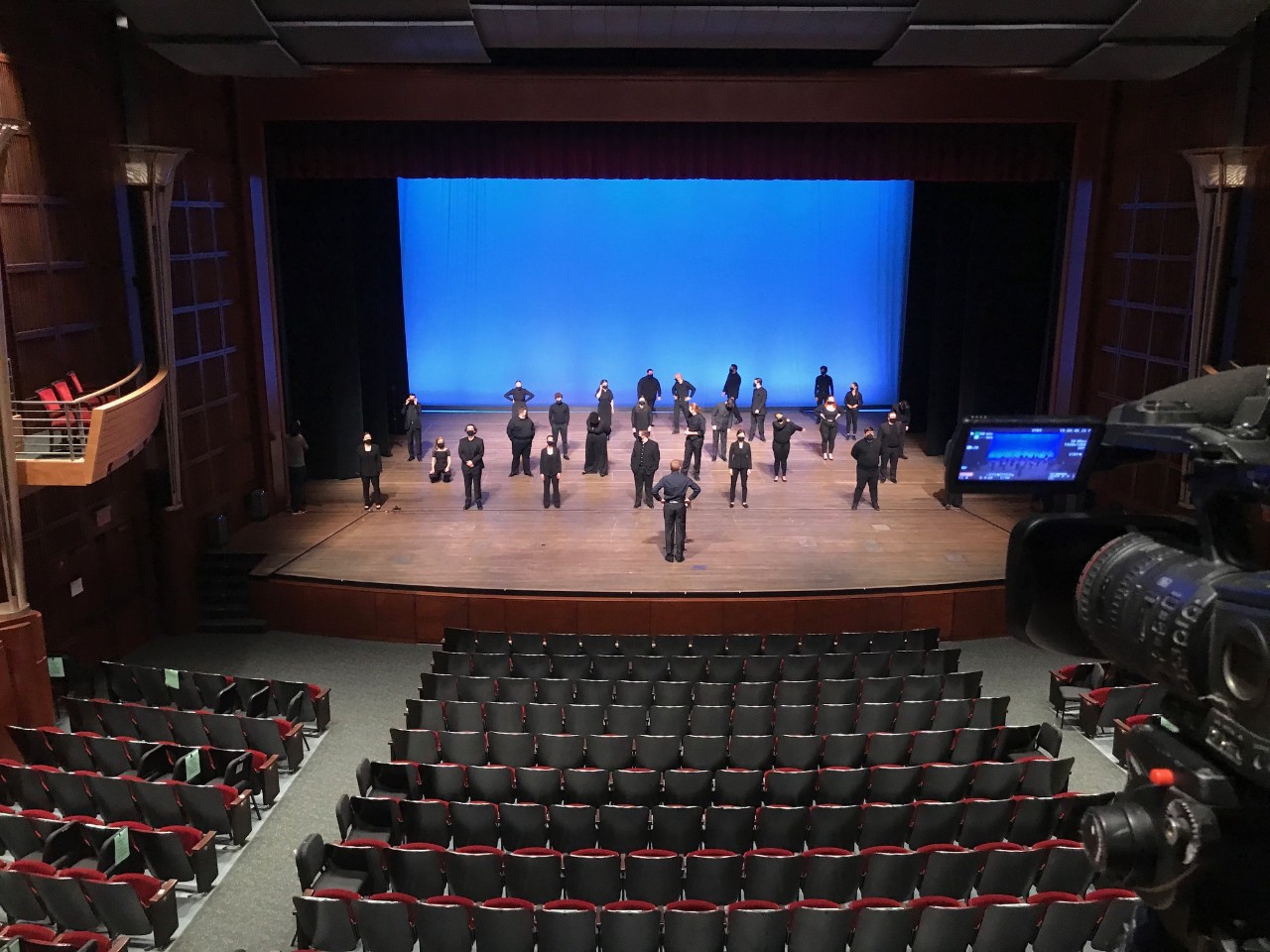 The Cincinnati Business Courier recently spotlighted CCM's digital initiatives, including online performances and virtual learning. Read the full story.
Writer Janelle Gelfand spoke to CCM Piano Professors Soyeon Kate Lee and Ran Dank about the upcoming COVID Etude Project, which streams three separate performances on CCM's website, YouTube Channel and Facebook page on March 26-28. The streams feature 34 CCM Piano students performing Debussy's "Twelve Études," Liszt's "Transcendental Études" and William Bolcom's "Twelve New Etudes." 
The Business Courier also spotlighted the March 19 stream of "Together/Apart," featuring the CCM Chamber Choir and the March 20 stream of "Travelogue," featuring the CCM Ballet Ensemble. Both streams were presented as part of the college's free CCMONSTAGE Online digital performance series, and featured cutting-edge artistry and projections by students and faculty from CCM's Theatre Design and Production programs. Video production services for CCMONSTAGE Online are provided by MasseyGreenAVP, LLC.
"The arts can help people cope with things beyond our frame of reference," CCM Dance Chair Shauna Steele told the Business Courier. "Having it declared nonessential was, to us, an incomprehensible moment. I think it has made them stronger to realize that sometimes they have to work harder for what people need, to be seen by people who need it, but also so they realize that what they do has value."
The story also spotlighted the work of CCM Media Production students, faculty and alumni. Formerly known as Electronic Media, the Division recently updated its name and curriculum to prepare digital content creators with 21st century skills. The Division's new initiatives include a Sports Media Production program, a collaboration with CCM Acting in the CCM Film Lab, the CCM Idea Lab collaboration with students and faculty from the college's theatre arts programs, and more. Additionally, CCM alumni Brian J. Leitten (BFA E-Media, 01) and Dylan Mulvaney (BFA Musical Theatre, '19) are creating a podcast series, titled "School, Stage & Screen," that spotlights various CCM alumni who are working throughout the performing arts and entertainment industries; the first episode will be released on April 5, 2021. Read more about CCM Media Production.