CCM Media Production launches new curriculum for 21st-century digital storytellers
Program updates focus on exciting new opportunities for students to prepare them for future success
The University of Cincinnati College-Conservatory of Music unveils a new Media Production curriculum that prepares digital content creators for careers in filmmaking and television production, broadcast news, audio production, sports media production, website design, podcasting and more.
Formerly known as Electronic Media, CCM's new Media Production Division emphasizes hands-on, experiential learning that is student-centered, professionally relevant and focused on creative development. CCM's BFA program in Media Production provides students with the skills necessary to tell stories and produce impactful media content in filmmaking and digital cinema, television production, broadcast news, interactive and new media, social media, audio production and sports media.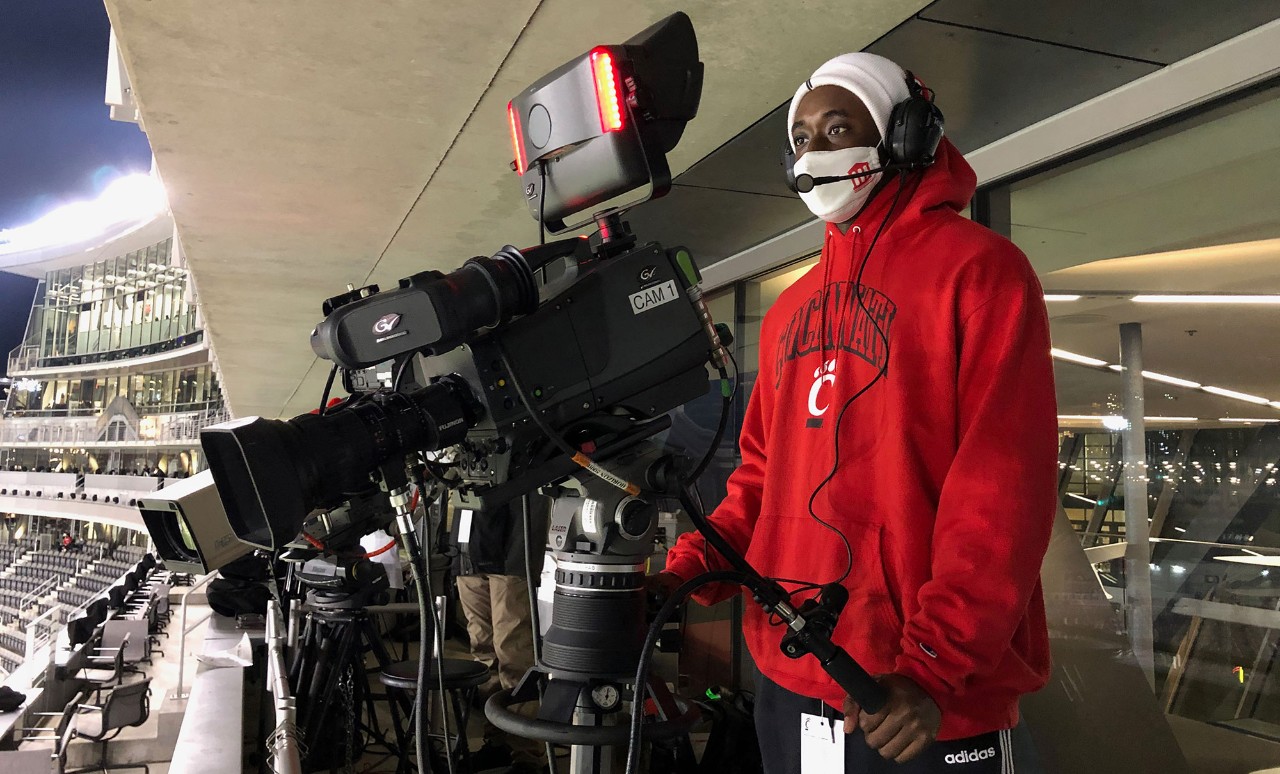 "The Division's new name and new curriculum reflect our emphasis on media content creation and the theory, aesthetics and technology that support it," says Media Production Division Head Kevin Burke. "We are very excited about our new experiential learning initiative in sports media productions of UC Athletic events for distribution on ESPN+, and our interdisciplinary collaborations like the CCM Film Lab and CCM Idea Lab demonstrate how the media arts and performing arts can connect here at CCM."
Following strict health and safety measures, CCM's Media Production Division safely produced 32 collaborative productions during fall semester 2020. As the largest undergraduate program at CCM, Media Production students are uniquely positioned within a creative culture that fosters collaborations with actors, musicians, dancers, set designers and other performing artists as they develop their digital storytelling skills.
"Everything is designed to enhance the digital portfolio of our students, a critical component in the search for internships and jobs once they graduate."
Kevin Burke, Division Head of CCM Media Production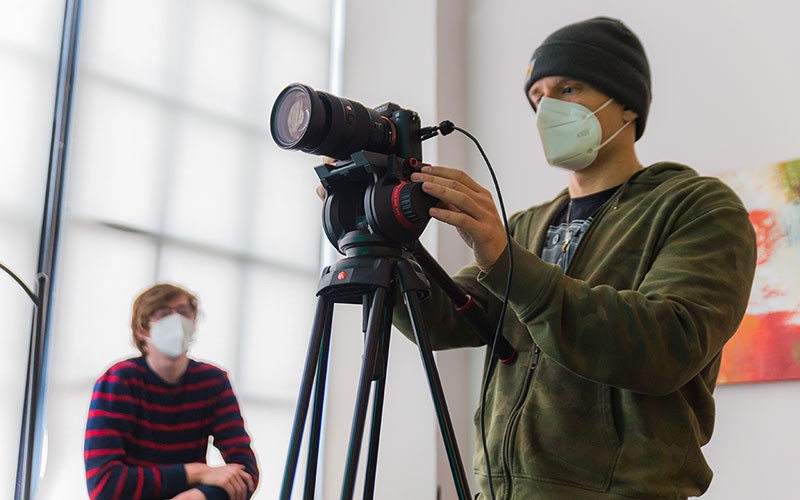 Media Production students collaborate with Acting students in the new CCM Film Lab, where students and faculty from both programs work to emphasize directing and acting for the screen, providing students with a clear focus on the filmmaking process as they cultivate their futures in the rapidly changing film and television industry. The work produced by the CCM Film Lab will be entered into award competitions and film festivals, where students can meet with industry professionals and potential distributors. The short films also help strengthen student portfolios to enhance post-graduate career opportunities.
Cross-disciplinary collaboration is also key for the new CCM Idea Lab, which brings together the technical and artistic expertise of faculty and students in Media Production, Musical Theatre, Acting, Dance, Voice and Theatre Design and Production. This innovative lab creates new media that fuses a variety of new technologies like 360-degree cameras, live motion tracking and projections with creative performances. The CCM Idea Lab has released five projects that are available to watch on CCM's YouTube Channel.
"We shot these short pieces during the pandemic, which I feel brought out the best in everyone involved," says Emmy Award-winning Media Production Professor Donald Hancock. "We all knew the limitations and challenges brought on, but as artists we all wanted to express ourselves in a creative environment. That made this collaboration one of the best experiences in my career."
Media Production's new Sports Media program is partnered with UC Athletics to produce content for the subscription-based streaming service ESPN+. By integrating this initiative into its curriculum, CCM Media Production creates valuable learning opportunities for students in the ever-expanding field of sports media production. This curriculum overlaps with other areas in the Media Production Division, such as documentary production, on-camera talent development, cinematography, editing, audio, producing and directing. Students have worked on live broadcasts of UC Football, Basketball and Volleyball events. The opportunity for students to produce content that is delivered via ESPN+ will boost resumes and the quality of their digital portfolios.
"This class is very hands-on, so what the students are experiencing is very close to what they would be experiencing if it were a professional production," says Emmy Award-winning Professor Joe Brackman, who leads the new Sports Media classes as part of CCM Media Production.
The Media Production Division also provides students with opportunities to explore popular digital storytelling techniques in virtual reality and podcasting. Professor Hagit Limor's Hope After Hate project took a team of students and professionals to Poland and Germany to retrace her father's journey during the Holocaust. The project tells her father's story of struggle and survival in an immersive play and virtual reality module. The immersive play was staged and shot at CCM in fall 2020 and the virtual reality module will be completed in spring 2021. Limor won three Emmy Awards for her Hope After Hate documentary that previously aired on WCPO-TV.
In response to its popularity and the rise of on-demand media consumption, podcasting was also added to the new Media Production curriculum. Students in this area analyze the aesthetics of podcasting and enhance their skills in audio production by completing short assignments that lead to the creation of a pilot podcast episode.
Although the new Media Production Division boasts a number of innovative curriculum changes, students will still have access to popular offerings that began under the previous E-Media program:
Munich Summer Curriculum at the Center for Internet Research and Media Integration of Ludwig Maximilians University, which features a four-week internship at a German media company
Production Master Class, an experiential learning initiative that fuses the expertise of faculty members and professional filmmakers, including alumnus Brian J. Leitten (BFA E-Media, '01), who work with students to produce professional film and television programs. The documentary films produced by the PMC have screened at more than two dozen film festivals on five continents, and have been picked up for national and international television network distribution.
Bearcast Media, an entirely student-run multimedia outlet supported by the Division of Media Production in CCM's state-of-the-art radio and production facilities.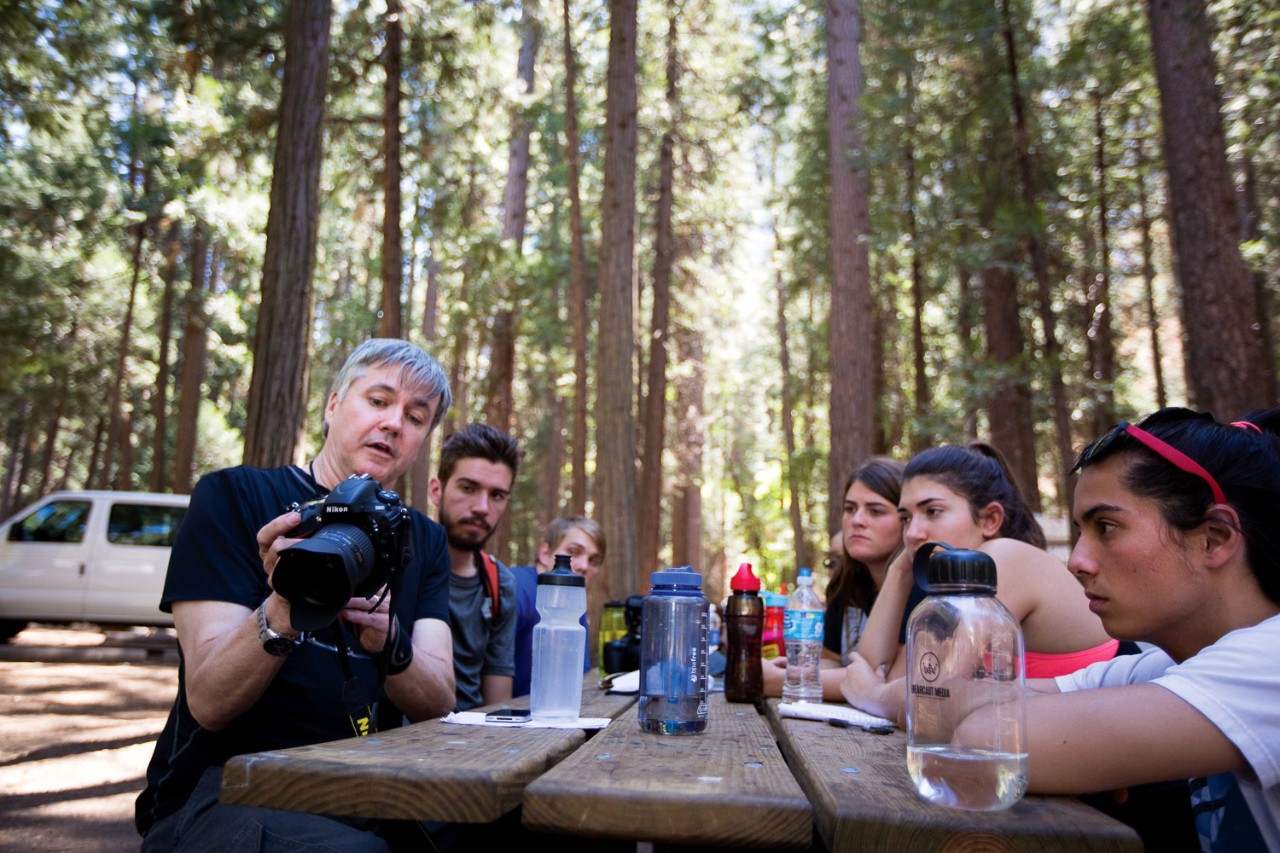 CCM's Media Production Division is student centered with small class sizes and an innovative, flexible curriculum that reflects the dynamics of industry demands and student needs. In addition to classwork, students are connected with professional internships that are integrated into the curriculum. The Division's dedicated, full-time faculty has extensive professional media backgrounds, and teach classes grounded in hands-on learning to provide exposure to professional tools and methodologies. Located in CCM's Mary Emery Hall, Media Production features an array of state-of-the-art facilities that include:

The Walter and Marilyn Bartlett Television Production Center, consisting of a full multi-camera television studio and control room
The J. Ralph Corbett Audio Production Center with audio recording studio
The Jack and Joan Strader Radio Center, home to Bearcast Media
The Avid Media Composer/Adobe Creative Suite 4K Postproduction Lab
The Judy and Jim Van Cleave Multimedia Laboratory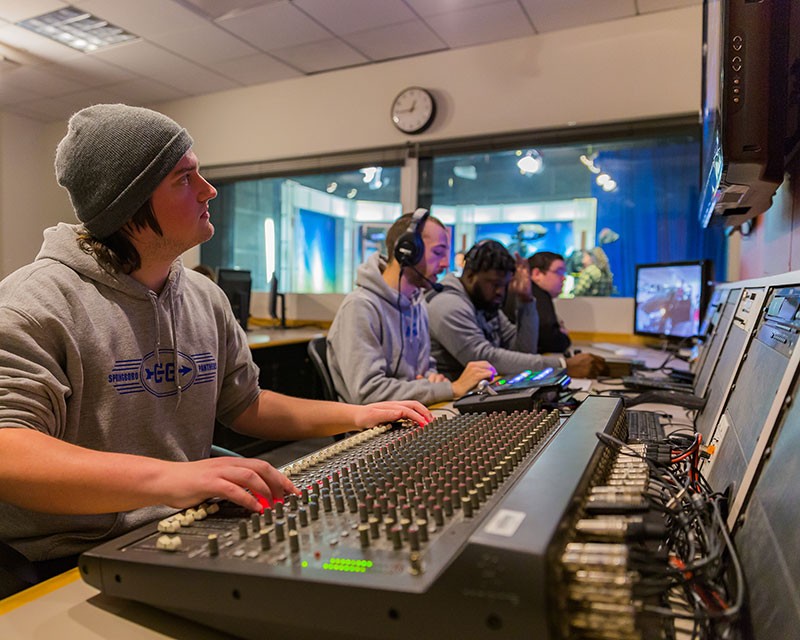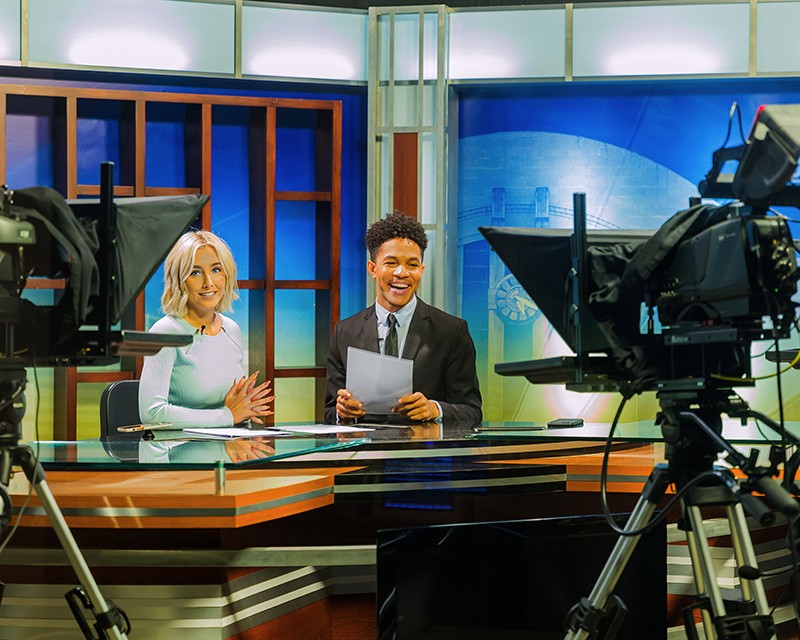 Graduates from the Media Production Division are prepared for careers in film and television production, broadcast news, audio engineering, sports media, social media, video games, website design, media promotions and management and more. Alumni are working at the highest levels of the media and entertainment industry throughout the world. Media Production's extensive network of dedicated alumni provide current students with career advice, internships and often job opportunities in Los Angeles, New York, Atlanta, Nashville, Chicago and Cincinnati.
My love of Cincinnati has continued to grow since my time at CCM. The college set me up for success and allowed me to get an amazing job at MTV immediately after graduation. Ten years later, becoming an adjunct professor in the Media Production division gave me the satisfaction of influencing and educating a new generation of storytellers.
Alumnus Brian J. Leitten
CCM maintains close relationships with alumni in master classes, guest lectures and collaborative projects, including two new multimedia initiatives designed to keep people connected during the pandemic. Alumni Brian J. Leitten (BFA E-Media, 01) and Dylan Mulvaney (BFA Musical Theatre, '19) are creating a podcast series, titled "School, Stage & Screen," that spotlights various CCM alumni who are working throughout the performing arts and entertainment industries; episodes will be released later this spring. Additionally, video production services for the CCMONSTAGE Online digital performance series are provided by MasseyGreenAVP, LLC, directed by John Massey (BFA E-Media, '03) and featuring the work of fellow alumni and industry professionals. Learn more about the next CCMONSTAGE Online concert stream.
"CCM Media Production's curriculum updates are the results of a collective vision that is future-focused and fixated on the many new and exciting opportunities that await our graduates," Burke says. "Everything is designed to enhance the digital portfolio of our students, a critical component in the search for internships and jobs once they graduate."
1
WVXU: Health benefits and risks to recreational marijuana
December 1, 2023
The University of Cincinnati's LaTrice Montgomery joined WVXU's Cincinnati Edition to discuss the potential health benefits and harms associated with expanded cannabis access after Ohio voters approved legalizing recreational marijuana in the November election.
2
CCM Dance presents 'An American in Paris + Other Works' on Nov....
November 28, 2023
CCM Dance proudly presents An American in Paris + Other Works, a lively program featuring repertoire ranging from classical ballet to modern dance. The centerpiece of the program is An American in Paris, a one-act ballet set to George Gershwin's iconic music, choreographed by guest artist Peter Davison.
Debug
Query for this