Improving head and neck cancer treatment
UC trial studies effectiveness of combination treatment of precision radiation and immunotherapy
When the medical community finds a treatment for a particular cancer, the work doesn't stop. Researchers continue to study how treatments can be improved in order to reduce side effects and the possibility of the cancer recurring.
University of Cincinnati researchers are leading a new clinical trial to examine if the combination of a more localized radiation treatment and immunotherapy can be a better treatment for patients with recurrent head and neck cancer.
Chad Zender, MD, said head and neck cancers include cancers of the tongue, throat, tonsil and larynx, and about 30%-50% of patients treated through surgery and radiation will have their cancer return. Patients often then undergo additional surgery and/or radiation treatments, which can lead to side effects like problems with speech and swallowing.
"The quality of life is significantly less in the patients that require [subsequent] surgery and then radiation with or without chemo," said Zender, professor in the Department of Otolaryngology in UC's College of Medicine, director of head and neck surgery and principal investigator for the new trial.
Zender said the trial will test a more localized radiation delivery method through a radioactive seed, about the size of a grain of rice that emits an intense amount of radiation to the cancer and only minimal radiation outside to other areas. The radioactive Cesium-131 seeds are implanted directly into the operative site during surgery. This approach in early studies appears to give more localized radiation to high risk surgical areas with less damage to healthy surrounding tissue than traditional external beam radiation.
"What kind of walked me down this was seeing how miserable many of these patients were, even the survivors in terms of a quality-of-life standpoint after [subsequent] surgery and radiation, and really being able to offer something potentially equally effective but with less side effects," Zender said.
In addition to being more localized and reducing side effects, the surgically implanted radiation Cesium-131 seeds will eliminate the need for daily visits to the clinic for radiation treatment and potentially offer patients faster recovery times. 
"This is an exciting opportunity to get patients on a therapy that looks promising based on our preliminary data," Zender said.

Past studies have shown the radiation may also enhance the effectiveness of immunotherapy treatments, so patients enrolled in the trial will also be treated with an immunotherapy drug that has been shown to be effective in head and neck cancers. Immunotherapy helps boost and train the body's own immune system to identify and kill cancer cells.
"The goal is to look at disease-free survival as a primary measure," Zender said. "So we want to see how many folks go on to live and for how long without any sign of cancer coming back. Overall survival and side effect profiles will be secondary outcomes that we'll look at as well."
Zender said three patients will be enrolled in the Phase 1 trial to evaluate the safety of the combination of the treatments. If the treatment plan is found safe and effective, a Phase 2 study would look to expand the trial to an additional 50 patients. Additional trial sites are being opened at Thomas Jefferson University and Case Western Reserve University, with the hope that about one to two patients will be enrolled each month and the trial will be completed in about two years.
Head and neck cancer risk factors
According to the National Cancer Institute, head and neck cancers account for nearly 4% of all cancers diagnosed in the United States, with approximately 68,000 Americans diagnosed in 2021. 
Zender said the most common risk factors for head and neck cancers are tobacco and alcohol use, but in the last 15 years there has been a "tremendous increase" in tonsil and tongue base (throat) cancers caused by HPV.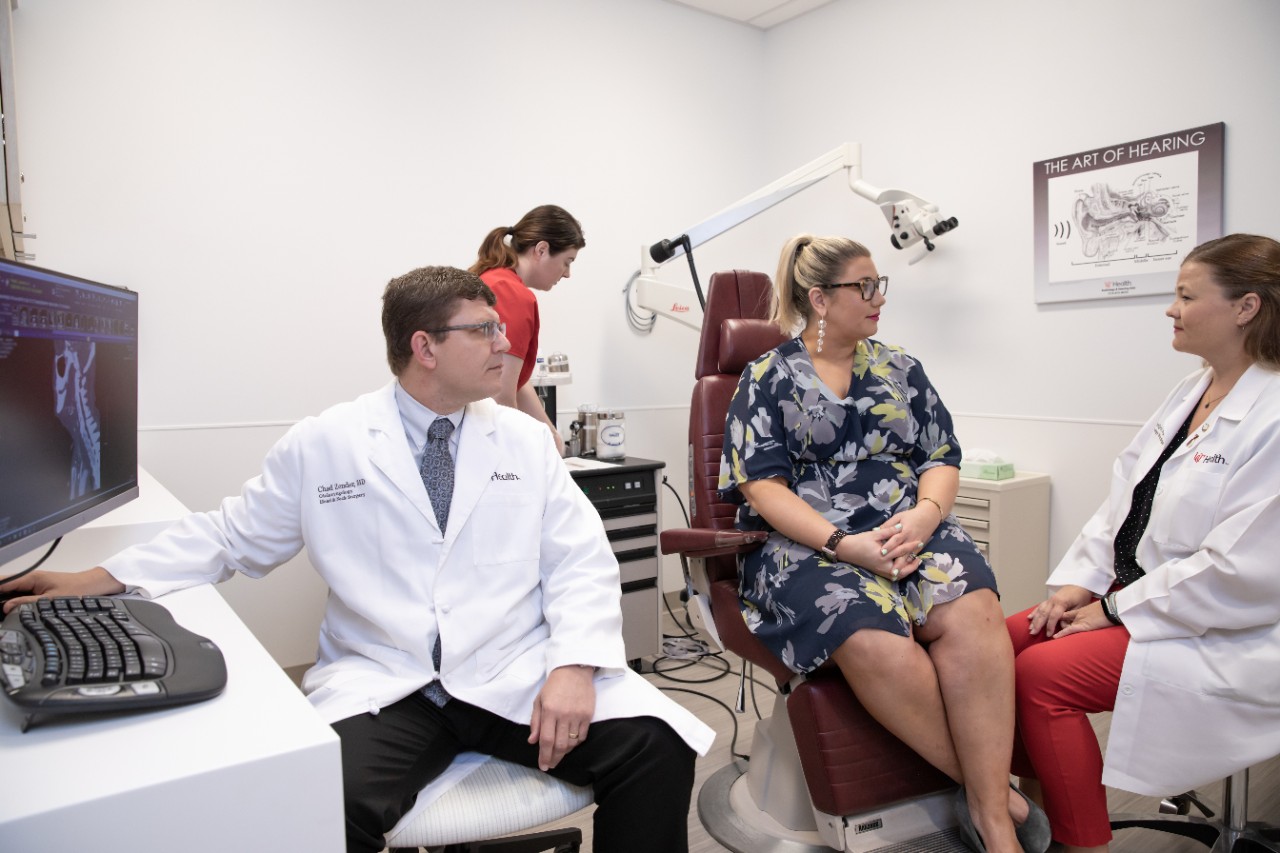 "Most rates are decreasing because of tobacco and alcohol cessation, but HPV-associated head and neck cancer is actually increasing at a rate faster than and has exceeded HPV-associated cervical cancer," Zender said. 
Patients with HPV-associated head and neck cancers are typically diagnosed in their 40s and 50s and have a survival rate of about 85%, and those with head and neck cancers from traditional causes of tobacco and alcohol tend to be diagnosed in their 60s and 70s with a 50-55% overall survival rate, Zender said.
Zender noted the treatment offered in the trial will not be appropriate for all patients with recurrent head and neck cancer, but he encouraged those who think they may qualify to seek more information and evaluation. For more information on the trial and eligibility, call 513-584-7698 or email cancer@uchealth.com.
Featured photo at top of Dr. Zender courtesy of UC Health. Note: Photo taken before COVID-19 pandemic and requirement for providers to wear masks in facilities.
Impact Lives Here
The University of Cincinnati is leading public urban universities into a new era of innovation and impact. Our faculty, staff and students are saving lives, changing outcomes and bending the future in our city's direction. Next Lives Here.
1
WVXU: Health benefits and risks to recreational marijuana
December 1, 2023
The University of Cincinnati's LaTrice Montgomery joined WVXU's Cincinnati Edition to discuss the potential health benefits and harms associated with expanded cannabis access after Ohio voters approved legalizing recreational marijuana in the November election.
2
Local 12: New research could help treat cocaine use disorder by...
December 1, 2023
New research out of the University of Cincinnati takes a different approach to cocaine addiction. Local 12 produced a story on the study, interviewing lead researcher Andrew Norman, PhD, of the Department of Pharmacology and Systems Physiology at the UC College of Medicine.
3
UC Learning Lab inspires College of Medicine to SIT
November 29, 2023
In a convergence of academic integration, the University of Cincinnati's renowned colleges — Design, Architecture, Art, and Planning, Lindner College of Business, College of Engineering and Applied Sciences and College of Medicine — recently joined forces at the 1819 Innovation Hub for an ideation session that exemplifies the institution's commitment to interdisciplinary collaboration.
Debug
Query for this