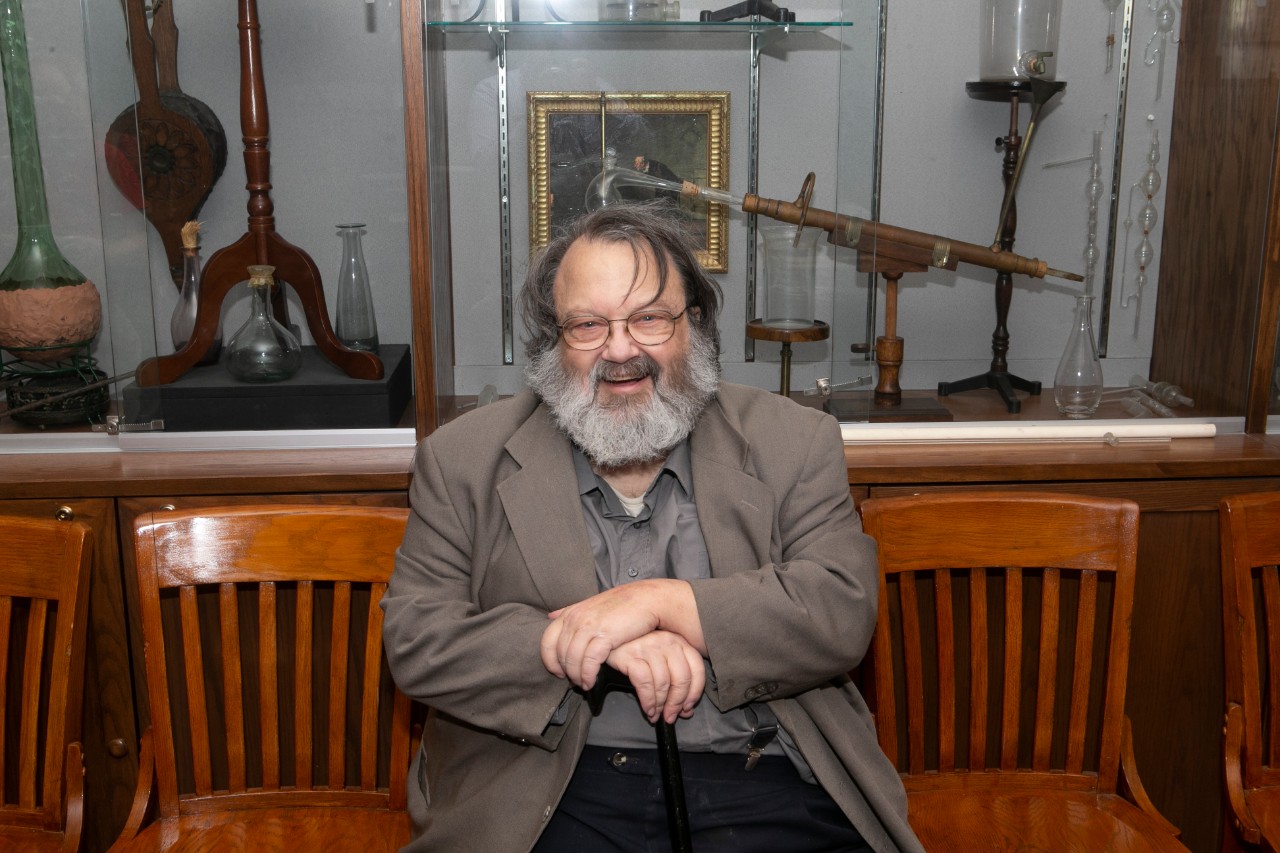 UC museum named national chemistry landmark
American Chemical Society recognizes UC's Oesper Collections documenting centuries of science
The American Chemical Society this week named the University of Cincinnati's chemistry museum a national historic chemical landmark.
The nonprofit scientific organization recognized UC's Oesper Collections, which document and preserve centuries of chemistry history through rare books and journals, scientific artifacts and photos and an exhibit depicting a 1900s era laboratory.
"The collections bear testimony to our field's rich heritage and its central importance to society. They show how chemistry has touched everyday life for centuries," American Chemical Society President Angela Wilson said.
"I believe there is no science that can have a greater impact on human life than chemistry — on health, food, energy, the environment and so much more. The Oesper Collections remind us that embracing the past is important to understanding the future."
The Oesper Collections are national treasures — a crown jewel for the University of Cincinnati.
Xuemao Wang, UC Dean of Libraries
UC celebrated the recognition during a ceremony this week at Rieveschl Hall, where a bronze plaque will adorn the museum entrance.
"The Oesper Collections are national treasures — a crown jewel for the University of Cincinnati," UC Dean of Libraries Xuemao Wang said.
The collection is named for longtime UC chemistry professor Ralph Oesper (1886-1977) who began to curate UC's collection of rare chemistry books and journals from around the world. The Cincinnati native earned bachelor's, master's and doctoral degrees in chemistry from UC and taught chemistry at UC from 1918 until his retirement in 1951.

Oesper left endowments to UC supporting scholarship in chemistry and donated historically significant books, journals, prints and photos.
UC professor emeritus William Jensen said Oesper published more than 300 papers in colloid chemistry, analytical chemistry and the history of chemistry, nearly half of which were translations of French or German. He also authored 12 books.
"He would live to be 91 years old. And he would remain active during the 26 years of his retirement, returning every year to the department to give a seminar on the history of chemistry," Jensen said.
Jensen assumed the role of museum curator in 1986. He endeavored to expand the collection over the years, procuring rare chemistry texts and donations of unusual equipment from chemistry departments at universities far and wide.
"Initially," Jensen said, "this was done by ransacking all the laboratories on campus for relevant antiques."
During speaking engagements at universities across the country, Jensen sought access to laboratory storage areas and persuaded them to donate equipment that otherwise could have been lost to history.
UC is one of the few universities in the United States with its own dedicated museum to chemistry. As word of the collection spread in chemistry circles, Jensen said he would receive regular donations of equipment and significant memorabilia.

"I received a package one day containing a beat-up 1940-circa Parker pen box," Jensen said. "Inside was a broken piece of chalk and a small card which said in spidery handwriting: piece of chalk used by Albert Einstein at a talk at Princeton in 1948."
Is it authentic? Maybe, Jensen said.
"I suspect there are as many pieces of chalk used by Einstein as there are slivers of the true cross," he joked.
But the museum is a love letter to chemistry, with autographed photos of scientists such as Marie Curie, a framed letter from former U.S. President Herbert Hoover and chemistry and alchemy books dating back to the time of William Shakespeare — all presided over by a bust of the father of modern chemistry, Antoine Lavoisier.
"The most obvious thing to do with the endowment was to continue to expand the collections," Jensen said. "This was done with the wonderful collaboration of UC Libraries. Today, we have one of the biggest collections in the United States of historic books, journals and images dealing with the history of chemistry."
Featured image at top: UC professor emeritus William Jensen served as the longtime curator of the Oesper Collections in UC's chemistry museum. Photo/Joseph Fuqua II/UC Creative + Brand
Impact Lives Here
The University of Cincinnati is leading public urban universities into a new era of innovation and impact. Our faculty, staff and students are saving lives, changing outcomes and bending the future in our city's direction. Next Lives Here.
2
Ongoing quest for justice a life-changer for all parties
December 7, 2023
The Ohio Innocence Project and its student fellows, past and present, recently marked 20 years working to exonerate the wrongfully convicted. OIP co-founder and director Mark Godsey, as well as past OIP fellows and Cincinnati Law alumni, Eric Eckes, Law '08, and Simar Khera, Law '15, spoke about their shared experience and its life-changing impact.
3
Lindner student named to Schwarzman Scholars class of 2024-25
December 7, 2023
Carl H. Lindner College of Business student Lance Entsuah, BA '24, recently earned admission to the prestigious Schwarzman Scholars program that offers a one-year, fully funded master's degree program in global affairs from Tsinghua University's Schwarzman College in Beijing, China.
Debug
Query for this