Encouraging a more inclusive workforce
Innovative CincyUp program offers new opportunities for underrepresented pharmacy students
Research has shown that patients have better outcomes when their health care providers look like them, stressing the importance of employing a workforce that is diverse and representative of the populations being served.
Patricia Achoe, director of Equity and Inclusion at the University of Cincinnati's James L. Winkle College of Pharmacy and a licensed pharmacist, said it is especially important for the next generation of pharmacists to come from more diverse backgrounds and mirror their community, as pharmacists are some of the most accessible health care providers in the country. 
"It is so important for us to have people to see themselves in these roles, for the pharmacists to understand some of the concerns that may be in that particular community and for patients to feel comfortable talking with their pharmacist because they may be able to relate to them and relate to their concerns," Achoe said. 
In order to encourage this goal and promote diversity and inclusion in the present and future of the pharmacy industry, the College of Pharmacy, University of Cincinnati Medical Center and Walgreens are launching CincyUp, a first-of-its-kind visiting Advanced Pharmacy Practice Experience (APPE) pilot program for underrepresented pharmacy students, this summer.
The idea for the program began when Brittany Woolf, a clinical pharmacy specialist at UCMC, observed that the UC College of Medicine offered a visiting rotation for students from underrepresented backgrounds in health care, but there was no similar program in pharmacy. 
Woolf then connected with colleagues at the College of Pharmacy to look into the feasibility of putting a program together, and representatives from Walgreens were also brought in to expand the opportunities for the visiting students. The program was further bolstered by a partnership with UC Housing to provide affordable housing options.
"I think Cincinnati as a whole needs more diverse pharmacists," Woolf said. "So by bringing in all these different students to Cincinnati that gives our city and the patients in our city a greater opportunity to get pharmacists that look like them. And it gives the student the opportunity to see different sides of what pharmacy looks like in Cincinnati versus just one facility or one institution."
"I think the experiences I will gain in this program will allow me to build my confidence for the future. My pharmacy career will be much more fruitful because my abilities will have grown efficiently and purposefully during this program.
Victoria Alaka, CincyUp student
Woolf found that Boston Medical Center hosts a similar program for its pharmacy residents, but UC is the first pharmacy school in the country to launch a program of this kind for students pursuing their doctor of pharmacy degree. 
Applications for the program were open to pharmacy school students from underrepresented backgrounds, including Black, Hispanic/Latino, Native American, Alaskan Native, Native Hawaiian and Pacific Islander student populations. 
The team specifically reached out to colleagues from Florida A&M University (FAMU) to recruit applicants for the first class of students to go through the pilot program. Third-year pharmacy students Victoria Alaka and Marie Leger from FAMU make up the inaugural cohort accepted into the program. 
Woolf said the team intentionally started the program small, but the hope is to expand the program to include more students from across the country and more local community partner organizations each year.
The program is designed for students to go through two to three rotations out of about 10 different options at the various institutions, depending on their preferences, timing and needs for graduation requirements.
Rotations at UCMC will give the students experience in an academic health center setting, with potential concentrations in internal medicine, oncology, critical care, psychiatry, cardiology, corporate pharmacy and medication access services.  
Alaka said she was drawn to the program because of the high caliber of opportunities providing a diversity of experiences, but she is particularly looking forward to working at the trauma center at UCMC.
"I am excited to learn about the different types of pharmacists that exist in that setting and how their tasks converge from patient to patient," she said. "I think the experiences I will gain in this program will allow me to build my confidence for the future. My pharmacy career will be much more fruitful because my abilities will have grown efficiently and purposefully during this program."
Led by Bethanne Brown, PharmD, professor in the College of Pharmacy, rotations at the college will include opportunities for the students to mirror the workload of a faculty member. Two days per week will be spent providing direct patient care services, and the students will spend the remaining time participating in the inner workings of the college and learning about what a pharmacist's career in academia looks like on a day-to-day basis.
Brown said the students will also be part of programming for Breakthrough Cincinnati, a weekly program that provides enrichment activities and teaches middle school students about various health professions. Representatives from the UC colleges of Pharmacy, Nursing, Medicine and Allied Health Sciences each teach one, three-hour class period about their respective fields over the course of the summer.

"We're going to actually have our students work and deliver the curriculum because they're closer to that age group," Brown said. "I think it will be fun for them to think of things to have the students do to learn about pharmacy." 
Leger is a native Floridian who has lived in the state her whole life. She said she is looking forward to seeing pharmacy practices and operations in a different state in addition to enjoying the experiences of what living in Cincinnati has to offer.
"I want to get a glimpse of what it's like to be a pharmacist in Ohio," Leger said. "I believe that these rotations will help to prepare for the career in various pharmacy settings as well as establish connections within the profession." 
I am a firm believer in empowering patients with knowledge of their conditions and treatment management to help improve their health outcomes. Having additional training and experience as a pharmacist will help me to accomplish these goals.
Marie Leger, CincyUp student
Stephanie Cady, residency program director and pharmacy manager for the Walgreens near campus, said students will have two opportunities for rotations with the company. 
The leadership rotation will allow the students to shadow Walgreens' area health care supervisor and learn about the different opportunities available in leadership capacities. This rotation will involve experiences from the corporate level to the district and store levels, from new global initiatives to daily obstacles such as staffing and scheduling issues.
Students can also opt to work at Walgreens' specialty community pharmacy close to UC's campus to experience a more clinical setting compared to a typical retail pharmacy. 
"They will be calling patients perhaps for initial consultations on the different disease states they handle, things like chronic inflammatory disease, HIV, AIDS, hepatitis, infertility patients and oncology," Cady said. "Checking on the patients, doing consults, assessments, initiating prior authorizations for medications, assisting in packing up those prescriptions — because about 75% of their prescriptions are actually sent to the patients at their homes."
Inspiring the next generation
UC's Achoe said it is important for the industry to develop "pipeline programming" that educates, supports and encourages students from diverse backgrounds to enter the field of pharmacy. 
Alaka said she had always been interested in medications from a young age and was initially torn between medical or pharmacy school.
"Early in my undergraduate years, one of my cousins passed away after a sickle cell anemia crisis. Another one of my cousins had passed a few years earlier of the same disease after a bone marrow transplant," Alaka said. "While contemplating how I wanted to make a positive impact on patients living with sickle cell anemia, I thought back to the roots of my interest in the medical field. I realized I was much more interested in drugs and drug therapy than in diagnosing issues. That's when I knew pharmacy was the path for me."
Pharmacy is a second career for Leger, who is also a registered nurse who worked in hospital settings for 15 years before entering pharmacy school. She said she was inspired to go back to school in part through her interactions with pharmacists at the hospital and to learn more about drug therapies in order to blend both professions into better patient care and education.
"I am a firm believer in empowering patients with knowledge of their conditions and treatment management to help improve their health outcomes," she said. "Having additional training and experience as a pharmacist will help me to accomplish these goals."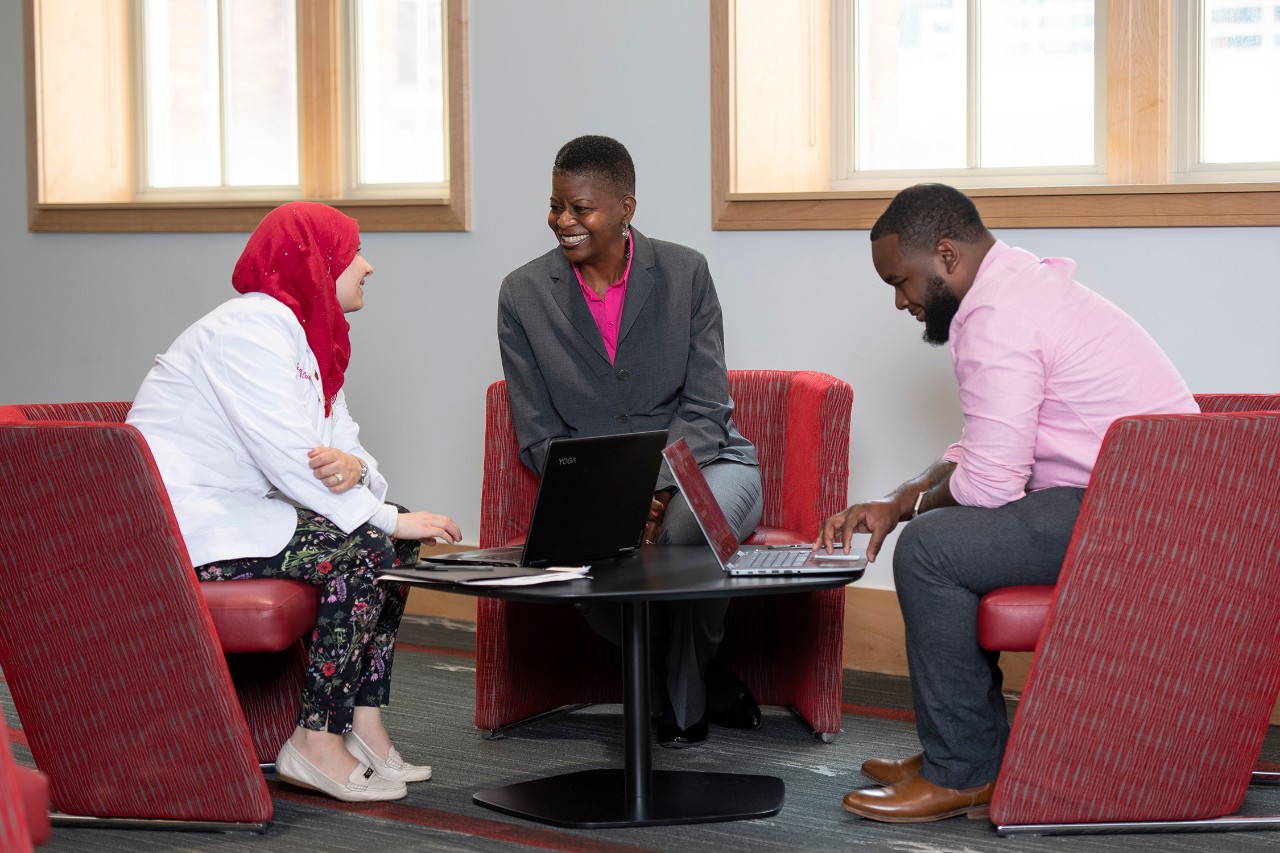 Ongoing diversity efforts
CincyUp is one of several intentional pipeline programming efforts at the college, Achoe said.
These efforts begin with the Breakthrough Cincinnati program for area middle schoolers, planned this summer to bring students on campus to learn more about different health professions. Through a partnership with the college, Cincinnati Public Schools high school students can also earn their pharmacy tech certification, allowing students to graduate with solid job opportunities right away.
Programs to support pre-pharmacy students include a partnership with Central State University, a public, historically Black land-grant university in Wilberforce, Ohio, where the college plans to host two undergraduate students on campus to show them what a career in pharmacy could look like.
"These might be chemistry or biology students that may not have thought about the College of Pharmacy," she said.
Achoe said other diversity, equity and inclusion efforts at the college include the Council on Diversity and a subcommittee devoted to constantly improving the culture and environment of the college. This includes the The Voice online platform where anyone can share encouragement and compliments or anonymously report issues that need to be addressed and ongoing professional development initiatives for faculty and staff.
Achoe and her colleagues' efforts have been nationally recognized, as the College of Pharmacy has earned the Insight Into Diversity's Higher Education Excellence in Diversity (HEED) Award four years in a row since 2018.
"The HEED Award is almost like our barometer. We were able to tell our story in 2018, and then every year we've been able to add to that story," Achoe said. "It's really been advantageous to get the award — not just to say we got an award, but to really see the great work the faculty, staff and students are doing and then actually see improvements from year to year."
Featured photo at top of Patricia Achoe with students. Photo/Colleen Kelley/University of Cincinnati.