UC student used co-op to make connections, discover what a future artist might do
DAAP's Mackenzie Maisel wants to 'think smartly' as she pursues her passion
Mackenzie Maisel remembers talking with her father about her plans to major in fine arts and studio arts and the consideration that followed.
Her father was excited and proud of anything she would do but worried she would become the next starving artist — incredibly talented and driven to produce her beautiful abstract oil paintings, but with limited job prospects. 

The notion of a "starving artist" isn't new. It has been romanticized at least since the 19th century when French writer Henri Murger wrote about four artists producing art for art's sake in the novel "Scènes de la Vie de Bohème." It later was the basis for the opera "La Bohème."
"My dad said, 'Mackenzie, you are talented and can accomplish anything you put your mind to including a successful career in the arts, but in order to do that you have to think smartly about your college and career approach,'" she remembers.
Now a fourth-year student, Maisel says her decision to attend the University of Cincinnati was in part based on the importance the College of Design, Architecture, Art, and Planning placed on students participating in co-op experiences. She had other college scholarship offers. Maisel had to consider these scholarships with other factors like the fact that she also had an older sister and two twin brothers at UC: Madi, Mikey and Max. The older siblings are now UC alums. Having that 'Strength in Unity' (UC's Motto) that comes from family as fellow students, along with the Co-op program were deciding factors for Maisel.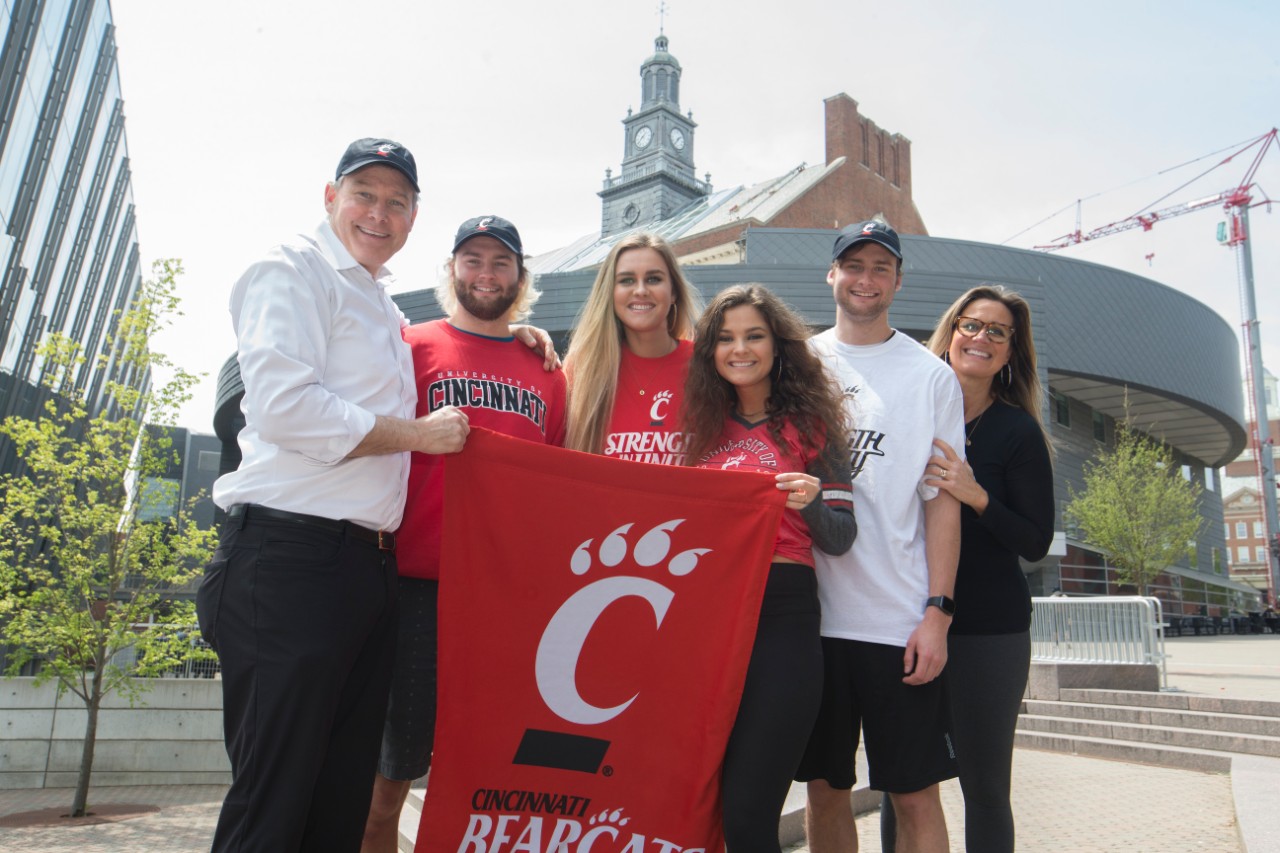 "I am in DAAP, and it is big on co-op," says Maisel. "Co-op was a way to think smartly about my future. I could get my feet wet with my dream jobs and have some experience when graduating. I see the fruit of that decision to attend UC now."
Maisel has enjoyed two co-op experiences — one at Baker Hunt Art and Cultural Center in Covington, Kentucky, and a second at Iwanciw Functional Funware, an apparel and fashion company based in West New York, New Jersey. She hopes to net a third co-op before graduating in December.
Co-ops in Kentucky and the Big Apple offer benefits
Her first co-op at Baker Hunt offered an initial view into what a future experience as an art professional could look like.
The cultural center offers classes and workshops in drawing, painting, photography, ceramics, sewing, dance, yoga and cooking for children and adults. It serves more than 10,000 students from the Tristate area annually, both on campus and off.
Maisel grew up in Greater Cincinnati; a local co-op seemed to work well in her sophomore year. She said her co-op at Baker Hunt was known as a "learner experience co-op" and that she reviewed videos that helped her with administrative duties such as producing advertisements, maintaining databases and using software for editing.
"It was a historical art center so there were chances to get involved with the community and the amazing campus of Baker Hunt as well as take classes. I got to meet so many local artists," says Maisel. "It was cool to see artists and other professionals being in a place that I could see myself in 20 years or so."
"Co-op was my first real-time job," says Maisel. "I worked odd jobs in high school, but co-op was like being a working professional."
A second co-op during fall 2021 allowed Maisel to branch out. She wanted to be in the New York metropolitan area and Iwanciw Functional Funware allowed her to also dabble in fashion. She was not a fashion design major, but Maisel says she understood the creative process as an artist. Her skills were transferable and fit in with the firm, an apparel and fashion company, with its emphasis on fashion that uses color, joy and peace to reach its customers.
Maisel was impressed with the geo-patterned sweaters, skirts, hats and outfits the company sold and its special dye process known as "sky-dye" — it's much like tie-dye and is a big part of the company's product line.
"There were so many products such as knitted skirts, hats and purses that filled the top floor warehouse of this factory building part of Iwanciw," says Maisel. "They had all these beautifully knitted pieces that looked like landscapes."
Maisel served as the art director and handled social media and branding for the company. The company also worked with two other DAAP students, Liam Merkle and Dominic Laspina, who both are studying fashion design and were interns.
"My boss gave me a lot of freedom," she says. "He was super laid back, but he could also be such a go-getter. He worked for Gucci before starting his own business and functioned as a one-man operation."
Also, while in the Big Apple, Maisel found a part-time internship with Winston Art Group, an appraisal firm in midtown Manhattan that specializes in appraisal services and advice on the acquisition or disposal of all fine and decorative art, jewelry and collectibles.
Maisel says she got a chance to see professionals in the art community who valued business.
"I could see the inner cogs of the art market world as a whole," she says.
"We would look at art value, and I got to shadow people so I could see what the business side of the art world looked like," she explains. "I made some amazing connections through my co-op experience. When I started out it was like no one was going to hire me and now people are saying, 'You have done so much.'"
The National Co-op Ambassador Scholarship might help
Maisel says a co-op is definitely something she would recommend. She says a new National Co-op Ambassador Scholarship launched by UC would have been so helpful, especially during her co-op in New York.
With the scholarship, a UC student can receive tuition assistance, up to $4,000 per semester, if they co-op or intern in any of 13 select metropolitan areas across the United States in the next few years. In return, as a UC National Co-op Ambassador, students pave the way for future Bearcats and help to expand the university's national reputation.
The targeted cities are Atlanta, Austin, Boston, Chicago, Dallas, Denver, Houston, Los Angeles, Nashville, New York, San Francisco, Seattle and Washington, DC. Award amounts are based on merit and the cost of living in a chosen location.
"This is such a cool opportunity and so exciting for the next generation of people going through co-op," says Maisel. "This is amazing. I know when looking for co-op I was more willing to value any opportunity to give me good experience even when they don't pay me a lot. My adviser told me to look for opportunities that pay, but a good experience that pays well is harder to find when you are just starting out in the workforce. There tends to be compromise either on the pay or the opportunity and when there isn't they aren't always looking for student aged beginners like I was."  
"I am lucky enough to have had travel stipends and friends and family that help pay for things in my New York experience," says Maisel. "For those who don't have those factors or even for those who do this sounds like an open door for individuals wanting to take advantage of co-op opportunities."
Featured image shows Wally Iwanciw with DAAP students, Mackenzie Maisel, Dominic Laspina and Liam Merkle. Photo provided.