From Cincinnati to Ethiopia: CCM Lighting Design professor shares her summer experience
Sharon Huizinga discusses her work on a new play that showcases the culture of the Mursi people
UC College-Conservatory of Music Lighting Design and Technology Professor Sharon Huizinga enjoyed a "once in a lifetime" experience this summer as the lighting and projection designer on Tiranya Ko Koisani (The Mediator), a new play about the Mursi people of Ethiopia's South Omo region.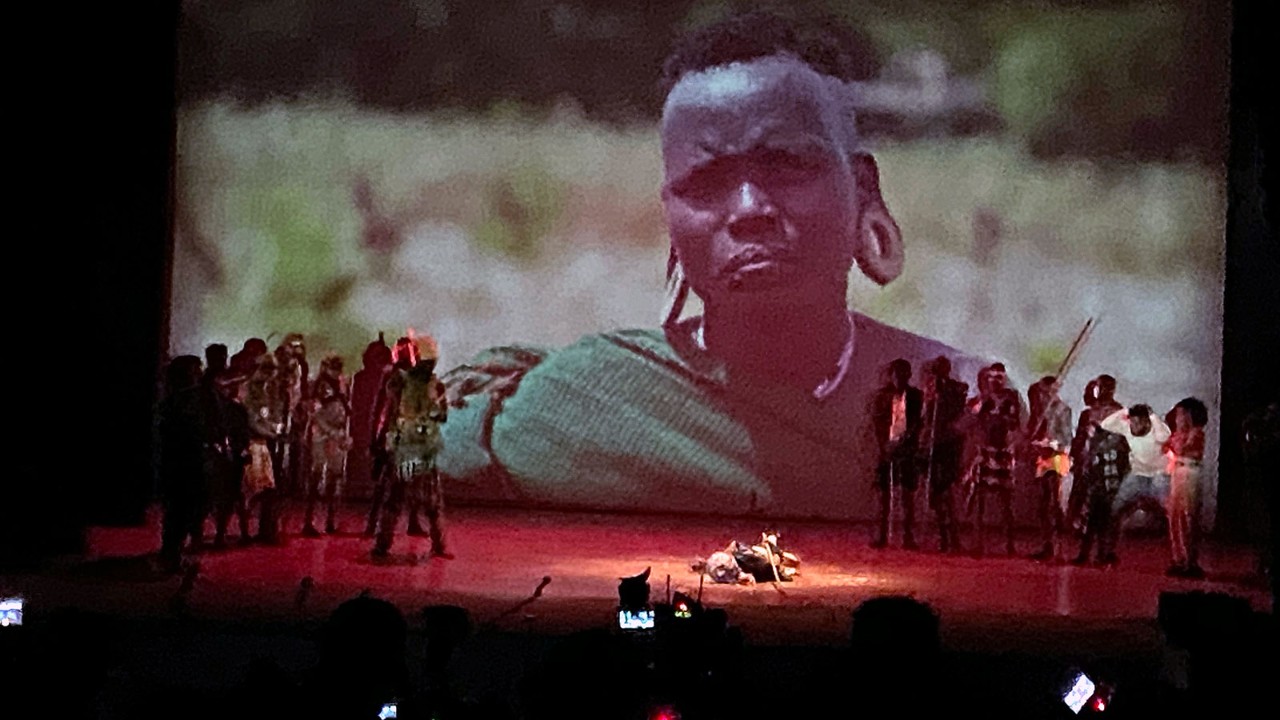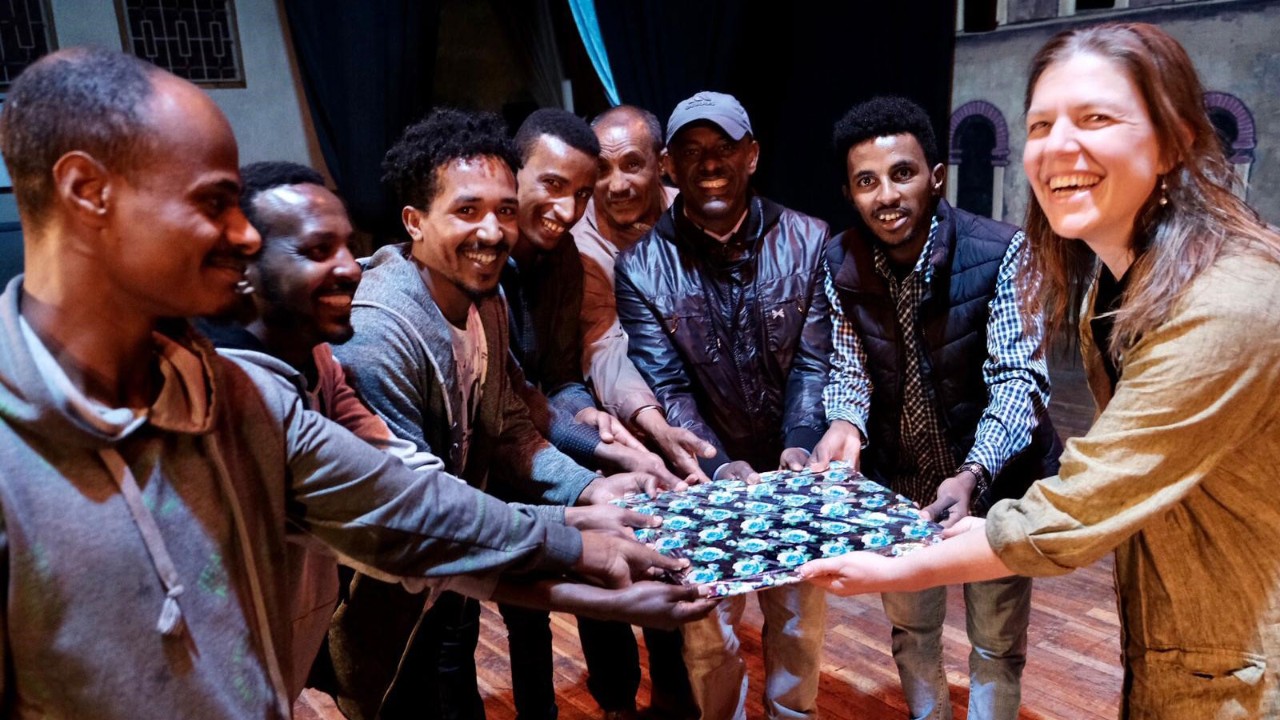 Produced by the South Omo Theatre (SOT) Company, Tiranya Ko Koisani is written by SOT co-founder Olisarali Olibui in collaboration with company member Tesfahun Hailu. Olibui is a Mursi leader who experiments with film, dance, song and storytelling as mediums for teaching others about his culture and people. The project is a collaboration between SOT, Wolkite University and SOAS University of London.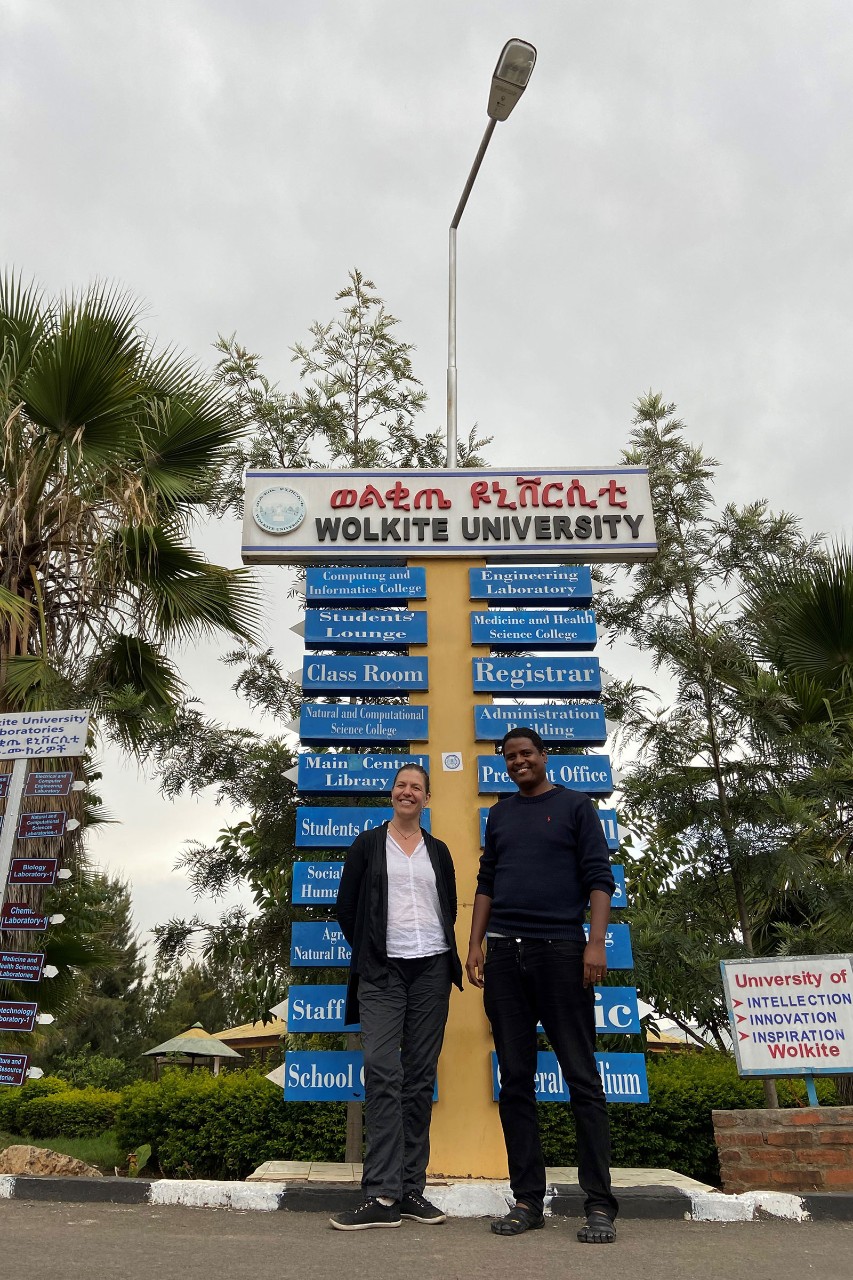 In May and June, Huizinga spent two weeks traveling Ethiopia on a lecture tour to Addis Ababa University, Wolkite University and the National Theatre of Ethiopia. During this time, she also reviewed the performance facilities and equipment to see what the production team would need for the show. 
"I had the pleasure of being escorted around to all of these places by our Ethiopian Production Manager, Asteway Mellese," Huizinga says. "He not only organized everything, but also took me to visit really exceptional cultural halls, concerts and restaurants — not to mention the wonderful conversations we had about our respective lives, the practice of theatre, and the realities of living in a western country and the realities of living in Ethiopia."
She returned to Ethiopia in July for two weeks of technical rehearsals and the opening performances at Wolkite University and the National Theatre of Ethiopia. She also collected lighting equipment to use for the production and donate to both organizations. "CCM students and Vincent Lighting Systems both deserve a huge thank you for their support of this project," she adds.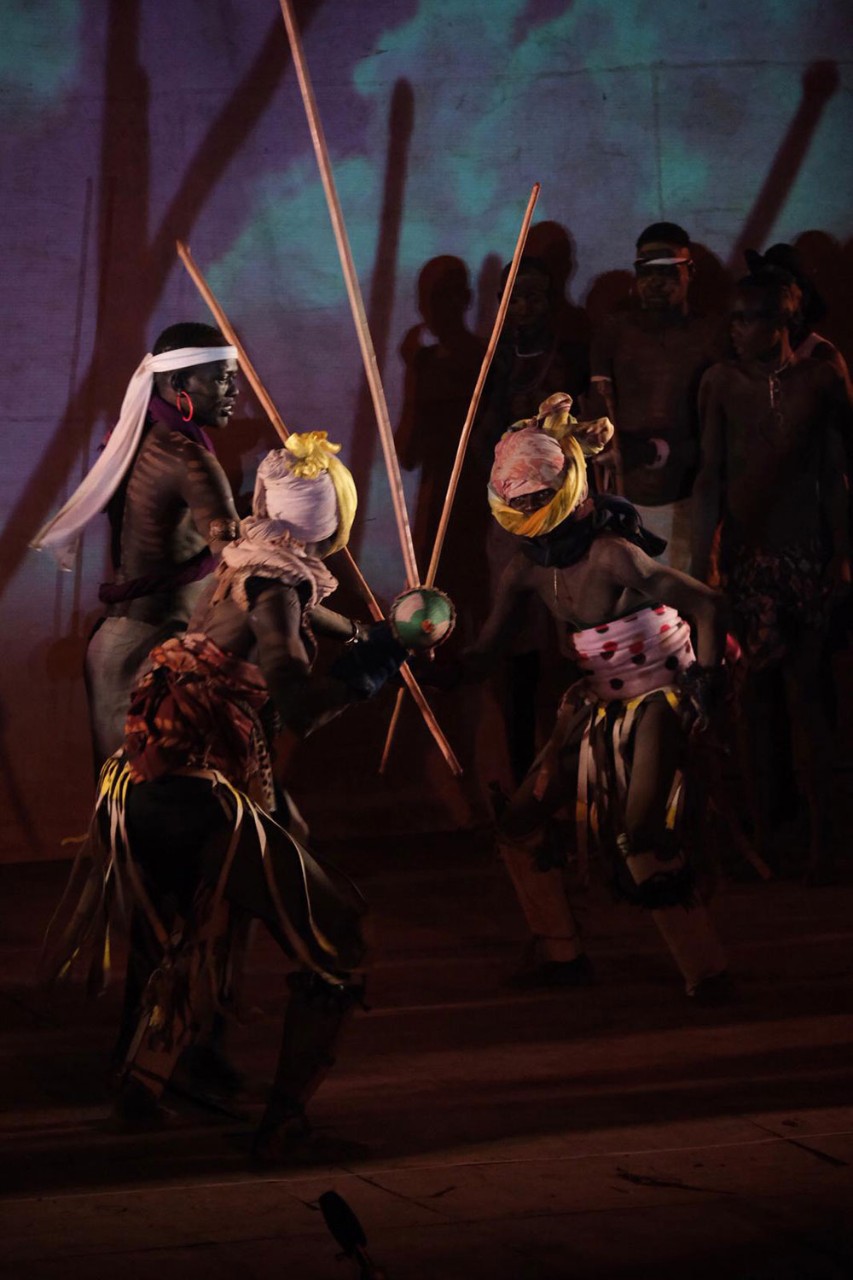 Huizinga helped set up the lighting and projection equipment for Tiranya Ko Koisani and taught the technicians how to use it long-term. "The flawless technical design and production was due to her," according to a release by the Global Research Network on Parliaments and People. 
The play shares a story of love and war in Mursiland — dramatising a story based on true events about two men who are in love with the same woman. According to Mursi customary law, such a conflict is best resolved through donga (stick duelling). The play draws on the Mursi's rich performative culture and oral traditions, with a cast of Mursi actors who had never seen a play before, let alone act in one. 
It is the first production put on by any community in South Omo and in their own language. Alongside the play, SOT is producing a broadcast-quality feature documentary about the process, due for international release.
Journalists, politicians and Mursi elders were invited to attend the opening performances in July. According to the SOT website, Olibui hopes the play will improve dialogue and relations between the Mursi community and the centralized government, as well as transform political and cultural stereotypes about the Mursi people. 
Huizinga fondly remembers her time in Ethiopia — the amazing food, lots of dancing, the four-hour drive out of the capital (Addis Ababa) to the more rural (Wolkite) and the incredible friendships she made. When asked about the main takeaways from this experience that she plans to incorporate into her teaching at CCM, she says:
"Remember that the world is not scary — and travel is an unparalleled teacher. Theatre communicates across all boundaries, several of us working on this project did not have a single language in common."
This fall, Huizinga teaches lighting design classes at CCM that look at the hows and whys of design. She also teaches CCM Idea Lab, a cross-disciplinary course that explores technical, artistic and philosophical questions with experimentation and collaboration as guiding principles. Huizinga will also advise the student lighting teams on CCM's fall theatre season, which includes Lysistrata + The Trojan Women (Sept. 29-Oct. 2), She Loves Me (Oct. 6-9), Something Rotten (Oct. 20-23 and Oct. 27-30), A Dream Play (Nov. 3-6), Dialogues of the Carmelites (Nov. 18-20) and Dance Works (Dec. 1-4).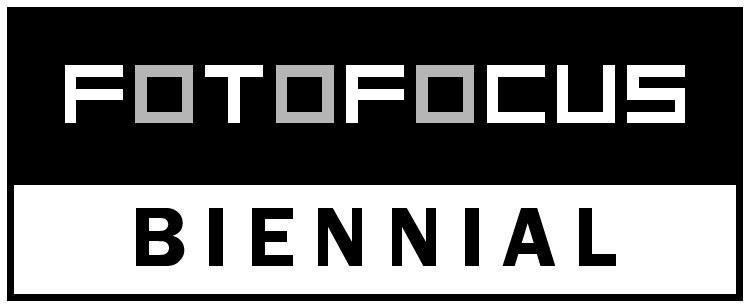 Huizinga will also represent CCM in Cincinnati's FotoFocus Biennial event. The Hughes Project, a collaboration between CCM Theatre Design and Production students and Hughes STEM High School Students, is a participating venue in the 2022 FotoFocus Biennial, which runs September 29–October 8. Now in its sixth iteration, the 2022 FotoFocus Biennial encompasses more than 100 projects at Participating Venues across Greater Cincinnati, Northern Kentucky, Dayton, and Columbus, and features more than 600 artists, curators, and participants—the largest of its kind in America. This will be the second time Huizinga and CCM students have collaborated with the high school to light and project on the beautiful Hughes façade; learn more about the initial spring 2021 project. 
Additionally, Huizinga is busy with projects outside of CCM, including lighting design on "New Works" with the Cincinnati Ballet Company, a Canadian tour with Ichigo Ichieh dance company, an event with Diana Krall and a light and shadow symposium in Finland. 
About CCM Lighting Design and Technology
At CCM, a hands-on, experiential philosophy guides the development of our BFA and MFA Lighting Design and Technology programs. Students gain real production opportunities, where lighting designers work closely with stage directors to bring out the intent of the production through mood, atmosphere, composition and focus.
The drama, and the actors themselves are unexpressive unless we can see them on stage. Great lighting design goes beyond the need for basic visibility into the realm of shadows, angles and colors as well as the subtleties of timing and rhythm. Technicians must work with the sensitivity of an artist so that onstage dramatic effects and timing can be effectively communicated.
Theoretical knowledge forms a solid base, but is only the beginning of the education process at CCM. Students in the four-year undergraduate program take studio and production courses in all areas, beginning with introductory and basic courses and progressing to advanced sequences in a major area.
Additionally, students study theater history, script analysis, dramatic literature, English, world history and arts history, as well as other liberal arts and electives.
Graduate students follow a similar, more special­ized structure in a two-year (or three-year) program.
1
October is cybersecurity awareness month
September 30, 2022
Throughout the month of October, we'll share a variety of resources to help you outsmart cyberthreats and protect you and your family from online attacks.
2
WATCH: CCM presents 'A Voice Like Mine' mini documentary
September 30, 2022
Enjoy a behind-the-scenes look at CCM's acclaimed Voice and Opera programs courtesy of the new Backstage at CCM documentary series. Titled "A Voice Like Mine," this mini documentary spotlights bass-baritone John Mburu, who is pursuing his Master of Music degree in Voice Performance at CCM. Declared a "top college vocal program" by Backstage Magazine and described as "one of the continent's major music schools" by the Toronto Star, CCM's Departments of Opera and Voice provide one of the most comprehensive training programs for opera singers, coaches and directors in the United States.
3
Laser Focus World highlights UC research that uses light to...
September 29, 2022
Laser Focus World's Photonics Hot List highlighted the recent work of the University of Cincinnati's Jiajie Diao, PhD, who published research demonstrating a technique that uses light to help naturally balance mitochondria within cells.
Debug
Query for this