'Goldilocks zone': UC researchers seek to improve emergency care
Venture Lab-backed startup develops device to help provide rescue breathing
Technology from a University of Cincinnati Venture Lab-backed startup could save lives by allowing emergency medical personnel to accurately monitor the life-saving treatment they provide.
The startup, Spiritus, was founded by three UC professors — Justin Benoit, MD, Jason McMullan, MD, and Ephraim Gutmark, PhD — and Paul Bruggeman, an entrepreneur-in-residence with more than 20 years experience in medical device development whom they met through the Venture Lab. Together they're developing a monitor for a self-inflating bag used in emergency care to provide ventilation to a person not breathing normally, known as a bag-valve mask.
The bag-valve mask, which was developed almost 70 years ago, is a hand-held device used in emergency situations, such as at the scene of an accident or in an emergency department.
While bag-valve masks have been used for decades, there's no way for medical professionals to know if they're supplying patients with the optimal amount of air — or too much or too little.
"They know what they're supposed to be doing, but without the feedback, it's like the Goldilocks zone with the three bears," said McMullan, a professor of clinical emergency medicine. "They're just as likely to breathe too little as they are to breathe too much, and every now and then they achieve the Goldilocks zone. If it's me or my family, I want it to be Goldilocks 100% of the time."
Spiritus is one of the many startups that have come out of the UC Venture Lab pre-accelerator program and received seed funding.

UC's Venture Lab, operated by the Office of Innovation, provides a launch pad for entrepreneurs to turn their ideas into a startup reality. The UC Venture lab is located in the 1819 Innovation Hub in the Cincinnati Innovation District (CID), providing a connection point to talent, support and funding to help launch new companies.
"The funding that comes from the Venture Lab is so critical," said Benoit, an associate professor of clinical emergency medicine. "I don't know how we would have done it without them."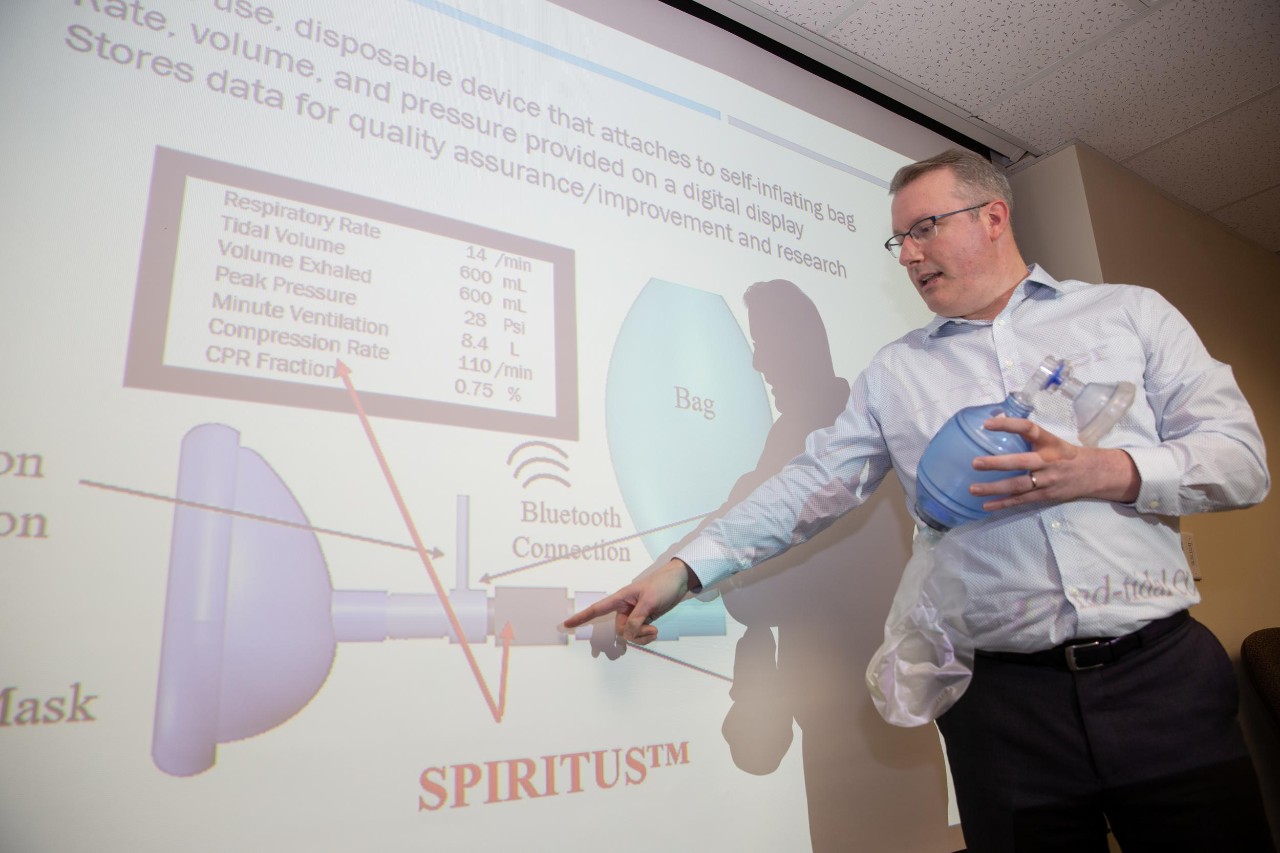 The Venture Lab pre-accelerator program is available for free to all members of the university community. The program provides guidance for launching a startup and pairs aspiring entrepreneurs with executives for mentoring.
"The mission of the CID is all about talent because it's people who change the world, and that's what these UC professors and their new lifesaving device can do: change the world," said Kaethe Beck, the associate vice president of UC's Office of Innovation. "Every day at the CID and the Office of Innovation, our team is looking for new ways to connect talent with triumph and makers with the market. The story of Spiritus is more evidence that purpose-built model is working."
Benoit and McMullan were inspired to create Spiritus after they discovered there weren't any commercially available medical devices that can measure airflow from a bag-valve mask. Without measurement, it's difficult to know if the proper care is being provided.

"The current technology is like flying an airplane with no gauges in the middle of the night, in the middle of a rainstorm," McMullan said.
If not enough air is delivered, a patient could be starved of oxygen. If too much air is delivered, it can hinder blood flow to organs, causing just as much harm as too little oxygen.
"With a bag-valve mask, not only do we have the opportunity to help people, but there's also the chance that we could hurt people if we do things the wrong way," McMullan said. "If we use that carelessly by accidentally breathing too hard and too fast for patients, then we effectively starve their brain of crucial blood supply."
"You can test this for yourself by taking several deep breaths in quick succession," Benoit said. "After a few seconds, you'll actually feel the effect. Now if you have somebody who's critically ill and you're doing that for 10 minutes, 20 minutes, you're strangling the heart and brain, even though you're not trying to, and you can accidentally cause harm."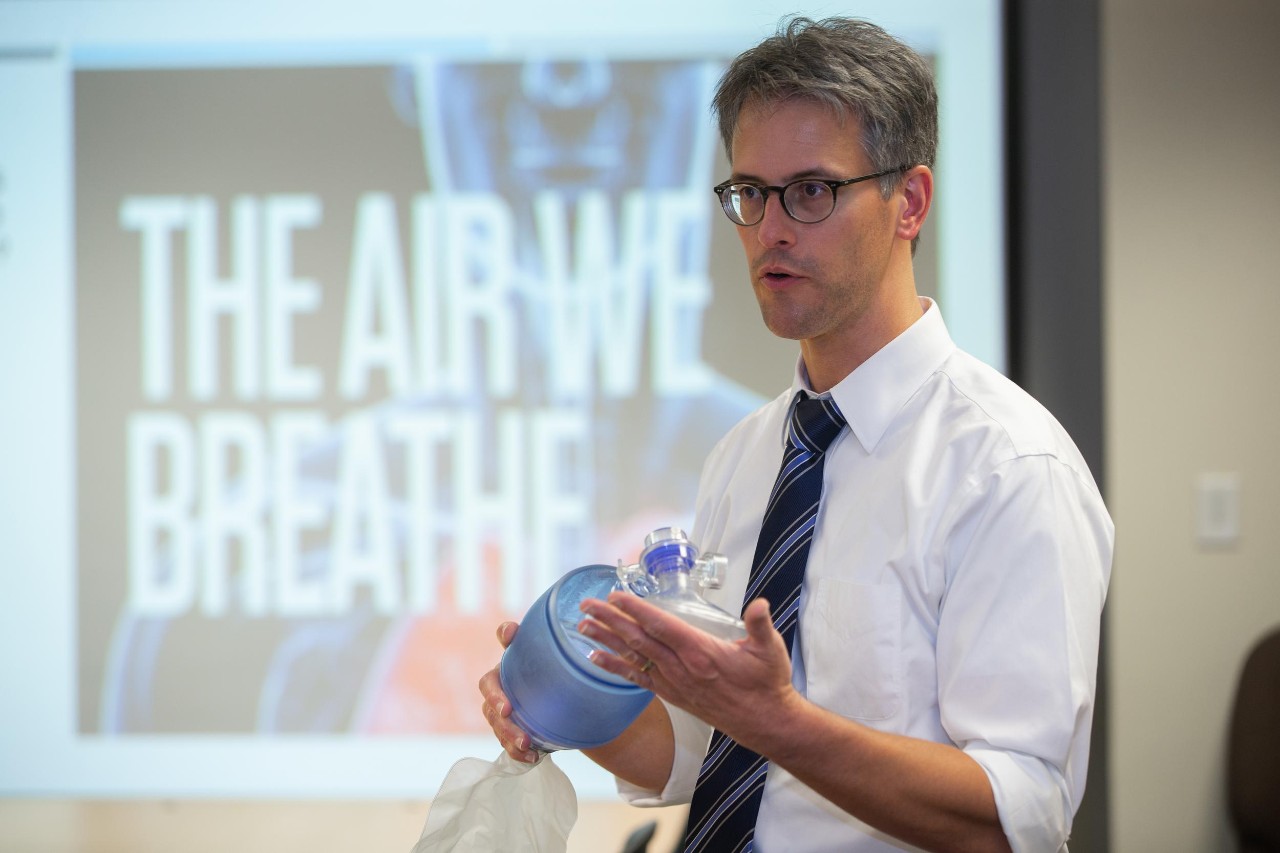 While there are tools, such as ventilators, that can be used in certain situations to help with breathing, they're not readily available nor practical for use in the field.

"The challenge is making something really simple, easy and cheap that can be used by first responders in 'Kroger aisle nine,'" Benoit said. "Ventilators still exist, but there's no ventilator in Kroger. And even if there was, it may not be helpful.
"We frequently have to resort to the more basic bag-valve mask," he continued. "Ironically, the moment when we need a bag-valve mask is also when the patient is at their sickest, they're the most tenuous, and yet we have this technology that doesn't tell you anything about what you're doing."
Needing engineering expertise to help develop the monitor they envisioned, Benoit and McMullan connected with Gutmark, a distinguished professor of aerospace engineering and Ohio Eminent Scholar who immediately recognized the doctors were seeking a device that had long been used to measure airflow in many other applications such as rocket engines.

"It's a technology that has been around for many years and is being used everywhere, but this type of application is new," Gutmark said.
While the technology was well established, using it with bag-valve masks presented challenges. The measuring device would need to be small enough to fit on the mask, it would need to be simple to use, and it would need to be able to withstand varying patient conditions.
"When you work with machines, everything is fixed. We know exactly what the conditions are and how the machine will perform," Gutmark said. "When you work with people, everything is different. You need to be much more flexible. When people are squeezing the bag, they are not squeezing it like a machine. Different people will do it differently. Even with a single operator, from one squeeze to the next, it will be different. The device has to be able to handle this kind of variability."
Along with the challenges of developing the technology, the three professors faced challenges in developing a business model. They decided to go through the Venture Lab program and met Bruggeman, who was impressed by the team and their idea.
"This device really has the potential to save lives," Bruggeman said. "It's exciting to work on projects like that. They also struck me with the confidence to get this done. They're a committed team. The technology is both novel and easy to understand."
The team is in the process of developing the commercial device, which will continue into next year. They hope to have near-final prototypes they can test in Cincinnati before honing in on the ideal design for Food and Drug Administration approval.
"There will be real, immediate and measurable benefits when medical providers have objective information that they're following expert guidelines on ideal resuscitation," McMullan said.
Having measurable data, the doctors expect, also will lead to new research advancements on what exactly is the ideal amount of air for a patient. While there are theories on how much air a patient needs in an emergency situation, there's no way to test those hypotheses without reliable measurements.
"We know what people think the Goldilocks zone is, but the real truth is currently unknown because we have no way to measure what we're doing," McMullan said. "It is unknown because it is currently unknowable. This device will fix that."
Featured image at top: From left, Paul Bruggeman, Jason McMullan, Ephraim Gutmark and Justin Benoit created Spiritus. All photos by Andrew Higley/UC Marketing + Brand
About UC Venture Lab
A leading model for urban-centered universities, the UC Venture Lab activates a high density of rapidly curated startup opportunities that attract outside entrepreneurial talent and investors. We connect university students, faculty, staff, and alumni to talent and funding to help launch new companies. Our team includes Office of Innovation staff as well as Entrepreneurs-in-Residence (EIRs), coaches, curated service providers, and subject matter experts.
About the Cincinnati Innovation District
The Cincinnati Innovation District® is a unique and thriving ecosystem that attracts, produces, retains and develops talent by co-locating and collaborating with organizations. Unveiled in 2020 by Ohio Governor Mike DeWine and Lt. Governor Jon Husted along with JobsOhio and innovation district leadership, the district envelops myriad innovation assets and access to some of the world's leading academic and research centers, organizations and talent pools. Powered by the University of Cincinnati, the CID includes the world-renowned Cincinnati Children's Hospital Medical Center and other national research centers. The district's mission is to become a globally recognized talent hub and lead a transformational movement. The combination of industry engagement, unique experiential platforms and accessible research expertise — working at the pace of change — will become a model nationwide. For more information on the Cincinnati Innovation District, visit www.cincyid.com.
1
UC COVID-19 studies awarded $425K
April 15, 2020
Understanding that time was of the essence in combating this highly infectious disease, UC and its College of Medicine's Office of Research conducted a rapid review and distribution of $425,000 in novel pilot grants to researchers, focusing on eradicating the disease.
2
Educational breast cancer event focuses on empowerment
Event: November 3, 2018 9:00 AM
"Beyond Breast Cancer: The Path to Empowerment" is an educational event for breast cancer survivors, their families and the community; it will be held from 9 a.m. to 3 p.m. Saturday, Nov. 3, at the Kingsgate Marriott Conference Center, 151 Goodman Drive.
Debug
Query for this