UC Veterans Day ceremony honors those who served
About 3% of UC's student body are student veterans
The University of Cincinnati honored those who served during its annual Veterans Day ceremony.
In his remarks to veterans and their families gathered at Tangeman University Center, UC President Nevill Pinto noted that the building was named for U.S. Navy Lt. Donald Tangeman, who died while trying to save his crew during a battle in the Pacific on March 29, 1945.
Tangeman wrote to his parents, both UC graduates, before embarking from San Francisco toward war in the Pacific theater.
"Last night was my last view of San Francisco … tomorrow, we sail," the letter reads. "The moon, the mountains, the bridge. The starry heaven above — buildings, lights and people — a free and beautiful world, well worth fighting to preserve."
"May we remember these words as we honor our veterans both past and present," Pinto said. "Thank you for your willingness to fight to preserve our free and beautiful world."
The ceremony was sponsored by UC's Veterans Programs & Services and the U.S. Army and Air Force ROTC. The Bearcat Band performed for the assembly, recognizing each branch of the armed forces with its own salute.
UC College of Nursing student and U.S. Army Reserves Pfc. Latyia Miles spoke on behalf of UC's student veterans.
"I am pleased with the commitment I made," she said. "Joining the military has helped me find my voice."
In the keynote address, WCPO news anchor and U.S. Air Force veteran Craig McKee reflected on how all veterans deserve to be honored because of their willingness to put their country's needs before their own. And while many of these veterans, like himself, never saw combat, each was willing to risk their lives when duty called.
"We all have one thing in common: that blank check we signed saying, no matter what, I am willing to die," McKee said. "To sacrifice my life so that those who choose not to serve, or cannot, can continue to live a free life."
As a cadet, it's nice to see veterans get recognized by UC and for us to honor them for their commitment to serve and protect all the liberties we have today.
Andrew Hall, UC student and U.S. Air Force ROTC cadet
UC assistant professor and U.S. Air Force ROTC Maj. Venancio Deocariza said the ceremony honors veterans past, present and future.
"It's a beautiful ceremony because we have cadets who are about to serve and start their careers in the military and we honor those who have completed their military service," Deocariza said.
Deocariza said he wanted to serve in the military as a way to get valuable life experience.
"I wanted to get out and explore the world and not just stay in my hometown," he said. "I also needed a way to pay for college. The military offered me that opportunity to do both and learn some great life skills."
U.S. Air Force ROTC cadet and criminal justice major Andrew Hall grew up in a military family. 
"Growing up in the back yard of the birthplace of aviation next to Wright-Patterson Air Force Base, I've always been passionate about the Air Force and airplanes," he said. "I always wanted to be part of it."
Hall, a student in UC's College of Education, Criminal Justice, and Human Services, is a pilot-select in the U.S. Air Force.
"As a cadet, it's nice to see veterans get recognized by UC and for us to honor them for their commitment to serve and protect all the liberties we have today," 
More than 3% of UC students are veterans or dependents of veterans, according to UC's Office of Institutional Research. One of them, Tim Fancote Jr., is studying social work in UC's College of Allied Health Sciences.
Fancote is a U.S. Navy veteran who served eight years of active duty. He enlisted in the military after graduating from Cincinnati-area St. Bernard High School in 2007. In high school, Fancote never imagined himself as a college student. But his grandfather was in the military and Fancote thought it would be a good fit.
"I wasn't mature enough and ready to go to college at 18," he said. "It took me a little while to figure out what I wanted to do."
He was stationed in Japan for four years and at Naval Air Station Fallon in Nevada for nearly four years more. But after his honorable discharge from the military and spending time working as a data entry operator for the Hamilton County Sheriff's Office, he decided to go back to school to study social work where his interpersonal skills will be a big asset.
As a nontraditional student, Fancote said it took some time to adjust to college life.
"It's hard being a little bit older. You feel out of place. You're in college at 34 and thinking, 'I shouldn't be here,'" he said.
But that feeling went away quickly once he started getting involved on campus, he said. He has a work study job at regional campus UC Blue Ash and serves as a mentor for other first-year student veterans who may likewise feel like a fish out of water when they first arrive.
"They see a friendly person who they can ask questions to," he said. "I want to be the guy who's there for them."
Fancote said he emphasizes how UC is in the student's corner to help them succeed.
"Everything about UC is welcoming to veterans," he said. "It's a special place. UC has really helped me."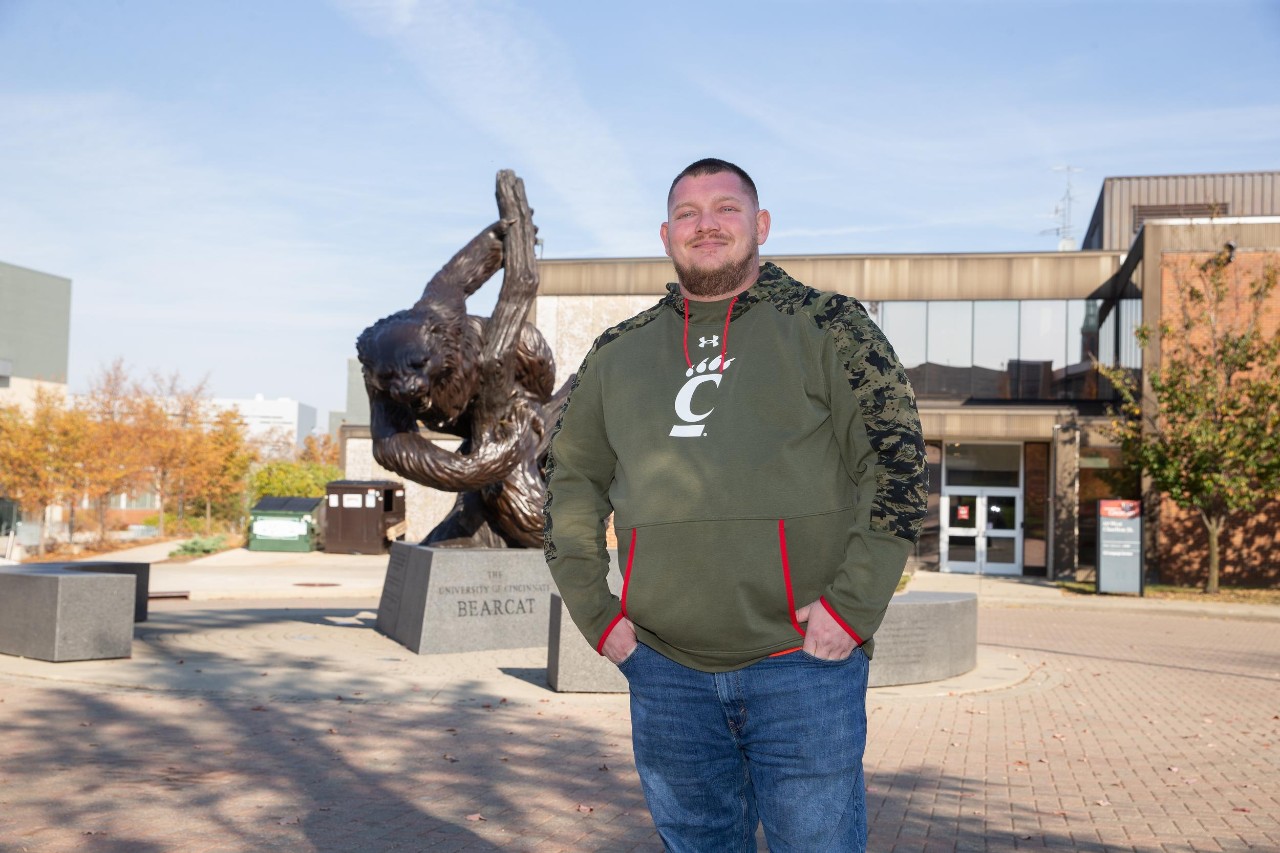 Next Lives Here
The University of Cincinnati is leading public urban universities into a new era of innovation and impact. Our faculty, staff and students are saving lives, changing outcomes and bending the future in our city's direction. Next Lives Here.