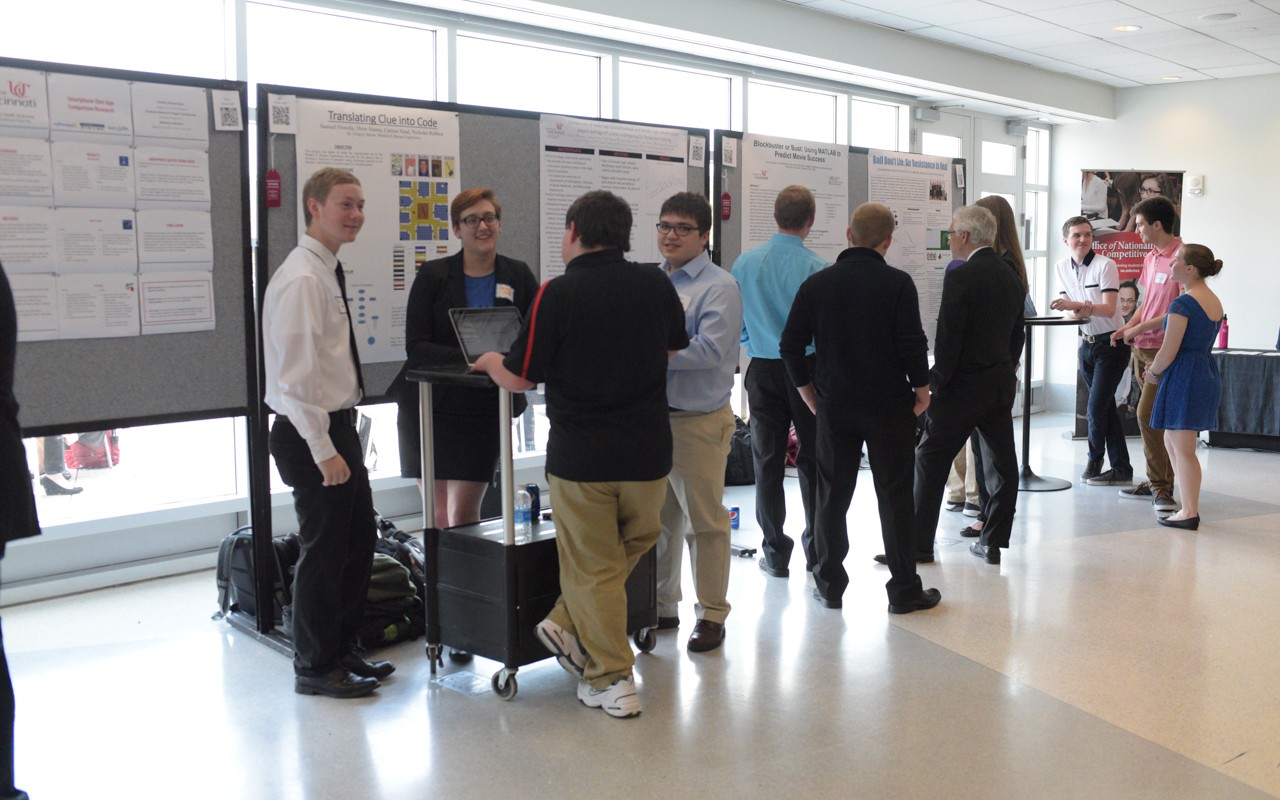 UC DAAP students showcase talent through the Cincinnati Innovation District
Pitch perfect capstone students for hire
A final stone placed at the top of a wall or building is the most significant.
Known as the capstone, it is the most critical piece of architecture, marking the successful completion of the project. In academia, capstone projects represent the apex of a student's college career.
At the inaugural Pitch Fest inside the 1819 Innovation Hub, 100 University of Cincinnati students in the College of Design, Architecture, Art, and Planning (DAAP) showcased their academic abilities and skills gained throughout their degree programs. Audience members included 20-plus corporate executive partners of the Cincinnati Innovation District (CID). 
Corporate partners network for talent
The event was curated by the CID Partner Success team, which creates opportunities for UC corporate partners to connect and work with students. Claudia Rebola, associate dean for research at the DAAP, and Dan Whitacre, senior director of Kroger Labs, agreed that a networking event to connect industry leaders and students would be mutually beneficial.
"Within the Kroger Labs, we put a high value on a diversity of thought and talent. The CID orchestrates opportunities for Kroger and the other CID partners to connect with the future," Whitacre said. "Browsing through the Pitch Fest presentations exposed us to the ideas and values of future customers and associates. Time well spent!"
Capstone projects are designed to demonstrate knowledge mastery and creative thinking — two valuable skills when competing for jobs. Through their posters, students articulated ideas on leveraging technology and engineering to further the advancement of equity and inclusion in real-world situations.  
Projects included ideas to improve accessibility, to assist people with mental illness and to promote a cleaner environment.
"The Cincinnati Innovation District is a great place for us to hear from and meet the pipeline of talent, as well as learn what students are looking for in a future employer," said Jude Schramm, chief information officer at Fifth Third. "These students are also an example of our next generation of customers, and their insights can help Fifth Third understand expectations and preferred experiences."
Corporations interested in partnering with the CID and accessing UC student talent can reach out to the Partner Success team at innovation@uc.edu. 
Featured photo at top: University of Cincinnati students present capstone posters. Photo courtesy of Josh Gold Photography
Impact Lives Here
The University of Cincinnati is leading public urban universities into a new era of innovation and impact. Our faculty, staff and students are saving lives, changing outcomes and bending the future in our city's direction. Next Lives Here.