Farmer's Fridge now available across University of Cincinnati campus
UC Food Services introduces a new fresh and healthy on-the-go campus dining option
UC Food Services is pleased to announce their partnership with Farmer's Fridge.
This new partnership will assist in meeting the dining needs of UC's increasing student population. UC Food Services serves nearly 2.5 million meals a year, so considering new ways to improve access to fresh, healthy-meal options is part of our mission. The Smart Fridge by Farmer's Fridge aims to do just that.
Farmer's Fridge, a national food services business, provides healthy, fresh food-vending options. Using the highest quality ingredients, Farmer's Fridge makes it easy to get nutritious food on the go. UC Food Services is excited to bring these hearty meal options to campus, allowing the UC community to get fresh meals any time any day.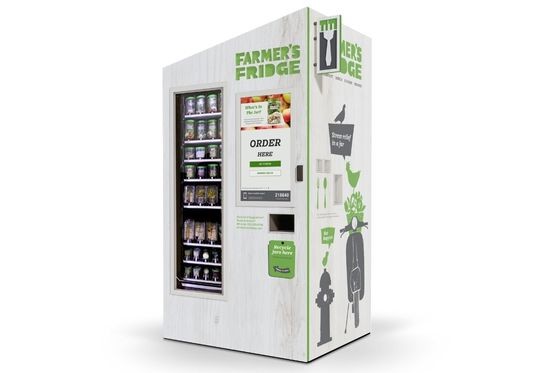 Farmer's Fridge vending machines have been placed in nine locations across campus: 1819 Innovation, Campus Rec: CARE/Crawley, Campus Rec Center, Digital Futures, Langsam Library, Marian Spencer Hall, Stratford Heights Bldg. #16, Tangeman University Center and UCBA Muntz Hall. These machines are designed to make finding fresh and healthy meals as simple as vending a candy bar.
Farmer's Fridge vending options enable Bearcats to have healthier meals while on the go, including fresh and hearty salads, sandwich wraps, and great snack items such as guacamole and nachos. Additionally, Farmer's Fridge vending options aim to meet all food preferences from vegetarian to omnivores. Some meal options include: Baja bowls, berries & granola Greek yogurt, burrito bowls, grilled chicken Caesar salads and chocolate chia pudding.
Don't see the item you want? Navigate to the item and click "I wanted this!" Farmer's Fridge vending machines are stocked on demand and updated in real time. Submitted feedback enables the Farmer's Fridge team to know exactly what to offer.
Farmer's Fridge introduces an environmentally conscious approach to vending. Sustainability has never been this easy. Not only does Farmer's Fridge provide bio-degradable bowls and silverware on the side of every machine, but there's also a place to recycle items when finished dining. Be sure to sign up for the mobile app to receive $5 off your first order.
For more information regarding on-campus dining, please visit uc.edu/food.
1
Up next in Switch'n Kitchen: Wings and Rings
November 8, 2021
Wings and Rings is the next local restaurant to move into Tangeman University Center's Switch'n Kitchen. The popular wing restaurant opens Monday, Nov. 8. and will remain in TUC through the remainder of fall semester.