UC Cosmetic Science program celebrates 50th anniversary
Training prepares students for careers in industry
Think about your morning routine. How many different products do you use, whether soaps and shampoos, lotions and skin care items, deodorants or makeup and other cosmetics?
These products don't just appear on shelves at the store, but are the result of the work of cosmetic scientists who work to make sure each item helps your skin and hair be as healthy as possible and that you look, smell and feel your best.
This academic year, the University of Cincinnati's Cosmetic Science program at the James L. Winkle College of Pharmacy is celebrating its 50th anniversary and is continuing to grow as it trains the next generation of industry leaders.
K.P. Ananth, PhD, professor and director of the Cosmetic Science program, said cosmetic science is a multidisciplinary area that brings together biology, chemistry, biophysics, toxicology and more. 
"The science of health, hygiene and beauty is the way I look at it," he said. "Typically when you talk about cosmetic science, people may think that it's all about makeup and it's all about color cosmetics, but there is a significant health care component to it."
For example, new research suggests that children pick up skin conditions like eczema and psoriasis before their first birthday, but this may be able to be prevented if the skin barrier is protected well during the first six months.
"If we can do that, you are actually solving lifelong types of problems," Ananth said.
Cosmetic science work focuses on keeping skin and hair healthy, but unlike medications, cosmetic products also have to be pleasing to the senses, Ananth noted. If a lotion doesn't smell good and doesn't feel good on the skin, it won't be purchased again by consumers.
"I don't think people understand how much science goes into cosmetics and cosmetic product development," said Randy Wickett, PhD, professor emeritus. "We don't just slap things together and put them out there. The testing is quite complex."
When UC professor J. Leon Lichtin started the program in 1972, it was the first graduate cosmetic science offering in the country. It began as an evening master's degree program with a co-op component in partnership with Cincinnati-based consumer goods giant Procter & Gamble and continued to grow and add additional co-op sites through the years.
Gary Kelm, PhD, was a chemical engineer at P&G at the time and said the program offered more applicable knowledge to his work in product development compared to chemical engineering master's degree courses. Kelm was the second graduate of the program and joined the faculty as an adjunct professor in 2009.

When Lichtin retired in 1991, Wickett filled the position of program director, and the program expanded to include a doctorate offering and more on-campus research opportunities for students.
Transition and expansion online
Wickett said he would often meet industry professionals at conferences who were interested in joining the program but were constrained by distance. The problem was remedied when the program launched online course offerings in fall 2006.
Gerald Kasting, PhD, professor of pharmaceutics and cosmetic science, recalled that lectures for the online program began as recordings of live lectures, with poor audio quality at times making it difficult for online students to hear class discussions. As the technology continued to improve to deliver quality asynchronous lectures, the program slowly and steadily grew, he said.
Around the time the online option launched, the college also began offering a graduate certificate program in addition to its master's and doctoral degree offerings. The certificate program is available as stand-alone supplemental graduate education to give more specific expertise, or it can be used as a stepping stone on the way to a master's degree.
"The fact that students could just get in there, take classes, get a certificate and then transition seamlessly into the master's if they had maintained a GPA of 3.0 or above eliminated an energy barrier, and that's what really was the driving force behind the program," Kelm said.
About four years ago, the College of Pharmacy and UC's College of Arts and Sciences launched a BS-MS hybrid program where students can earn a bachelor's degree in chemistry, biology or chemical engineering and a Master of Science in cosmetic science in a total of five years.
I think the exciting part is that we do science, but it's desired and used. You're using fundamental chemistry to answer questions for applied science, and that develops new products which people can use in their day-to-day lives.
Harshita Kumari, PhD Associate professor, Division of Pharmaceutical Sciences
"We did a lot of market research on that BS-MS program, and we brought in groups of industry people," Wickett said. "They said when they hire a chemistry graduate we have to spend months training them in the cosmetic industry, or we can hire your graduates and they're already trained."
"I don't think there are any programs that are quite like ours," Kasting added. "It provides a training opportunity that is not easy to find in the U.S." 
Over the last five years, annual enrollment in the program has grown from about 20 students to 230 students per year, including more and more international students.
"I'm so impressed with Ananth and his cosmetic science faculty colleagues for starting with a good graduate program and elevating it to global leader status," said Christopher Surratt, PhD, dean of the James L. Winkle College of Pharmacy. "When I worked at other pharmacy schools, any mention of cosmetic science research and training was inevitably coupled with a reference to UC Pharmacy."
Greg Hillebrand, PhD, associate professor in the program, said the industry experience of the faculty from a variety of specialties provides a well-rounded education to students.
"Importantly, no one faculty member can be an expert across all the topic areas of cosmetic science," Hillebrand said. "For that reason, we have a tremendous group of adjunct professors each with expertise who help teach individual topics in our program."      
While most students today take cosmetic science courses online, those that are on-site have the opportunity to work on laboratory research under the guidance of faculty members. One-week lab courses are also offered during the summer for online students to get hands-on experience.
Harshita Kumari, PhD, associate professor in the Division of Pharmaceutical Sciences, said her lab has conducted research projects funded by P&G, the Environmental Protection Agency and other industry partners. She also has used the program as a mechanism for reaching out to underrepresented minority high school students, in hopes of inspiring educational goals and the students possibly enrolling one day at UC.
One previous research project in Kumari's lab looked at surfactants, the substance in soap that removes dirt from the skin. Harsh surfactants can strip the skin of oil, drying out the skin, so the researchers were studying which surfactants were the most effective at cleaning the skin while not leaving the skin dry. Another project studied how to make the scent of body washes last longer throughout the day based on the perfume molecules being released.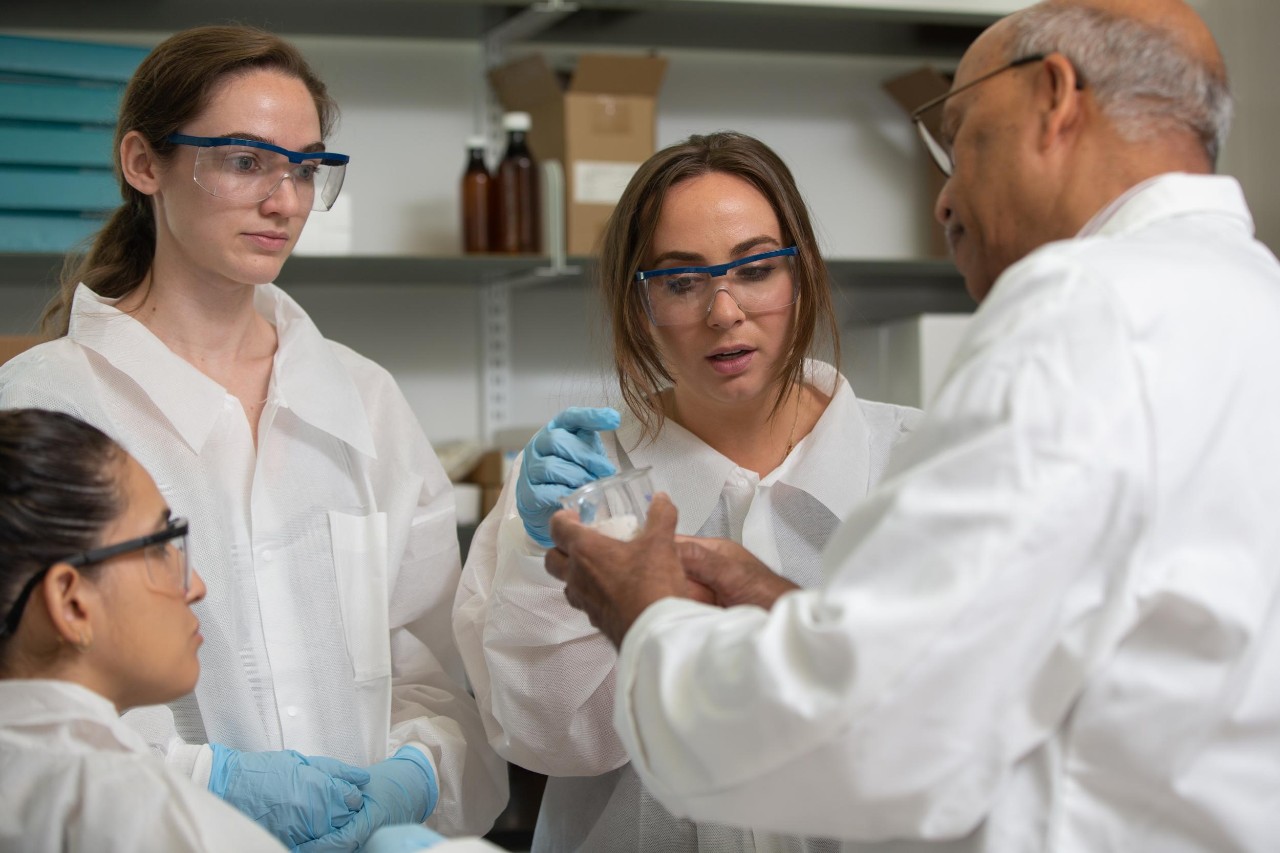 "I think the exciting part is that we do science, but it's desired and used," Kumari said of cosmetic science research. "You're using fundamental chemistry to answer questions for applied science, and that develops new products which people can use in their day-to-day lives. That's very exciting for me that you see your science translated into something that people will use."
While cosmetics have been around for thousands of years, Ananth said cosmetic science is full of new areas of research, including wearable technology that can measure skin properties, understanding more about changes in skin as people age well past 65 and studying the effects of bacteria within the microbiome of the skin.
In addition, as consumers become more selective about the materials products are made with, Ananth said the cosmetics industry is working toward making products with more natural ingredients instead of chemicals. 
For example, Kumari's group has studied more than 100-year-old aluminum chemistry. Aluminum chloride was traditionally used in antiperspirant/deodorant but led to skin irritation and yellowing of clothes. 
Kumari's team studied the formation and kinetics of hydrogels that are mediated by artificial intelligence which form the basis of the antiperspirant/deodorant industry. They looked at the key success markers for an effective antiperspirant and how they can develop improved ones with aluminum alternatives.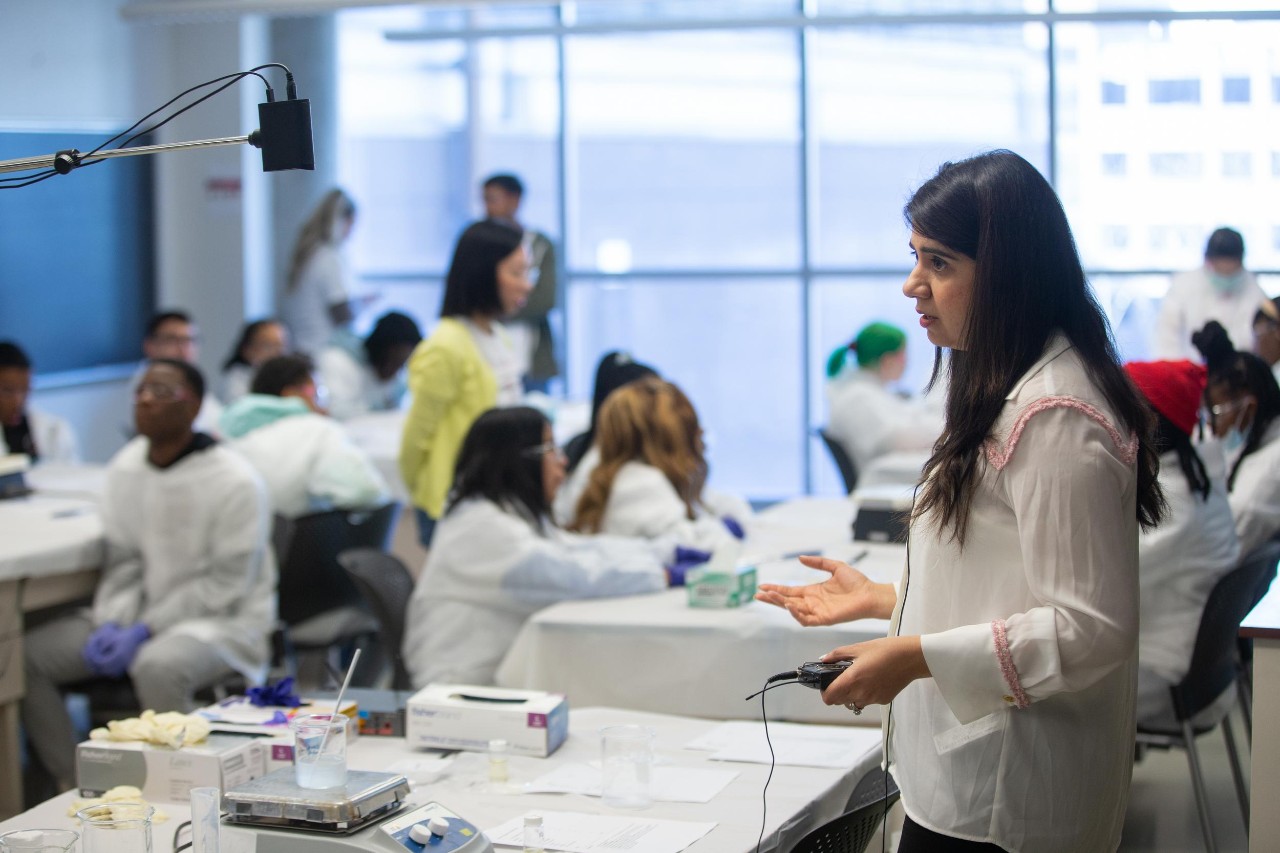 "All of these are interesting challenges, but at the same time require specialized education to be able to really get to those points," Ananth said. "Without proper cosmetic science education, employees in the industry are not going to be able to understand these things very well." 
Every innovation in the program has aimed to make things more accessible to students, Ananth said, while also continuing to provide valuable instruction that is directly applicable to careers in the industry. 
"I think we are preparing our students to hit the ground running on day one with their companies," Ananth said. "A lot of companies tell us that they value the program here, and it is something that we can build on to bring new aspects to the cosmetic program that they are looking for."
Ananth said the program plans to soon launch an additional graduate certificate path specializing in hygienic manufacturing of cosmetic products, a need identified and requested directly by industry leaders. As the industry continues to change and grow, the program is well equipped to continue to make an impact for the next 50 years.
Impact Lives Here
The University of Cincinnati is leading public urban universities into a new era of innovation and impact. Our faculty, staff and students are saving lives, changing outcomes and bending the future in our city's direction. Next Lives Here.
2
Classes begin for increasingly diverse student body at UC
August 23, 2021
The first day of classes for the fall semester at the University of Cincinnati starts Monday, Aug. 23, and more than 46,700 students are expected to begin instruction with a more traditional fall term, focusing on in-person instruction and activities.
3
President Pinto's 2021 year-in-review message
December 17, 2021
University of Cincinnati President Neville G. Pinto looks back on a historic year that brought students, faculty, staff and the community back together like never before.