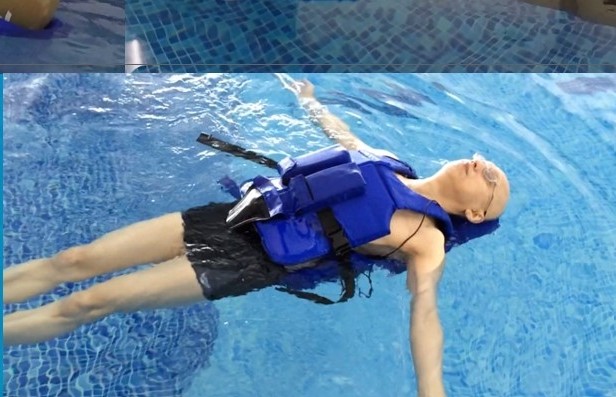 UC faculty member pioneers new polyethylene wetsuit
Enhancing hydrotherapy rehabilitation for patients and therapists
Hydrotherapy, also known as aquatic therapy, is a type of healing therapy that employs the power of water to help patients recover from injuries, reduce pain and enhance overall physical function.
Inspired by a family member who uses a wheelchair, Kristina Shin, an assistant professor in the College of Design, Architecture, Art and Planning (DAAP), embarked on a quest to design a more user-friendly wetsuit for aquatic therapy. Shin then took her idea to the Venture Lab, where she participated in an eight-week pre-accelerator program to examine its market potential.
Doing physical therapy in water reduces the impact on the joints and muscles, making it a highly effective form of therapy for individuals grappling with limited mobility caused by issues such as:
Paralysis or impaired leg muscle control
Orthopedic surgery

Arthritis
Despite the advantages of hydrotherapy, the process of getting in and out of the water — and getting in and out of the required wetsuit — is cumbersome. Typically made from Styrofoam, the wetsuits are bulky and require two physical therapists to assist each patient, along with special machines to fasten and remove the device from the patient. The suits also tend to ride up over the wearer's shoulder, impairing movement. 
The UC Venture Lab was amazing, helping me figure out how to approach and market the potential of my product.
Kristina Shin Assistant professor in the College of Design, Architecture, Art and Planning
In her quest for a better wetsuit, Shin immersed herself in research, consulting with physiotherapists and patients, reviewing 53 flotation patents and testing buoyant materials. Armed with feedback and market insights, she created a prototype with polyethylene.
Unlike its neoprene counterparts, which can become heavy and restrictive when drenched in water, polyethylene foam is more buoyant and flexible, easing movement.
The user-centric wetsuit also allows the patient to operate the movable foam panels on the back by pulling the two handles on the front. Whereas two operators are needed for a traditional hydrotherapy wetsuit, Shin's model reduces the number of therapists down to one.
Other features include:
Polyethylene is more resistant to bacteria and mold than neoprene, making it easier to clean and maintain
The material is more pliable than neoprene, making the suit easier to put on and take off than traditional designs

Material is lighter and less cumbersome than neoprene, reducing strain on the staff's muscles

Movable foam panel helps patients change their posture from upright (deeper water) to supine to upright (shallow water)
Smooth design surface reduces friction, making it easier for staff to assist patients in and out of the water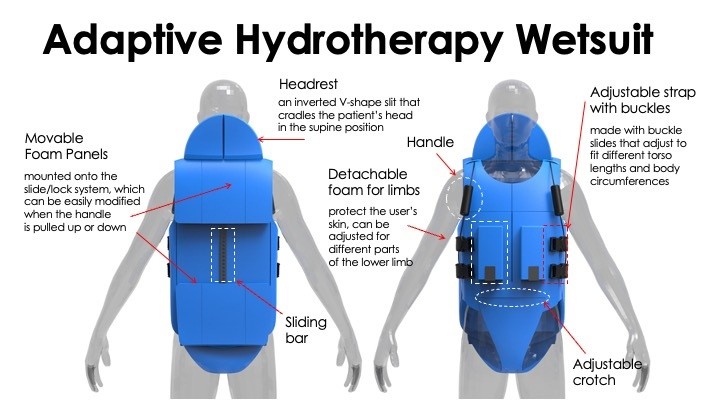 Through a DAAP colleague, Shin heard about the UC Venture Lab. Housed within the 1819 Innovation Hub — the nerve center of the Cincinnati Innovation District — the Venture Lab offers a pre-accelerator program to help innovators examine the commercial potential of their ideas.
"The UC Venture Lab was amazing, helping me figure out how to approach and market the potential of my product. Each week we were paired up with a new entrepreneur-in-residence mentor. Their insights ranged from refining the concept to presentation creation," Shin said.
As Shin sets her sights on commercialization, she's on the lookout for a business partner or investor who can help take her venture to the next level.
While she waits for the perfect partner to come along, Shin has been paying it forward, bringing her insights back to DAAP.
"There are many students who want to start their own brand after graduation. I am grateful to utilize my Venture Lab experience in any way to help guide them to realize their dreams," Shin said.
Featured image at top: A patient demonstrates an adaptive hydrotherapy wetsuit.
2
UC grad makes physical therapy more engaging for children
October 26, 2022
Having found the guidance she received for physical therapy to be boring and confusing, a University of Cincinnati alumna is developing an app that will make the process more engaging and enjoyable for children.
3
UC startup aims to reinvent physical therapy
August 16, 2022
A University of Cincinnati Venture Lab-backed startup is looking to reinvent the physical therapy market with a new approach that offers hope for a more effective and more convenient way to provide treatment.