University of Cincinnati Esports highlights eventful first year
Milestones set new standards
In August 2022, UC opened the esports lab in the 1819 Innovation Hub. Since then, the lab has become a hub of activity, providing a home base for the UC Esports Club and a tournament venue for statewide esports programs, benefiting gamers and STEM students.
In its first academic year, the ESL attracted diverse visitors, including community members, faculty and students. During this time, the ESL:
Hosted 40 events for organizations ranging from corporate partners to public schools to esports teams and clubs
Welcomed over 5,000 visitors
Saw more than 1,000 individuals 
Extensive studies have unveiled captivating findings that esports serves as a magnet, drawing in students with an inherent interest in STEM majors.
Patty Moser Director of experience, events, esports
The UC Esports Club used the lab as a dedicated practice space for in-person tournaments and a place to connect with others.
ESL also attracted participation from various schools within the university, including:
College of Engineering and Applied Science
Lindner College of Business
Design and Architecture Art and Planning
College of Medicine
UC connected with academics by joining forces with Cincinnati Public Schools (CPS) to establish the Esports High School Speaker Series. This initiative aims to spotlight collegiate esports prospects, providing insights and guidance to schools interested in developing their own esports programs.
"Extensive studies have unveiled captivating findings that esports serves as a magnet, drawing in students with an inherent interest in STEM majors," said Patty Moser, director of experience, events, esports. "This vibrant ecosystem provides exciting gaming experiences and exposes students to a world of limitless possibilities awaiting them at UC."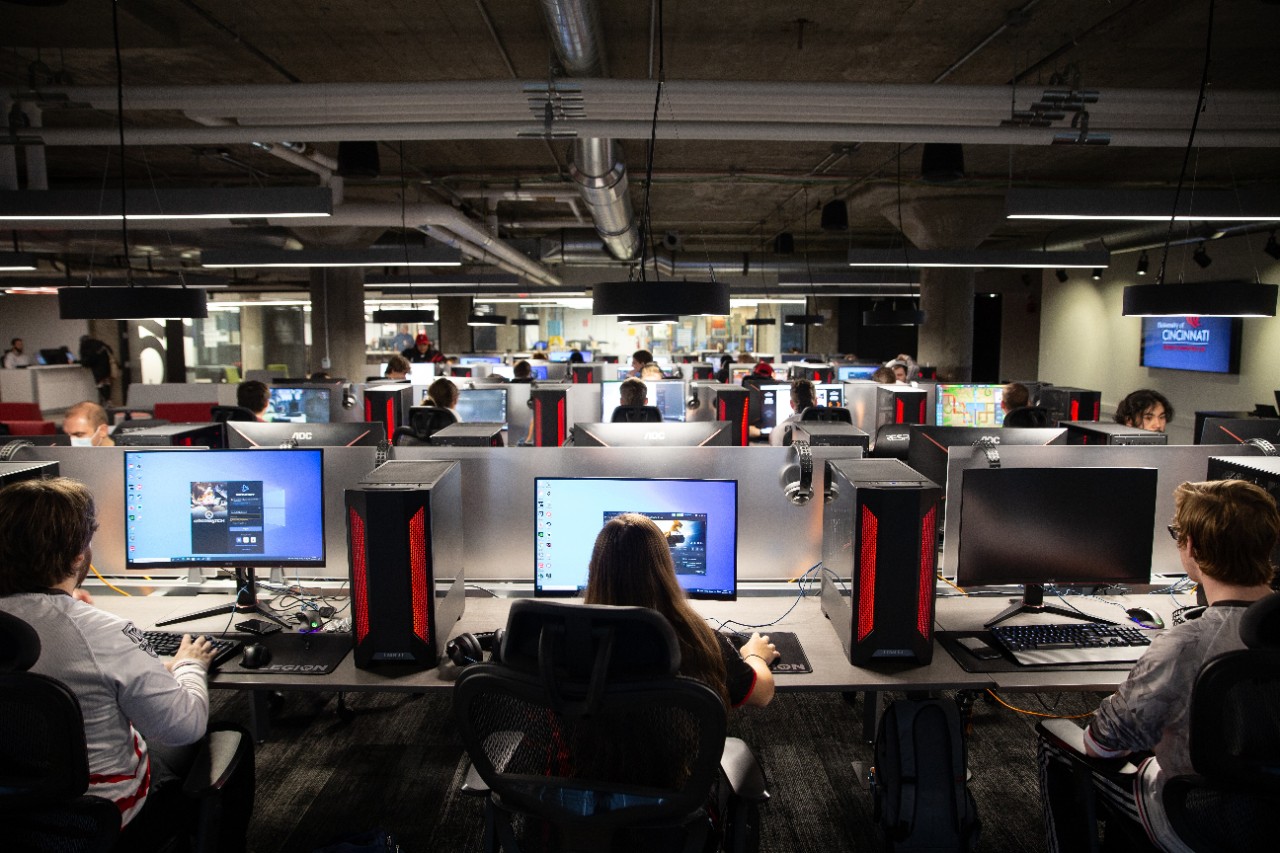 The ESL has proactively formed alliances with the following organizations to expand its reach into the gaming and academic communities:
Esports Ohio
Cincinnati Fear
Cincy Esports Collaboration
ESL hosted Cincinnati Fear for competitive video gaming, utilizing the new state-of-the-art broadcast studio space that streams digital Twitch events. Additionally, ESL was the host site for local and regional tournaments, such as the Esports Ohio Quarter-Finals.
Noteworthy equipment updates
Over the last year, in response to needs identified within the gaming community, UC. invested in the following new equipment:
Microphones-handheld and headset
Five large wall-mounted TVs
Additional new consoles
Campus shuttle to 1819 Innovation Hub
Corporate partners of the 1819 Innovation Hub, such as The Kroger Co., Great American Insurance Group and KAO to name a few, have access to the ESL for team-building events. The broadcast studio is designed to stream live esports tournaments on Twitch but doubles as a location to film video interviews and host podcasts for students, faculty and staff.
As esports heads into the next quarter, a greater focus will be paid to evolving relationships formed in the community and on campus this past year.
"Our commitment continues supporting our community as we strengthen alliances within esports and academia," Moser said. "The UC Esports Lab illuminates pathways to success extending far beyond the confines of its consoles to the realms of animation, game design, broadcasting and beyond. Students gain invaluable skills to unlock a multitude of career prospects, aligning perfectly with the diverse and expanding recruiting efforts UC offers to the region."
Featured image at top: Students play a game in the University of Cincinnati Esports Innovation Lab. Photo/Greg Glevicky
UC Esports Lab
To learn more about scheduling corporate and educational team buliding events in the UC Esports Lab email us.