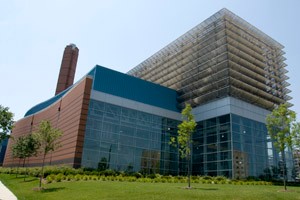 UC Closer to Moving Beyond Coal
Coal, an oft-maligned fossil fuel, could soon be history at the University of Cincinnati.
For years, UC has dramatically tempered its reliance on coal combustion for energy. Statistics from UC's Utilities Services show current coal usage is around 90 percent less than what it was in fiscal year 2011. Joe Harrell, Utilities assistant vice president, anticipates the university could completely supplant coal as its primary solid fuel within a year's time.
"UC has always been a leader in environmental stewardship, and a great example of our innovation is how UC is moving beyond coal," Harrell says. "We're working diligently to eliminate that last 10 percent of coal use."
COAL USAGE BY THE NUMBERS
UC's reliance on coal-fired energy remains historically low. Here's a look at coal use from the past five fiscal years:
Coal usage 2009: 33,990 tons
Coal usage 2010: 30,543 tons
Coal usage 2011: 24,007 tons
Coal usage 2012: 728 tons
Coal usage 2013: 636 tons
Decreased reliance on coal is an important element in Utilities Services' mission to provide a safe, healthy and comfortable environment for the university community. For the past year, Utilities Services has been testing alternative solid fuels, including renewable paper pellets, for use in the coal boiler.
The pellets being tested are made from waste materials – such as industrial papers and plastics – that can't be recycled. If left to decompose in landfills, these materials would eventually produce methane, a more powerful atmospheric toxin than carbon dioxide. Instead, these materials are shredded, pressed and shaped into a dense pellet that's about the size of a $1 stack of dimes. These pellets can be used as a cleaner, more cost-effective substitute for coal. Utilities Services has been assisted on this project by UC's Planning + Design + Construction, College of Engineering & Applied Science and Environmental Studies Program.
"This collaboration has been so successful that UC will be able to move completely beyond coal with less than $1,000,000 of capital costs," Harrell says.
UC has applied for a permit from the U.S. Environmental Protection Agency to add pellets to the fuel mix, and Harrell anticipates approval soon.
SAVING ENERGY MEANS SAVING MONEY
At the same time UC has experienced
record-setting enrollment in recent years
, many departments working together have managed to reduce the university's overall energy usage. Total energy use intensity (measured in kBtu per gross square feet) in fiscal year 2013 was down from the previous year, continuing a three-year trend. Harrell says these recent energy savings have allowed UC to avoid more than $4,500,000 of cost increases per year.
The EPA has recognized UC multiple times for its efficient operation of the Central Utility Plant, which produces energy via the cogeneration method. This process uses one fuel source to produce thermal energy and electricity – an environmental and economic advantage over the conventional, multi-fuel-sourced separate heat and power method.
UC's utility plant also has gotten attention this year from the International District Energy Association (IDEA). A student-produced
video about UC's responsible approach to energy management
won the grand prize in IDEA's third annual Campus Energy Video Contest. Video submissions were required to be fewer than three minutes long and focus on the campus energy plant's use of district energy and/or combined heat and power. Winners were announced at IDEA's 27th annual Campus Energy Conference held in February in Atlanta.
IDEA is a nonprofit association for district energy professionals that promotes reliable, economical, efficient and environmentally sound district energy services. District energy systems produce steam, hot water or chilled water at a central location to be distributed to a network of buildings.
SUSTAINABILITY AT UC
These sustainable energy efforts not only align with the
goal to create a deliberate and responsible approach to our environment and to UC's resources and operations, but they are a few more examples of what it means to be
. The university recognizes its role as a leader in sustainable practice, research and education. UC seeks to consider the environmental, social and economic impacts of its decisions and is committed to incorporating the concept of sustainability into its academic and research programs; the design, operation and maintenance of its buildings and landscapes; and its organizational structure and management.
MORE UC NEWS RELATED TO EARTH DAY
Spring 'Greening' for Earth Day: UC Earns National Sustainability Ranking
More than Just the Grass is 'Greener' at UC
Recycling Numbers Continue to Rise at UC
1
Trailblazing engineering professor honored with alumni award
January 30, 2023
Professor Awatef Hamed is a trailblazer. She came of age during a time when few women were going to college to study engineering. In 1968, she left her home in Egypt and came to the University of Cincinnati as the only female graduate student in the aerospace engineering program. She went on to get her master's and doctoral degrees from UC and then was hired as a faculty member, where she was the only female faculty member for two decades. In 2001, she became the first woman to head a college aerospace engineering department.
3
Engineering alumnus presented with lifetime achievement award
January 24, 2023
Michael Valentine's career as an innovator and entrepreneur has spanned more than four decades, and has included the creation of an industry-changing radar detector and two successful companies, Cincinnati Microwave, and his current business, Valentine Research. Through the years, Mike and his wife, Peg — both UC alumni — have become prodigious philanthropists at the University of Cincinnati and within the region, giving of their time and treasure to many causes close to their hearts.
Debug
Query for this