CCM Sound Design student wins Pat MacKay Diversity in Design Scholarship
Live Design features Alena Milos in a Q&A about her goals, influences and challenges
UC College-Conservatory of Music BFA Sound Design student Alena Milos is a recipient of the 2020 Pat MacKay Diversity in Design Scholarship, presented by Questex's Live Design International (LDI) in partnership with TSDCA and USITT. Live Design, a creative and technical resource for live design professionals, recently featured Milos in a Q&A published online.
Founded in 2019, and funded by LDI and Live Design, the goal of the Diversity In Design scholarships is to support underrepresented and unique voices in the field of entertainment design. The scholarships are named for Pat MacKay, formerly publisher of Theatre Crafts and Lighting Dimensions magazines and founder of the LDI Trade Show and Conference. MacKay is a USITT Fellow and has served as a mentor for multiple generations of industry professionals. The scholarships are awarded to students currently enrolled in lighting, digital media and sound design programs on an undergraduate level, as well as high school seniors who have been accepted to an undergraduate college or university design program.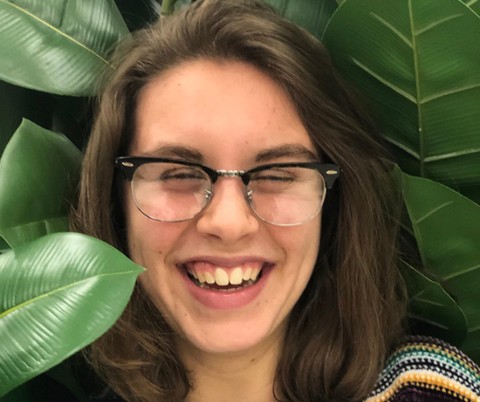 "We are excited to be able to help Alena Milos further her education in sound for theatre by awarding this scholarship," commented sound professionals on the scholarship judging committee, according to Live Design. "Alena already has a lot to show for her time thus far in college and shows initiative for wanting to continue exploring and creating in this field."
Milos is entering her sophomore year as a Sound Design student in Theatre Design and Production at CCM. During the 2019-20 season, Milos worked as A2/Microphone Crew Chief on CCM Musical Theatre's production of The Secret Garden. CCM partnered with L-Acoustics, the market leader in professional sound reinforcement technologies, to bring that company's groundbreaking "L-ISA Immersive Hyperreal Sound" technology to the CCM stage during the musical. In conjunction with BlackTrax, Mid America Sound Corporation and Loud & Clear Inc., the L-Acoustics team was able to provide CCM students, faculty and staff with a 3D sonic canvas to convey their art with unprecedented realism. Read more about this partnership. 
"As someone with a musical background, I'm just smitten with aural experiences, and it's really cool to put compositional knowledge to use and see how that can play into it too," Milos told Live Design. "The more I learn about EQ and effects, what that can do to tonality, and how the endless amount of elements all work together, the more I fall in love. Just everything about the active listening, the design, the mix. Everything about sound and how it all comes together is so cool, and I become more interested in sound every day."
CCM's Sound Design program focuses on the artistic use of sound design technology. The work is not about the toys but about telling the story on stage. Beginning with training in the fundamentals of sound technology and theatrical production, students study the art of sound design through courses in script analysis, theatrical design, theater history, art, music and system design. Students learn through the designer's process and in collaboration with the director and the design/production team. The curriculum includes study of sound perception, digital audio, sound effects, music editing and reinforcement techniques. Students with a background in music and composition are encouraged to create original scores when appropriate.
3
Co-ops allow UC undergrad to explore passions, career path
March 29, 2023
According to national studies, as many as 75% to 85% of undergraduate students will change their major at least once before earning their degree. One in ten undergraduate students will change their major more than once throughout their college career. With over 40 majors to choose from in the University of Cincinnati's College of Arts and Sciences, declaring a major can be a comprehensive process. Fourth year undergraduate student Maggie Sweeney found her perfect fit in the International Affairs program. "I used my resources at UC and looked into a couple different majors," said Sweeney. "International affairs stuck out to me because it is an interdisciplinary major and all my interests in history, language, and social justice were encompassed into one major as a whole." 
Debug
Query for this