Campus dining options for fall
New offerings, old favorites and a few changes equal delicious choices for UC community
The opportunity to deliver enriching and nourishing dining experiences to students and the university community is a privilege and responsibility to which UC Dining Services is committed. The health and safety of our guests and employees demands thoughtful planning and rigorous operational standards. The Fall 2020 Dining plan is based on guidelines from the Ohio Department of Health and other governing agencies that is customized to meet or exceed the needs of all students and employees as they return to campus.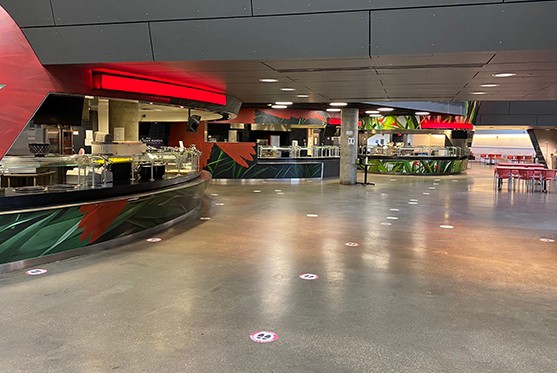 UC Dining services has taken great care to develop safety protocols and training for employees to ensure the highest standards of safety, including, but not limited to, the following:  
Expectations of all employees: facial coverings required; daily temperature screenings; handwashing and replacing gloves at least every 20 minutes
Tables and chairs will be sanitized at escalated frequency during service hours. 
Shields and guards have been installed to protect serving areas and cashier stands. 
Signage and graphics have been placed to guide spacing.  All guests will be required stand 6 feet apart and to wear a facial covering except when sitting down in designated seating areas to eat.
All food will be served by employees; self-service will be limited to pre-packaged foods and fountain beverages.

Mick & Mack's Café located on Level 3 of TUC has traditionally been a popular destination for faculty and staff.  This location has been converted to a carry-out only service and will serve both meal plan students and faculty and staff.  It will be open Monday-Friday from 10:30 a.m. – 4:30 p.m., and the lunch price is $10.50. Guests can choose from either the hot buffet option or a grab & go meal combo.  
Another change at Mick & Mack's this Fall is that the Thursday evening wine events have been placed on pause.
The TUC Food Court is currently undergoing some exciting changes, bringing new and updated brands to campus. When classes begin in late August guests will find the following brands available:
Chick-fil-A
MainStreet Pizza
TUC Tacos
With construction underway – we expect our first new brand, Qdoba, to open mid-way through fall semester in the space that was formerly occupied by Burger King.
Once Qdoba opens, MainStreet Pizza will close and construction will begin to convert that space to Panda Express, which will open sometime in spring 2021. We are final stages in selecting a brand that will replace the former Taco Bell; please stay tuned for more updates.
Other retail locations that will be open this fall include: SSLC Subway, CCM Starbucks, Quick Mick's, Langsam Starbucks, LCOB Starbucks, and Tim Hortons. Based on expected campus traffic, service at select college cafés will be paused for the upcoming semester.

Cincy to Go, a mobile ordering app will be rolled out in phases for retail eateries. More information will be announced in the coming weeks. Where available, guests will be able to place and pay for orders via a mobile device and pick up at a designated time to minimize time spent waiting in lines. Please look for signs at Chick-fil-A and the LCOB Starbucks regarding how to download and use this app. 

Dining centers will begin opening Sunday, Aug. 16, with the wide variety of menu items that are typically provided, including pre-made, served-to-order and prepared-to-order hot item choices. Dining centers are open to all meal plan holders and retail guests. With reduced occupancy levels, limited seating will be available, and all food will be available as take-out.  
In order to expand meal plan availability and provide a hot meal alternative for students and employees, Mick & Mack's in TUC will have a full hot meal buffet, served by associates and available as carry-out. 

Keeping with university policy, guests will be expected to wear facial coverings in dining centers, except while eating. 
Follow floor markings and queuing throughout each dining facility. 
Where dine-in options are available, no more than 4 guests may sit at each table. 
Sanitizer wipes and stations will be available for guest use. Guests are encouraged to clean up all trash and spills before leaving tables. 

Due to changes in seating capacities that will be available within dining centers, Campus Services has collaborated to establish additional overflow seating areas in other campus facilities. 
To provide guests more options for comfortable eating and study, additional seating will be available in the Campus Recreation Center gymnasium, adjacent to CenterCourt; and Great Hall and meeting room 400, located on Level 4 of Tangeman University Center. 

Find out more
As with all university services, updates may be made to food services as regulations change, as new programs and policies are developed.
For more information please visit uc.edu/food and follow @UofCincyDining on Instagram and Twitter.