UC student Fulbright winners make positive global impact
Five UC student Fulbright winners to teach and do research in Europe, North Africa and Guatemala
The U.S. Fulbright Student Program will take five University of Cincinnati grad students and recent graduates to the four corners of the world for the prestigious opportunity to study abroad.

UC Bearcats Mariah Cain, Robert Eastman Johnson, Katherine Paul, Madeline Perry and Grace Sprockett will spend the next academic year in various pursuits –– teaching, conducting research or creating a documentary film in Europe, Central America and Northern Africa. 

UC's Fulbright five are part of more than 1,900 U.S. students, health care ambassadors and early career professionals to study and teach in over 140 countries across the globe.

During their grant periods Fulbrighters will meet, work, live with and learn from the people of the host country, sharing normal day-to-day experiences. The program facilitates cultural exchange in the classroom, field and home.

This experience allows the grantees to gain an appreciation of others' viewpoints and beliefs, the way they do things and the way they think.

UC administers the Fulbright U.S. Student Program applications through the Office of Nationally Competitive Awards (NCA), aligning with UC's strategic direction Next Lives Here for academic excellence. 
We are always proud of these students who serve as ambassadors for UC and the U.S. during their year abroad. They continue a long tradition of UC students and alumni winning Fulbright grants to engage in exciting international experiences and build crucial relationships across the globe.
Cara Pickett UC Fulbright advisor

UC's past winners join a long list of Fulbright alumni who are currently making an impact in climate change science, "green" architecture and infrastructure, teaching English, closing cultural gaps through music and the arts and improving health care all over the world.
More about UC's 2018 Fulbright honorees: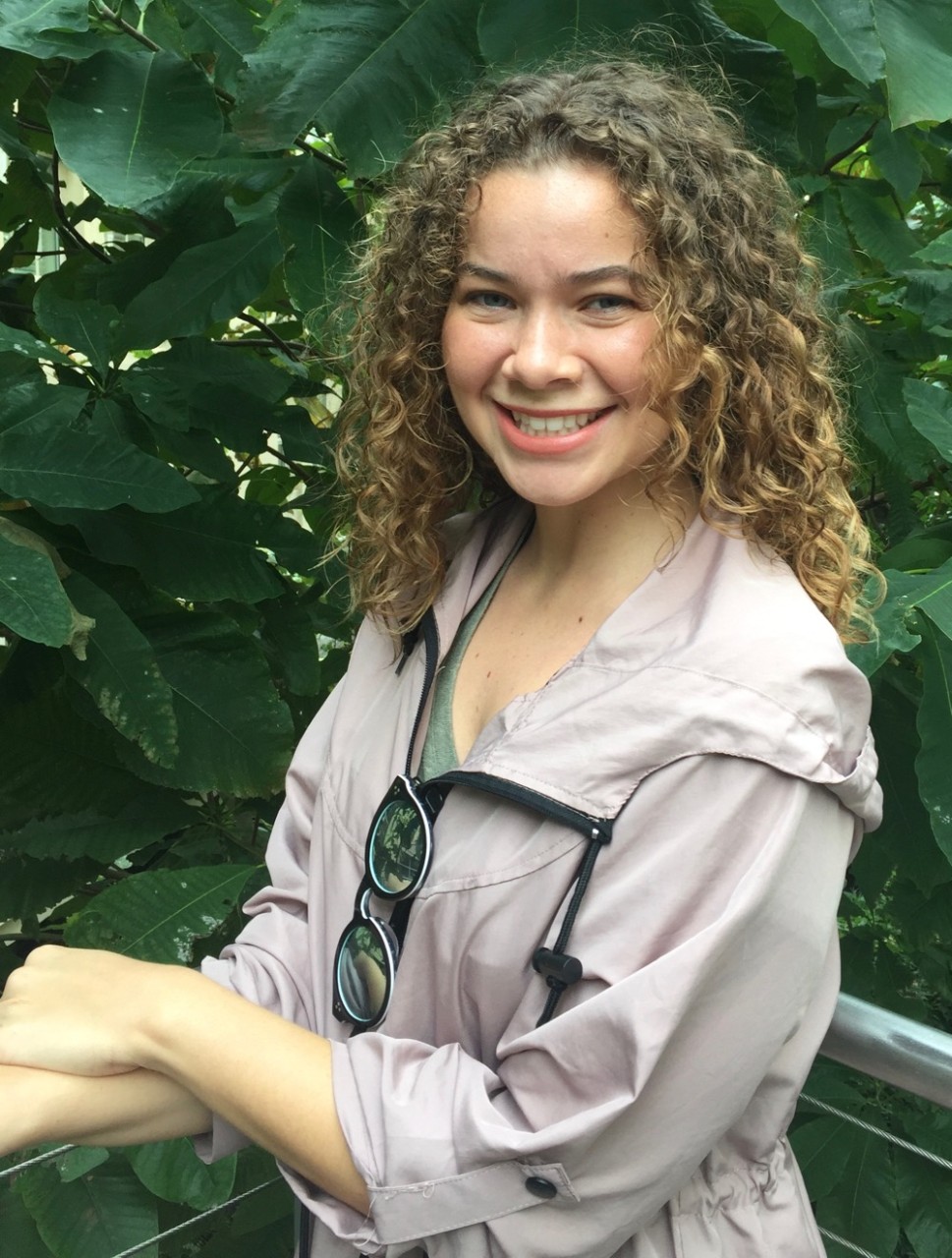 English teaching Fulbright in Greece
While Mariah Cain is a native of Columbus, Ohio, she holds a passion for pushing past her comfort zone to change social injustice and unequal opportunity all over the globe. 
Being selected as a Fulbright English teaching assistant in Greece will help her enhance educational opportunities for young minds abroad and prepare her for eventually mentoring disenfranchised youth in the ever-changing 21st century classroom.

As a UC spring graduate earning a bachelor's degree in secondary English education from UC's College of Education, Criminal Justice and Human Services, Cain plans to devote her Fulbright year to creating a meaningful cultural exchange as a young ambassador at the Hellenic-American Educational Foundation (HAEF) in Athens.

"The HAEF's mission to cultivate mind, body and spirit for responsible citizenship, moral courage and intellectual discipline with a devotion to justice resonates with me for the primary reason I feel called to be an educator," says Cain. "Teaching English in Greece will enable me to refine my educator's skills while being immersed in the rich complexities of one of the most influential cultures in the world."

Along with several departmental scholarships, academic honors and leadership positions in student organizations, Cain honed her penchant for serving others as an elected member of UC's Racial Awareness Program where she challenged, debated and educated other students on issues of social position and social justice. 

In addition to working alongside respected faculty in Greece, Cain plans to volunteer for the 36th Athens Authentic Marathon in November, an annual event that has 43,000 runners, 80,000 spectators and 3,200 volunteers.

At the end of her Fulbright year, Cain will switch gears to serve as a summer camp counselor for a month. Before returning, she plans to experience as much Greek culture as she can while exploring the historical landmarks, museums, food, music and people. If she chooses, she has the option to stay for an extra year to help guide the next Fulbright awardees.

"Being a lifelong educator will help me contribute to society in a way that is meaningful to my heart," says Cain. "My Fulbright experience will help me teach students to draw on the knowledge of the past in their attempt to weigh the questions of the present."
Study Research Fulbright in Guatemala

As early as her high school AP biology class, Madeline Perry became fascinated with the social and economic impact of the HIV virus on people's lives globally. Since then, Perry has made it her mission to study medicine and help make health care accessible everywhere.
Perry is a fourth-year medical student in UC's College of Medicine but will spend 10 months in Tecpán, Guatemala, as a Fulbright study research recipient working with the nonprofit agency Maya Health Alliance, also known as Wuqu' Kawoq, to offer better medical care to women facing high-risk pregnancies.

"Because of widespread discrimination against the indigenous population in Guatemala, women don't always use the formal medical sector," says Perry. "As a result, midwives, who often cannot read themselves, attend many of the births for these women."

Working with the Maya Health Alliance, Perry will be studying the effects of a picture-based smartphone medical app that can be used by the midwives to help identify and distinguish high-risk pregnancies from low-risk and to make appropriate health care more accessible to indigenous women most at risk for medical complications.

Using quantitative analysis and qualitative components that use interviews with the women, midwives and health-care providers, Perry will help assess the high-risk women who will ultimately need to be seen by professional obstetricians and neonatologists in a formal health-care setting.

When she returns, Perry plans to publish her research in Global Health: Science and Practice and present at the Society for Maternal-Fetal Medicine.

Perry's trip to Guatemala won't be her first in the area of global health. She spent time in Geneva, Switzerland, encountering major health agencies such as the World Health Organization, the United Nations, UNAIDS and the Red Cross.

Perry was also part of a nonprofit operating in Morocco's Sahara desert dedicated to screening kids for easily treatable eye conditions, as well as in Ecuador with Timmy Global Health and Uganda to study the impact of Ebola in a northern region of the country.

"You can get a good medical school education anywhere, but at UC you are also encouraged to do things outside of medicine whether it be research or advocacy or policy work, and I value that in a medical school," states Perry.

Open-Study Language and Literature Research Fulbright in Germany
As a German studies doctoral student in UC's McMicken College of Arts and Sciences, Katherine Paul is looking forward to spending six months in Germany conducting research on avant-garde, postdramatic theatre, in particular the works of American stage director Robert Wilson.  
As part of her dissertation and Fulbright open-study research award, Paul will look closely at Wilson's production of "Faust I + II," performed in 2015 at the Berliner Ensemble with music by Herbert Grönemeyer.

Described as unique, often avant-garde, Wilson's artistic approach is commonly met with contrasting opinion.

"I am especially interested in the public's reaction because he gets very mixed reviews from theatre and art critics," says Paul. "Some consider his work genius and exciting while others report incredibly negative feedback. For this part of the research I am most interested in getting the viewer's direct reaction right after the show."

After interviewing a random sampling of people about their perception of Wilson's productions and other similar plays, Paul will link the data to archival research from the Akademie der Künste and the Berliner Ensemble and will comb through contemporary German newspaper articles and other mentions about his work.

As a result of Paul's prior short teaching assignments in Germany and a study-abroad with the University of Bielefeld, her skilled German-language fluency will serve as a particularly valuable asset for both German and English while on her Fulbright.

"Because my experience at UC has been so valuable, I would like to create a similar experience in Berlin by founding an international Stammtisch, or regular's table, where bilingual speakers from all around Berlin can connect with one another in an informal way," says Paul. "I will invite university students, artists and community members who have an interest in using English language skills in a low-pressure social setting."

When Paul returns she looks forward to a career in education at the tertiary level in both German and theatre studies, but maintains a strong desire to someday write music and theater critical reviews for publications such as Rolling Stone.

Along with her award for excellence in teaching and her Taft Research Center Dissertation Fellowship, Paul is grateful for UC's graduate program and its research, financial and community support.
Open-Study Community Planning Research Fulbright in Morocco
After graduating this summer with a master's degree in planning from UC's School of Design, Architecture, Art, and Planning, Robert Eastman Johnson will use his Fulbright research grant to expand on an existing community planning project in Morocco. Johnson will look deeper into utilizing olive oil wastewater and household garbage as an efficient renewable energy source.
Working closely with sustainability issues is not new to Johnson. What began as a Peace Corps assignment four years ago while teaching English in a Moroccan youth center eventually evolved into community outreach.

Johnson's attempt to make efficient use of garbage and waste ultimately inspired his current project — channeling the energy from burning trash to efficiently power pottery kilns in Tameslouht, a small pottery manufacturing village 25 miles from Marrakesh.

In his attempt to reduce the expensive electricity needed to power the hot kilns, Johnson forged an interdisciplinary collaboration with UC's mechanical and environmental engineering departments to successfully develop prototypes for powering the kilns using little or no electricity.

"We designed five different kiln prototypes that run on energy from burning trash. The most complex uses supplemental electricity to power the fans that help recirculate the hot air, increasing the efficiency by 80 percent," says Johnson. "This is sustainability in every sense of the word, economically, socially and environmentally.

"Since there is no real available wood for burning, other than a few olive trees to make olive oil, they have a lot of olive oil wastewater and household garbage that eventually becomes a toxic issue."

As a result, his clever venture recently became a senior capstone project for UC mechanical engineering students.

Johnson will spend the next year in Morocco collecting solid waste data on the provincial level to support future environmental projects including small prototype kiln designs to determine the amount of energy needed measured against the available solid waste in the area. In addition, he secured an extra Fulbright critical language enhancement award to boost his understanding of Fusha, the modern standard Arabic language spoken in Morocco.

After creating a visual poster of his sustainability project for DAAPWorks –– a showcase for senior and graduate level final projects –– Johnson's display won the 2017 DAAPCares award and the 2018 Graduate Student Poster Expo.
English Teaching Fulbright in Slovakia
While sitting on her Slovakian grandmother's lap as a child, Grace Sprockett listened to stories about how her great-grandmother, as a young child, clung tightly to her tiny kroj Slovak doll while crossing the ocean to live in the U.S. 
Almost two decades later Sprockett will cross that same ocean and spend her Fulbright scholarship teaching English in her ancestral homeland of Slovakia.

"It was fate that I was chosen to go to my grandparents' homeland," says Sprockett. "I will be living and teaching in Modra near the Austrian border. In my spare time I plan to do volunteer work in the community, get to know the culture and learn more about my ancestral heritage up close."
As a native of Ohio, Sprockett graduated UC this spring with double bachelor's degrees in secondary education and history and looks forward to teaching English in Slovakia during her Fulbright 10 months abroad.
While there she plans to enhance her community engagement by producing a video documentary on the people of Slovakia's own interpretation of their country and history.
"I will portray their perspective of their country's history along with their personal history to not only provide data and evidence for historians, but to shed light on the real people of Slovakia," adds Sprockett.

As a UC honor student earning several scholarships and academic honors, Sprockett has developed different pedagogical skills to address a variety of disabilities and learning styles. She plans to use this approach while in Slovakia to have an impact on the same unique learning styles there.
After her return, Sprockett plans to begin a career in high school education focusing on history and coaching softball, building student confidence through academics and athletics.
Sprockett's long-term goals include working toward her doctoral degree in education, but not before shining a great light on the Fulbright program so other UC students see the advantages they have right at their fingertips.
More about the Fulbright Program:
Since its inception in 1946, the Fulbright grant program has provided more than 370,000 participants — chosen for their academic merit and leadership potential — with the opportunity to exchange ideas and contribute to finding solutions to shared international concerns. 

The Fulbright program is funded through an annual appropriation by the United States Congress to the U.S. Department of State and managed by the Bureau of Educational and Cultural Affairs.
Participating governments and host institutions, corporations and foundations in the United States and foreign countries also provide direct and indirect support.
More about UC's Nationally Competitive Awards
Fulbright is open to graduating seniors, graduate students and alumni. UC students interested in applying for Fulbright grants, contact Cara Pickett at cara.pickett@uc.edu. Similarly prestigious scholarships and award resources and assistance can be found in UC's Office of Nationally Competitive Awards.   

In alignment with the university's Next Lives Here strategic direction for academic excellence and global impact, NCA supports students in their application for a variety of prestigious national and international fellowships, such as Fulbright. Upon meeting with students to discuss their goals and fit for a fellowship, UC's Office of NCA provides feedback on application drafts and assists with all stages of the application process.
More back to school coverage
1
Here's what's next as UC heads back to school
August 21, 2018
As the University of Cincinnati returns for the 2018-19 academic year, it is getting ready for a major milestone, implementing a new strategic direction and opening brand new buildings
3
UC housing more popular than ever
August 20, 2018
Living on the University of Cincinnati campus has never been more popular — and with a brand-new residence hall and special learning-living communities, emerging housing options are giving students even more reasons to call UC home.
Query for this