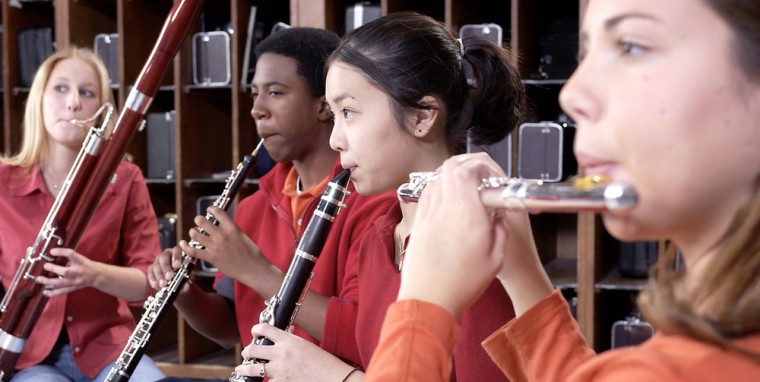 UC's CCM holds Lonely Instruments for Needy Kids (LINKS) collection drive
The instrument collection drive takes place March 9-10 at Joseph-Beth Booksellers in Rookwood Pavilion
Do you have a musical instrument collecting dust? Your gift could provide the missing link for a promising young musician. Through the Lonely Instruments for Needy Kids (LINKS) program at the University of Cincinnati's College-Conservatory of Music (CCM), you can donate your used instrument to a promising young musician who cannot afford to rent or purchase their own.
CCM holds its annual LINKS Collection Days this weekend at the Joseph-Beth Booksellers in the Rookwood Pavilion. The hours for the collection drive are 10 a.m.-5 p.m. Saturday, March 9, and noon-5 p.m. Sunday, March 10.
A project of CCMpower in partnership with Buddy Roger's Music, Joseph-Beth Booksellers and WGUC 90.9 FM, LINKS began in 1993 as the brainchild of CCM alumnus Bill Harvey (BM, Music Education, '71). The Vice President of Buddy Roger's Music, Harvey wanted to fill the need for students whose parents were unable to buy, rent or borrow an instrument. The solution was somewhat simple: a "recycling program" for musical instruments.
LINKS accepts donations of new and used instruments from the Greater Cincinnati community, then places them with students in local elementary, middle and high school bands and orchestras, as well as with students in CCM Preparatory and Community Engagement programs. Students are qualified by the recommendation of their music teacher, and a LINKS scholarship application is submitted in the student's name.
Since its inception, LINKS has placed over 3,000 instruments into the hands of children. Even if the instrument is not in perfect condition, donations are gladly accepted. Buddy Roger's Music generously contributes the time to carefully clean, restore and tune each instrument.
Entertainment during the collection will be provided by local music students of all ages.
If you do not have an instrument, you can still assist young musicians who need a helping hand by making a contribution to the LINKS fund at ccm.weshareonline.org/LINKS.
In addition to the March 9 and 10 collection days, instruments are accepted year-round at Buddy Roger's Music. Call 513-729-1950 for information on store hours and locations.
____________________
Story by CCM Graduate Student Jonathan Dellinger

1
Local media spotlights CCM's fall performances
September 8, 2023
UC's College-Conservatory of Music kicks off its fall performance season in September with a variety of concerts starring the next generation of performing and media artists. Local media featured the college's upcoming events in preview coverage shared by CityBeat, Movers and Makers, Behind the Curtain Cincinnati and All About the Arts.
2
See a concert or show at CCM: Fall schedule of major events now...
August 15, 2023
Experience world-class performances by the next generation of performing and media artists at the University of Cincinnati College-Conservatory of Music (CCM)! The college's fall 2023 schedule of ticketed events is now available; tickets are on sale beginning 1 p.m. Tuesday, Aug. 15 through the CCM Box Office website.
3
Want to find out what shows and concerts are coming up at CCM?
August 2, 2023
UC's College-Conservatory of Music will present a wide variety of concerts and shows throughout the 2023-24 academic year. You can get the latest news on upcoming CCM OnStage performances by subscribing to our Next OnStage e-newsletter. New issues are published every other Wednesday, and you can manage your subscription settings at any time.
Debug
Query for this