Living-Learning Communities expand at UC
Specialized residential groupings offer students with similar interests the opportunity to live and study together
Formally introduced last year, Living-Learning Communities (also known as LLCs) are smaller residential groupings based on students' majors or interests. Students live together on the same residence hall floors to engage and learn through in-class and out-of-the-classroom connections with peers, faculty and staff. As a collaborative effort with UC's Resident Education & Development (RED), Housing & Food Services and sponsoring academic units and departments, LLCs can enhance students' college experience and help them gain a better sense of community while at UC. 
Each LLC is unique, varying in the type of academic connection, in-hall activities and eligibility requirements. All LLCs offer students a space to live and learn with their peers to promote lasting connections and academic success. According to RED, studies have shown that there are several benefits of living in an LLC, including: 
Connection to faculty and staff outside of the classroom

Increased sense of community and connection to the university

Greater knowledge of the specific LLC topic 
​"The first year of the formalized program had its challenges," says Aleia White, UC assistant director for academic initiatives, "but there was a great success in students being able to share a common experience with one another. Due to the programs' successes, we have more partners looking to provide a dynamic educational experience in our residential communities."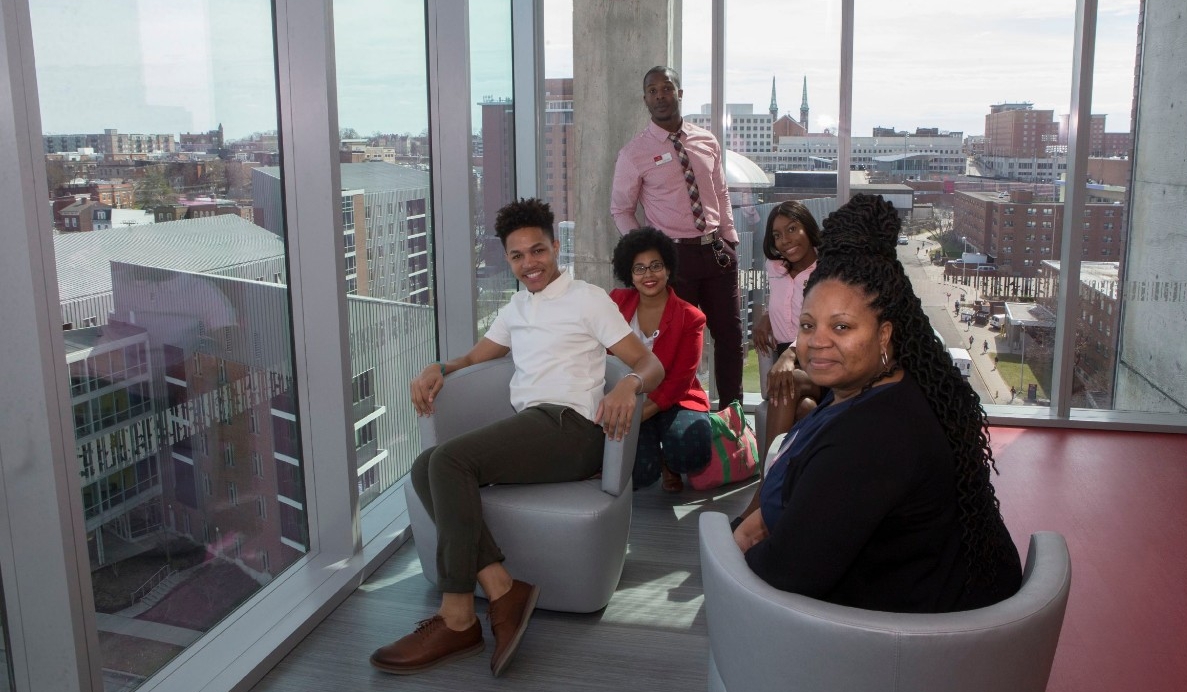 Two LLCs established last year return this fall. The Engineering LLC (ELLC), open to first-year students in the College of Engineering and Applied Science, has floors in Daniels and Marian Spencer halls. ELLC students form study and support groups for common first-year engineering courses, utilize in-hall services like tutoring and advising for additional academic and social support and build lasting relationships with other members of the CEAS community, including engineering faculty. 
The Audre Lorde Social Justice House is now located in Stratford 17, part of the UC residence hall complex across Clifton Avenue. Named after feminist writer and civil rights activist Audre Lorde (1934-92), this LLC is committed to her belief that the core of social justice is recognizing, understanding and celebrating differences. Designed for first-year and upperclass students who are interested in exploring social justice topics, this house is an inclusive community where students share time and space with others who have similar passions and values. This LLC offers gender-inclusive housing and an opportunity for interested students to live in a supportive environment within the building. This is the only LLC open to both first-year and returning students. 
These communities join four new LLCs introduced this fall.
Supported by the Office of Ethnic Programs and Services and the African American Cultural & Resource Center, the Dr. P. Eric Abercrumbie LLC in Siddall Hall is designated for students who have been accepted into UC's Darwin T. Turner Scholars Program or the Transitions Program. Participants will live in an environment that fosters personal and social identity development, leadership engagement and academic success. Named for the recently retired Eric "Doc" Abercrumbie, UC's leader on matters of inclusion for nearly 50 years, this community honors the history and legacy of those who came before, while providing students the opportunity to create their own path toward leaving their mark at UC and in larger community.
The Emerging Global Citizen Scholars LLC in Turner Hall connects first-year University Honors Program students with a passion for innovation and making an impact in their communities. Students in this LLC receive interdisciplinary experiences to understand the world in all its diversity, from technology and language to design, culture, education, entrepreneurship and more. These experiences will be centered on community engagement, creativity, global studies, leadership and research.
The Women in Science LLC in Daniels Hall is a unique opportunity for first-year women interested in pursuing a career in science who are enrolled in the McMicken College of Arts & Sciences (A&S). Students in this LLC will have the opportunity to build a social network, get connected to faculty within A&S, learn ways to be involved on campus and find possibilities of research related to their field.
The Lindner Business Honors LLC in Morgens Hall is a space for first-year students entering the Carl H. Lindner College of Business' Honors programs to acclimate to college life with other like-minded students. There will be activities throughout the year for students to engage in programming with social events, professional speakers and more. Students within Lindner Business Honors will live together but also learn together in an inclusive environment that promotes collaboration and success.
Additional LLCs are slated to be introduced in 2020 and 2021.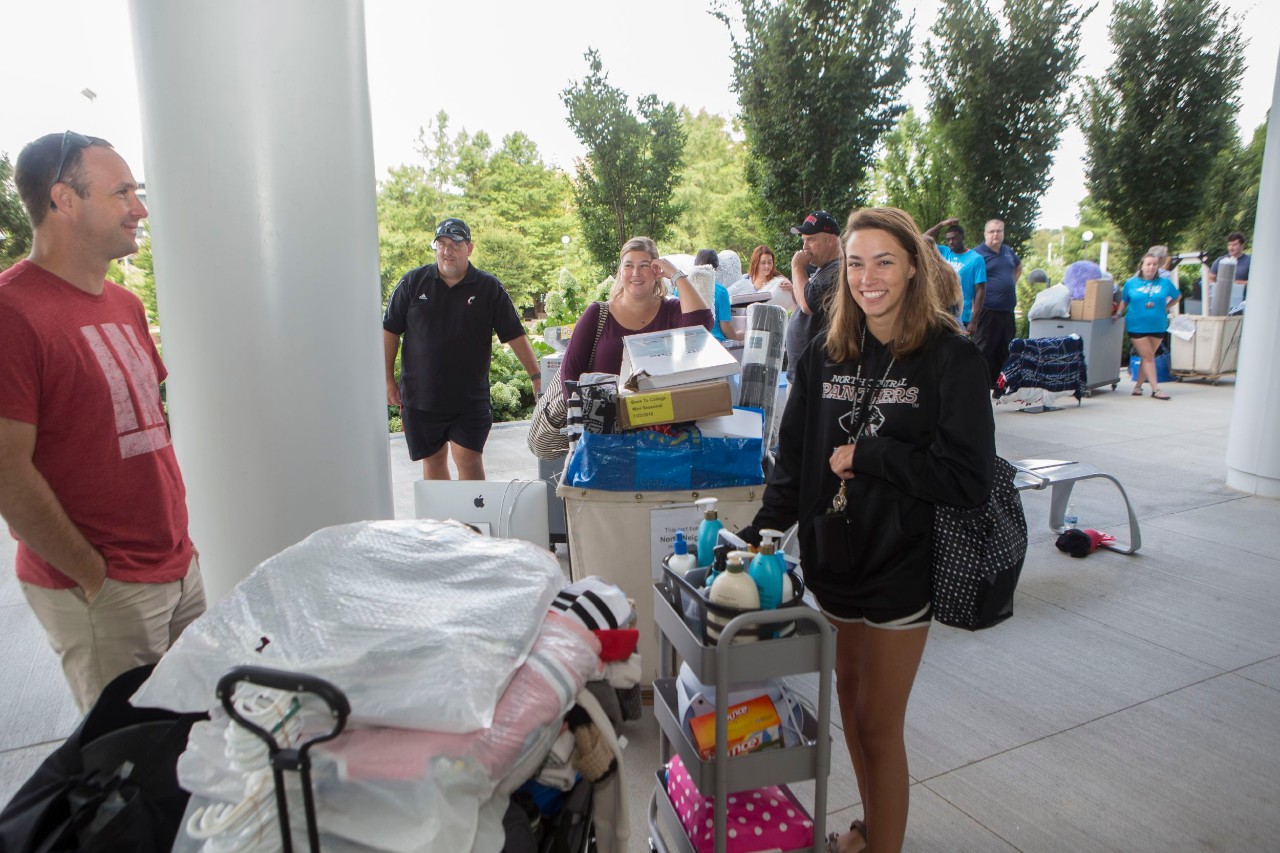 Become a Bearcat
Apply online or get more information about undergraduate enrollment by calling 513-556-1100. Learn more about UC's many undergraduate and graduate programs.
Back to school
A record 46,000 students will descend onto campus when classes begin Aug. 26. Read our full back-to-school package.
1
Weekly Real Estate News: UC welcomes new academic director of...
June 8, 2023
Gary Painter, PhD, the new academic director of the real estate program within the University of Cincinnati's Carl H. Lindner College of Business, is looking forward to making connections in the university community and beyond, he told Weekly Real Estate News.
2
UC electrical engineering graduate developing future Intel chips
June 8, 2023
While earning her doctoral degree in electrical engineering at the University of Cincinnati, Megha Chitranshi focused her research on the creation of nanotube hybrid fabrics to foster a sustainable environment. Chitranshi now works as a yield engineer at Intel. Before she graduated, she was named Graduate Student Engineer of the Month by UC's College of Engineering and Applied Science.
Debug
Query for this