UC's Faculty Enrichment Center opens Sept. 9
The center will serve as an intellectual and social commons for faculty
Written by: Joshua Wientge
The University of Cincinnati's Faculty Enrichment Center (FEC) opens its doors on Sept 9. Members of the UC community are invited to tour the center anytime between 9 a.m. and 5 p.m. The FEC, located on the fifth floor of Langsam Library in suite 540, will offer faculty space as well as supportive resources to develop professionally and enhance their well-being.
"A team of hard-working and dedicated faculty and staff worked for over a year and a half to design a center that would meet faculty members' needs in a variety of areas by delivering inclusive programming and through the utilization of innovative technology," says Keisha Love, associate provost for faculty development and special initiatives.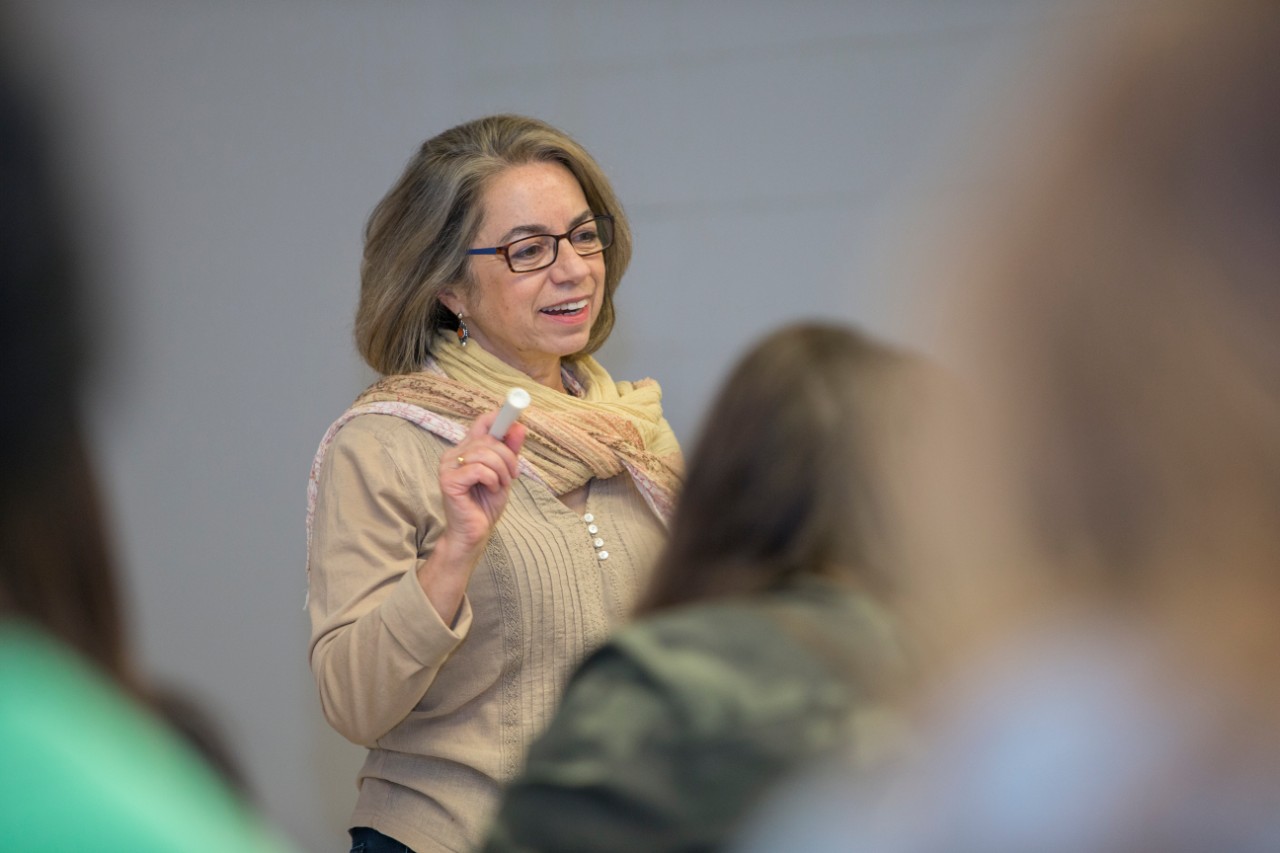 Educational opportunities in the areas of career advancement, leadership, diversity and inclusion, and personal wellness will be provided through the FEC. Programs like Building a Strong Dossier and consultation services offered by FEC partners such as the Office of Research, UC Libraries Research and Development, IT@UC and more will provide faculty with valuable information and skills designed to help with reappointment, promotion and tenure. Programs such as Leveraging Your Strengths and Influencing without Authority will allow participants to develop their leadership skills. In partnership with the Office of Equity, Inclusion & Community Impact, the FEC will support the University's value of inclusion by offering workshops designed to raise awareness of cultural issues and enhance cultural competence through sessions such as Creating a Culture of Respect, Recruiting and Retaining Underrepresented Minority Faculty and Creating a Culturally Responsive Classroom.
Other programming such as Mindful Movement for Busy Faculty and SOS (Signs of Stress) will focus on personal development. Additional information about the center can be found on the Faculty Enrichment Center website. Information about program dates and times can be found by visiting Faculty OneStop.
The FEC also features conference rooms with fast internet-speeds for quick and reliable web conferences. Smaller rooms will also be accessible for faculty members looking for a quiet place to read and write. Rooms can be reserved through Outlook 365 or in the FEC. In addition, members will be able to participate in interdisciplinary collaboration, planning and research using one of several project rooms. The FEC will also include two lounge areas, fresh coffee and a kitchenette for faculty to engage with UC's faculty community.
The FEC, an outcome of UC's strategic direction, Next Lives Here, is crucial in promoting and fostering the academic excellence of the university. "As a common space, the FEC will be where people can meet, create connections and network," says Rita Kumar, executive director of the Faculty Enrichment Center. "Ultimately we want to support and nurture faculty excellence, which has a direct impact student learning outcomes."
Join the celebration
A ribbon-cutting to celebrate the opening of the FEC is planned for 9 a.m., Sept. 27, inside the center on the fifth floor of Langsam Library.

1
WVXU: Health benefits and risks to recreational marijuana
December 1, 2023
The University of Cincinnati's LaTrice Montgomery joined WVXU's Cincinnati Edition to discuss the potential health benefits and harms associated with expanded cannabis access after Ohio voters approved legalizing recreational marijuana in the November election.
2
Public gardens contribute to invasives problem
December 1, 2023
University of Cincinnati botanists found that plants at arboretums and public gardens inadvertently can seed wild areas with nonnative plants. Their study was published in the journal Ecological Restoration.
3
Clean Earth Rovers cofounders named to Forbes 30 Under 30 list
November 30, 2023
A pair of graduates of the University of Cincinnati's Venture Lab program were recognized as being among the top entrepreneurs in North America as part of the 2024 Forbes 30 Under 30 list. Clean Earth Rovers cofounders Michael Arens and David Constantine were named to the 13th annual Forbes 30 Under 30 list in the energy category.
Debug
Query for this