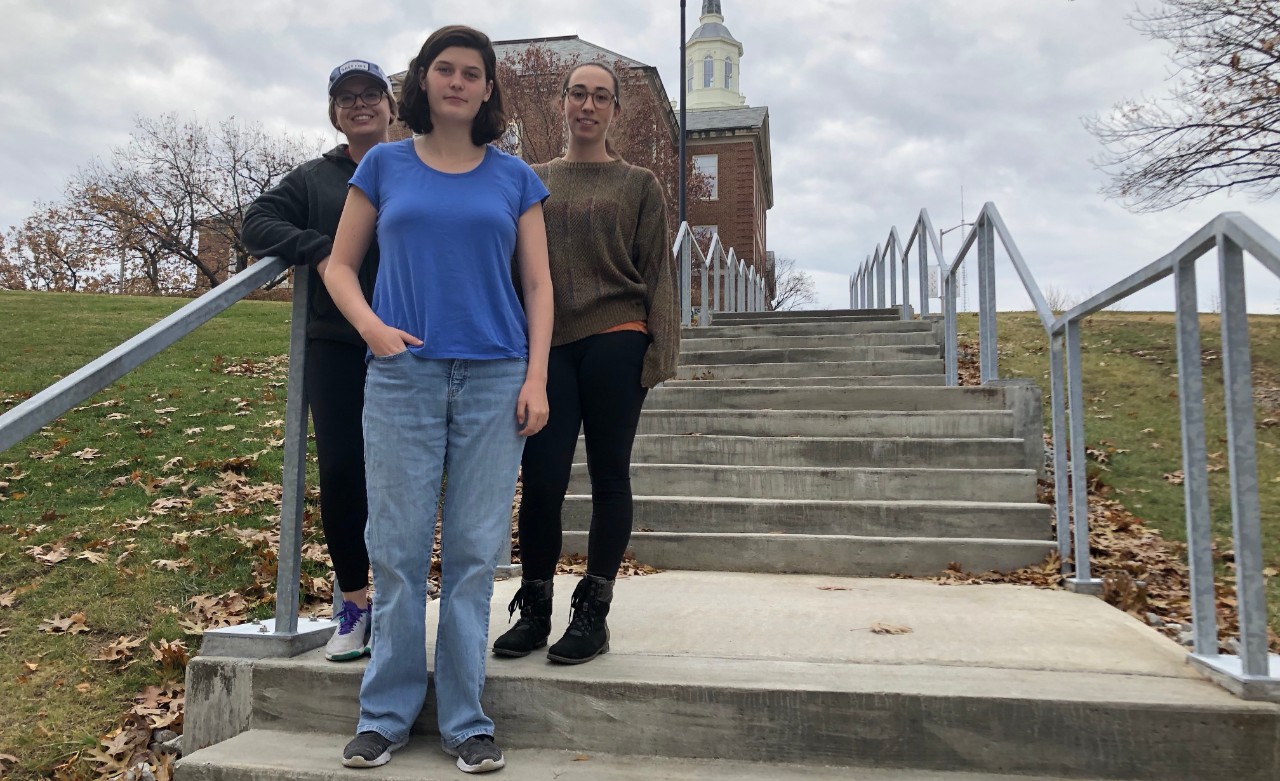 New collaborative course series caters to eco-friendly students
Students evaluate UC's environmental impact through experiential learning
By Tawney Beans
Innovative instruction on sustainability is being brought to life by the University of Cincinnati's new course series titled "A New Green Uptown: UC Community Relations."
A collaboration between the departments of English, Environmental Studies and Geography, the program consists of interdisciplinary classes designed to make students more aware of UC's relationship to the surrounding community. 
The series launched this fall and originated from a grant to UC Forward, an initiative that pairs students and faculty from diverse disciplines with outside experts to solve contemporary problems and develop an innovative work force. 
The goal of the series is twofold: to promote interdisciplinary learning and provide students with hands-on educational opportunities, according to Susanna Tong, director of environmental studies. She teaches one of the series' classes with Bob Hyland, associate professor and educator of English and comparative literature. 

"Since students are coming from different backgrounds with different perspectives, knowledge bases and research skills, we want them to learn from each other," Tong said. "We want to study how the development of UC has infringed on its neighbors' green space accessibilities."

The first course in the program is an environmental studies class, where students learn how to write about environmental issues to public, political and scientific audiences. A geography class focusing on how geographic analysis, urban planning and environmental studies relate to local sustainability is the series' second course. UC's College of Design, Art, Architecture, and Planning's department of urban planning offers the program's third class, a sustainable development workshop where students make plans to improve Uptown's green space. 
The students in Tong and Hyland's course are divided into five groups, each with its own project, which can vary from the microclimate in Burnet Woods (adjacent to UC's uptown campus) to designing a website to report the findings from interdisciplinary courses to the public.

One group of students is studying bird biodiversity in Burnet Woods in order to emphasize the urban haven that it provides for resident and migratory bird species. The group (consisting of Mikaela Mohr, Zoe Gordon and Emily Noeske) conducted a comparative analysis of bird biodiversity in Burnet Woods to the adjacent campus area, and discovered that there is a disproportionate diversity of birds from one area to the other.  
"The idea of a future sustainable Cincinnati is not whole without discussing the other species that call this city home besides our own," Mohr said. "We tend to talk about sustainability from an anthropocentric perspective, and our project opens up the conversation to talk about the impact of development and urbanization on our local flora and fauna." 
Preparations for the workplace
The class is designed to satisfy student's major/certificate requirements and enhance their marketability to employers. This dual functionality is what makes the series so academically and professionally beneficial to students, according to Hyland.

Students in Hyland's class will leave with field experience and an employer-ready portfolio for applying for graduate school or the job market. Hyland's course also requires that students engage with community members and network with city officials, community councils and nonprofit leaders.
"In terms of professional development, the students will by the end of the term have presented to city council members, a park board commissioner, and other public servants and decision makers at least twice," Hyland said. "Practicing public speaking, public engagement and participating in democratic/civic activity at this level is invaluable experience toward professional skill sets."
This view is supported by Mohr, who said Hyland's class has allowed her group to interact with the Uptown community and advance its conversation regarding biodiversity. Mohr's group recently presented their findings to the City Council's Committee on Innovation, Education and Growth to help the city find a balance between economic development and preserving greenspace. 
Hyland's course also develops students' scientific writing and presentation skills by instructing them on how to be concise when writing or talking about environmental issues. Mohr, for example, learned how to give a rapid-fire delivery of her portfolio and adjust her rhetoric to her audience. 
Both skills, she adds, enable her to sell someone on a foreign concept in just minutes —an ability useful in many disciplines. Gordon, on the other hand, says that the atmosphere of the class is the most beneficial aspect of the series because, "it requires students from different majors to collaborate and learn from each other, which creates an environment that might be closer to a post-graduation job than the traditional class structure."
Noeske said, "This class's focus is on community involvement and collaboration with different disciplines, which has helped me integrate both science and communication. I have gained more appreciation for the role Burnet Woods plays in the grand scheme of ecology, sociology, and the community as a whole."
The series is impacting the environmental knowledge of both UC students and those attending Cincinnati Public Schools' Rockdale Academy in Avondale. This is primarily because Hyland's course includes a service learning project where UC students provide mentoring and nature education to students at the elementary school. For these reasons, Hyland says, this program embodies UC's strategic direction Next Lives Here and its CPS Strong and Urban Futures initiatives, focusing on empowering CPS students and using team-based research to solve problems of social importance. 

Featured Image at top: Students in Bob Hyland and Susanna Tong's bird diversity group (Mickaela Mohr, Emily Noeske and Zoe Gordon) in front of the steps connecting McMicken Hall to Clifton Court. 
1
UC Ground Floor Makerspace offers summer intensive for K-12...
June 2, 2023
The University of Cincinnati Ground Floor Makerspace and the Greater Cincinnati STEM Collaborative (GCSC) are piloting a professional development opportunity for K-12 STEAM teachers in the greater Cincinnati region. The Makerspace Intensive will take place June 5-16 weekdays in the 1819 Innovation Hub, 2900 Reading Road in Cincinnati.
3
Making music and paying it forward
May 31, 2023
Newly minted University of Cincinnati alum Hayden Glasgow says the path to becoming a working artist can be challenging. Fortunately for Glasgow, CCM '23, the generosity of others is allowing him to pursue a music career.
Debug
Query for this