UC celebrates 100 years of the American College Health Association
UC one of 53 institutions that formed the college public health organization in 1920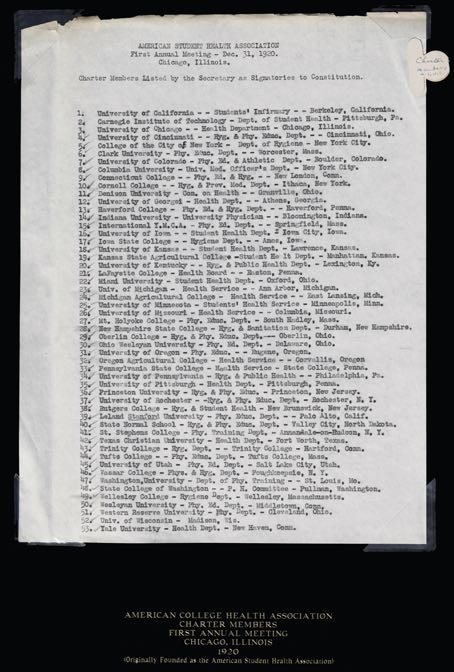 This year, founding member University of Cincinnati marks the 100th anniversary of the founding of the American College Health Association (ACHA).
Fifty-two institutions joined UC in 1920 to form the American Student Health Association (later known as the American College Health Association). In 1926, the Ohio College Health Association (OCHA) was formed as ACHA's first affiliate chapter. 
Today, UC continues to hold an active and important role in both ACHA and OCHA. In 2020-2021, Student Wellness Center director Brandy Reeves will serve as OCHA President. 
One of the biggest initiatives that UC participates in through ACHA is the National College Health Assessment. The NCHA is a nationwide survey of the health behaviors of college students. The Student Wellness Center implements the NCHA survey every two years to learn about the health and wellness needs of students. The data is used to inform policy and programming decisions across the institution. 

University Health Services (UHS) and Counseling and Psychological Services (CAPS) are also active members of ACHA. UHS and CAPS staff participate in webinars, conferences, and other professional development opportunities throughout the year. 

ACHA is a leader in college health and wellness with over 1,000 institutional members and thousands of individual members. The organization advocates for and provides guidance for student mental health by providing resources to students, college health employees, and families. In recent months, they have continued to provide resources to support student health centers and other wellness staff in the fight against COVID-19.

1
Forbes: Parents of color more hesitant to choose medication to...
December 6, 2022
Forbes highlighted research from the University of Cincinnati's Jeffrey Mills and Jeffrey Strawn examining factors behind the decision to begin or decline medication treatment for childhood anxiety disorders after cognitive behavioral therapy did not lead to improvement.
2
Cincinnati.com: Flu is raging. What would you do, doc?
December 6, 2022
Hospital emergency departments in the Cincinnati-area are seeing a surge in patients who have flu symptoms and complications, pushing hospitals be near or at capacity, partially because flu is raging in the region. Hospitalizations for flu locally rose 107% last week. Cincinnati.com asked several local healthcare experts about what people should do as flu cases surge. One of those was Jennifer Forrester, MD, of the Division of Infectious Diseases in the Department of Internal Medicine at the UC College of Medicine.
Debug
Query for this