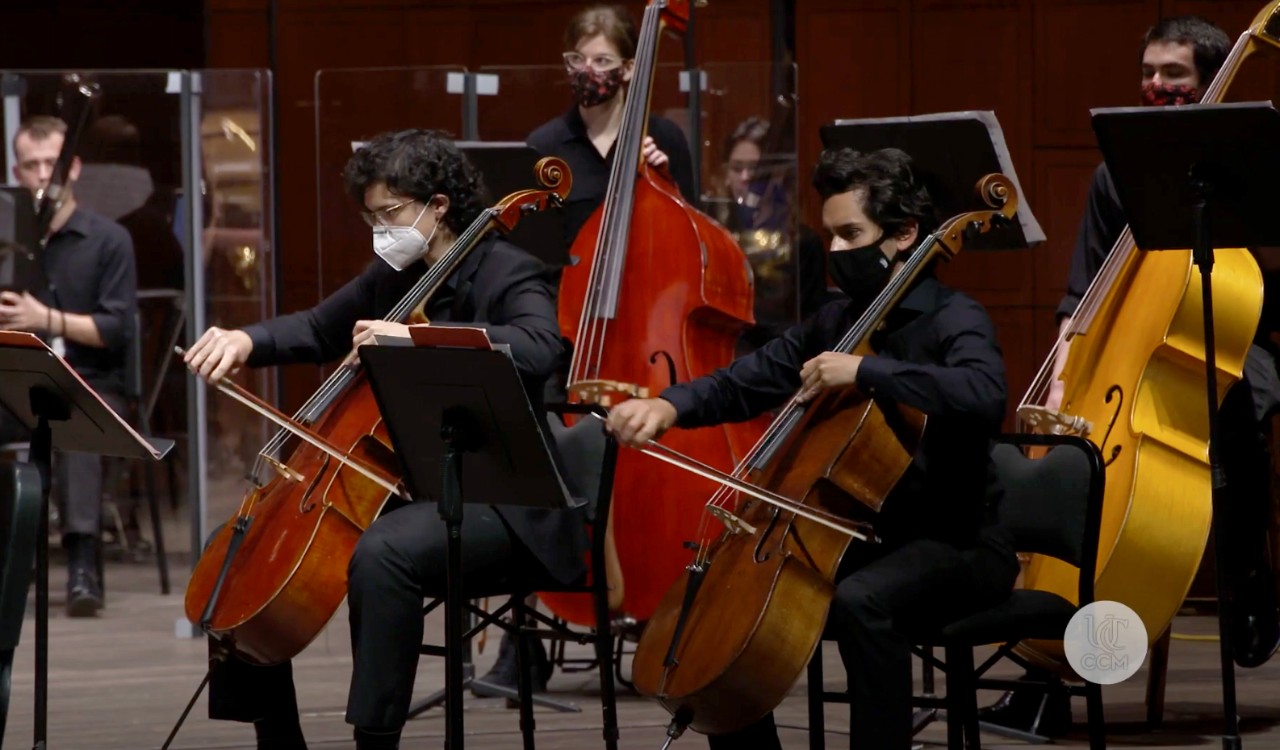 Watch the debut of CCM's new digital performance series on demand
The CCM Philharmonia performs works of classical virtuosity in this virtual concert
CCM's "stars of tomorrow" are back on stage, and you get the best seats in the house!
The first episode of the UC College-Conservatory of Music's new digital performance series is now available for on demand viewing. Originally broadcast on Friday, Dec. 11, the virtual concert features the CCM Philharmonia student orchestra performing works of classical virtuosity by Claude Debussy/Maurice Ravel, Ottorino Respighi, Julia Perry and Wolfgang Amadeus Mozart. Watch the full episode below.
Under the direction of Professor Mark Gibson, the CCM Philharmonia is CCM's premier orchestral ensemble and is recognized as one of the world's elite conservatory orchestras. The CCM Philharmonia has risen to world prominence through the quality of its performances, recordings, and its national and international tours.
Video production services for CCMONSTAGE Online are provided by MasseyGreenAVP, LLC. This digital performance series is made possible by support from Broadcast Sponsors CCMpower and ArtsWave, and Production Sponsors Dr. & Mrs. Carl G. Fischer.
Additional installments of CCMONSTAGE Online will be released throughout 2021. Arts aficionados can also enjoy performances by CCM students and alums when the popular Moveable Feast benefit gala makes its virtual debut on Jan. 22, 2021.
Claude Debussy, orch. Maurice Ravel: Danse (1890)
Ottorino Respighi: Trittico Botticelliano (1927)
Julia Perry: Short Piece for Orchestra (1952)
Wolfgang Amadeus Mozart: Symphony No. 29 in A major, K. 201 (1774)
Strings after principal stands are listed alphabetically
Violin I
Magdiell Antequera, concertmaster
Grace Brown, assistant concertmaster
Daniel Fields
Andrew Horak
Jade McClellan
Angkun Uabamrungit
Alayne Wegner
Violin II
Grace Wride, principal
Lauren Greene, assistant principal
Yasmine Bougacha
Sydney Ebersohl
Brittany Hausmann
Rachel Mancini
Viola (1st Half)
Julius Adams, principal
Murphy Combs
Javier Otalora
Aadhivan Ramkumar
Caleb Robinson
Viola (2nd Half)
Maya Fields, principal
Chloe Drake
Celeste Meisel
Nathaniel Sendi
Lucas Wardell
Cello
Maximiliano Oppeltz, principal
Marcel Bobe
Double Bass (1st Half)
Taiga Benito, principal
Zoe Heuser
Zachary Reich
Double Bass (2nd Half)
Caleb Edwards, principal
Esther Kwon
Peter McCutcheon
Flute
Vincenzo Volpe, principal
Caitlyn Lyerly
Oboe (1st Half)
Dylan Reynallt, principal
Daniel Outlaw
Oboe (2nd Half)
Yayi Senior, principal
Elena Suarez
Clarinet
Alyssa Berry, principal
Rachel Beil
Bassoon
John Robken, principal
Elizabeth Beeche
Horn (1st Half)
Sarah Yarbrough, principal
Jacob Speakman
Horn (2nd Half)
Will Morgan, principal
Sarah Palmer
Trumpet
Emery Hicks, principal
Kole Pantuso
Trombone
James Smith, principal
Jordan Rowan
Percussion
Jacob Ottmer
Ryan Thomas
Harp
Claire Greene
Madeline Arney (Debussy)
Janna Young (Respighi)
Celeste
Kara Piatt
Piano
Thomas Ryskamp
Graduate Assistants
Xiao Geng
Kara Piatt
Shimon Ohi
Sophie Mok
Kin Szeto
Caleb Glickman
Librarians
Rebecca Flank
Kristin Welke
Louise Dieterle Nippert Trust
Scholarship and Resident Artist Sponsor
The Andrew W. Mellon Foundation
CSO/CCM Diversity Fellowship Sponsor
The Corbett Endowment at CCM
Dance Department Sponsor
All-Steinway School Sponsor
H. Wayne Ferguson Family Foundation
Louise H. & David S. Ingalls Foundation, Inc.
Community Partners
The Joseph and Frances Jones Poetker Fund of the Cambridge Charitable Foundation, Ritter & Randolph, LLC, Corporate Counsel
Visiting Artists & Thinking About Music Sponsor
CCMpower: Friends and Alumni Fueling the Future of the Arts
ArtsWave: Funding Arts, Fueling Community
CCMONSTAGE ONLINE Broadcast Sponsors
Dr. & Mrs. Carl G. Fischer
CCMONSTAGE ONLINE Production Sponsors
Elizabeth C.B. & Paul G. Sittenfeld
Musical Theatre Showcase Sponsor
Genevieve Smith
Opera Production Sponsor
An Anonymous Donor
Estate of Mr. William A. Friedlander
Mrs. William A. Friedlander
Dr. Randolph L. Wadsworth
Judith Schonbach Landgren and Peter Landgren
Mr. & Mrs. Harry H. Santen
Elizabeth C.B. & Paul G. Sittenfeld
Mr. & Mrs. Thomas E. Stegman
Dr. & Mrs. Theodore W. Striker
Mrs. Harry M. Hoffheimer
Ariel Quartet Sponsors
Jan Rogers
Willard and Jean Mulford Charitable Fund of the Cambridge Charitable Foundation
Choral Studies Sponsors
Robert & Debra Chavez
Three Arts Scholarship Fund
CCMpower Partners
Mr. & Mrs. Joseph W. Hirschhorn
Orchestral Sponsor
Mr. & Mrs. James L. Miller
Musical Theatre Production Sponsor
Graeter's Ice Cream
Greg Mathein
Musical Theatre Performance Sponsors
Trish & Rick Bryan
CCMpower: Friends and Alumni Fueling the Future of the Arts
The Harmony Endowment Fund: Challenging Hate and Prejudice Through the Performing Arts
The Carol Ann and Ralph V. Haile, Jr./U.S. Bank Foundation
KMK Law
Paula Boggs Muething & Brian Muething
PNC
Jeff Thomas Catering
Event Sponsors
CCMONSTAGE Online is a series of free digital concerts and performing arts presentations showcasing the unparalleled artistry and expertise of CCM's students, faculty and staff. Enjoy a sneak peek at a few of our upcoming episodes:
A preeminent institution for the performing and media arts, the University of Cincinnati College-Conservatory of Music offers nearly 120 possible majors, along with a wide variety of pre-collegiate and post-graduate programs.
The synergy created by housing CCM within a comprehensive public university gives the college its unique character and defines its objective: to educate and inspire the whole artist and scholar for positions on the world stage.
For more information, please visit us online at ccm.uc.edu.
Featured image at top: students in the CCM Philharmonia perform in a still image from the first installment of CCMONSTAGE Online. Photo/MasseyGreenAVP
1
Making music and paying it forward
May 31, 2023
Newly minted University of Cincinnati alum Hayden Glasgow says the path to becoming a working artist can be challenging. Fortunately for Glasgow, CCM '23, the generosity of others is allowing him to pursue a music career.
2
WCPO: Asian American and Pacific Islander Heritage Month series
May 28, 2023
Two faculty members and one student have been profiled by WCPO-TV as part of a series celebrating May as Asian American and Pacific Islander Heritage Month (AAPI). These segments feature the stories of UC Law's Dr. Jenn Dye, CCM's Dr. Thomas Gamboa and fourth-year student Aashka Raval.
Debug
Query for this