View digital programs for upcoming CCM performances
Attending a concert or show at CCM? Here's how to access your paperless program!
CCM is now offering paperless programs for all of its public performances and event offerings.
During the 2022-23 performance season, the UC College-Conservatory of Music will continue to offer digital programs for all of its free and ticketed events in place of printed programs. These paperless programs will be available on CCM's website, and they can also be accessed via smartphone/mobile device by scanning the Quick Response (QR) code displayed outside of each CCM performance venue.
Event attendees will again see one of the following signs outside of CCM's venues during the 2022-23 performance season. Audience members can gain access to their paperless programs by scanning the QR code and then selecting the specific event that they are attending.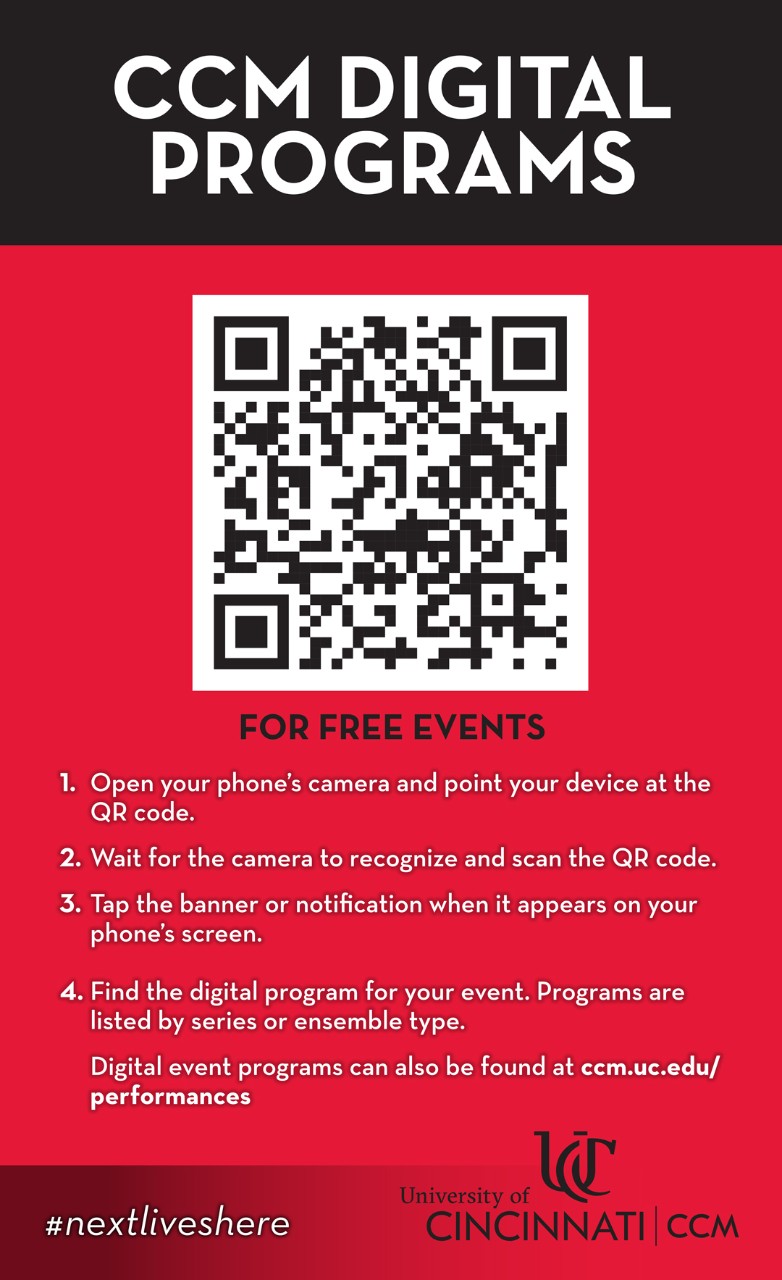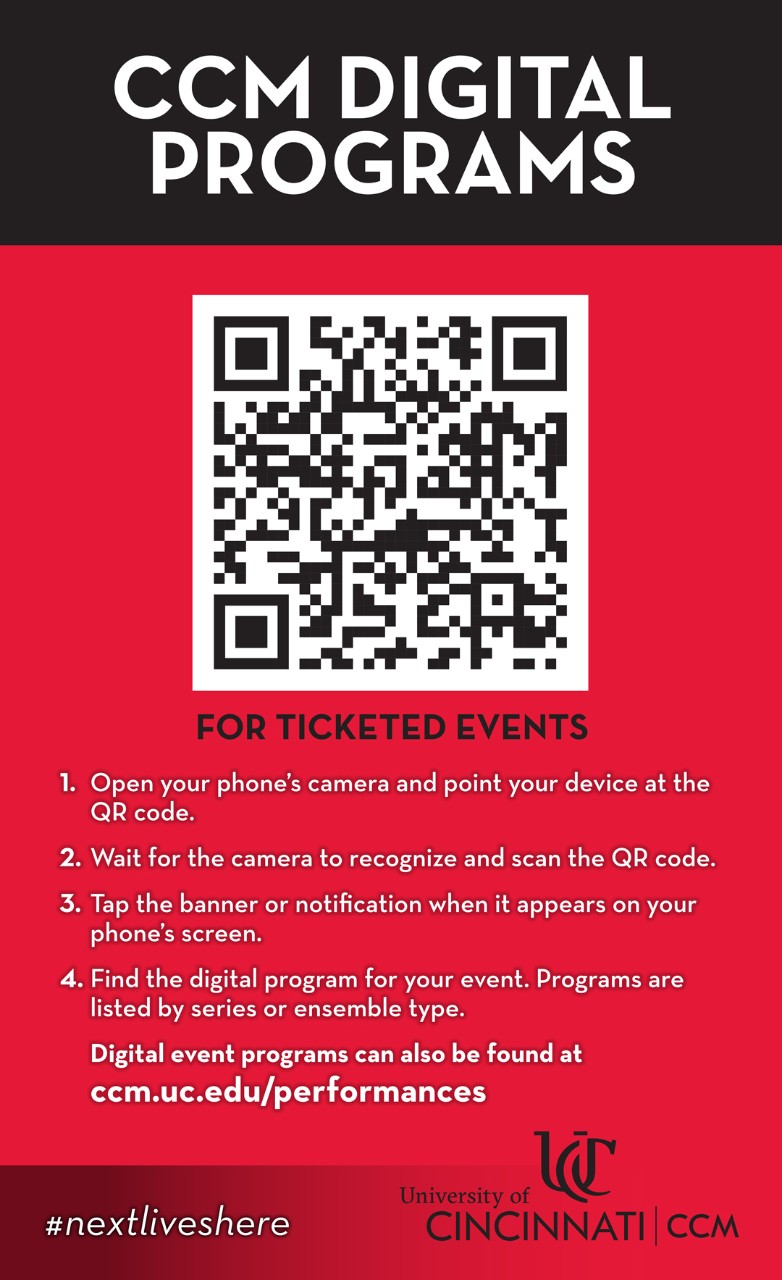 Programs for ticketed events will also become available on CCM's website closer to each specific event date, and these programs will also be accessible through the event listings on CCM's Facebook page and through the CCM OnStage ticketing website.

Digital programs will remain archived on CCM's website after each performance occurs.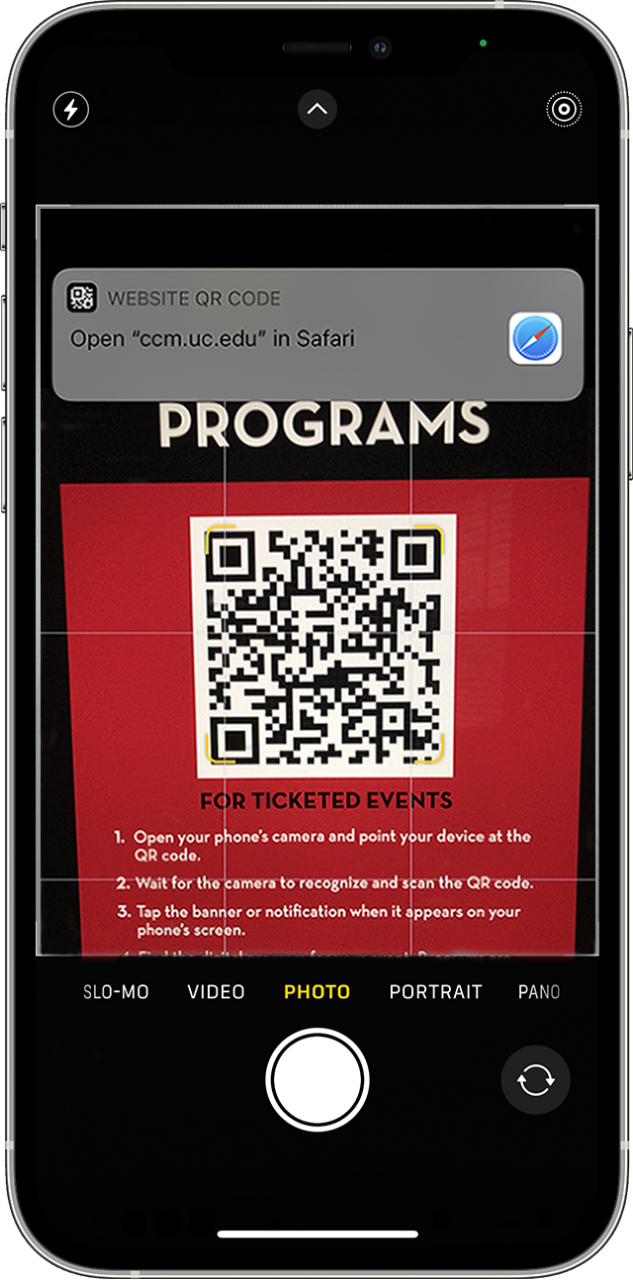 Android Devices
Smartphones running Android 9 or later operating systems can scan QR codes directly from the phone's camera app by following these steps:

Open the camera app.
Select the rear-facing camera in Photo or Camera mode.
Center the QR code that you want to scan on the screen and hold your phone steady.
Tap the notification that appears to open the link.
Apple Devices
iPhones, iPads and iPod Touch models can scan QR codes using the built-in camera by following these steps:
Open the camera app from the Home Screen, Control Center or Lock Screen.
Select the rear facing camera. Hold your device so that the QR code appears in the viewfinder in the Camera app. Your device recognizes the QR code and shows a notification.

Tap the notification to open the link associated with the QR code.
If your mobile device does not include a built-in QR reader app, or if you experience other problems with the QR code, CCM's digital programs can also be accessed by visiting ccm.uc.edu/onstage.
Access complimentary Wi-Fi during your visit to the CCM Village by logging onto the UC_Guest network. No log-on information is needed, but guests must review and accept IT@UC's terms of use before a connection will be allowed.
Welcome to What's Next!
Visit our website to see what's coming up next on CCM's stages, and subscribe to our Next OnStage e-newsletter to learn more about upcoming public events and future ticket on-sale dates.
Featured image at top: a rendering of a smartphone accessing CCM's new digital programs with a photograph of Corbett Auditorium in the background.
1
CCM ensembles present their first concerts of spring semester
January 23, 2023
The UC College-Conservatory of Music's Spring 2023 Concert Series continues this week with performances by some of the college's premier ensembles. The CCM Wind Symphony, CCM Philharmonia and CCM Jazz Orchestra return to the stage of Corbett Auditorium this week.
2
Counseling services now available to CCM students through...
January 18, 2023
CCM students can now access counseling services within the CCM Village thanks to the addition of a CAPS embedded clinician. A member of UC's Counseling and Psychological Services (CAPS) staff, Dalziel Reliford-Stone (she/her/hers) is a Licensed Professional Clinical Counselor with Supervision (LPCC-S) who will serve as an embedded clinician for CCM and DAAP. In this new position, Dalziel hopes to work with students and staff to support a culture that embraces authenticity, self-acceptance and wholeness.
3
WATCH: Preview CCM's annual Steel Drum Band Concert
Event: January 20, 2023 7:30 PM
The UC College-Conservatory of Music opens its Spring 2023 ticketed concert series at 7:30 p.m. on Friday, Jan. 20, with a performance by the CCM Steel Drum Band. Experience a musical trip to Trinidad and back in Corbett Auditorium during this popular annual concert. The CCM Steel Drum Band is an ensemble made up of percussion majors under the direction of Professor Russell Burge. The band focuses on the traditional music of Trinidad but also incorporates pop, folk and reggae. Improvisation has become a key element of the band's repertoire. The Steel Band gives one annual program each spring at CCM, as well as several outdoor concerts in the Cincinnati area.
Debug
Query for this