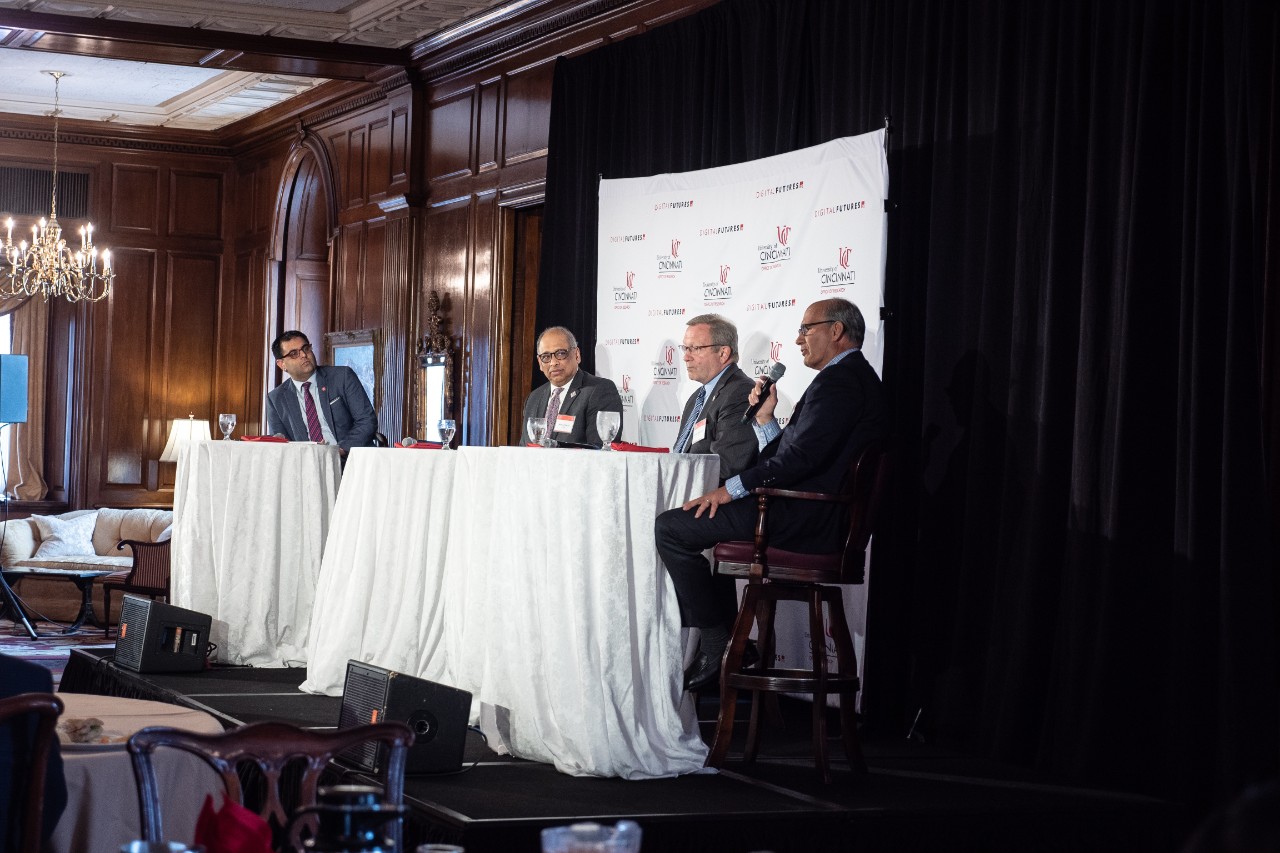 Confronting crisis: Leaders discuss lessons learned
Work, public health focus of Flashpoint Series event
Preparation, access to data and expertise and an approach that focuses on individuals has helped three leaders in Ohio who have confronted crises including the COVID-19 pandemic, opioid epidemic and unemployment among a vulnerable population.
"It's very important if you want to respond with maximum strength in these types of situations that there be a core belief in complex organizations that drives that organization," University of Cincinnati President Neville Pinto said. "If you don't have that, you're going to fall apart in a crisis."
Pinto was one of three panelists in the Digital Futures Flashpoint Series event along with Daniel Meyer, the founder and CEO of Cincinnati-based Nehemiah Manufacturing, and Steven Schierholt, executive director of the Ohio State Board of Pharmacy, who discussed how they've confronted crises. The discussion, hosted by the UC's Office of Research, was the keynote event of the university's Research + Innovation Week.
The COVID-19 pandemic, which has disrupted almost every aspect of life across the world for more than two years, affected all three panelists. Pinto, in particular, said it was especially hard as he quickly had to respond in the early days of the pandemic when very little was known about the coronavirus. The key, he said, was keeping students and their needs at the center of UC's response.

On March 13, 2020, the day the first case of COVID-19 was identified in southwest Ohio, Pinto decided to close the UC campus and move to fully remote learning.
"I've been in academia 37 years. I had never been on any campus that I was associated with where there was ever a situation, no matter what day of the year, where there's nobody on campus," the UC president said. "And I was out on the balcony, I was literally there standing for 30 minutes, and I didn't see a soul. Toward the end of that 30-minute period, I saw a UC police officer on a bicycle with his helmet slowly moving down the hill. That's how I remember the start of COVID."
While Pinto didn't fully understand the disease then, he said, the university's emergency management team had identified the potential problem in January of that year and was already preparing. The dedication of UC's faculty and staff allowed the university to move 8,500 courses to fully online in less than two weeks in March 2020.
"It was reliance on expertise, reliance on their knowledge and carefully listening to their advice," Pinto said.
Schierholt, who spent his entire adult life in law enforcement prior to joining the Ohio State Board of Pharmacy in 2014, also faced a quickly growing crisis when he joined the agency.
In 2007, Ohio saw 1,351 unintentional overdose deaths. In 2014, there were 2,531 overdose deaths, almost 50% of which were from pharmaceutical opioids.
"This opioid epidemic has transformed our country," Schierholt said. "2007 was the first year that overdose deaths exceeded [deaths] in motor vehicle crashes."
The Ohio Automated Rx Reporting System, also known as OARRS, was created in 2006 to track controlled substances in the state. However, the prescription drug monitoring program wasn't widely used, which hampered the state's ability to track and solve the opioid problem.
By expanding the use of the program and gaining access to more data — going from 65,000 queries a day in 2014 to more than a million now — Ohio has been able to stem the flow of doctors over-prescribing and improper prescribing opioids.
"We are at a point in Ohio where we're doing a pretty good job of identifying the prescribers that are fueling the continuing opioid epidemic," Schierholt said. "I would give about anything to have had that 10 years before."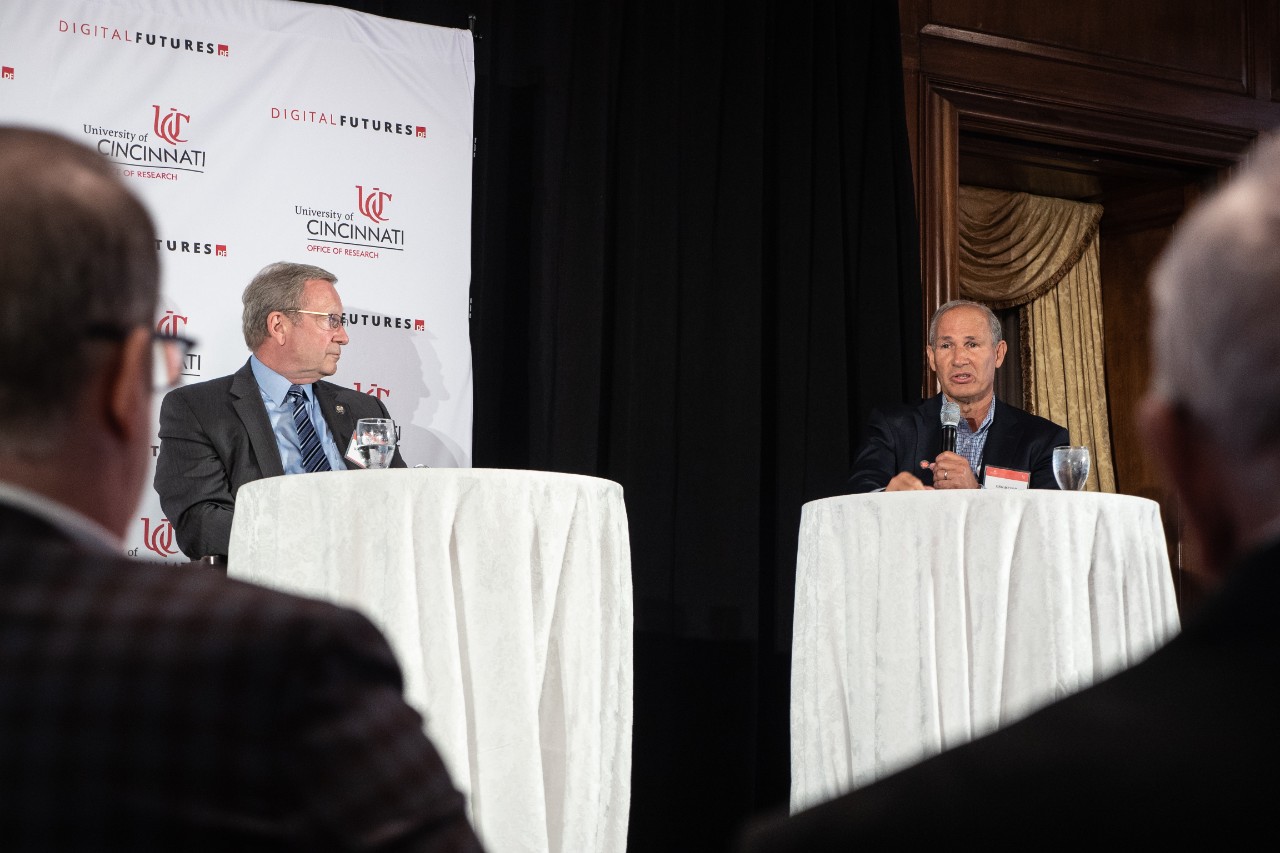 Meyer, who has spent his career working in consumer goods, also has seen the devastation caused by the opioid epidemic.
After working for multinational companies and selling a previous business, he founded Nehemiah Manufacturing, which makes consumer goods such as detergents and dish soap, in the Lower Price Hill district of Cincinnati to help that community through sustainable employment.
Less than two years after starting his company, Meyer was asked to hire someone who previously was convicted of a felony. People with criminal records can have difficulties gaining employment, but the company found giving those individuals a second chance could have a profound effect.
"It's been transformative," Schierholt said, "transformative for the individual, their families, their community and obviously for Nehemiah.
"It's so much bigger than just a job. There's so many barriers when you come out of prison or jail to reenter into our community."
Nehemiah has grown to employ more than 200 people, 140 of whom are second-chance employees with criminal records. The workers get support including from the company's three full-time social workers.
The second-chance program has helped the community and the company, which has seen high production and lower turnover with employees.
"Everybody deserves a second chance, a third chance," Schierholt said. "We don't give up on people unless they give up on themselves, and then we say we'll pray for you."
Nehemiah Manufacturing's focus on the individual is something Pinto also has focused on as UC's president throughout the COVID-19 crisis.
"That's what I learned," Pinto said, "You have to have the perspective of the institution and you have to have the perspective of the individual.
"We have nearly 47,000 students; there are 47,000 perspectives. And there's [thousands] of faculty and staff; they each have their own perspective. We had to rally around each of those perspectives and respond immediately," Pinto said.
While acknowledging the COVID-19 pandemic isn't finished yet, Pinto said he feels more confident and optimistic than ever. The crisis has shown the ability of people to adjust and be innovative, which helps confront and overcome any crisis.
"Just remember what research, discovery does for us as a community," Pinto said. "If we didn't have all that talent in all our laboratories across the world, not just in this country, if we didn't have that store of knowledge that we built out, much of it at universities, would we be here today, would we have a vaccine? I can bet you we would not."
Featured image at top: From left to right, moderator Jai Chabria, former senior adviser to Ohio Gov. John Kasich and current managing director at Mercury, a global strategy firm, hosts a conversation with University of Cincinnati President Neville Pinto, Steven Schierholt, executive director of the Ohio State Board of Pharmacy, and Daniel Meyer, the founder and CEO of Cincinnati-based Nehemiah Manufacturing, on March 30 at Queen City Club in Cincinnati. Photo/Margot Harknett
Next Lives Here
The University of Cincinnati is classified as a Research 1 institution by the Carnegie Commission and is ranked in the National Science Foundation's Top-35 public research universities. UC's medical, graduate and undergraduate students and faculty investigate problems and innovate solutions with real-world impact. Next Lives Here.