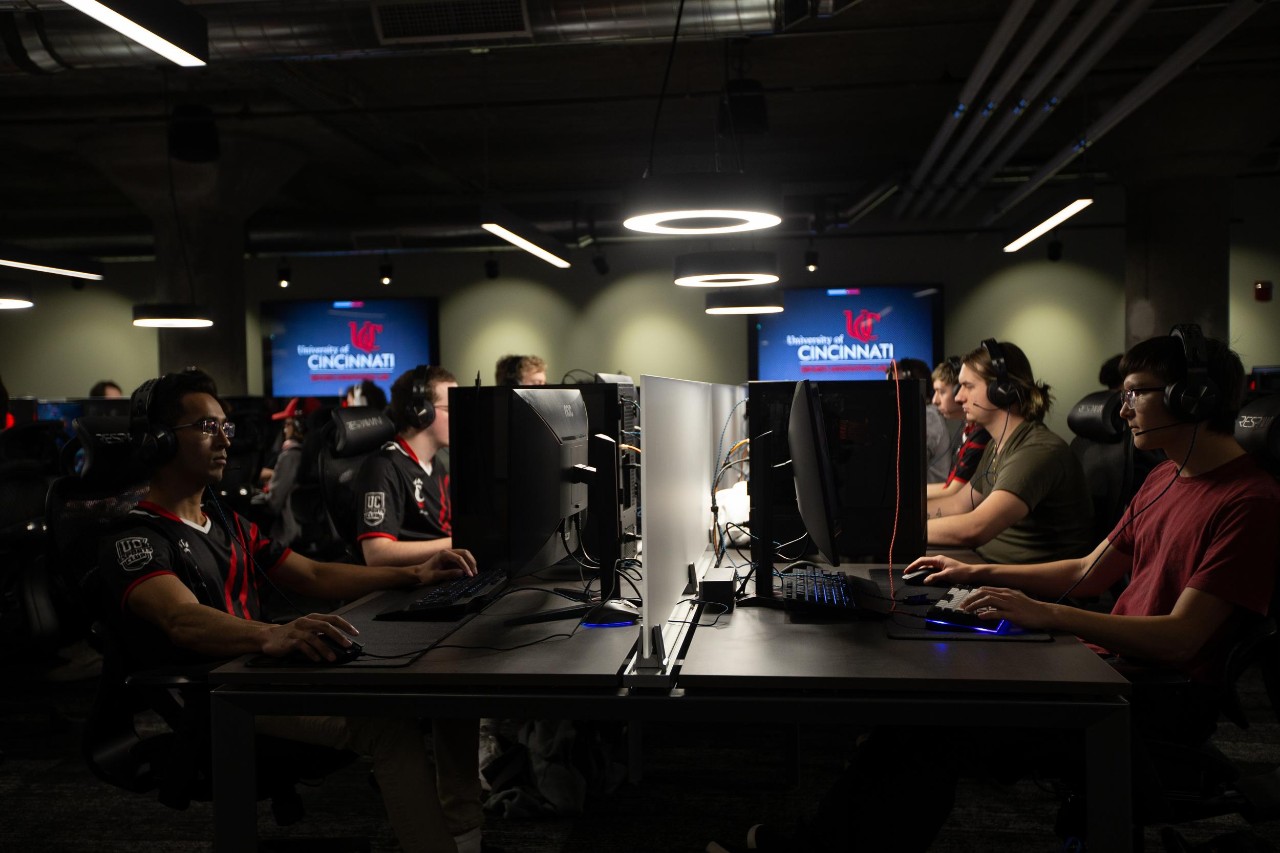 It's game on for esports in Cincinnati
Esports Innovation Lab opens in 1819 Innovation Hub
When the University of Cincinnati's Esports Innovation Lab opens Aug. 18, it will be more than just a space for competitive online gaming.
As part of the Cincinnati Innovation District (CID), this state-of-the-art lab, located in the 1819 Innovation Hub, will attract students, researchers and industry to collaborate in an environment that attracts talent.
"UC has a long-standing history in esports as one of the first collegiate programs in the nation," UC President Neville Pinto said. "We are excited to provide a physical gathering space for students, faculty and now, through the growth of the Cincinnati Innovation District, our industry partners. It is a place to learn, to innovate and develop talent."
5 things to know about the UC Esports Innovation Lab
Who: Open to the Bearcat community for education, competition and exploration. Visit uc.edu/esports to learn about events, classes or how to join the UC Esports Club
What: 45 gaming stations with premium setup, high-end broadcast and production studios, five broadcast and production stations and a community lounge 
Where: Located in the 1819 Innovation Hub, ground floor  
Why: The initiative of building an esports program and innovation lab was the suggestion of the students with its vision fulfilled by UC President Pinto to attract students to UC
When: Opening on Aug. 18
During the opening week there will be a variety of activities taking place within the Esports Innovation Lab for participants and spectators alike.
Throughout the year the lab will host classes, competitions and UC Esports Club events for students along with team-building and training events for partner companies of the CID.
UC is home to one of the oldest scholastic esports communities in the country and is recognized as having launched the nation's first esports program in the spring of 2012.
Additionally, UC hosted the largest collegiate esports event in the Midwest in October 2015. With this rich past, the opening of a dedicated space for esports learning, competing and research is fitting to be housed inside the 1819 Innovation Hub.
"In the Cincinnati Innovation District, it's all about talent — developing it, attracting it and retaining it," said David J. Adams, UC chief innovation officer and architect of the CID. "In a very real way, the UC Esports Innovation Lab is a vehicle to attract some of the best and brightest in our university community and beyond. With over 65% of collegiate gamers obtaining STEM degrees and thousands of UC students actively engaged in the sport, this lab will serve as a magnet for both talent and the industries that need that talent. Moreover, the lab is a place for our corporate partners to engage each other, retain seasoned talent and innovate. For partners, for students and for the UC community — it's a win-win-win."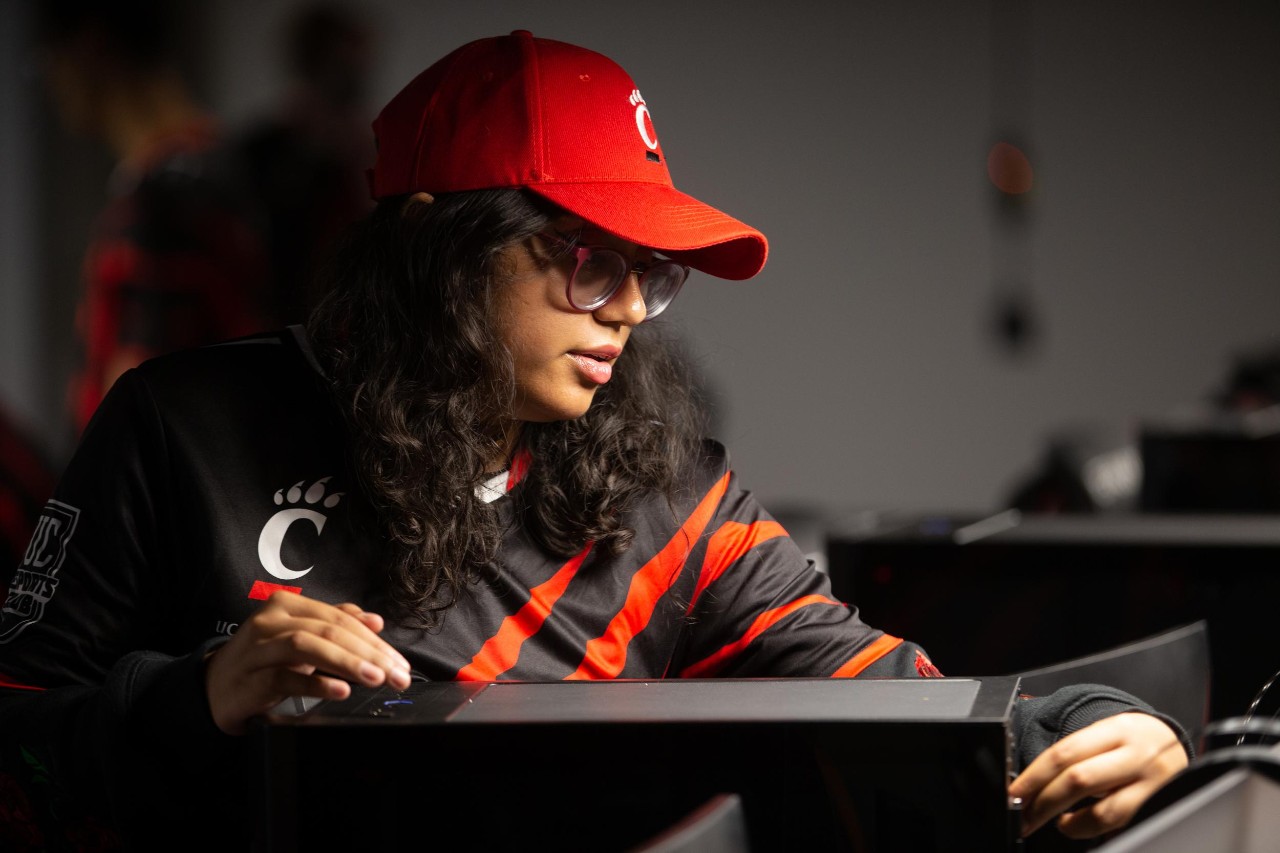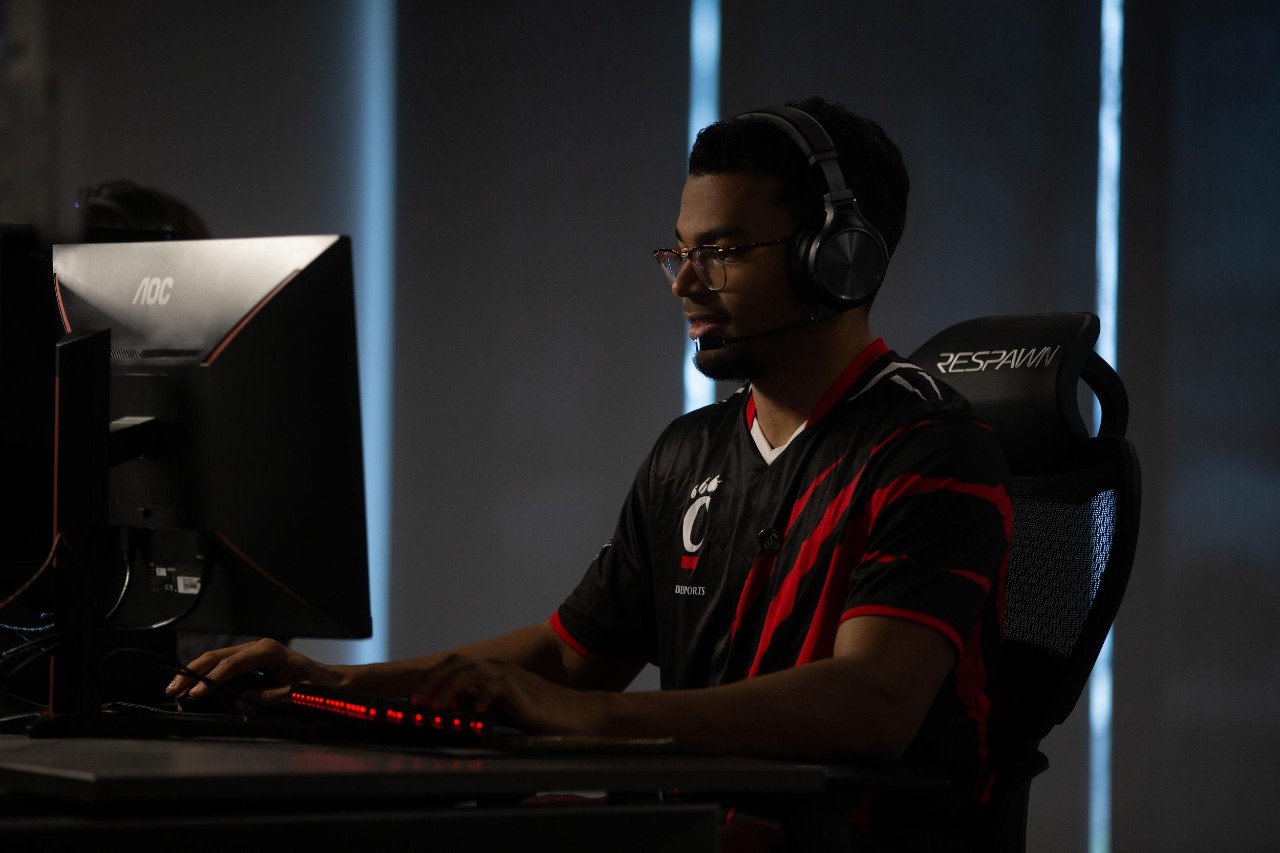 Fun fast facts about esports
15 million daily active users on the platform Twitch
$196 billion is the projected 2022 global games industry revenue 
Seven years since the first esports program at UC (spring 2015)
68% of students involved in collegiate esports clubs and programs are STEM majors
Esports is the No. 1-3 most popular non-academic interest for incoming STEM students
46 million concurrent views of the 2020 League of Legends World Championship
The state of Ohio has 16 university-sanctioned esports programs
The 5,500-square-foot space for the lab is located on the first floor of the Hub. It includes 45 computers, equipped with high-end peripherals and monitors, as well as a broadcasting and production studio designed for livestreaming.
"This is not some glorified computer lab; this is a community space," said Chris Postell, senior manager of strategic initiatives in UC's Office of Innovation. "The entire concept of this lab is to bring people together and celebrate a community."
Chris Vu, the president of the UC Esports Club, said having a dedicated space will open up many more opportunities for the club and make it much easier for the group to gather for events. There are more than 2,000 members of the UC Discord, an instant messaging and digital distribution platform, with hundreds of them actively involved in the club.
"To me, the esports community has acted almost like a second family. I've always come to it as my home away from home," Vu, a junior who is majoring in computer science, said. "It makes me so happy to see that we're finally getting a space to physically call home."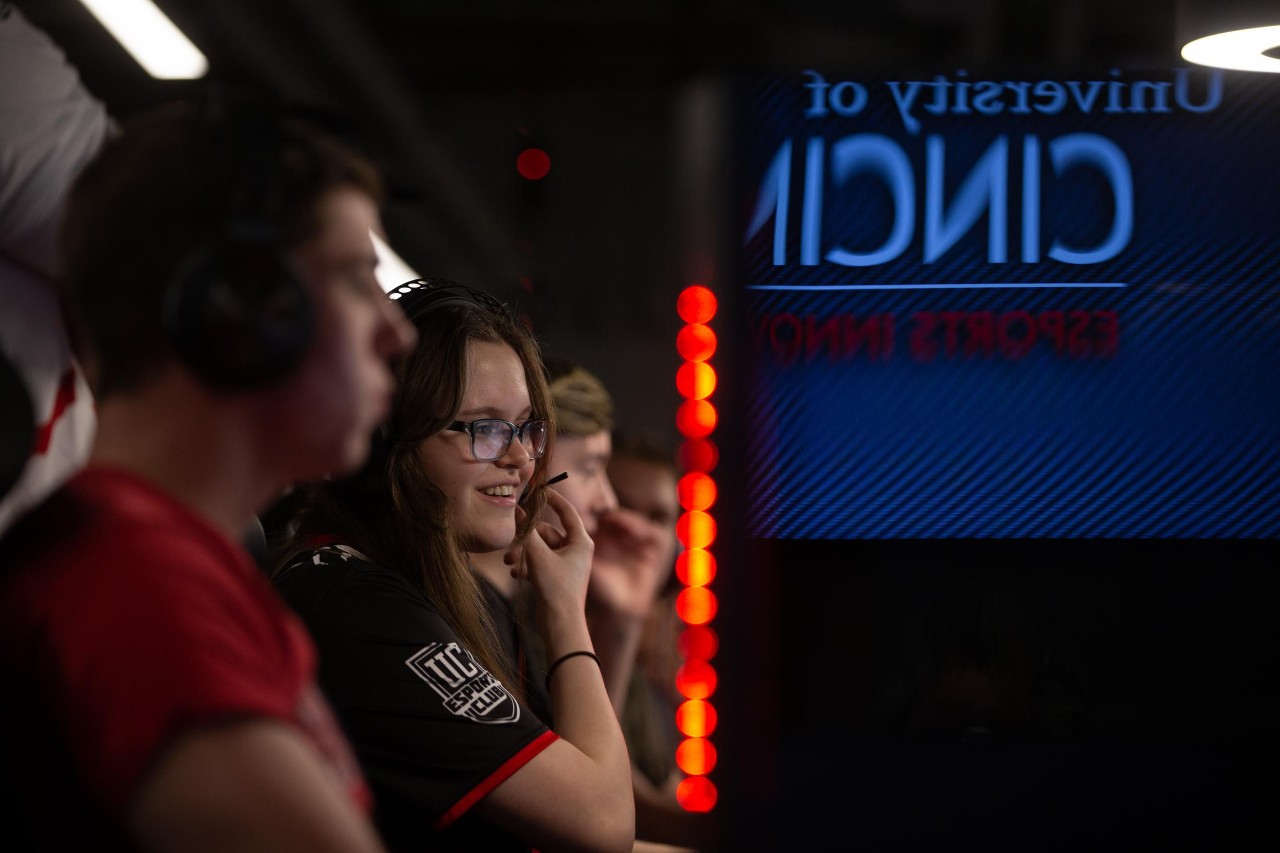 UC has five competitive esports organizations — Counter-Strike: Global Offensive, League of Legends, Overwatch, Rocket League and Super Smash Bros. — plus about a dozen other recreational games as part of the club. There are approximately 600 students who are active in the university's recreational gaming events.
"Esports is an innovative and growing area of academic learning that combines and tests science, technology, engineering and mathematics skills in a fun and competitive way," said Valerio Ferme, executive vice president for academic affairs and UC provost. "This new space will provide students a central gathering place to use their skills, further develop their knowledge and provide a community in which they can belong and flourish."
The Esports Club and the gaming community previously didn't have a dedicated space to gather for events at UC. The Esports Innovation Lab will allow the university to host events and tournaments, both in-person and online.
"From an economic standpoint it is invaluable to the university because esports is one of the fastest growing outlets for the 18- to 35-year-old range," said Jeffery Logsdon, the program coordinator for UC's club sports. "It's selling out arenas around the nation when they have these world championships and national championships. It's the new way of sport that's coming in."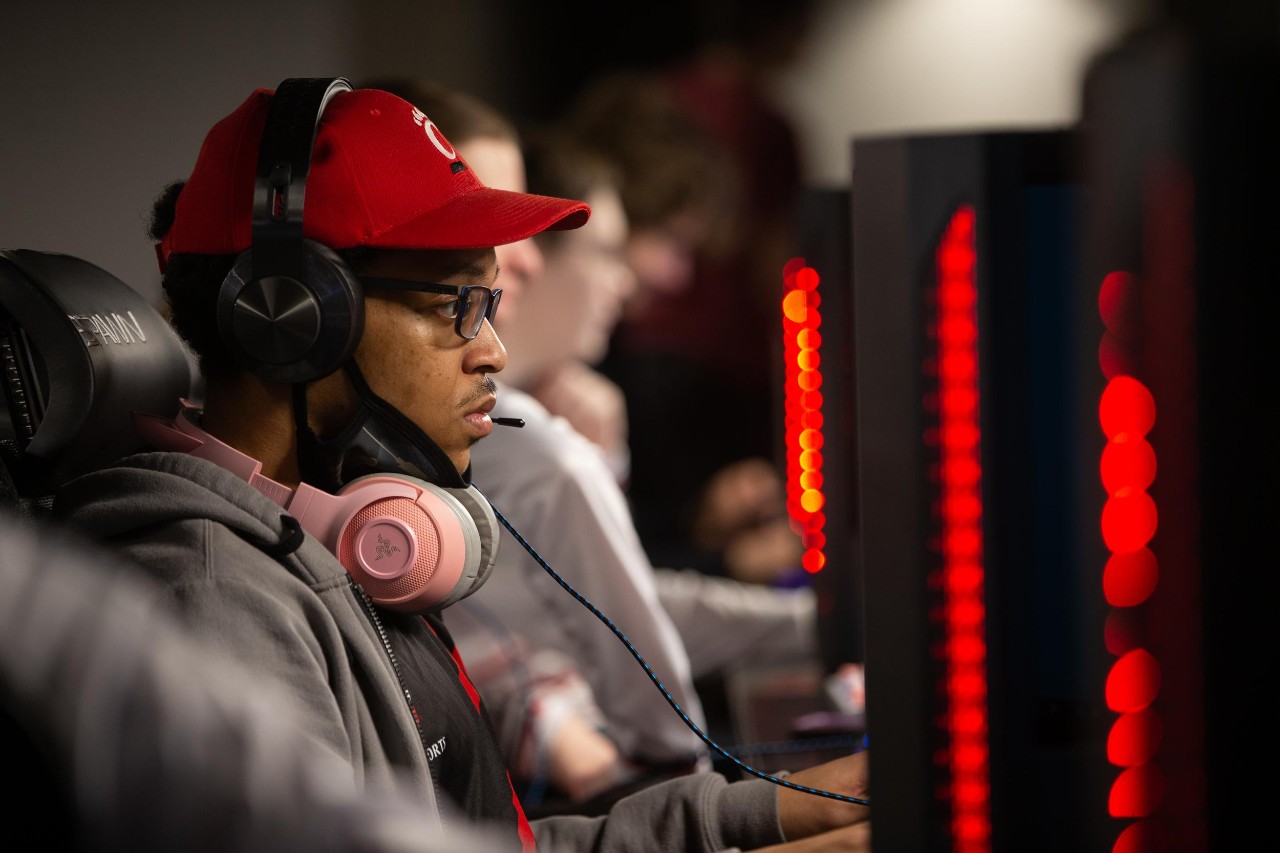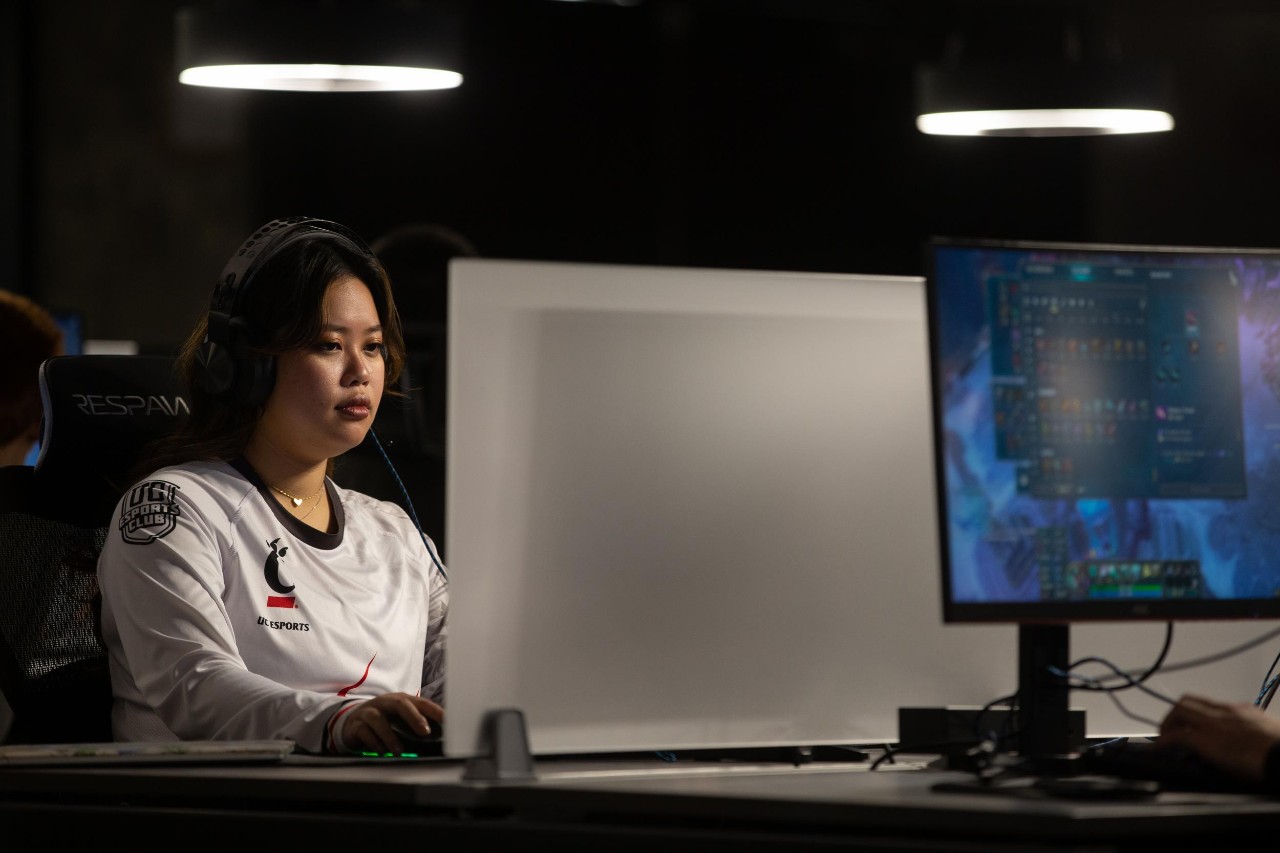 Esports at UC
55% of campus students identify as gamers in some way
UC esports community exceeds 2,000 students on Discord, a community and communication platform
Focus is education, competition and community 
Esports integration into the curriculum can positively impact virtually all colleges and degrees from broadcasting to sports management, information technology, computer science, marketing and more
UC esports is a member of the National Association of Collegiate Esports and the Electronic Gaming Federation and has more than 50 students competing across nine-plus titles
Studies have shown the majority of students who are interested in gaming enroll in science, technology, engineering and mathematics disciplines, and they tend to have a higher GPA than the average student, CID's Postell said.
Shane Halse, an assistant professor in UC's School of Information Technology and leader of the academic esports initiative, is excited about the potential the lab will offer his game development students. Gaming helps students relate to the subject matter and offers a fun way to learn software development, he said.
"It's a very engaging way to learn programming," Halse said, adding the skills students learn will translate to a wide range of information technology career paths.
The Esports Innovation Lab will officially open for normal operations during UC's Welcome Week of the fall 2022 semester. Previously, UC hosted special events and guests in the lab including several camps for high school students during the summer months.
More information on the Esports Innovation Lab can be found on the Office of Innovation website.
Featured image at top: Students play esports in UC's Esports Innovation Lab, which is located in the 1819 Innovation Hub. All photos by Andrew Higley/UC Marketing + Brand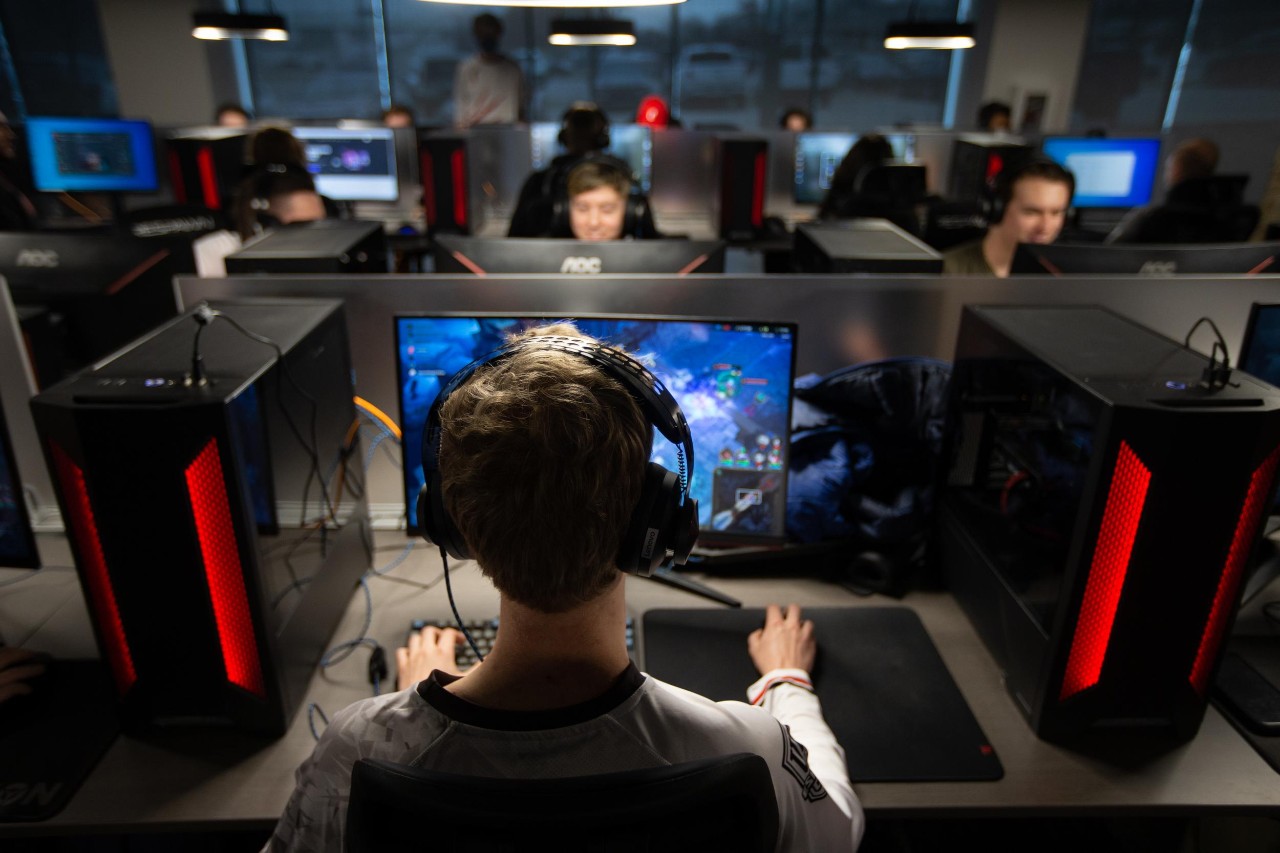 Next Lives Here
The University of Cincinnati is classified as a Research 1 institution by the Carnegie Commission and is ranked in the National Science Foundation's Top-35 public research universities. UC's medical, graduate and undergraduate students and faculty investigate problems and innovate solutions with real-world impact. Next Lives Here.
2
UC's 1819 Innovation Hub to host international water event
October 3, 2023
The stage is set at the University of Cincinnati's 1819 Innovation Hub for the "Water Startup Matching Extravaganza," created by WaterCitizen, Watervent and the United States Environmental Protection Agency (EPA) as part of Cincinnati Water Innovation Week.
3
Ledger donates digital asset security to the University of...
October 2, 2023
A recent gift from Ledger, a global platform for digital assets, will benefit students and research at the University of Cincinnati. Ledger has donated the use of its Enterprise Platform, a cutting-edge digital asset security solution that will enhance the university's technological capabilities in the cryptoeconomics area. This generous donation supports student learning at the Kautz-Uible Cryptoeconomics Lab at the Digital Futures building.
Debug
Query for this