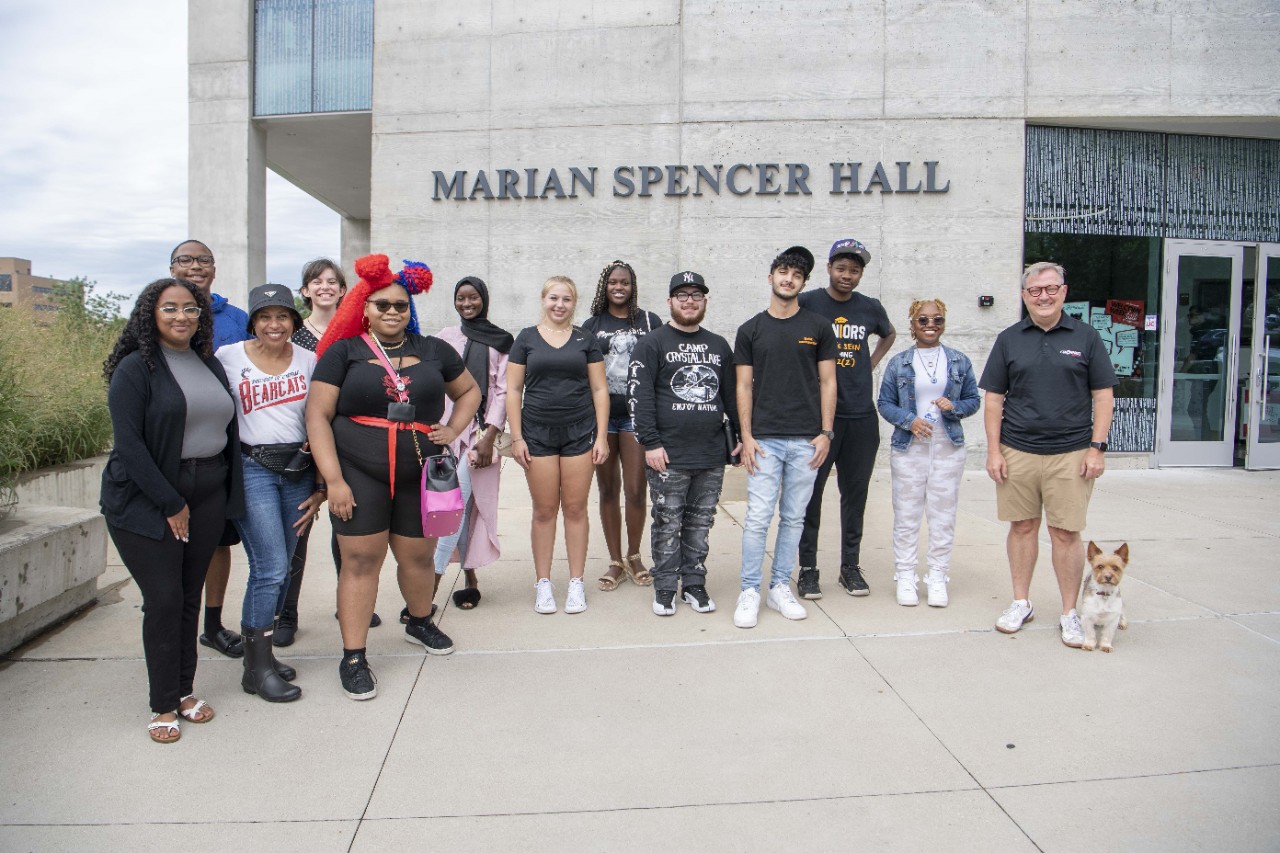 Spectrum News: Marian Spencer Scholars aim to be 'Cincy's future leaders'
Inaugural class of scholars move into the residence hall named for civil rights activist
 Jalen Tucker has a chance to follow his dreams at the University of Cincinnati.
The recent graduate of Shroder High School in Cincinnati is one of the 10 inaugural Marian Spencer Scholarship recipients on campus this semester. He hopes to study database management and cybersecurity and also aspires to broaden his view of the world.
"I really wanted to meet new people and experience a bunch of different cultures," says Tucker.  "I feel like coming to UC where it is very diverse and being a part of this program where we are going to meet a bunch of different people from different walks of life, I really think that is going to make me a better person at the end of the day."
Tucker and nine other Spencer Scholars were featured by Spectrum News for an online story. They moved into Marian Spencer Residence Hall earlier this month and were greeted by UC officials, Jack Miner, vice provost for enrollment management, and Cindy Jones, director of the Marian Spencer Scholarship program on move-in day.
"I am a first generation college student and leading the Marian Spencer Scholarship program has been such a gift to me because I remember the community that I had when I was in school," says Jones. "The fact I can get these students and introduce them to this community at UC and surround them with an ecosystem that will help them, I believe the sky's the limit for these students."
The Marian Spencer Scholarship program was launched last year to bolster UC's commitment to Cincinnati Public Schools by granting scholarship support for high-achieving CPS students. An investment of $6 million — made possible by a gift from UC alumnus and venture capitalist Jim Goetz and university matching funds — will allow 10 CPS students a year to receive full tuition, room and board scholarships and other opportunities.
The first 10 Spencer Scholars will enroll in fall 2022, and by 2023, the program will include at least one student from each of the 18 high schools within CPS. 
"The Spencer Scholarship builds a runway for underrepresented students at UC who will have an incredible opportunity to launch their academic and professional careers from our campus," said UC President Neville Pinto at the Sept. 10, 2021, ceremonies announcing major investments and initiatives tied to inclusion efforts.
The scholarship will cover students' undergraduate financial need and include mentoring and career coaching, an international service abroad trip to Tanzania in partnership with UC-based nonprofit Village Life Outreach Project, participation in a service project to benefit CPS and more. The students will form a living-learning community, housed together in Marian Spencer Hall.
"This is one of the most exciting days of the year at the University of Cincinnati, as we have all of our new freshmen moving in, especially the Marian Spencer Scholars," explains Miner.
Miner says the scholarship "will be transformational, not just for the individual students but for the entire community. Students will have unparalleled experiences and connections to the business community and will bring those experiences back to their community and to their high school."
Other Spencer Scholars include Takora Arnold, graduate of Virtual High School; Mbathio Lo, graduate of Aiken High School; Natalie Bennings, graduate of the School of Creative and Performing Arts; Brooke Bartholomew, graduate of Clark Montessori High School; and Nia McGlothin, graduate of Gamble Montessori High School.
Additional Spencer Scholars include Marcus Elliott, graduate of Oyler High School; Benya Coleman, graduate of Hughes STEM High School; Maxwell Lawson, graduate of Spencer Center for the Gifted; and Muslim Khzir, graduate of Gilbert A Dater High School.
"The best thing about the Marian Spencer Scholarship is being able to already have nine other people and I know them on a personal level and they have a lot of the same goals and ambitions as me," explains Elliott. "They have overcome a lot of hardships."
Spencer Scholars will be perfect examples of Marian Spencer's leadership and legacy. A civil rights icon, UC alumna Spencer was instrumental in desegregating Cincinnati's Coney Island as well as Cincinnati Public Schools. She went on to become the first African American woman elected to Cincinnati City Council in 1983.
As a Black student in the late 1930s and early 1940s, Spencer wasn't permitted to live in a dorm on UC's campus. That makes an honor she later received all the more fitting:  In 2018, a new high-rise residence hall on Campus Green was christened Marian Spencer Hall to honor her activism and her many contributions to the university. 
A former board of trustees member at UC, she later donated 80 years of Cincinnati civil rights history to the university in forms as diverse as music and official memoranda to comprise the "Marian and Donald Spencer Collection."
Read the Spectrum News online story about the Spencer Scholars online.
Feature image of the inaugural class of Marian Spencer Scholars on the UC campus was taken by Joseph Fuqua II.
1
Student scholars continue Marian Spencer's legacy
February 9, 2023
A total of 10 students in Cincinnati Public Schools have been named Marian Spencer Scholars for the Fall 2023. Four learned of their award on Decision Day, January 23, while six others received the surprise announcement during the following week. UC officials visited eight Cincinnati schools to congratulate these high-achieving students.
Debug
Query for this