CCM hosts daylong Trombone Summit for aspiring musicians of all abilities
Featuring recitals and master classes with professional guest artists, CCM faculty and students
UC's College-Conservatory of Music hosts a daylong Trombone Summit for musicians of all ages and experience levels on March 4, 2023. The event features a recital and master class by guest artists Peter Steiner, 2019 Prize Winner of the XVI International Tchaikovsky Competition; and Constanze Hochwartner.
Organized by CCM Professor of Trombone Timothy Anderson, the Summit also includes performances by the CCM Trombone Choir , university guest choirs and a recital with Steiner and Hochwartner. High School and college students who are interested in pursuing a career in music performance are encouraged to attend! The Summit provides trombonists of all levels — beginners, high school, college, amateurs and professionals — with opportunities to meet with professional guest artists, collegiate faculty and students to learn more about CCM programs.
Registration for the Trombone Summit is open to aspiring and established musicians ages 14 and older; price of admission is $35. For more information, contact Professor Anderson at anderst5@ucmail.uc.edu or reach out to CCM Prep at ccmprep@uc.edu.
The CCM Trombone Summit is supported by exclusive lead sponsor Buddy Roger's Music.
Italian trombonist Peter Steiner's playing has been described as "beautifully controlled with a vocal sound" and he is recognized around the world as "a new trombone star within his generation" who "plays with total control". In 2019 he was honoured as a Prize Winner at the XVI International Tchaikovsky Competition in Russia.
His 2022/2023 season will feature a 5 month US tour as well as duo concerts together with Constanze Hochwartner in Austria, Belgium, Germany, Korea, Italy, Japan, and Singapore.
At the age of 23, Peter Steiner was appointed Trombonist of the Vienna State Opera and Vienna Philharmonic for the 2016-2017 season. Prior to that engagement he served as Principal Trombonist with the Colorado Symphony for the 2014-2015 season. He has performed as guest trombonist with the Munich Philharmonic, Staatskapelle Dresden, New York Philharmonic, Dallas Symphony Orchestra, Seattle Symphony Orchestra and BBC Scottish Symphony Orchestra.
Mr. Steiner began his studies at the Music Conservatory in his hometown of Bolzano, Italy before continuing his studies at The Mozarteum of Salzburg (Austria). In 2016 he graduated from The Juilliard School in New York City with a Performance Diploma.  His major teachers and influences include Joseph Alessi, Warren Deck, Nitzan Haroz, and Dany Bonvin.
Mr. Steiner performs exclusively on Bach Trombones - his signature is the Artisan 47XPS.
Austrian artist Constanze Hochwartneris an international touring solo organist and pianist aswell as part of the Duo Steiner-Hochwartner. Her 2022/2023 season involves tours throughout Asia, Scandinavia and the USA. In addition she will give solo performances on the organ as well as duo concerts in Austria, Belgium, Italy and Switzerland.
Constanze received her first piano lessons at the young age of three, before being accepted into a class for gifted students in 2005 at the University of Music and Performing Arts in Graz, Austria. After graduating from high school, she switched her focus from piano to organ and started her studies in concert performance for organ with Univ. Prof. Ulrich Walther. Simultaneously, she studied instrumental and vocal pedagogy with an additional focus on piano and graduated in theFall of 2017. In October 2019 she finished her Master's degree studying with Univ. Prof. Karin Tafeit (organ) at the University of Music and Performing Arts in Graz. She has also been mentored by Univ. Prof. Gunther Rost.
Constanze has given solo performances around the globe, including organ concerts in Europe, the United States and South America. She performed as a soloist in the Graz Cathedral in 2015 and 2016 and at the "Grazer Orgelfrühling" 2016 in the Herz Jesu-Kirche in Graz. In June 2017 she gave a recital in the parish church of St. Xaver in Leoben and concerts with the brass ensemble of the University of Music and Performing Arts.
In 2017, Constanze began collaborating with trombonist Peter Steiner and formed the Duo Steiner-Hochwartner. For their debut 2017/2018 season the Duo maintained an ambitious international performance schedule, including an 8-week USA tour (40 concerts), a concert at the Wartburg Festival (Eisenach, Germany), and a series of concerts in Europe (Austria, Italy, and Switzerland). The 2018/2019 season highlights include a 3-month World Tour with both solo organ recitals and performances with the Duo in South America, Asia, Europe and the United States. Other performances with the Duo during the 2018-2019 season included a tour in Japanand two additional USA tours.Her 2019/2020 season involved a world tour including soloperformances on the organ as well as Duo concerts in Asia, Australia, Europe and the USA.
Constanze's debut album SAPPHIRE, in collaboration with Peter Steiner, was released in July 2019 under the Berlin Classics label. Their CD Release Tour brought them to Europe, Asia, Australia and the United States. Her second album BINARY STAR, on which Constanze playsorgan, was released in May 2021, again under the Berlin Classics label and in collaboration with Peter Steiner.The Christmas album THE FIRST NOËL–a Collection including both instruments (organ and piano) paired with trombone was released in December 2021. Her most recent album 2022 was brought to the public on an extensive 3 month album release tour this past summer.
About Trombone Studies at CCM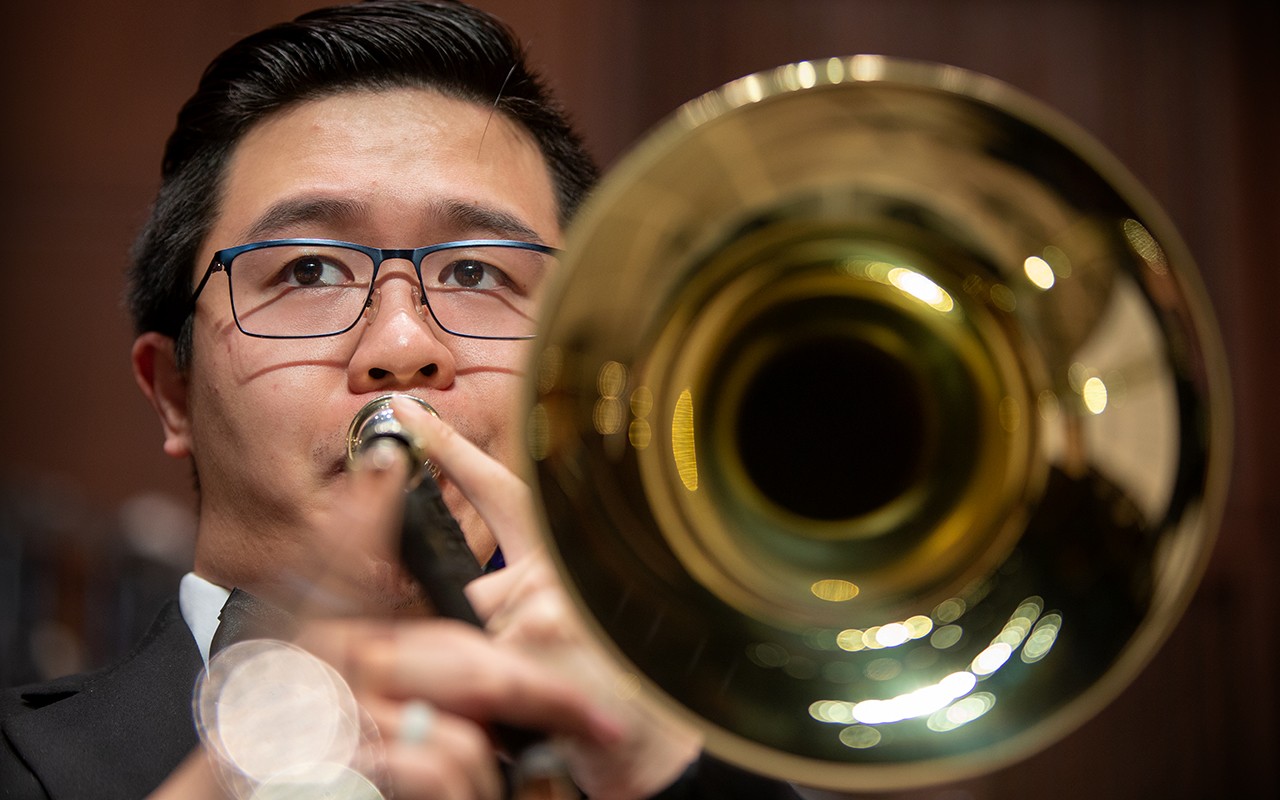 The trombone studio at CCM offers a full range of musical experiences for the undergraduate and graduate trombone student. Ensemble opportunities include three orchestras, wind ensemble, symphonic band, chamber winds, two jazz bands, jazz combos, contemporary music ensemble, brass choir, orchestral repertoire class, brass quintets, trombone quartets and trombone choir.
At CCM, each trombone student receives personal attention and a customized curriculum designed to meet his or her personal performance goals. A priority is placed on reaching one's full potential regardless of the focus of the lessons.
An important part of the CCM trombone experience is studio class, in which ideas are shared, students play for one another and guest artists visit. Furthermore, mock auditions, group warm-ups and trombone choir provide a sense of community among trombone students and encourage all students to progress at the fastest possible rate.
Featured image at the top: CCM trombone students perform on stage with the Wind Symphony. Photo/Andrew Higley/UC Creative + Brand
1
CCM shares spring 2023 schedule of major performances and events
November 22, 2022
Audiences are invited to return to the University of Cincinnati College-Conservatory of Music's (CCM) concert halls and theaters to experience world-class performances and presentations by the next generation of performing and media artists! The college's spring 2023 schedule of free and ticketed events is now available. Tickets go on sale to the general public beginning on Monday, Nov. 28, through the CCM Box Office.
2
See a concert or show at CCM: Fall schedule of major events now...
August 15, 2023
Experience world-class performances by the next generation of performing and media artists at the University of Cincinnati College-Conservatory of Music (CCM)! The college's fall 2023 schedule of ticketed events is now available; tickets are on sale beginning 1 p.m. Tuesday, Aug. 15 through the CCM Box Office website.
Debug
Query for this