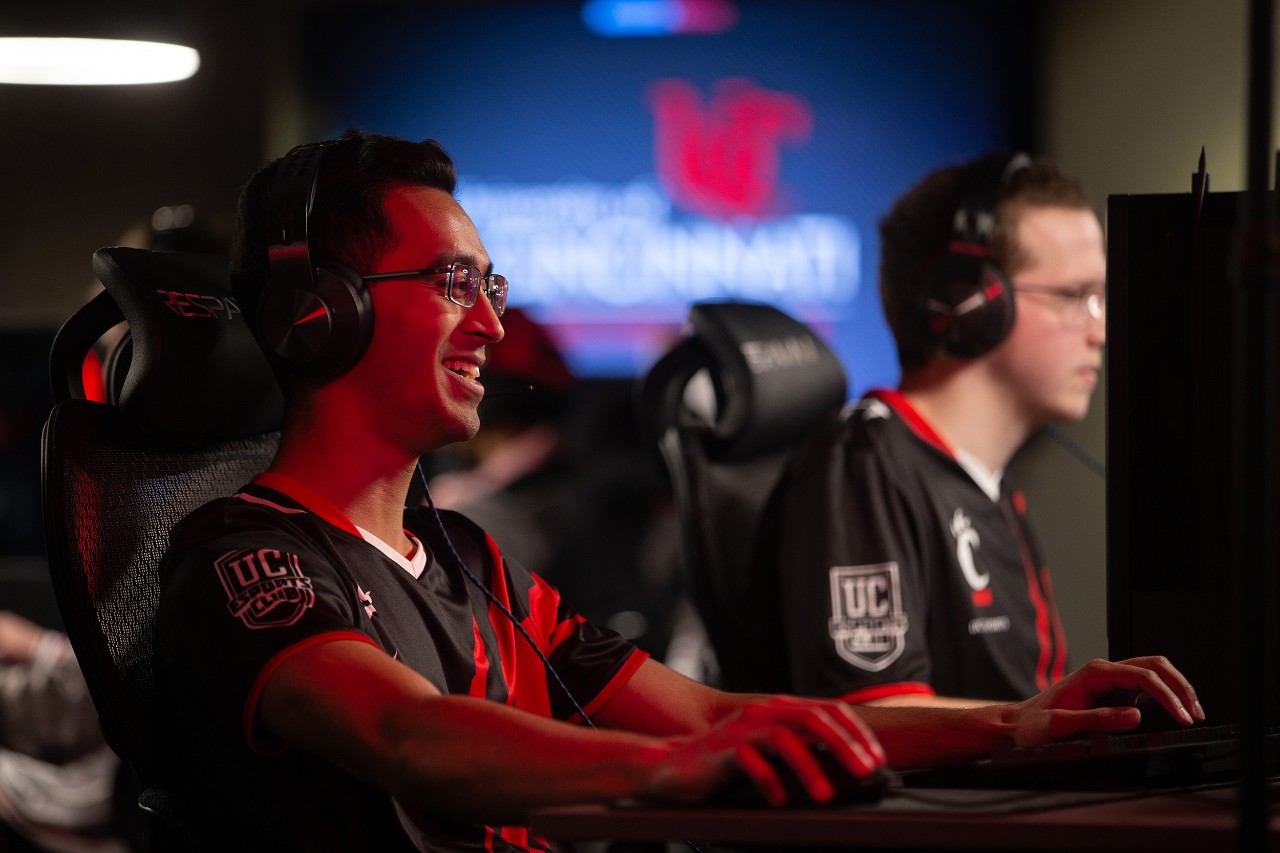 Why UC esports Innovation Lab exists
Gaming has revolutionized the way people are entertained.
Competitive video gaming, esports, has witnessed massive participation over the years in terms of player base and viewership. All you need is a console, and you can play in a matter of seconds.
Newzoo — a leading provider of games and esports data and insights — estimated early in 2022 that the esports industry would generate over $1.3 billion this year. By 2025, the firm notes, esports forecasted revenues are expected to exceed $1.86 billion. 
The University of Cincinnati is using esports as an innovative platform to rethink enrollment in STEM-related majors and workforce development. In response to the popularity of competitive gaming among current and prospective students, UC opened its Esports Innovation Lab in August 2022.
Located on the first floor of the 1819 Innovation Hub, the 5,500 square-foot lab has 40 premium gaming stations, five high-end broadcast and production stations and a large community lounge.
Impact of the Esports Innovation Lab
In its first four months of operation, the Esports Innovation Lab:
Hosted more than 70 tours, events and groups
Attracted more than 3,000 students
Experienced 68 users at its peak
STEM students are attracted to esports and serve as a pipeline for companies who need technology-capable workers.
Chris Postell, a UC alumnus and UC Esports Club founder
  Chris Postell, the UC Esports Club founder who manages the esports lab, cited a recent Forbes article noting that students interested in esports also tend to be high-achievers and gravitate toward high-paying, STEM fields that are in high demand by employers.
That tracks, he said, with the top two colleges currently represented in the esports lab: the College of Engineering and Applied Science and the College of Arts and Science. 
Featured image at top: Students play esports in UC's Esports Innovation Lab, which is located in the 1819 Innovation Hub. Andrew Higley/UC Marketing + Brand
Impact Lives Here
The University of Cincinnati is leading public urban universities into a new era of innovation and impact. Our faculty, staff and students are saving lives, changing outcomes and bending the future in our city's direction. Next Lives Here.