IT Expo returns as an in-person event
Students, partner companies to present technology solutions
For the first time since 2019, the University of Cincinnati's IT Expo, a celebration and showcase of innovation in information technology led by the School of Information Technology, will be held in person.
The 13th annual IT Expo will be held 8:45 a.m.-2 p.m., Tuesday, April 11, at UC's Campus Recreation Center. The free public event will include a keynote speaker, presentation breakouts, an awards ceremony and closing sessions.
"The IT Expo brings together students, practitioners and researchers as a community," said Hazem Said, director of the UC School of Information Technology. "It is an event where people meet, where ideas evolve and where the future is made. The annual event started in 2011 returns this year after going virtual during the pandemic."
The IT Expo features projects by graduating seniors of bachelor's degree programs, projects by high school students, research projects by master's and doctoral degree students and innovative projects by partner companies.
The projects are focused on risk management and frameworks, process automation, education and health care, community, cybersecurity awareness and operations and digital immersion. 
"I am impressed with the final results to apply their skills and create the solution," said Bekah Michael, associate professor-educator in the School of IT. "But I'm also really impressed with the problems they identify."
Michael teaches the senior design course, which includes approximately 200 students who will present projects at the IT Expo.
During their junior year, the students spent a semester identifying problems as part of a prep class, usually in teams of three to five people. During the fall and spring semesters of their senior year, the teams created a technology solution to solve the problem as a capstone project.
Senior projects being presented this year include a web browser extension that helps users safely manage passwords, a medication tracking app for phones, a web application for mapping and tracking public safety alerts, a web application that tracks streaming movie options across multiple platforms and more.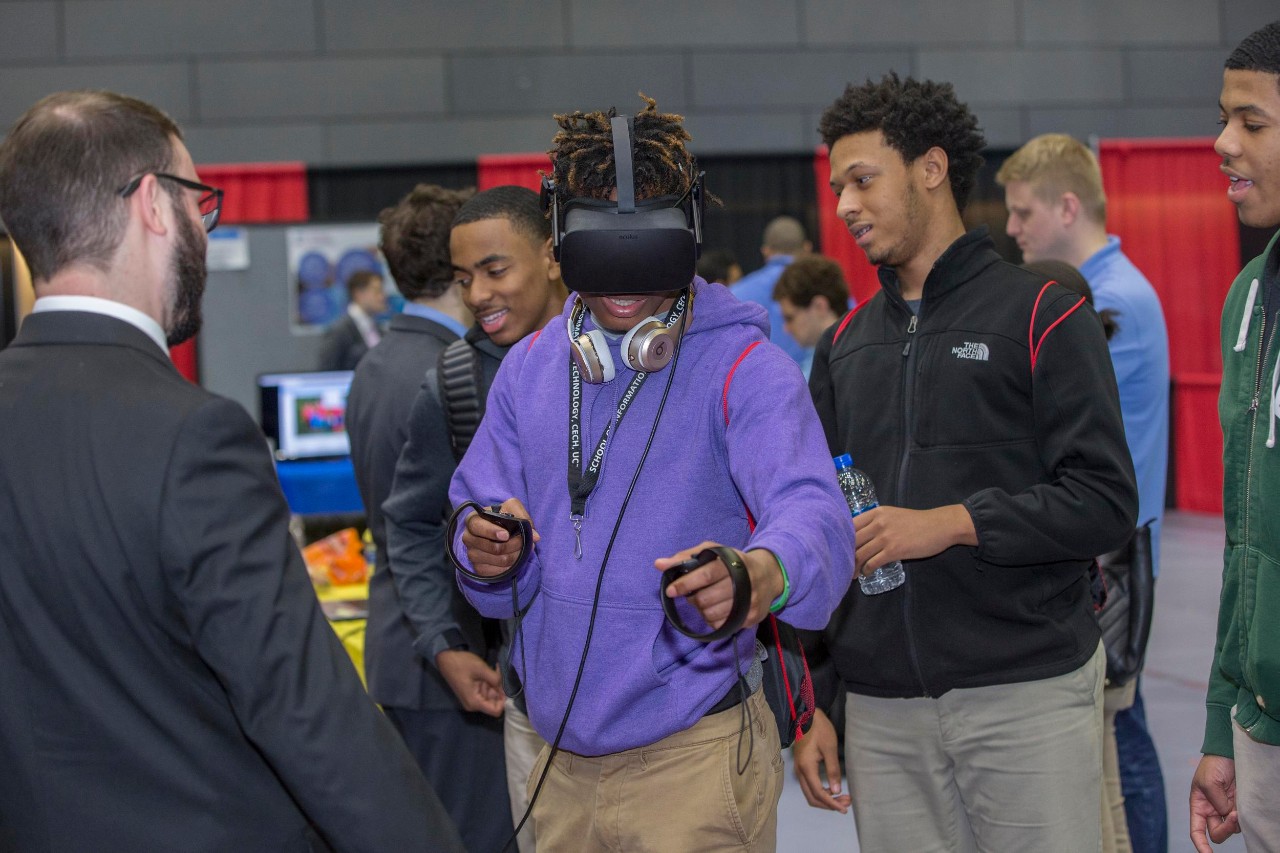 As part of the research symposium section of the IT Expo, seven authors or sets of authors will present talks on their innovative research in the field of IT, and seven additional authors will present posters about their research.
"We have a really diverse set of projects this year that ranges from the ethics of artificial intelligence-generated art, machine learning for diabetes prediction, e-waste mitigation, the use and usability of Canvas in transitioning to remote teaching during the pandemic, and comparing networks and traditional machine learning techniques for predicting cancer outcomes," said Jess Kropczynski, associate professor in the school. "The presenters are up-and-coming innovators in their respective areas, and I anticipate that their work will be thought-provoking."
Participants at the IT Expo have opportunities to win cash prizes. High school students can win scholarships to pursue a degree in information technology or cybersecurity at UC.
The expo also provides opportunities for participants to connect with industry professionals.
"It's an incredible opportunity to connect with the industry sponsors," said Michael, who participated in the IT Expo as a student before joining the UC faculty. "They're seeing what you did, looking at your code, looking at the problem you chose to solve."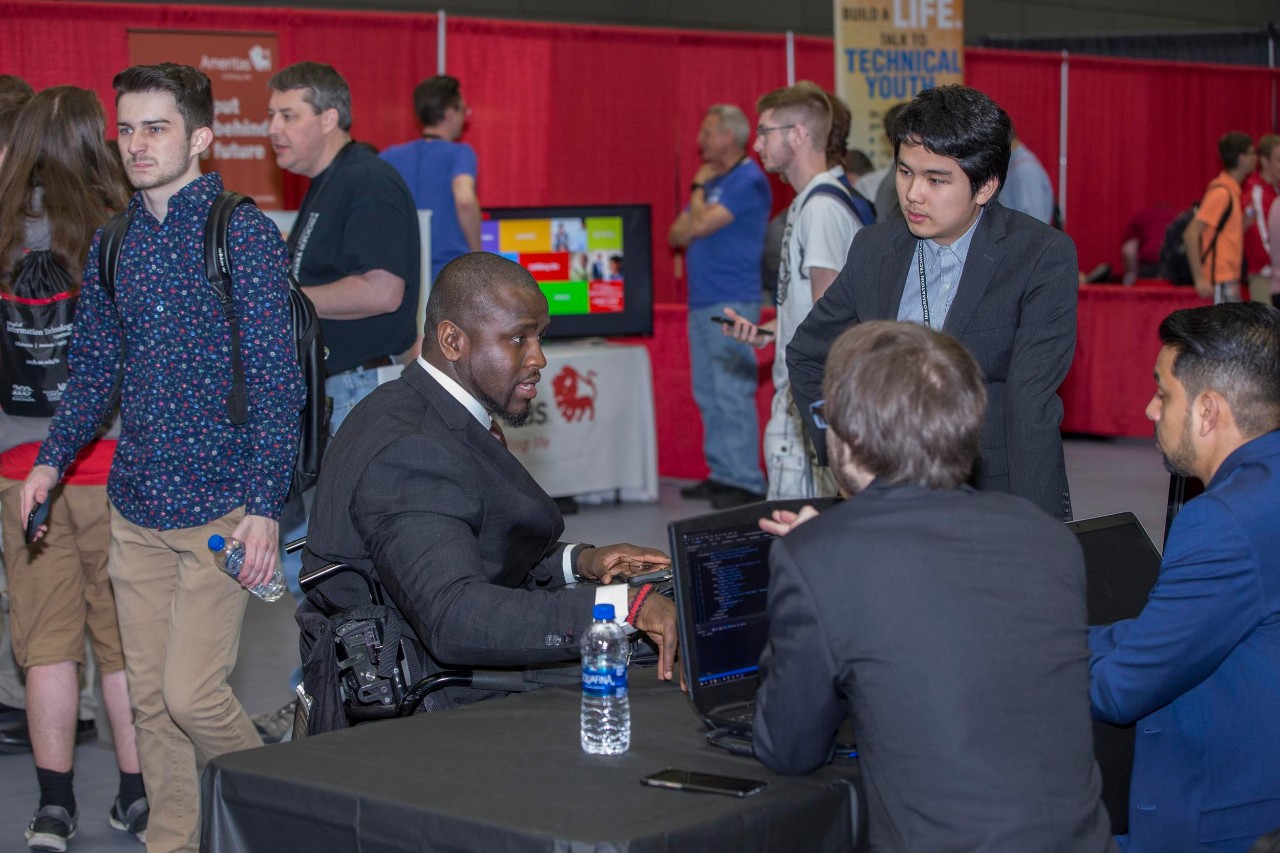 Senior design students Zach Kinkelaar, Stefani Vestring, Nathan Witter and Fraser Yule helped prepare the state of Ohio to counter growing cybersecurity threats for their project.
The group worked with the Ohio Cyber Range Institute at UC to conduct a training exercise for the Ohio Cyber Reserve, a volunteer force under the command of the state's adjutant general.
During the exercise, the Cyber Reserve participants were challenged by multiple simulated malicious actors such as an insider threat, criminal hacking, hacktivist activity and an advanced persistent threat, with the pace and complexity of malicious events tailored to the team's performance and achievement of its training objectives.
The training exercise, which was the United State's largest non-Department of Defense cyber exercise, helped prepare Ohio's cyber reservists to respond to cyber attacks and identified ways to improve readiness.
Beyond the work in information technology, preparing for the IT Expo has forced the senior design students to dive deeper into their project and become better communicators.
"This spring we really clarified what we did and showed that in our presentation," said information technology student Kinkelaar. "While doing that we learned a lot as well."
Featured image at top: UC information technology students showcase their projects during the 2019 IT Expo at the Campus Recreation Center. Photo/ Joseph Fuqua II//UC Marketing + Brand

Innovation Lives Here
The University of Cincinnati is leading public urban universities into a new era of innovation and impact. Our faculty, staff and students are saving lives, changing outcomes and bending the future in our city's direction. Next Lives Here.
2
First group of Early IT students to graduate from UC
April 24, 2023
Four students from the first cohort of the University of Cincinnati's Early IT program, which allows students to complete the first year of their bachelor's degrees while they're in high school, will graduate this spring.