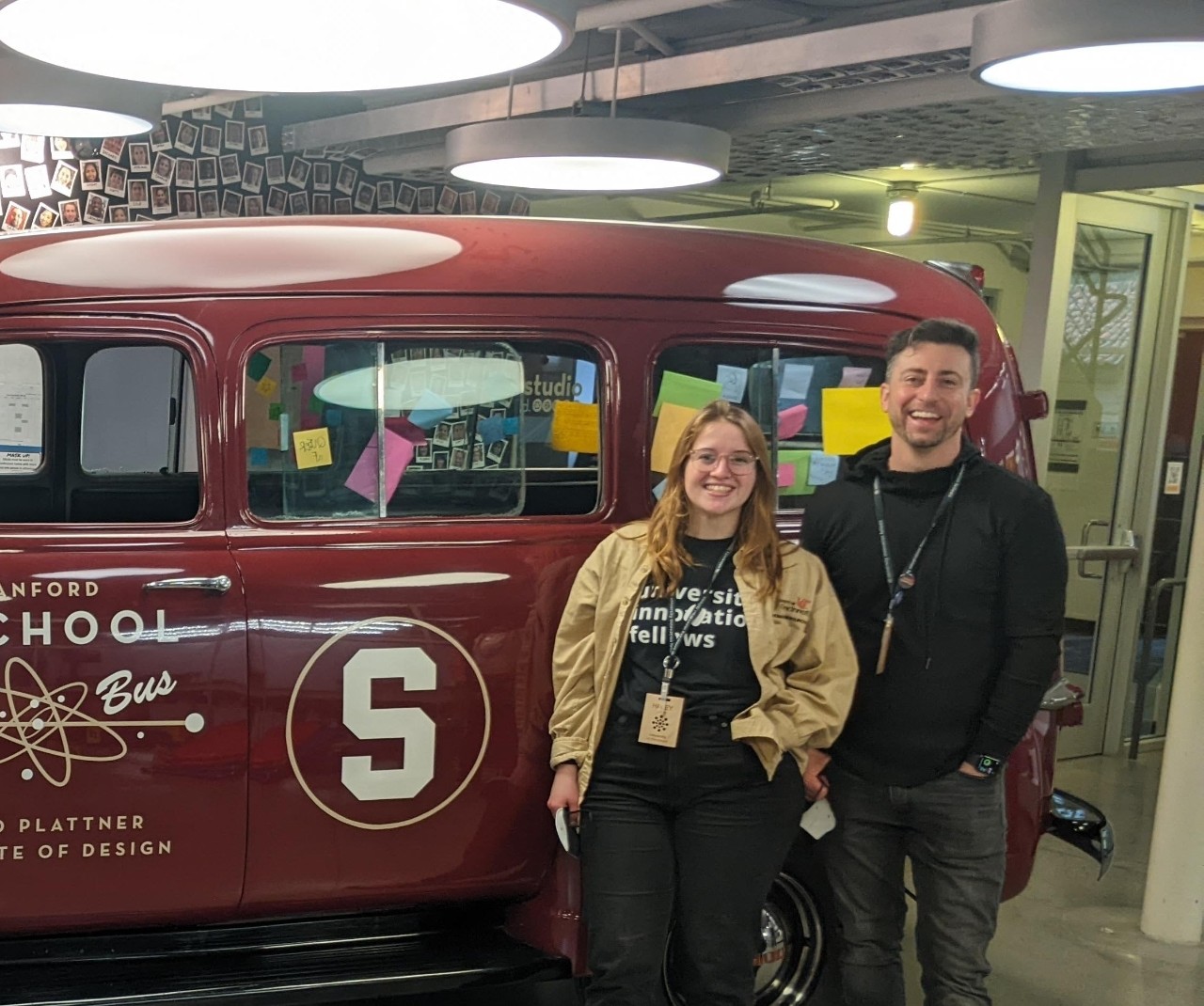 UC graduate lands dream research role
Next Innovation Scholars program creates pathways for innovators
Charting a new course in her major, a University of Cincinnati alumna, Haley Rich, ultimately paved the way to her dream job with Kaleidoscope Innovation.
This spring, Rich obtained her Bachelor of Science in industrial design from the College of Design, Architecture, Art, and Planning (DAAP). She credited her career opportunity with the Blue Ash, Ohio, company with her experiences as a UC NEXT Innovation Scholar (NIS).
"NEXT Innovation Scholars is a unique cohort-based, transdisciplinary educational program centered on design thinking and future-focused innovation," the director of the NIS program, Aaron Bradley, said. "Each year we accept 10-20 new students into the program through a rigorous, multi-round process that includes leaders of programs across campus as part of the selection and review. We currently have students from 27 different majors across engineering, design, business, humanities, medicine and hard sciences, ranging from first to fifth-year undergraduates in the program."
The program stands out from other scholarships by prioritizing collaborative, cross-disciplinary experiences that immerse students in industry and innovation without adding additional years of study.
I'm incredibly grateful for everything — my parents, UC and the exceptional training I received through NIS and the Stanford program — as well as all the amazing projects I've had the opportunity to be a part of these past two years.
Haley Rich UC Next Innovation Scholar
Through NIS, Rich also was paired with UC alumnus and successful businessman John Mang. The former engineer made a name for himself as an executive at Procter & Gamble.
"John's varied skillset and systematic views about the realities of business and how to make a change within a corporate environment exposed me to things I would not have experienced in the classroom," Rich said.
Bradley said the heart of the NIS program lies in broadening students' horizons.
"Creating pathways to expand students' vision of what's possible with their degree and skillset is one of the top priorities of the NEXT Innovation Scholars program. Students already have access to a lot of experiences and mentoring within their discipline through other avenues, so we intentionally prioritize matching NIS students with industry mentors who don't necessarily have the same background and degree as them but can show them a broader picture of their potential for innovation," Bradley said.
As a result of her experiences as an NIS student, Rich discovered that she was less interested in traditional industrial design and more interested in a more contemporary branch of the field — complex, systematic problem-solving.
Through her cooperative education experiences, Rich worked on product designs for organizations including Kaleidoscope Innovation. Four companies — Whirlpool, Allegion, Blackstone and Boeing — now have filed U.S. patents for designs that incorporate Rich's innovative work.
For her capstone project, Rich analyzed and deconstructed the systemic relationships between the various factors that emergency medical technicians face. Rich presented her findings through an insights deck that visualized these complex relationships. 
Now that she's graduated, Rich will soon jet off to Tanzania with Village Life Outreach Project. She and three other NEXT Innovation Scholars will immerse themselves in ethnographic research to gain a deeper understanding of the nutritional challenges villagers face and identify sustainable and equitable solutions.
Upon her return, Rich will join Kaleidoscope as an associate researcher, a role created for her. The company designs cutting-edge tools and products for laboratory resources, primarily focusing on improving patient outcomes.
"I'm incredibly grateful for everything — my parents, UC and the exceptional training I received through NIS and the Stanford program — as well as all the amazing projects I've had the opportunity to be a part of these past two years," Rich said.
As a member of the first NIS cohort, Bradley said Rich has been a tremendous asset.
"Haley has played a huge part in several of the milestones we've accomplished in our first two years. Her combination of cross-disciplinary curiosity, an innovation mindset and diligent work ethic embody what it means to be a NEXT Innovation Scholar. Her peers in the program look up to her as a leader and mentor," Bradley said.
Featured image at top: Haley Rich stands with Aaron Bradley. All photos provided
Innovation Lives Here
The University of Cincinnati is leading public urban universities into a new era of innovation and impact. Our faculty, staff and students are saving lives, changing outcomes and bending the future in our city's direction. Next Lives Here.
1
UC grad makes physical therapy more engaging for children
October 26, 2022
Having found the guidance she received for physical therapy to be boring and confusing, a University of Cincinnati alumna is developing an app that will make the process more engaging and enjoyable for children.
3
UC startup aims to reinvent physical therapy
August 16, 2022
A University of Cincinnati Venture Lab-backed startup is looking to reinvent the physical therapy market with a new approach that offers hope for a more effective and more convenient way to provide treatment.