UC geography study tour spans 36 years in Yucatan
Geography professor leads UC students on 29th tour of Mexican landscape
For the past 36 years, University of Cincinnati geography faculty such as Professor Robert South have been taking students on a "Landscapes and Legacies of the Yucatán" study-abroad tour that is as much a trip through time as through space.
This December, South will lead a new group of students on a "sequent occupance" program that explores Maya archaeological sites of the pre-Hispanic era, colonial churches and haciendas and export factories and cultural attractions of contemporary Mexico.
Students in many disciplines take the trip as part of a freshman seminar in geography, but it is open to any undergraduates or graduates interested in the region or in the relationships of people and place. It is also an approved University Honors Program experience.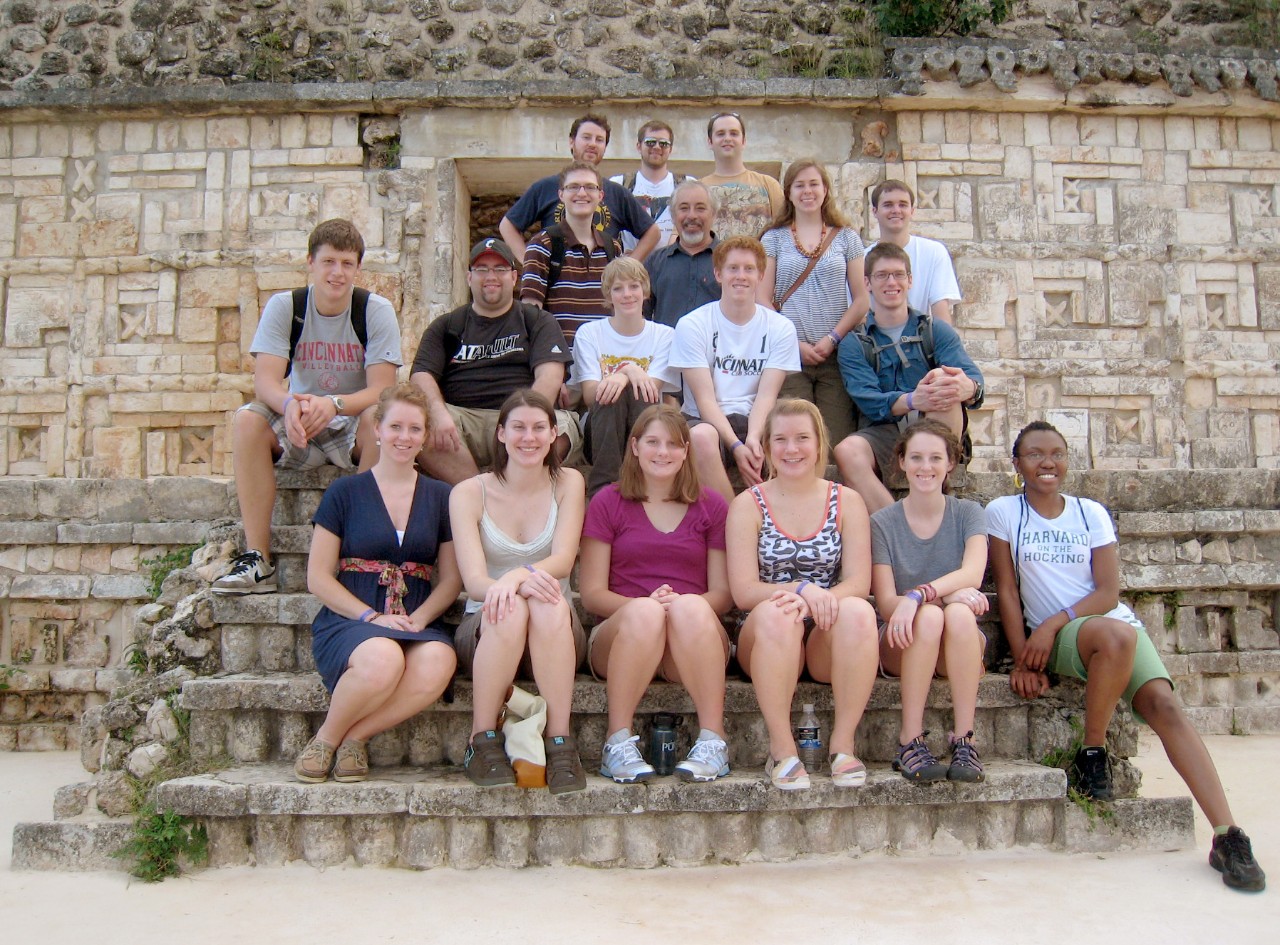 The program is an example of education that goes beyond the classroom, a key part of the University of Cincinnati Next Lives Here promise of academic excellence and transformative real-world experiences.
Biology graduate Laura Wood, who minored in chemistry, was part of the 2019 group, one of the last study-abroad programs before the COVID-19 pandemic shutdown. She had signed up for South's seminar as a follow-up to her high school Spanish classes. The end-of-term trip was her first outside the United States.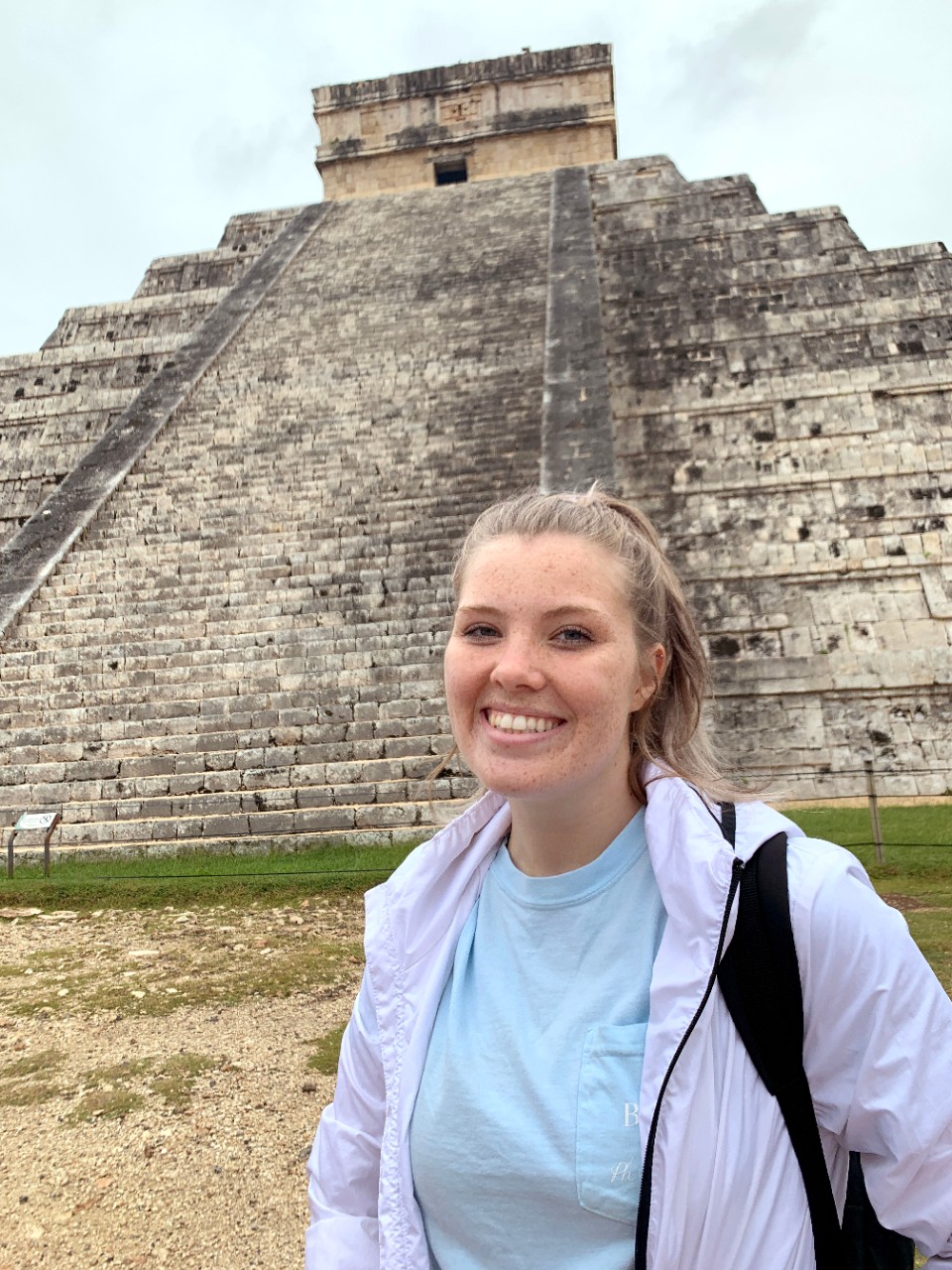 "I remember being super awkward in the class," said Wood, and being randomly paired up for room assignments for the trip. After a 3 a.m. drive to the Cincinnati airport through freezing December rain, she and her tripmates landed in Mexico's vivid warmth and greenery.
"We got on a bus, and I just remember sitting there in the front, really close, I had my legs really close together and my body really small. And I just remember looking, and thinking, 'That sign is in Spanish.' I remember that was just my first thought — we were riding, and I felt super small, and I was just sitting there, and I was like, 'That is not English. This is so cool.'"
The trip expanded Wood's horizons, giving her opportunities to try out her Spanish and to form friendships she keeps today.
Some of her strongest memories of the trip are of the Maya ruins the group visited, especially Ek' Balam, where she was awed by the immaculately preserved sculptures at the entrance of a royal tomb in the largest structure, the Acropolis.
"It looked pristine. It was white, fully carved out, it was beautiful," she said of the sculptured facade. Excavated only within the past 25 years, it forms a symbolic underworld portal shaped like an enormous jaguar's mouth.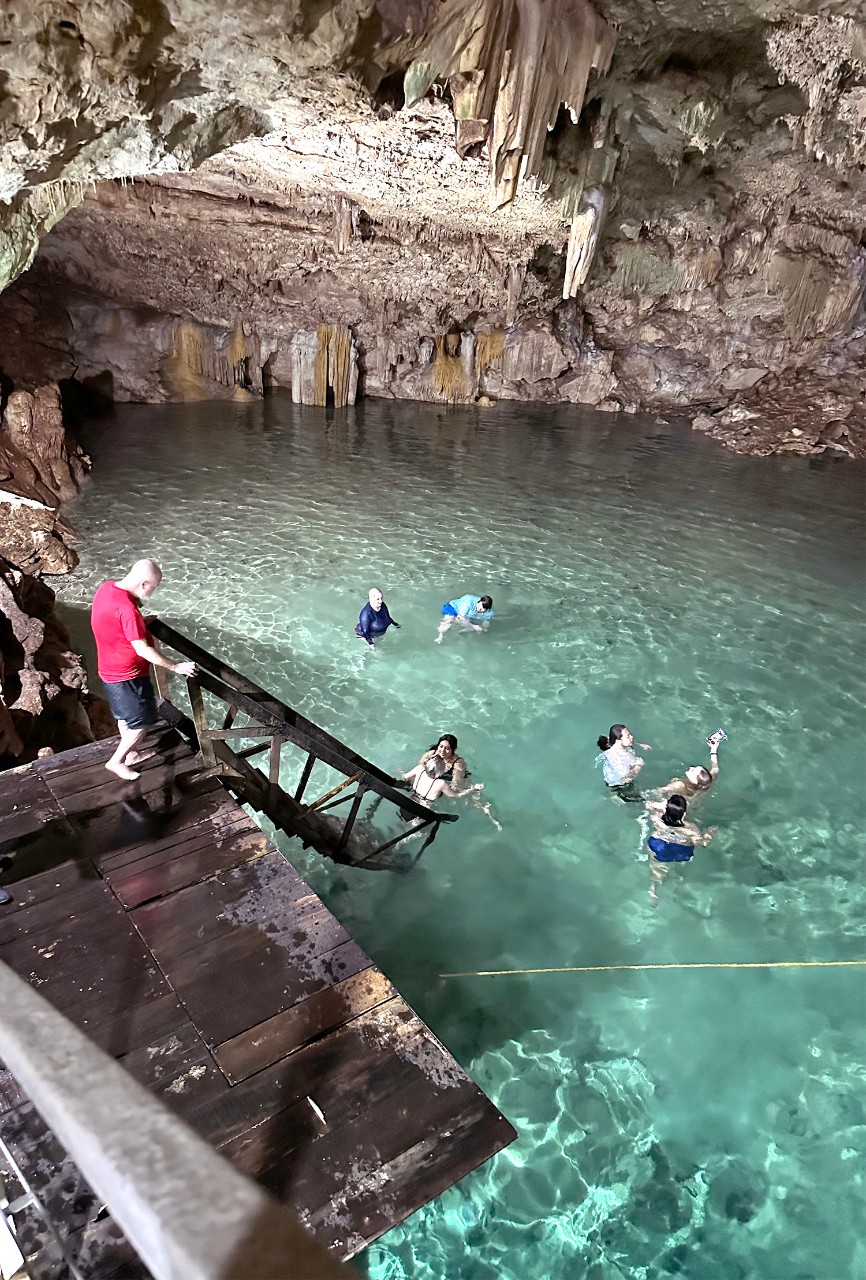 Swimming in cenotes or natural limestone pools, visiting a flamingo reserve, wandering through markets and joining an arts street festival in Mérida also gave Wood a sense of immersion in an unfamiliar place and culture.
After two years of COVID restrictions on student travel, Wood finally participated in a second faculty-led program as a senior this year. She took the College of Medicine Paris tour "In the Footsteps of Louis Pasteur."
Now working for Mercy Health in a post-anesthesia care unit, Wood hopes to do some traveling on her own, perhaps to Spain. She credits her experience in Mexico for giving her the courage.
"It's the safest risk to take," she said of study abroad in a faculty-led program. Then she corrected herself.
"It's just the best risk you could take."
It's just the best risk you could take.
Laura Wood, 2023 UC graduate
Making such opportunities possible for more students was a goal of the Yucatán tour from the beginning, said South. He proposed the trip at a meeting of UC College of Arts & Sciences faculty working to establish a Latin American studies program, which UC did not have at the time.
All South remembers from that first trip 36 years ago is that the bus broke down. Among the other 27 trips, the one that stands out for him is 2012, the year when popular culture seized on the idea that the Maya calendar had predicted the world would end.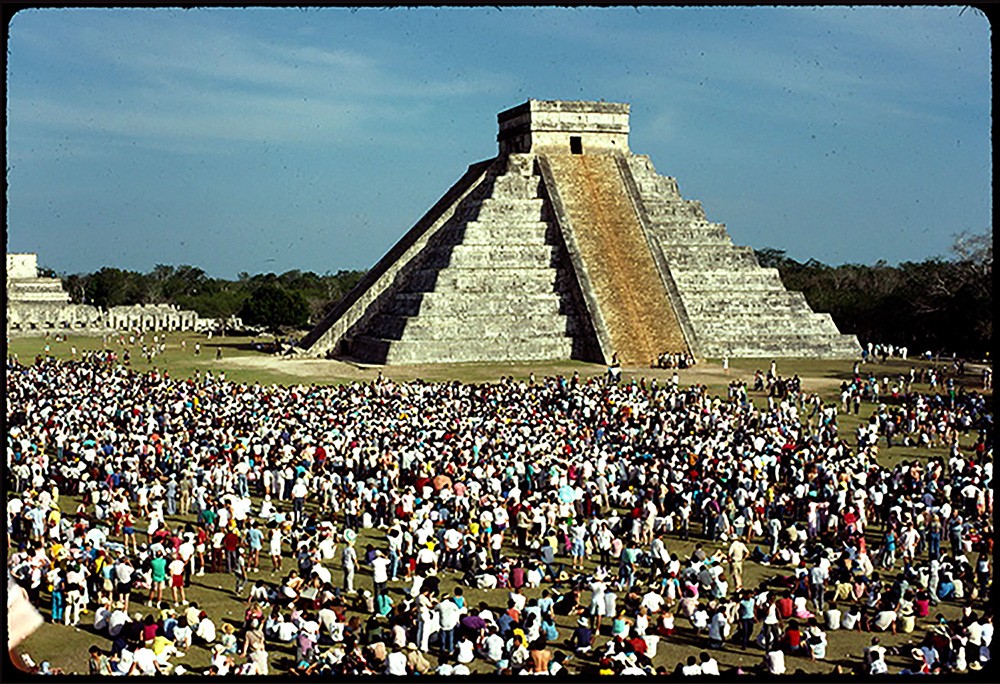 Nicholas Dunning, archaeologist and professor emeritus in geography, has co-led more than 20 of the trips. His research is in the Maya lowlands, work for which he was awarded the Distinguished Research Professor Award for STEM disciplines by UC's provost this year. His current research is at Calakmul, a powerful city of the Maya Late Classic period.
Dunning serves as an archaeology guide for the students, but also as a guide to the cultural and physical geography of the region.
"It's not all about the archaeology, as fascinating as that might be. It's about modern Yucatán and the modern environment and the modern people as much as it is about the ancient ones," he said.
Using this wider geographical lens, South and Dunning focus on the different periods of human civilization layered into the region's landscape—sometimes literally, where the Spaniards repurposed stones to build over Maya sites.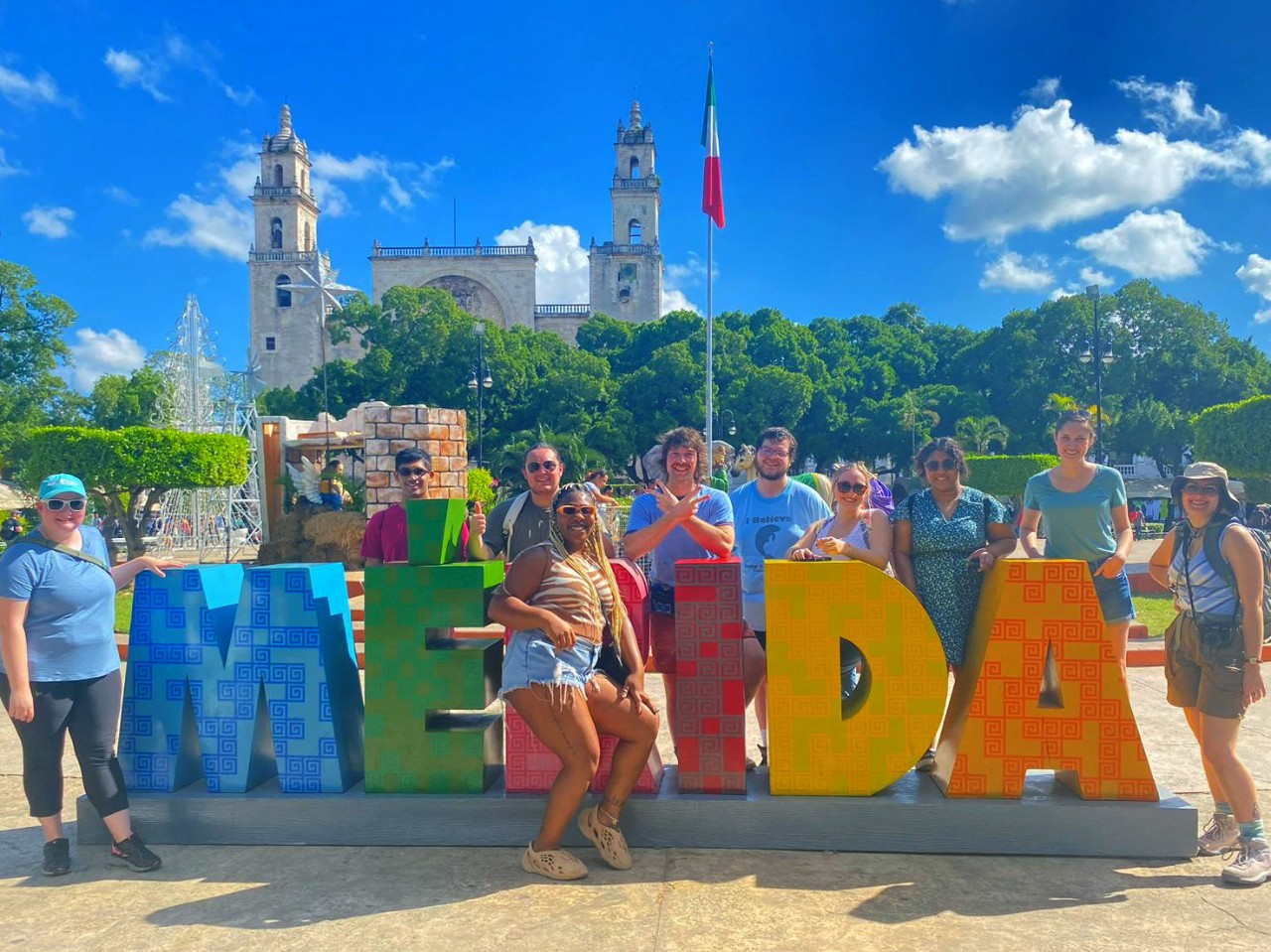 "We start at some of the oldest pre-Columbian ruins, places like Uxmal, Ek' Balam, Chichen Itzá," said South.
"And then we cross the landscape and we see the evidence of the colonial period. We spend time in a colonial city, Mérida, which was established in 1542, where we go to the second oldest cathedral [completed] in the Western Hemisphere. We see a lot of the colonial period. We visit haciendas that were established in the early 1700s." The haciendas were landed colonial estates based on bound communal labor and not broken up until the Mexican Revolution in the 1910s.
Nishanth Chidambaram is a computer science major in UC's College of Engineering and Applied Science. He is an experienced traveler, but his plans to study abroad were put on hold by COVID until his fourth year at UC. He took the Yucatán trip last December as an honors experience.
"Whatever chance, any chance you get, I'd recommend traveling, both to expand your horizons … and because it's just fun. That's what I'm doing now as a college student, while I have the chance," he said. "I did the Mexico trip, and a week and a half after I came back, I flew out to France." He hopes to squeeze in one more study abroad experience next year, the 600-mile honors study tour down the Amazon River, with his sister, an incoming first-year student.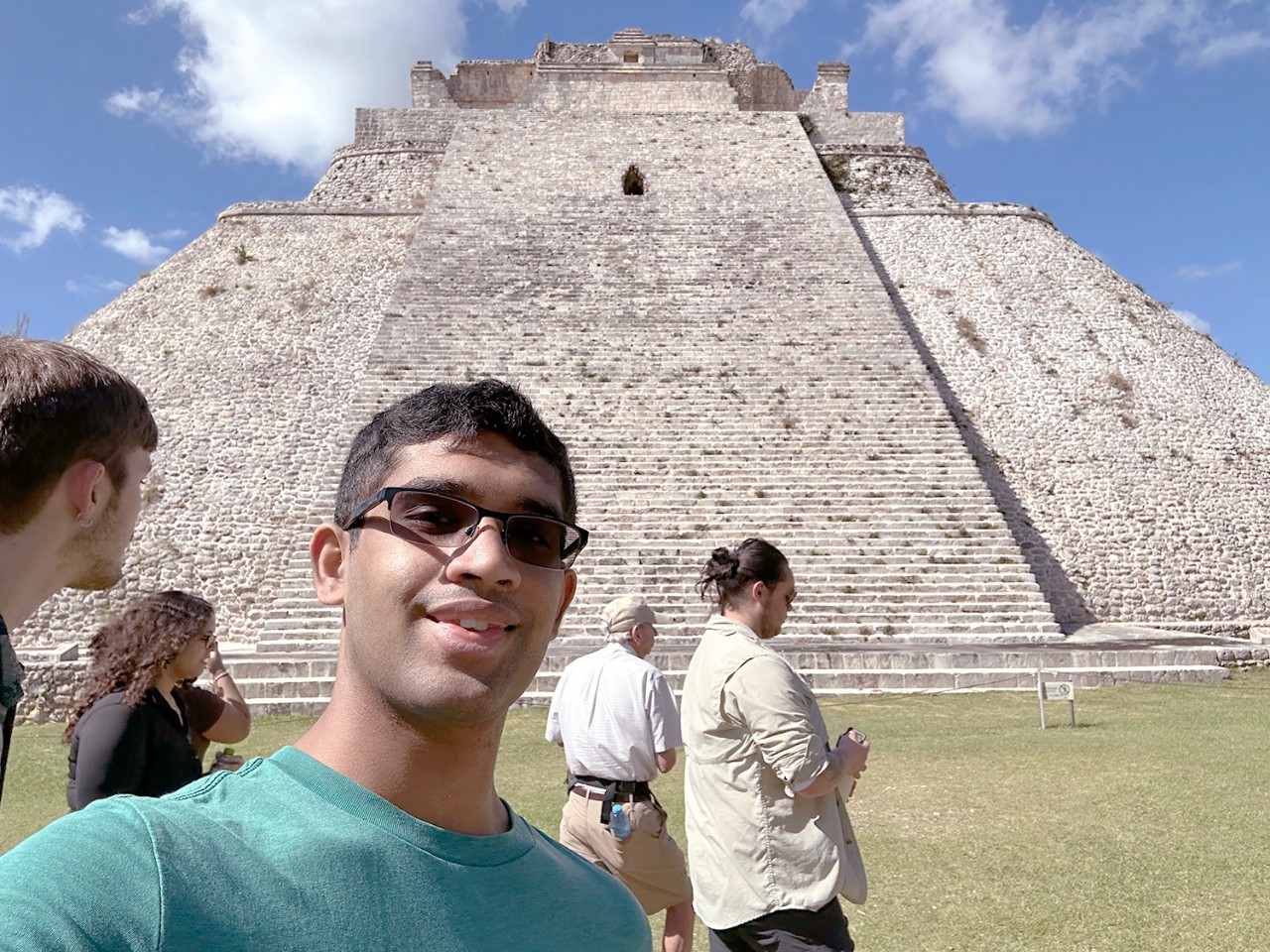 Chidambaram spent this spring semester on co-op at the University of Lorraine in Nancy, working on path planning simulations for factory drones, an experience he hopes may lead into a career at NASA.
Traveling during his co-op, Chidambaram got a unique additional perspective on the intersection of European and American cultures: He got to see the Spanish end of the colonization of the Americas and recognized the influences on the Mexican landscape he had seen.
"In Spain there are a lot of plazas, and in Mexico you could see all the cities and towns were built around central plazas. A lot of the architecture styles of the buildings are very similar, taken directly from Spain, so you could see that also. I saw a lot in the museums and palaces, a lot of conquistador relics or artwork … brought back from Mexico."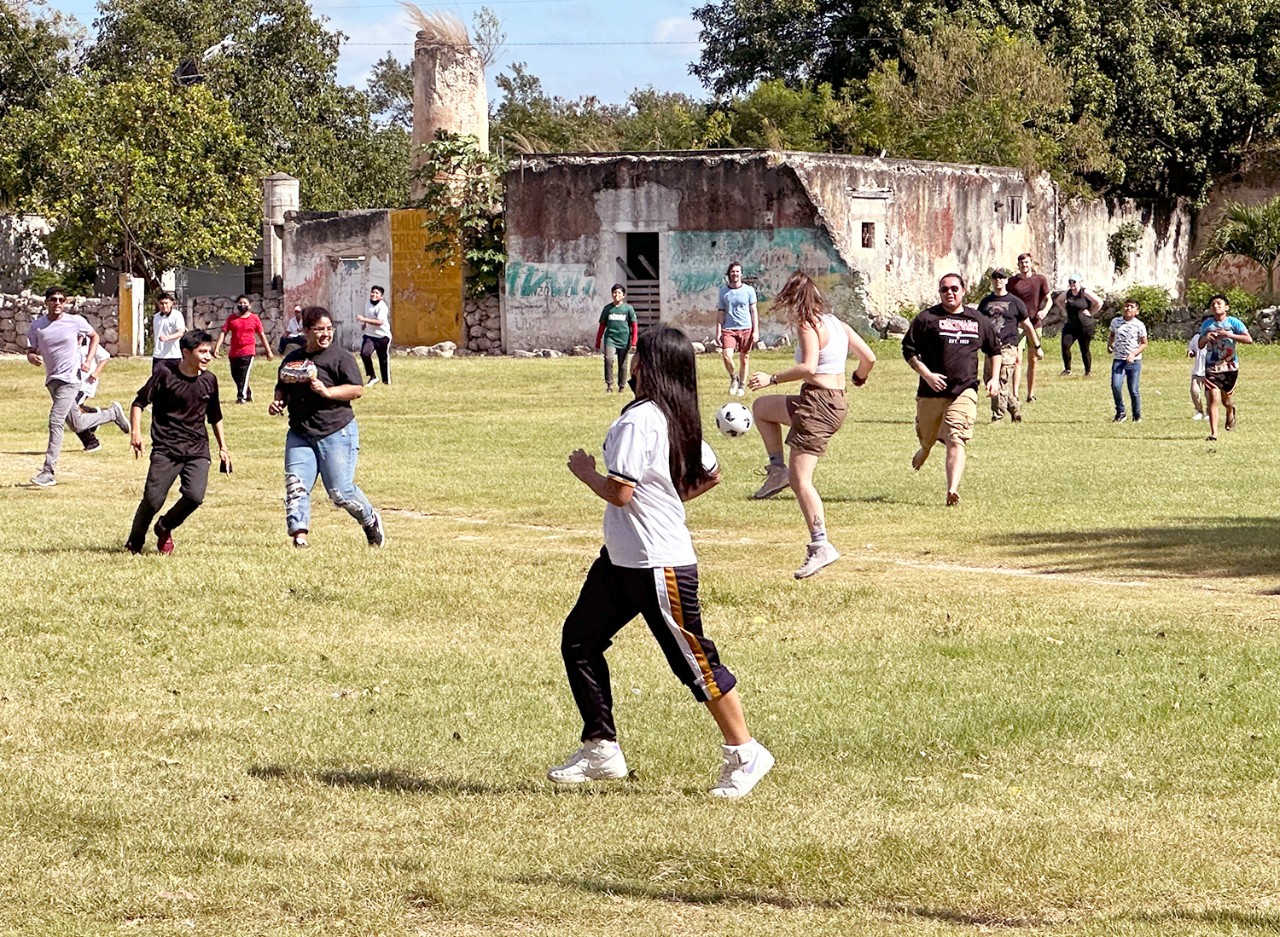 One of Chidambaram's favorite memories of the Yucatán tour and a tradition on the trip since 1987 is the visit to a village elementary school in Holactún, near Mérida. The school's current students include children of those South visited on the early trips in the 1980s and 1990s.
The UC students watch the school's Christmas performance and play a pickup soccer match with the children each year. As far as South remembers, the UC students have never won the match.
"There have been some strategic ties," clarified Dunning.
"Oh, we lost big time," said Chidambaram of his group's match in 2022.
Other modern stops on the trip include a woman-owned maquiladora in Mérida that makes uniforms. Maquiladoras are export production or assembly plants for international corporations in Mexico. The students also see a traditional henequen (sisal) plant, and they end their trip in the government-planned resort area of Cancun in the east. The Cancun stop is a time when they can relax and enjoy the scenery, but they can also see the effects of the tourist industry and government policies on the landscape.
Economic geography is South's research concentration, particularly the relocation of U.S. companies to Mexico and the post-NAFTA shifts of global manufacturing.
The Department of Geography has sponsored study abroad tours in China and Cuba as well as Mexico, and department faculty have collaborated with faculty from the History,  Anthropology and Romance and Arabic Languages and Literatures departments over the years to offer international experiences for students.
Department Head Dr. Kevin Raleigh went on the Yucatán study abroad trip in 1997 as an undergraduate in the department.
"It was my very first experience with seeing an actual archaeological dig site, and it is what has inspired me to lead study abroad programs to Ireland," he said.
His next Ireland trip is scheduled for May 2024, with a course called "Munster's Resilient Landscapes." The study tour is also open to interested students through other geography and European Studies courses, including some capstone classes. It will focus on both the physical and human-built geography of the province from the Neolithic Age to the arrival of the Celtic peoples and the early Christian era in Ireland.
Whatever chance, any chance you get, I'd recommend traveling.
Nishanth Chidambaram, UC engineering student
The Yucatán study tour will continue to evolve. The Tren Maya, the peninsular train loop in development by the Mexican government, is likely to influence its itinerary.
"And when we were at Ek' Balam this past year, they were just starting to excavate one of the other big buildings that faces the plaza, which right now is just a tree-covered mound. I'm looking forward to going back in December and seeing what has been uncovered," said Dunning, who will continue to participate in the study tours despite his retirement.
South hopes to involve still more faculty in offering the study abroad experience. Program development and student participation in study abroad are supported by grants and scholarships from UC International.
UC study abroad participation has now returned to more than three-quarters of pre-COVID levels.
Featured image at top: UC students in Izamal, 2022. | Photo/Laura Wood
UC the World
Prepare yourself for a global future. Whatever your program or passion, UC offers study abroad and international work experiences that will take you where you want to go. Explore the possibilities.
Contact Robert South for more information about the Landscapes & Legacies of the Yucatan seminar and study tour.
1
UC geography study tour spans 36 years in Yucatan
July 26, 2023
University of Cincinnati Department of Geography Robert South leads 29th "sequent occupance" study abroad tour of the Yucatan since he created the program in 1987, showing the students the interaction of cultures over time in that landscape.
2
With UC, you see the world
September 19, 2023
Study abroad is back to 75% of pre-COVID levels at the University of Cincinnati, and a wide variety of international study options is available to students in any program. Where do you see yourself in the world?
3
Global Technical Workforce course: Nine years, 11 study tours
May 11, 2023
This spring's Global Technical Workforce course in the University of Cincinnati's College of Engineering and Applied Science offered students in technical fields a chance to work virtually with a class of French students and travel to France or Ghana to build career "soft skills" that complement their technical skills.