UC change agents of past, present and future converge on Village Life Outreach trip to Tanzania
Dr. Chris Lewis often begins his discussions about global health and its importance by quoting Martin Luther King Jr.
"Life's most persistent and urgent question is: What are you doing for others?" says Lewis, calling forth one of the late civil rights leader's most powerful charges of America's turbulent '60s that still remains relevant to this day.
It's a dialogue that Lewis continually has with incoming medical students at the University of Cincinnati, area high school students looking to the future and anyone interested in the work of his organization, Village Life Outreach Project.
King's call to action sparked a life-changing journey for Lewis more than two decades ago that took him more than 7,700 miles from his native Cincinnati to the shores of Lake Victoria in Tanzania. 
It also forced him to address what he deems life's second most urgent and persistent question: What are you learning from others? 
Lewis, vice provost of academic affairs at UC and a professor of family and community medicine, is founder of Village Life Outreach Project, a nonprofit based in the 1819 Innovation Hub at UC and dedicated to fighting poverty and making clean water, education and healthcare more accessible in three rural communities in northern Tanzania: Burere, Roche and Nyambogo.
Everybody can be great — because anybody can serve.
Chris Lewis, MD
| University of Cincinnati, Village Life Outreach Project
During a May 2023 trip of UC students, staff and faculty to Tanzania, Lewis would consistently remind his group of Bearcats to search for answers to life's most urgent and persistent questions during their visits to the Tanzanian communities. The students were part of a two-week service learning trip.
"They give us lessons of love, humanitarianism and what it means to really be a global citizen and hear and feel the heartbeat of humanity," Lewis says of the Tanzanian people.
"So what does that do to you while you're here?" he asks. "And what does that do when you return to Cincinnati and enrich your own community with the lessons that you've learned from here?"
Lewis often leaves those interested in global health with another King thought:
"Everybody can be great — because anybody can serve. You don't have to have a college degree to serve. You don't have to make your subject and verb agree to serve. You only need a heart full of grace. A soul generated by love."
20 years of service in Tanzania
Two decades after his initial visit to Tanzania as a medical resident at UC, Lewis remains an optimist who is committed to making a difference. His passion never wavered but his initial view of global health has changed. The young doctor who first came to Roche thought he alone would change the world with his Western medical training, talent and intelligence.
"The first patient brought to me in the outpatient department was a woman who was trying to walk eight hours while hemorrhaging in labor from the village of Roche, and she died along that route," recalls Lewis. "By the time her family carried her into me, there was nothing I could do. That experience completely flipped my notion of my purpose and what I was meant to do here.
"It transformed my life in terms of what I thought my calling was and how I needed to listen a little bit more."
A course correction meant Lewis found his passion for global health would work only in partnership with the communities he had grown to love.
We partner with communities in Tanzania to provide service, resources, technical know-how, but equally as important as the service we're providing is the lessons that we learn from them.
Chris Lewis, MD
| University of Cincinnati, Village Life Outreach Project
Encouragement to come back to Tanzania after residency came from Esther Kawira, a physician who treated residents with Burkitt's lymphoma in a Tanzanian hospital, and former UC physician and faculty member Jeff Heck. They encouraged Lewis to think beyond his own impact and create a nonprofit organization to fund projects.
Village LIfe Outreach Project was created in 2004, and that year sent 14 team members to Tanzania, initially focused on health care.
"We were seeing patients in field clinics, but the idea was that we were using the field clinics to attract the community members and distract them a little bit while we had meetings with the community leaders," says Lewis.
In those meetings, Lewis and his team would discuss partnering with the community: What would that look like and were they even interested?
"It wasn't us coming in and telling the community members what we thought they needed or what our idea of partnership was," Lewis says. "It was us having a joint, bidirectional dialogue about how we would work together to create sustainable impact. And that was 19 years ago, and we've been doing it ever since."
Village Life success stories
With a focus that has expanded to include education, nutrition and clean water access, Village Life Outreach Project has some notable wins over the past two decades:
Distributed 20,000 mosquito nets. Those nets made a significant impact in preventing the spread of malaria.

A program in Tanzanian schools feeding 2,500 kids a meal of Uji porridge regularly. School attendance and test scores are up as a result.

Years ago, residents walked one way eight hours to the nearest health facility. The Roche Health Center, founded and established by Village Life and their on-the-ground partner in Tanzania, Shirati Health, Education and Development Foundation (SHED), with critical support from UC and UC Health, provides outpatient medical care including for diseases such as malaria and schistosomiasis. It also offers a safe place for pregnant mothers to deliver and receive care. Once the center's Reproductive and Child Health Center is complete later this year, reproductive services will expand to include more holistic pre- and post-natal care, cervical care screenings, family planning services and group education classes.

A longstanding partnership with the UC chapter of Engineers Without Borders has allowed thousands of residents in Nyambogo, Burere and Roche to have access to clean water. It was the top challenge identified by village residents nearly two decades ago. Water filtration and pump stations are a reality in each of the three communities.
"A lot of people look at Village Life and think that we're an organization that serves people in Tanzania and that's partly true," says Lewis. "We partner with communities in Tanzania to provide service, resources, technical know-how, but equally as important as the service we're providing is the lessons that we learn from them."
Following a path into medicine
For Benya Coleman, a second-year UC medical sciences student, the trip to Africa was a first and an eye-opener. She wants to be an obstetrician-gynecologist someday and knows medical school along with disease, management and holistic patient care are part of her future.
Coleman partnered with Brooke Bartholomew, a second-year pre-med student also considering a career in medicine, to research maternal health and infant mortality in Tanzania. The two women are part of UC's Marian Spencer Scholarship program and kept Lewis' advice about service and global health at the forefront of their stay in Tanzania.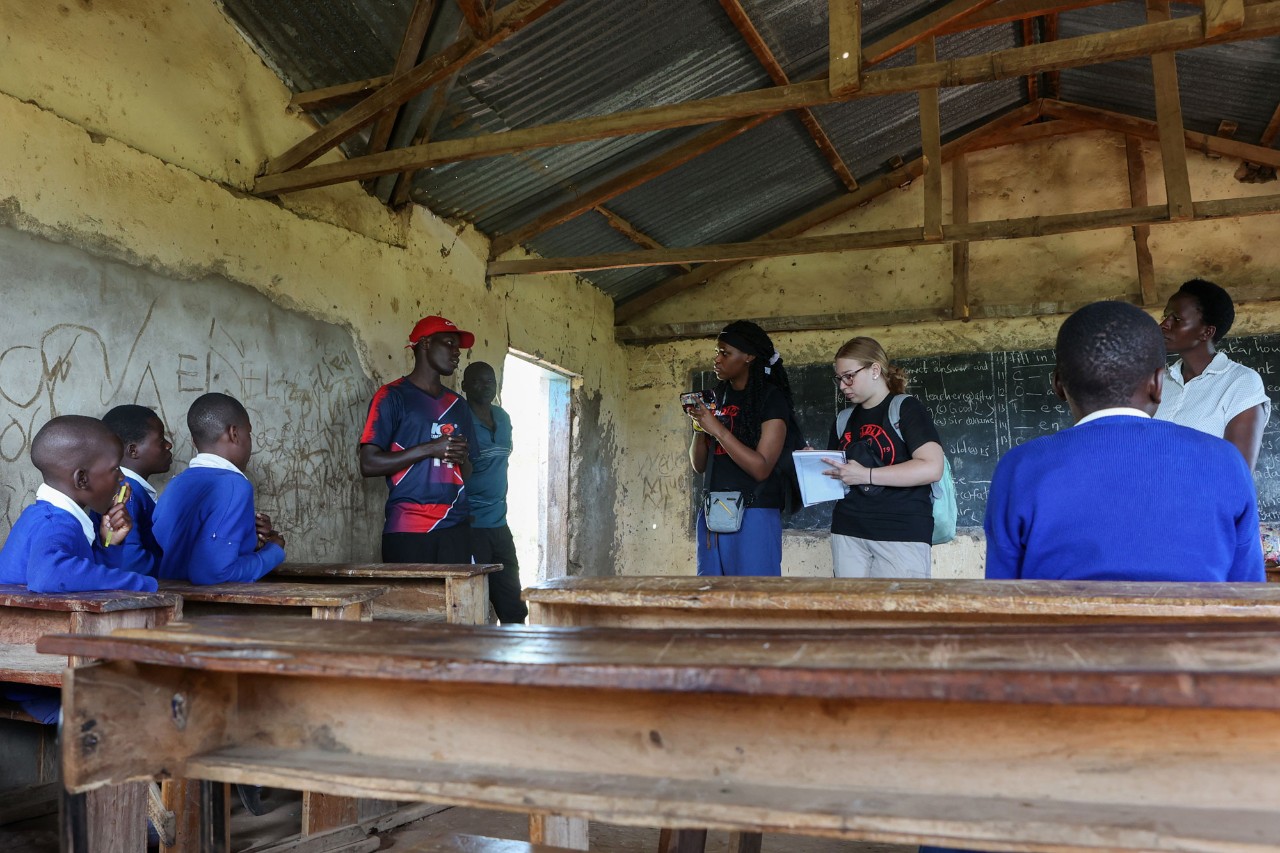 During their first visit to Nyambogo, they interviewed teachers and students at a secondary school on an array of topics: curriculum, future occupations, marriage and menstrual health and hygiene.

The girls from Nyambogo also had questions about menstrual cycle irregularity and Bartholomew and Coleman drew upon their own experiences when crafting well-thought-out answers to reassure the adolescents their bodies were behaving normally.
Renewed attention is being given to menstrual health and hygiene in Tanzania, with some in government and UNICEF recognizing it is vital to the empowerment and well-being for girls and women and it is a basic requirement for personal hygiene, reproductive health, dignity and prosperity for girls and women. Attention to the topic remains a challenge in some areas because of limited resources, prevailing sociocultural factors, beliefs, myths and taboos.
A graduate of Hughes High School, a Cincinnati Public School near UC's uptown campus, Coleman was part of a school-to-work program as a high school junior and senior that allowed her to shadow local health professionals. She worked with physicians in area hospitals' emergency department, operating room, neurology program, physical therapy unit and other areas.
When I am a doctor, I will learn to practice medicine in every environment regardless of what resources I have.
Brooke Bartholomew
| UC Marian Spencer Scholar
This experience shaped her perceptions of interactions with Tanzanian midwives and her thoughts about the Roche Health Center, considered a jewel by many in northern Tanzania because it provides critical services for pregnant women and new mothers. Midwives and traditional birth attendants still help deliver most babies in rural areas such as Roche, Nyambogo and Burere in part because travel remains difficult.
"Midwives attend high school, college and the shadowing as part of their preparation," says Coleman. "But the traditional birth attendants, once they have a couple of kids of their own, are helping other women in a village. The Roche clinic is too far. These women will go into labor, and they are miles and miles away from a clinic, so their only option is these traditional birth attendants."
Village Life is addressing this gap by performing outreach clinics using Roche Health Center staff, and is working with the community on emergency transportation options.
Bartholomew says she also spoke with the traditional birth attendants and remembers one who had 12 children and five of them died. Her story isn't unusual as many mothers expect their children not to survive infancy.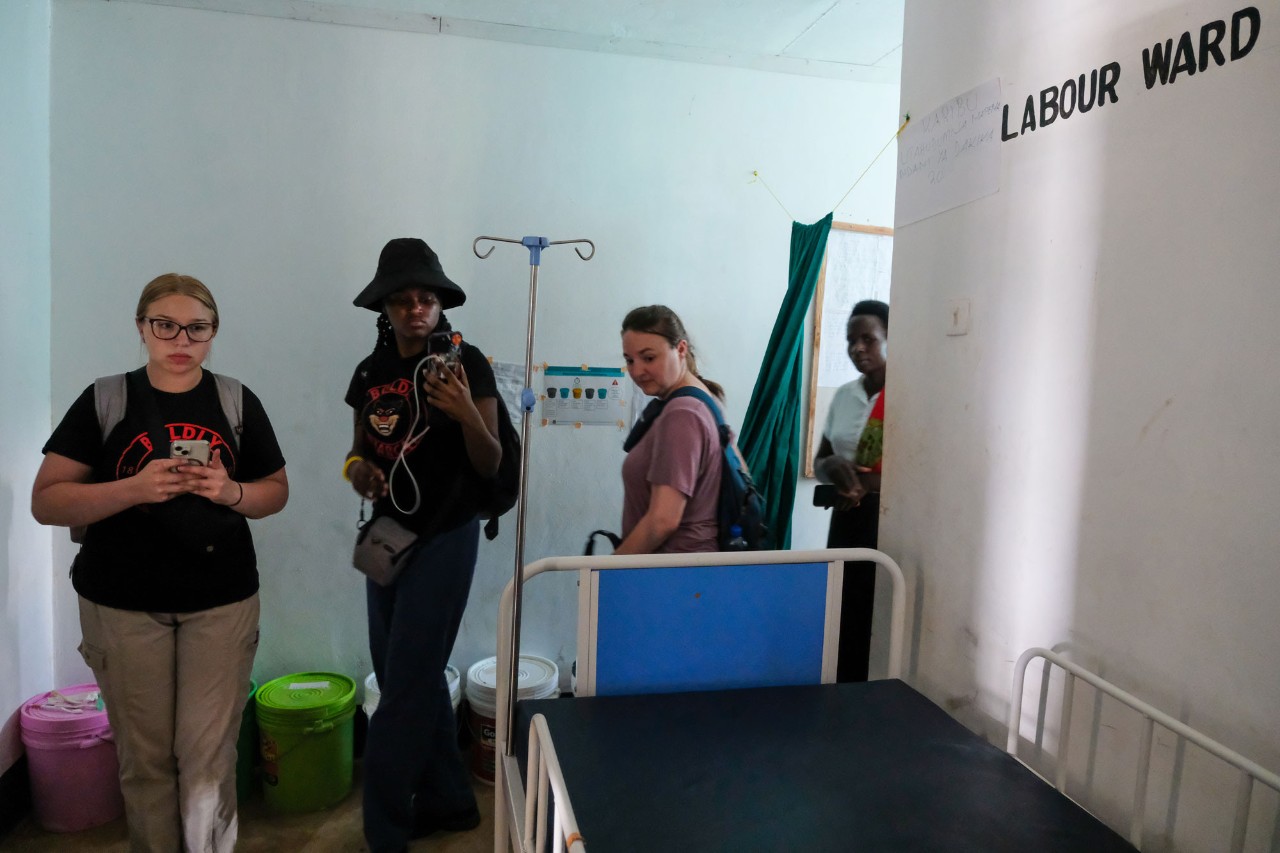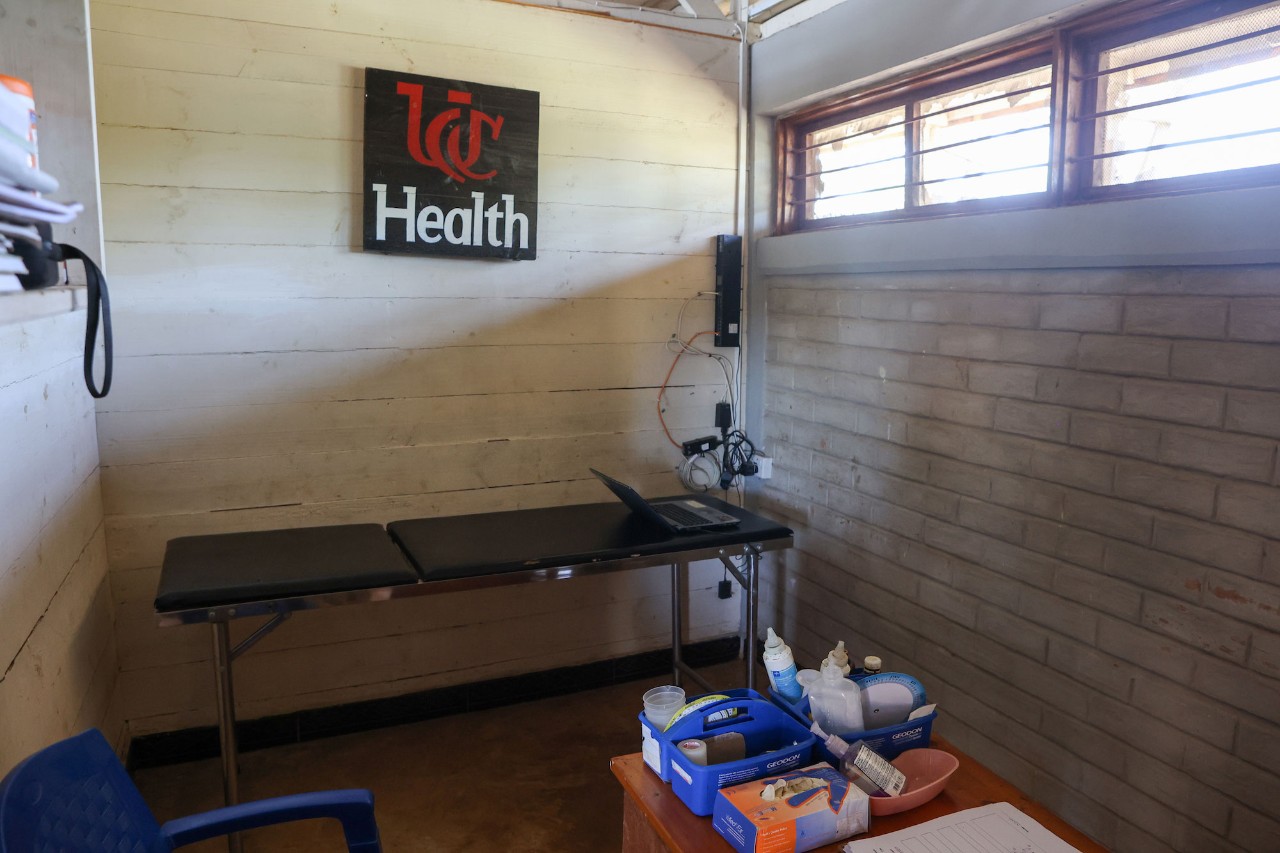 Above: Brooke Bartholomew and Benya Coleman tour the health center in Tanzania.
"So when one of them lives it is considered a success," says Coleman. "That's really sad because no mother should be expecting their child to die. I wish it was a different success story for women and babies and yet, for the communities we have visited, that's all they know."
Bartholomew says her experience in Tanzania will definitely stay with her.
"I think being here and seeing all the different resources that they lack can help me in the future. When I am a doctor, I will learn to practice medicine in every environment regardless of what resources I have," she explained.
"I think there is a large sense of community here among the locals. Everyone has each other's back and supports each other," says Bartholomew.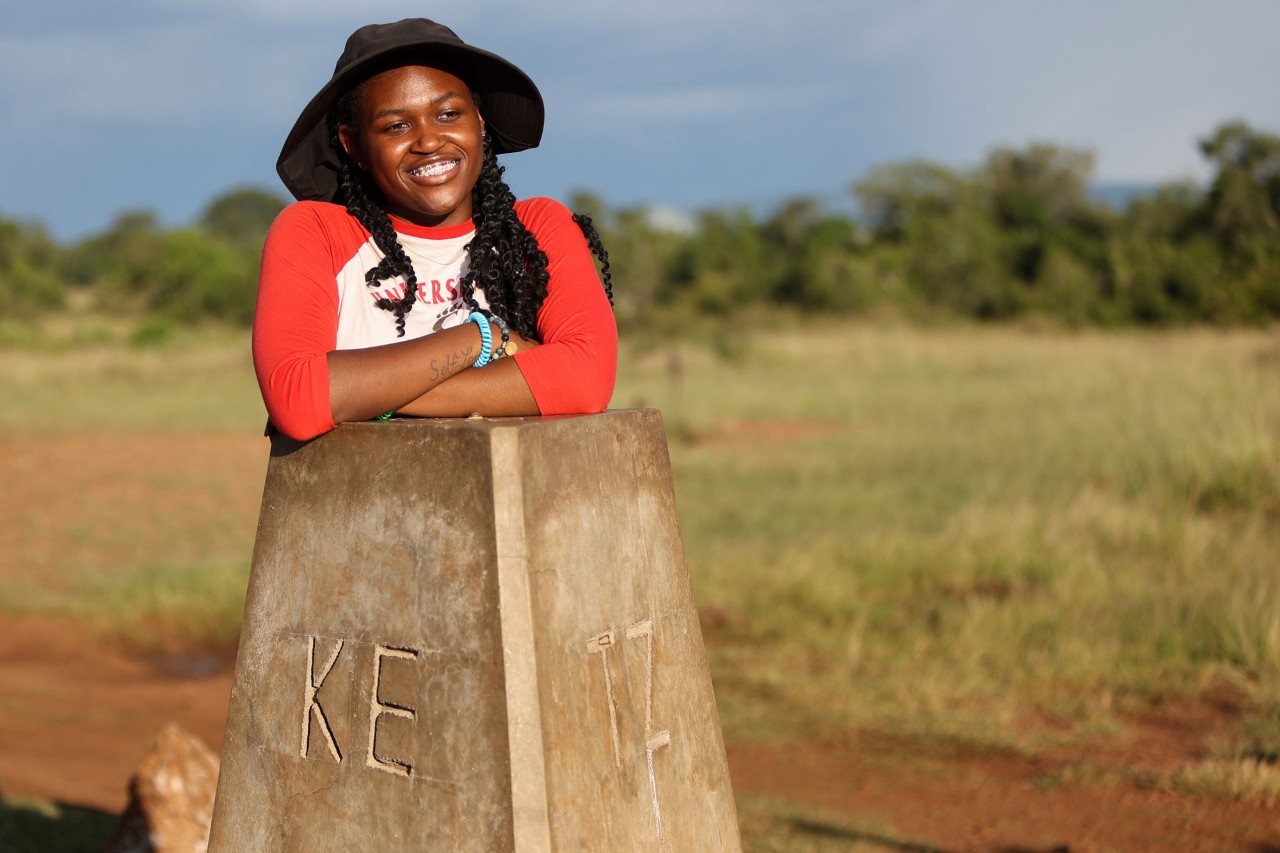 Walking in the path of UC's Marian Spencer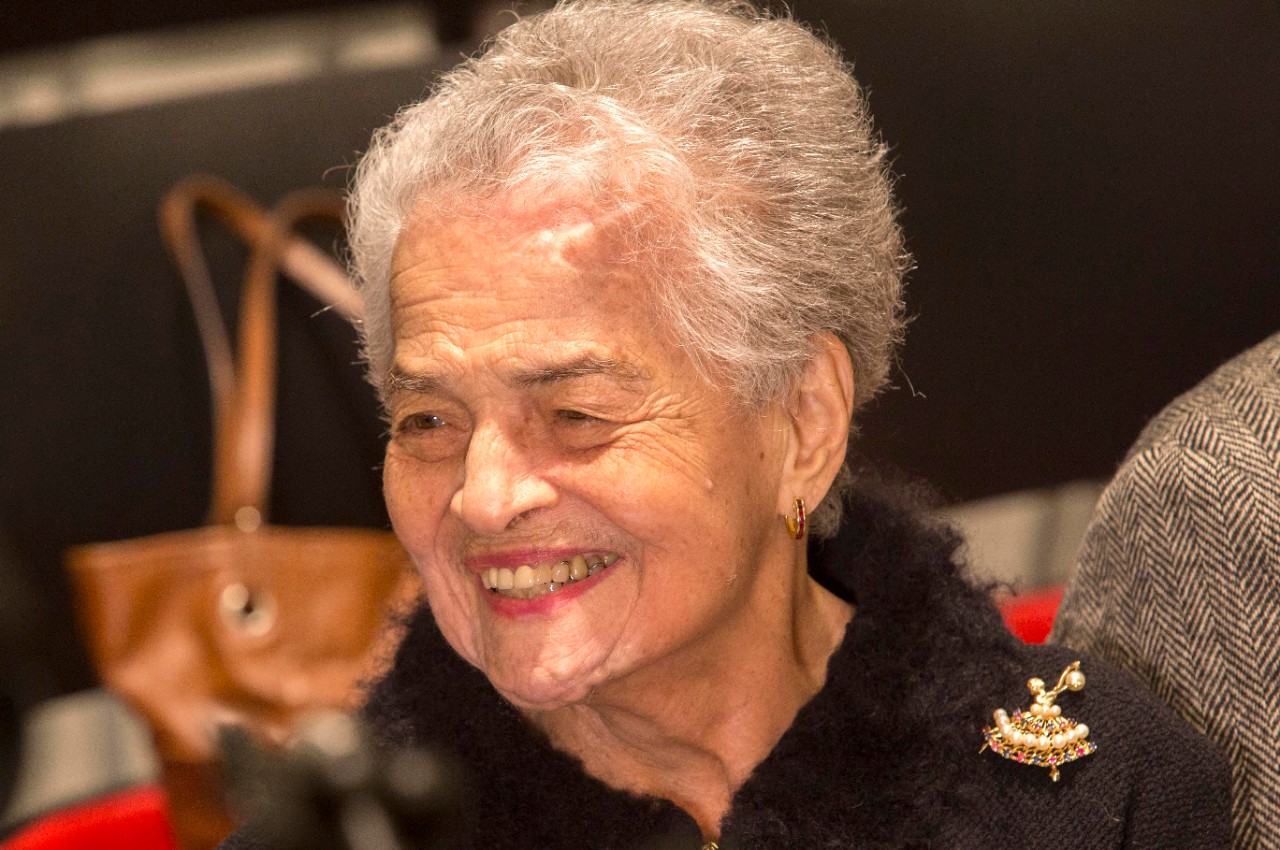 She was instrumental in desegregating Cincinnati's Coney Island and Cincinnati Public Schools. Spencer went on to become the first African American woman elected to Cincinnati City Council in 1983.
As a Black student in the late 1930s and early 1940s, she wasn't permitted to live in a dorm on UC's campus. Today, there is a UC residence hall that bears her name, opened in 2018. The Marian Spencer Scholars form a living-learning community housed together in the high-rise.
Lewis and his family knew Spencer personally.
"Having had some conversations with her and having seen the type of work that she was capable of and the legacy that she's left, we see a bit of her forming in our students — the Marian Spencer Scholars, but also the NEXT Innovation Scholars and UC Engineers Without Borders — providing them an opportunity to expand their global citizenship and to learn in a new setting.
"They are all learning to interact with people who are different from them, but not focus on the differences but rather on the similarities and shared humanity — in the same way that Marian Spencer didn't look at the differences in colors of skin. She focused on getting people to understand and celebrate the similarities. And that's what we're doing with our students."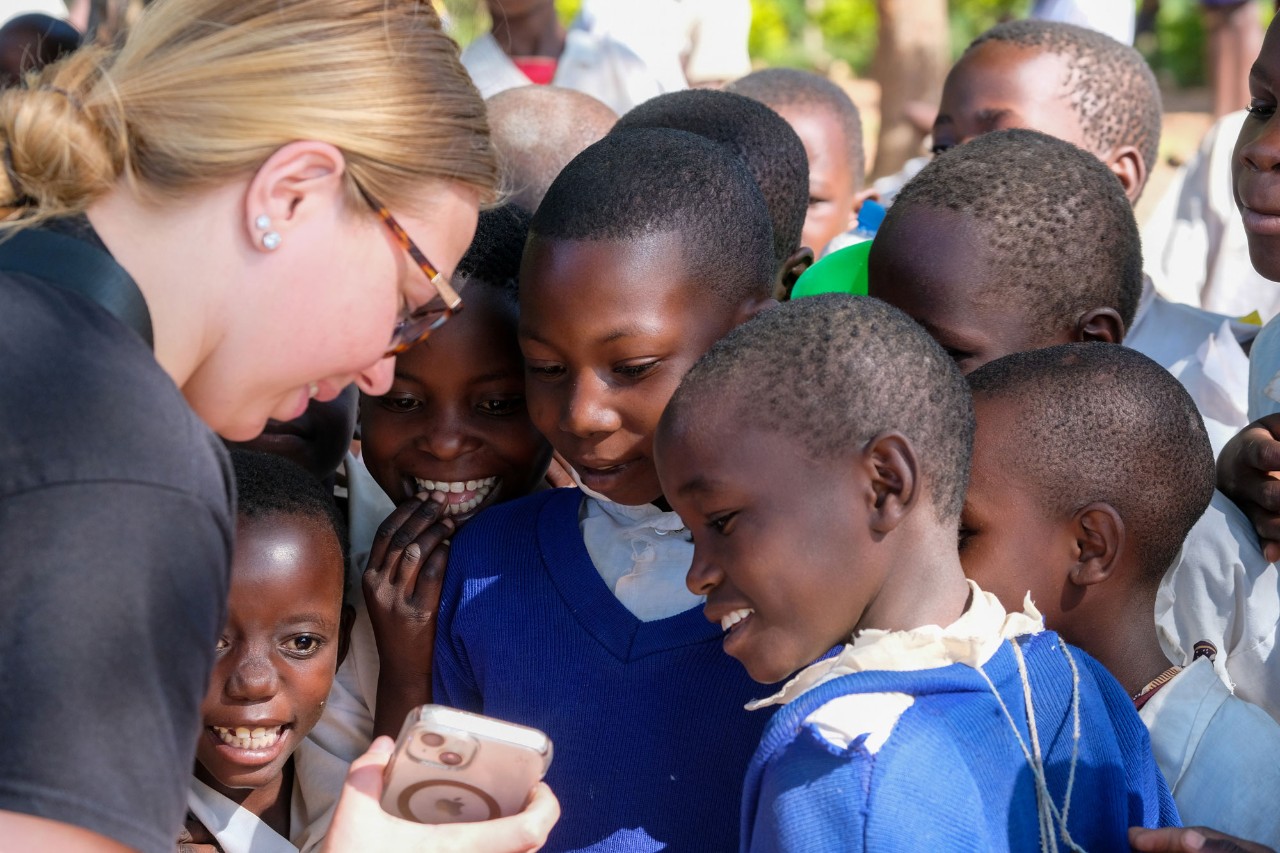 Featured image at top of Benya Coleman in Tanzania. Photo/Sean Hughes
All other photos: Frank Bowen, Sean Hughes and Melanie Schefft
Video editing: Andrew Higley
Digital design: Kerry Overstake
UC Marketing + Communications
Become a Bearcat
Whether you're a first-generation student or from a family of Bearcats, UC is proud to support you at every step along your journey. We want to make sure you succeed — and feel right at home.