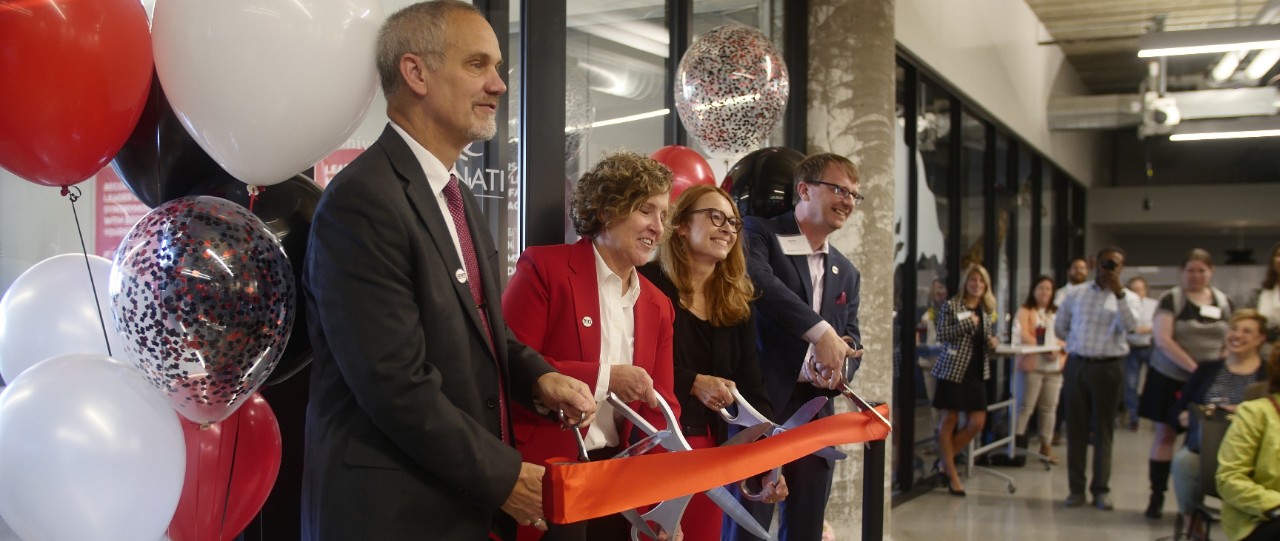 Warren Bennis Leadership Institute opens its doors at 1819 Innovation Hub
Center will nurture leaders through student programming, executive education and research
The institute represents a significant achievement and commitment to leadership development at UC, said Marianne Lewis, PhD, dean and professor of management in the Carl H. Lindner College of Business.
"Leadership is a great big tent," she said, pledging to spread leadership training — and the lessons of Bennis — throughout UC and beyond.
We know today's leaders can no longer operate in silos.
Valerio Ferme UC provost
The 'father of leadership'
Through the interdisciplinary institute, staff aim to nurture emerging leaders at UC, support alumni and engage with community leaders and executives.
The institute's name carries weight as Warren Bennis, a renowned scholar known as the "father of leadership," served as the 22nd president of UC. He made significant contributions during his tenure, elevating the university from a municipal college to a research-oriented state-supported institution.
During his senior year, UC communications major Jack FitzGerald championed Bennis' ideas, initiating the work that ultimately led to the inception of the institute. He organized the student-led Warren Bennis Leadership Experience in 2016, connecting with friends, family and associates of Bennis to bring leadership experts who knew or worked with Warren Bennis to campus. The sixth annual Warren Bennis Leadership Experience is scheduled for spring 2024. 
The success of the signature experience prompted Lindner faculty, staff and students to form a network, proposing their vision for a leadership institute with year-round programming to UC President Neville G. Pinto. The Lindner College of Business was chosen as the academic home for the Bennis Leadership Institute.  
An interdisciplinary endeavor
Lewis said the institute will emphasize early leadership development, echoing Bennis' belief that leaders are made, not born, and that leadership education should begin early and continue throughout one's lifetime. She encouraged engagement with the institute at all levels as part of an interdisciplinary endeavor to foster leadership qualities such as integrity, inclusivity and vision.
"We know today's leaders can no longer operate in silos," Provost Valerio Ferme said.
Ferme revealed three key areas of distinction that, building upon UC's significance as the founder of cooperative education, will provide for transformational learning and student success. These traits — interdisciplinary, experience-based and inclusive — will be key drivers for the institute to contribute to the scholarship of leadership and to serve as a natural laboratory to examine the development of rising leaders.  
A 'game-changer' for the 1819 Hub
Ryan Hays, executive vice president and chief innovation and strategy officer in the 1819 Innovation Hub, shared how Bennis transformed UC into a state-supported university in Ohio, providing annual support by the state of $400 million. Hays underscored the importance of being a "learn it all" rather than a "know it all" such that effective leaders commit to a growth mindset.  
Hays shared how the 1819 Innovation Hub provides opportunities for innovative learning for its corporate partners, calling the addition of the Warren Bennis Leadership Institute to the building a "game-changer."
Continuous leadership development
Donna Chrobot-Mason, the Thornburgh Academic Director of the Warren Bennis Leadership Institute, highlighted the institute's mission to create a leadership movement that fosters capable, compassionate and innovative leaders on a global scale.
Chrobot-Mason expressed her gratitude to Molly Scruta, assistant director of the Bennis Leadership Institute; Jane Sojka, PhD, a distinguished UC marketing professor and Bennis fellow; and Betsy Myers, a renowned leadership author and consultant and senior Bennis adviser, recognizing their dedication in orchestrating the event and fostering inclusive leadership opportunities.
She shared that the institute will offer the following three pillars of programming:
Executive education: cohort programs on inclusive leadership and innovation, workshops to develop leadership essentials such as managing conflict and coaching, retreats and a speaker's bureau featuring UC thought leaders
Research: a pilot program recruiting 25 women from UC where participants take part in leadership workshops, coaching and team projects; results will enhance future programming and will be used in pursuing grant funding on women's leadership development in three additional countries
Student programming: workshops, a coach-to-mentor program for students in the College of Engineering and Applied Science and the inaugural Warren Bennis Leadership Ambassadors program with 12 student representatives from five UC colleges
Delivering her final remarks, Chrobot-Mason included a favorite quote from Warren Bennis: "Leaders learn by leading, and they learn best by leading in the face of obstacles. As weather shapes mountains, problems shape leaders."
Featured image at top: Distinguished UC speakers during the ribbon cutting at the Warren Bennis Leadership Institute, left to right, Valerio Ferme, Marianne Lewis, Donna Chrobot-Mason, and Ryan Hays. Photo/Gregory Glevicky
Impact Lives Here
The University of Cincinnati is leading public urban universities into a new era of innovation and impact. Our faculty, staff and students are saving lives, changing outcomes and bending the future in our city's direction. Next Lives Here.
1
Mastering the art of first impressions
March 30, 2023
As Cynthia Ozick, the American novelist, wrote, "Two things remain irretrievable: time and a first impression." That's especially true when introducing yourself to a possible investor. Ronald Meyers, associate professor of entrepreneurship in the University of Cincinnati's Carl H. Lindner College of Business, shares insights into teaser statements and pitches.
2
UC grad harnesses education to support women entrepreneurs
July 17, 2023
Most small business owners struggle to navigate the long and winding road to success, especially entrepreneurs from underrepresented communities. Yet, while an increasing number of banks and nonprofits are creating small business assistance programs, they need help identifying the professionals who could use their support.