CCM professor wins Outstanding Publication Award from Society of Music Theory
Steven Cahn researches similarities between composer Schoenberg & philosopher Al-Kindi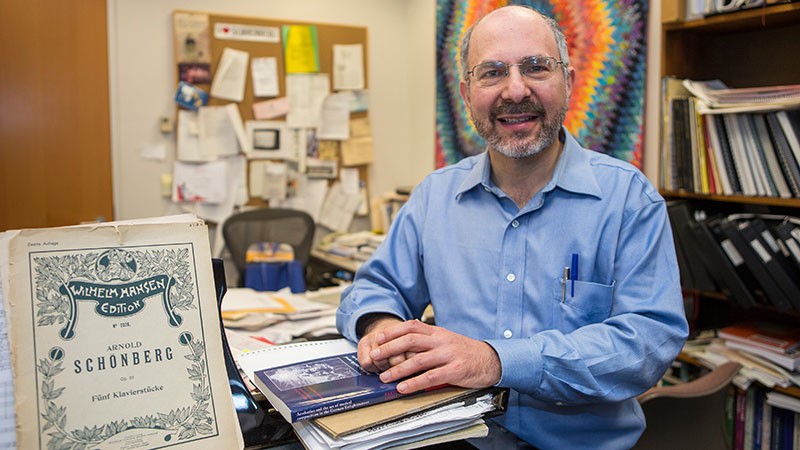 A groundbreaking article, Cahn's work inspects surprising similarities between visual musical depictions created by the famed composer Arnold Schoenberg (1874-1951) and the historical Iraqi philosopher Abū Yūsuf Yaʻqūb ibn 'Isḥāq aṣ-Ṣabbāḥ al-Kindī (800-870). Though separated by a thousand years, both of these geniuses independently arrived at startlingly close conclusions, creating images of spirals and braids to depict musical melodies.
Cahn's writing aims to closely inspect these two sources, focusing on how they confront the challenging issues of order and motion, ultimately seeking to highlight areas where both can exist harmoniously within the visual representations.
Though certainly a specialist on Schoenberg, Cahn is also actively involved in several other research projects. "My research encompasses several areas," he says. "For example, I'm embarking on research with Dr. Fawen Zhang into how music training can help people who use a cochlear implant get more benefit from their device. I'm also involved with research which uses signal processing to capture musical information in a matrix image. These images could be useful to performers and educators."
One of the top music schools in the country, CCM employs a star-studded faculty of Composition, Musicology and Theory (CMT) professors. Two other CCM Music Theory professors were previously recognized by the Society for Music Theory: Catherine Losada (Outstanding Publication Award, 2016) and David Berry (Emerging Scholar Award, 2006). This impressive cast of educators provides students with unmatched opportunities to study with and learn from the best.
"The CMT faculty are all very open-minded people who encourage you to think about important subjects in creative ways," says Evan Martschenko, second-year master's student in Music Theory. "They have truly inspired me and helped form me into the most thoughtful musician I can be."
An extremely involved and passionate student, Martschenko spoke on why he decided to study at CCM. "I chose this school for the huge amount of opportunities available to me. I'm a theorist, and CCM offered more classes than any other school I applied to."
Capitalizing on the plentiful opportunities and unmatched faculty support found within CCM, Martschenko has been able to delve into his own research, which he has presented in conferences as far as Germany and Canada. "The entire process has been extremely eye-opening for me, as I am able to talk to a great many people about this music that I love, as well as beginning my career as a researcher."
"The CMT department is a tight knit group of students who are all extremely hungry for knowledge," Martschenko continues. "We take advanced classes in theory, musicology and ethnomusicology where we're able to explore our own thoughts in a depth that we haven't been able to before. This includes some foundational topics for our fields, but a great amount of freedom in the particular topics we would like to study. Being able to take such hyper-specific seminars taught by professors who specialize in these topics is an experience one could only have at a school like CCM."

Next truly does live here at CCM, where the top artists and scholars of today join forces to prepare the stars of tomorrow. Interested in studying Composition, Musicology, Music Theory, or one of the nearly 120 other majors CCM has to offer? Applications to join the next class of #CCMstars in fall 2024 are due Decemeber 1!  

Chet Rhodes
CCM Graduate Assistant, Marketing + Communications
Currently a Bassoon Performance master's student at CCM, Chet received a Bachelor of Music from the University of Utah. He has held positions with the Salt Lake Symphony and the Utah Philharmonia.
Featured image at the top: Steven Cahn in a lesson with a student. Photo by Andrew Higley.
1
CCM shares fall 2022 schedule of performances and public events
August 12, 2022
Audiences are invited to return to the University of Cincinnati College-Conservatory of Music's (CCM) concert halls and theaters to experience world-class performances and presentations by the next generation of performing and media artists! The college's fall 2022 schedule of free and ticketed events is now available. Tickets go on sale beginning on Monday, Aug. 22, through the CCM Box Office website.
2
CCM professor wins Outstanding Publication Award from Society of Music Theory
November 20, 2023
The University of Cincinnati College-Conservatory of Music congratulates Steven Cahn, Professor of Music Theory, on his receipt of the prestigious 2023 Outstanding Publication Award. Representing the highest honor awarded by the Society for Music Theory, this distinction was given to Cahn's recent article "Schoenberg, Al-Kindī, and the Unbound Braid: A Rendezvous in Barcelona a Thousand Years in the Making" (Musical Quarterly, vol. 104, nos. 3–4, 2021).
3
See a concert or show at CCM: Fall schedule of major events now available
August 15, 2023
Experience world-class performances by the next generation of performing and media artists at the University of Cincinnati College-Conservatory of Music (CCM)! The college's fall 2023 schedule of ticketed events is now available; tickets are on sale beginning 1 p.m. Tuesday, Aug. 15 through the CCM Box Office website.