Global students thriving at the University of Cincinnati
At nearly 10%, UC's international student population is the university's largest ever
International Education Week this Nov. 13-17 celebrates study abroad around the globe. The event is sponsored in the United States by the U.S. Department of State and the U.S. Department of Education.
Annual statistical reports published during International Education Week provide insight into the recovery of global student mobility since COVID-19 and the importance of international education to U.S. universities and to the US economy.

At UC, a new class of 1,543 for fall 2023 — just 4 students short of last fall's record-smashing intake — has pushed international enrollment to 4,899 students, or 9.6% of the student population, according to figures reported to NCES/Department of Education.
It's the highest number in UC's history.
The annual Open Doors Report (the primary statistical source on international education in the U.S., from the nonprofit IIE and the US Department of State), published this Monday reports that international students in the United States for the past academic year once more topped the 1 million mark, though that is still below the pre-COVID peaks of 2015-2019.
The total of 1,057,188 students who came to the U.S. from 210 countries in 2022-23 was up 12% from 2021, the fastest growth rate in 40 years.
At UC, strong enrollments and retention of international students since the pandemic have put the university well ahead of its own pre-COVID records, with a growth of 20.1% for the 2022-23 academic year and another 17.2% this fall, per Open Doors. (See By the Numbers.)
According to Open Doors, UC ranked at No. 44 in the US for institutions hosting international students in 2022-23.
"If you want to be a top university in the United States you need to attract talented students from throughout the world," Director for International Enrollment Jon Weller told UC News.
The University of Cincinnati's status as a Carnegie-1 research university, its globally renowned programs, the pioneering co-op and experiential learning opportunities that are part of UC's Next Lives Here promise to all students, and its award-winning campus and vibrant community have made UC a destination for international students.
UC's global recruiters and advisers support those students from their initial college search through the visa application process to academic and social success in the U.S.
"Building a strong base of services to ensure success and retention while making sure our international students are engaged and having a positive experience is a big challenge, but our numbers would indicate that we are meeting those challenges effectively," said Ron Cushing, director of the International Services division of the UC International office.
International education: A major U.S. export
International education is one of the largest U.S. service exports.
NAFSA: Association of International Educators this week updated its interactive statistical tool that calculates the economic value of international students to the U.S. and to individual states and congressional districts.
Ohio remained No. 8 in the top states to benefit in 2022-23, with an estimated $1.2 billion economic boost and 10,683 jobs supported in higher education and fields beyond, including accommodations, dining, telecommunications and health insurance.
UC contributes $149.7 million to Ohio's economy and supporting 1,456 jobs.
The report estimates that international education contributed $40.1 billion and 368,333 jobs contributed to the U.S. economy in 2022-23.
The Chronicle of Higher Education reported last month on one important trend in international education: the surge in students from India, which moved China out of the top spot as the country of international students in the U.S. this summer for the first time in 15 years.
In the 2022-23 Open Doors report year, China still edged out India nationally, at 27% to 25%, though the rapid (35%) growth in India's numbers for 2022-23 presaged this year's change.  
However, India has been the number one country of origin for the University of Cincinnati's international students for 10 of the past 15 years, especially since 2016, so the trend is nothing new at UC.
More than half of UC's international students came from India in fall 2023.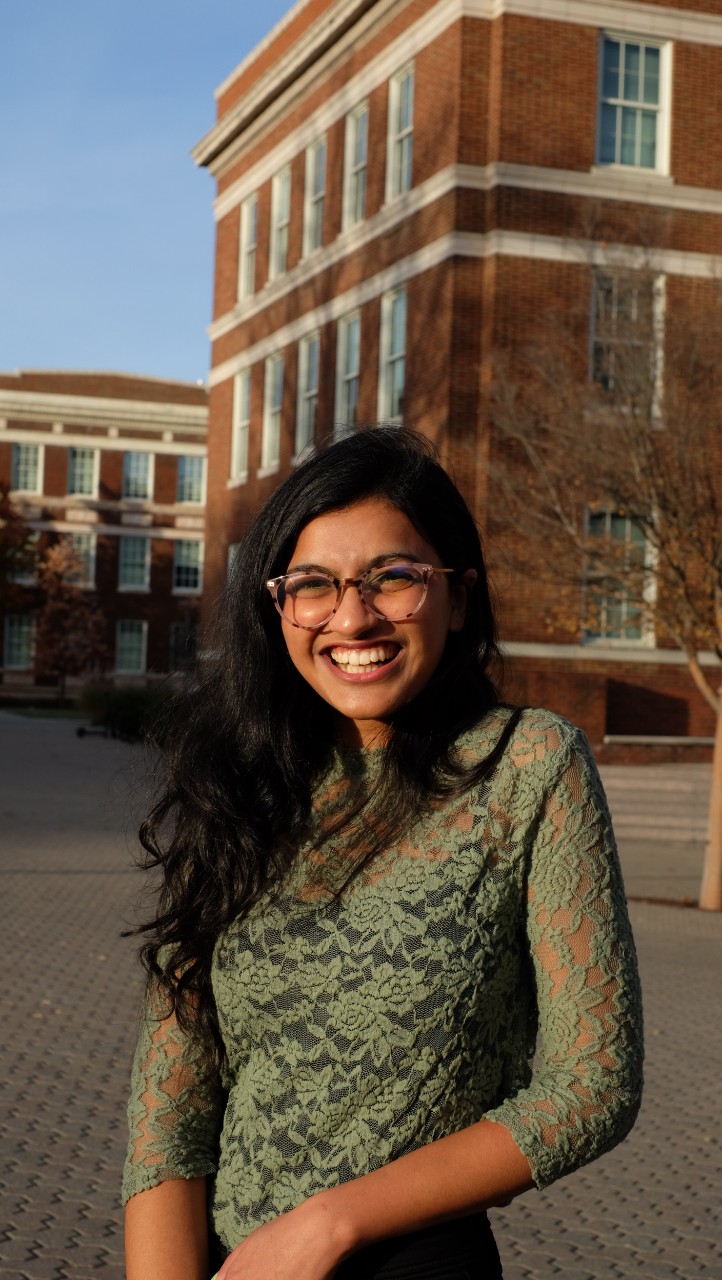 Most choose graduate STEM and business majors that open up career opportunities for them around the globe.
UC News interviewed Anusha Chitranshi in conjunction with the Chronicle article. Chitranshi is a fifth-year student in UC's Accelerated Engineering Degree (ACCEND) program, where students earn both an undergraduate degree, including co-op, from the College of Engineering & Applied Science and a master's degree in five years.  
The first in her family to study internationally, Chitranshi said she appreciated the support she received from UC throughout the complex process of finding a U.S. university.
"If a college is ready to guide me so much, even before they know I am going to come to them, I do believe it's a university that does think about its students first."
Chitranshi is thriving at UC. She is in the University Honors Program. She serves as an ambassador for her college and has been a peer tutor and housing residential adviser. She is one of the International Partners and Leaders (IPALs), the US and international student leader group that helps organize social events under the sponsorship of the UC International office.  
"I would 100% recommend UC to other international students," she said.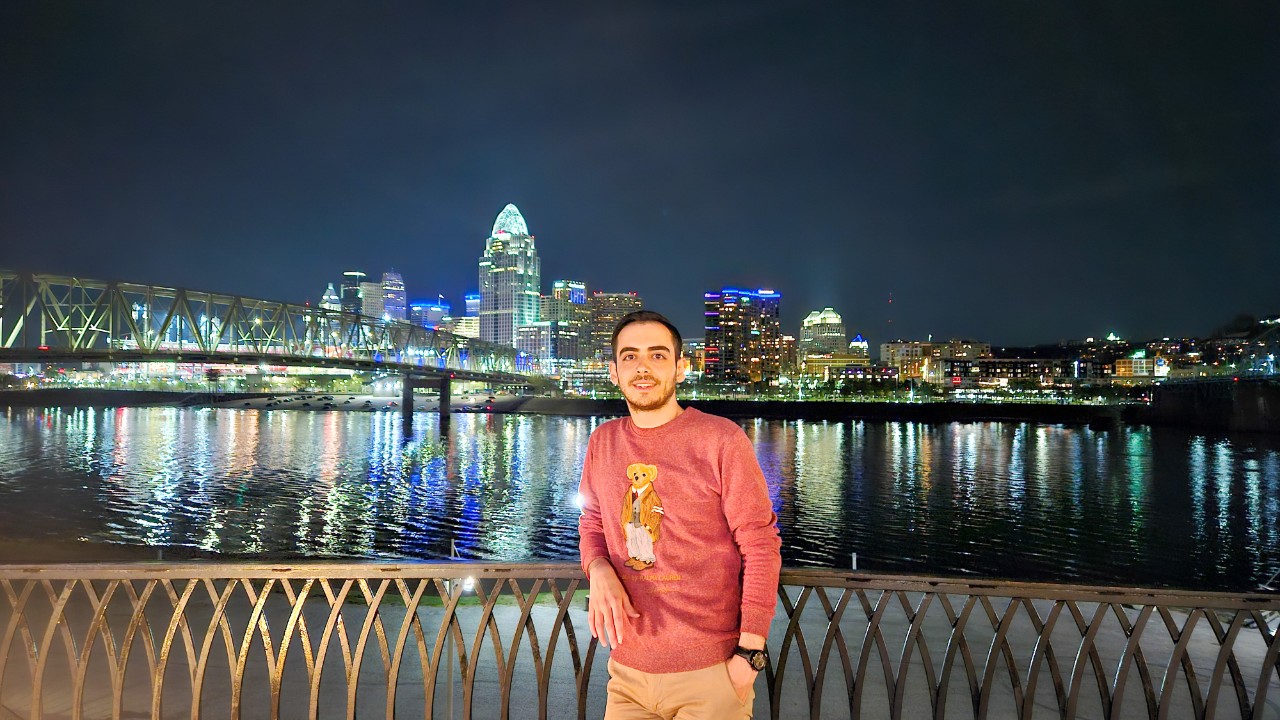 International graduates on the move
Another national trend identified in the Open Doors report is the continuing increase of graduate students coming to the U.S. Across the country, their numbers surpassed undergraduates in 2021-22 for the first time in a decade. In 2022-23, they rose another 21% to record numbers, led by students entering U.S. master's programs.
UC anticipated that trend as well. UC's international students are predominantly graduate students: The ratio has been about 2:1 for many years. Of the top 10 countries sending international students to UC, only Vietnam sent more undergraduates than graduates this fall.
Mehran Piri is one of UC's international graduate students, a doctoral student in civil engineering. Piri came to UC from Iran to work with John Ash in the College of Engineering & Applied Sciences.
"His area of expertise was very close to mine, transportation safety," Piri said. He is currently working on crash data analysis, looking for ways to mine information from the open-text field on police crash report forms.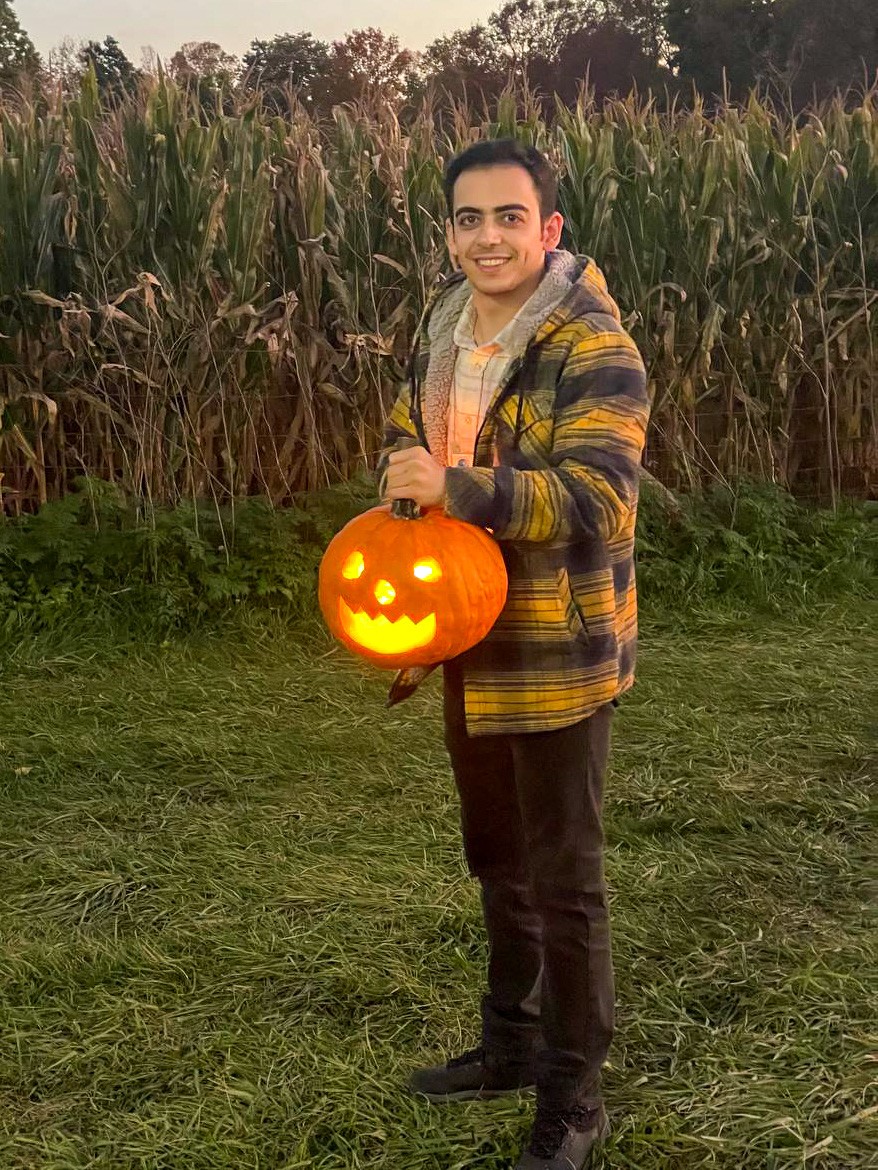 Besides working with Ash, Piri said, "I wanted to live in a city and connect with people so I can live an American life. The best thing about UC is that it's built in a city, and you get a very vibrant energy from living here.
"And I love the campus. Oh, I love the campus."
Piri said he feels very welcome in the U.S. and at UC, where he has found an international community of friends through the IPALs.
"When I came here, I didn't know anybody," he said. "I wanted to make connections. As I made friends, I thought to myself, why not join them? I thought that it would be fun to do something outside of my coursework or research work." Piri is now one of the 60 international and U.S. student leaders in the group.
UC's international students come from 133 countries, 85 in this year's cohort alone.
"When I first started international recruitment, hardly anyone outside the U.S. had heard of the University of Cincinnati. Fifteen years later we have a strong brand name in Dubai, India, Vietnam and many other parts of the world. Students are coming to UC, being extremely successful academically, enjoying all that UC and Cincinnati have to offer, and continuing to be unofficial ambassadors after they graduate, too," Weller said.
Prosper Tornyi, a new master's student from Ghana, is already one of those unofficial ambassadors and hopes his UC experience will help him toward his dream of government service in his home country.
Tornyi did his undergraduate degree in electrical engineering. For a service-learning requirement in the final year of his program, he did a teaching stint in northern Ghana that inspired him to use his engineering skills in the community. He founded a nonprofit organization to empower women to pursue STEM careers.
He first planned to enroll at UC in 2021 but lacked funding. He applied instead to be part of the first cohort of fellows in the Community Engagement Exchange, a global development and education leadership nonprofit sponsored by the U.S. Department of State. That brought him to the U.S. in 2022, where he ran a youth and technology program in Chicago.
Visiting friends at UC while in the Midwest, Tornyi saw President Pinto at an orientation event.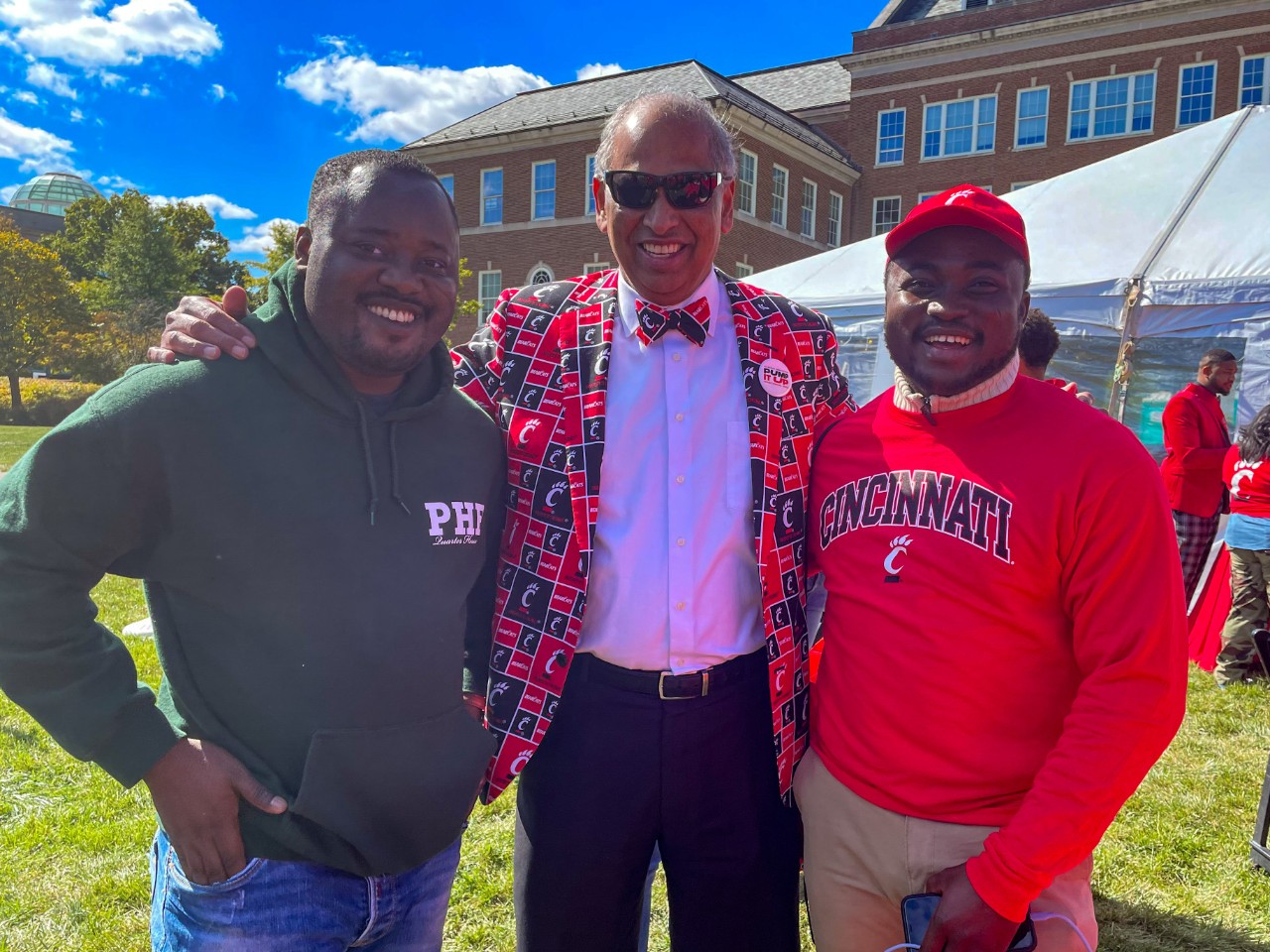 "I just saw him. There was a marching band, if I remember. After the performance, I walked up with one of my Ghanaian friends and said, 'Hey, I want to speak with him, right? He's the president.'"
Tornyi introduced himself and told Pinto about his interest in the public administration master's program in the School of Public and International Affairs (SPIA) in UC's College of Arts & Sciences. Pinto encouraged him to reapply. Tornyi is now in his first semester at UC, with a teaching assistantship in SPIA.
"The UC community is great," Tornyi said. "I love the fact that there is ongoing activity to help international students to integrate and take advantage of their professional and career paths."
After Tornyi finishes his degree, with a possible focus on cyber policy, he hopes to find a job in a multinational company and then segue into public service.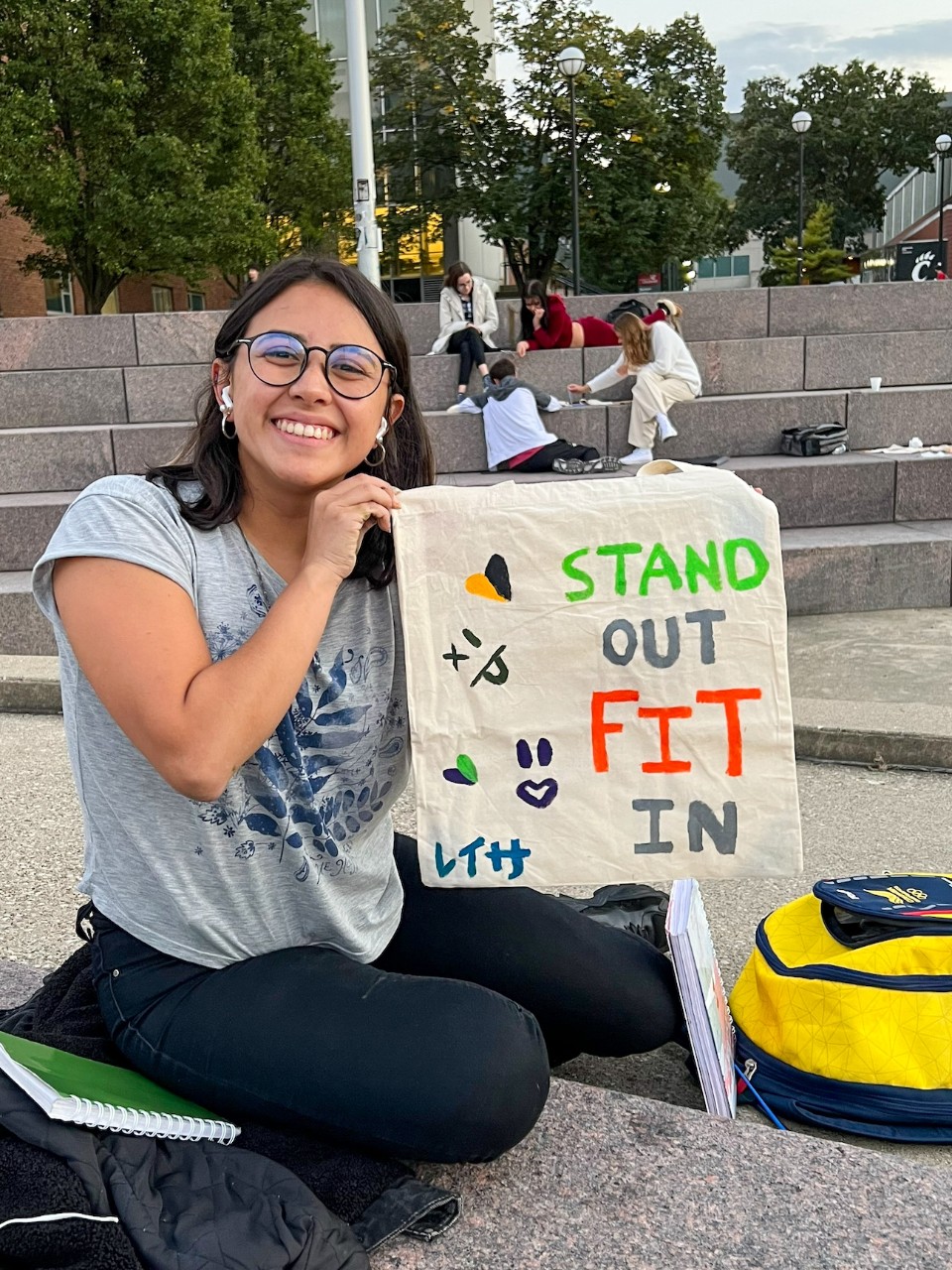 Supporting academic and social success
UC provides strong support for all international students to succeed.
James Tenney is associate director of International Services, whose team within the UC International office helps students with complex immigration rules, taxes and other challenges of life in the U.S.
"We try to treat everyone who comes in with respect and compassion," Tenney said. "We understand that it is not easy coming here and navigating a completely different culture and trying to do the right thing, trying to follow the rules.
"These are hard-working students just trying to get a degree and figure out life while doing so, just like our American students. They are so far away from their parents and faced with any number of legal, cultural and language challenges. Some days they are stressed or confused by rules and classes or amazed by Americans and what they experience in Cincinnati. American culture is so different from what they saw on TV back home."
Within the International Services division, a second team led by Lorri Blanton, assistant director for programs and events, provides social and academic support.
"The goal or mission of our team is to build a diverse community, and create spaces where international students feel safe, included, and heard," said Blanton.
"We host classic American social experiences like the International Student Prom or our Country Pumpkins program and offer informational workshops, like one to teach students to drive and get their license. We offer chances to 'study abroad in the USA' in places like Mammoth Caves, New Orleans, D.C., and Texas.  
"Our IPALs group helps the students, especially new students, make friends and become part of our community."
On the academic side, Kelly Plazibat, program coordinator for academic support, works with struggling students to help them find resources and resolutions for a variety of issues, as well as workshops on academic integrity and U.S. academic culture. International Services also offers intercultural competency workshops to assist UC staff and faculty.   
National and UC statistics
Across the United States:
1,057,188 international students studied in the U.S. in 2022-3, approaching pre-pandemic numbers with the fastest growth rate (up 12% from 2021) in 40 years.

New enrollments rose to near-record numbers, increasing across all academic levels.
Graduate enrollment increased 21%, surpassing undergraduate enrollment in the U.S. for the second year. In 2022-23, the U.S. saw the first increase (1%) in undergraduate enrollments in 5 years.
Students came to the U.S. from 210 countries, led by China (-.2% from 2021-22) and India (+35%). Of the top 25 countries of origin, 14 have rebounded to pre-COVID student numbers. Bangladesh, Colombia, Ghana, India, Italy, Nepal, Pakistan and Spain broke records, with Sub-Saharan Africa the world region with the highest growth (18%)

The number of students in Optional Practical Training (OPT, temporary work opportunities in the U.S. on student visas after graduation) grew for the first time in three years to 198,793.
Here at UC:
In 2022-23, UC International reported 3,942 enrolled students and 1,404 students on OPT to Open Doors, a 20.1% increase from 2021-22, compared to the national growth rate of 12%.

That number increased another 17.4% this fall, for a record 6,276 students, including OPT, an increase of over 40% in the five years from 2018 to 2023.
The number of enrolled students reported by UC's Office of Institutional Research in fall 2023 to NCES/the U.S. Department of Education* is even higher: 4,899, or 9.6% of UC's total student population.
More than two-thirds of international students at UC are graduate students. Graduate enrollments increased 49.2%, 2018-23.

In the decade since fall 2014, UC international enrollments increased 53.4%, per Open Doors. UC is now one of the top 50 universities hosting international students in the U.S.

More than half of UC's international students are from India, followed by China, Vietnam, Nigeria, Nepal, South Korea, Canada, Iran, Ghana and Taiwan.
*U.S. universities report multiple sets of numbers to the U.S. government about international students. These counts vary somewhat due to different reporting categories, such as DACA students or those studying from abroad.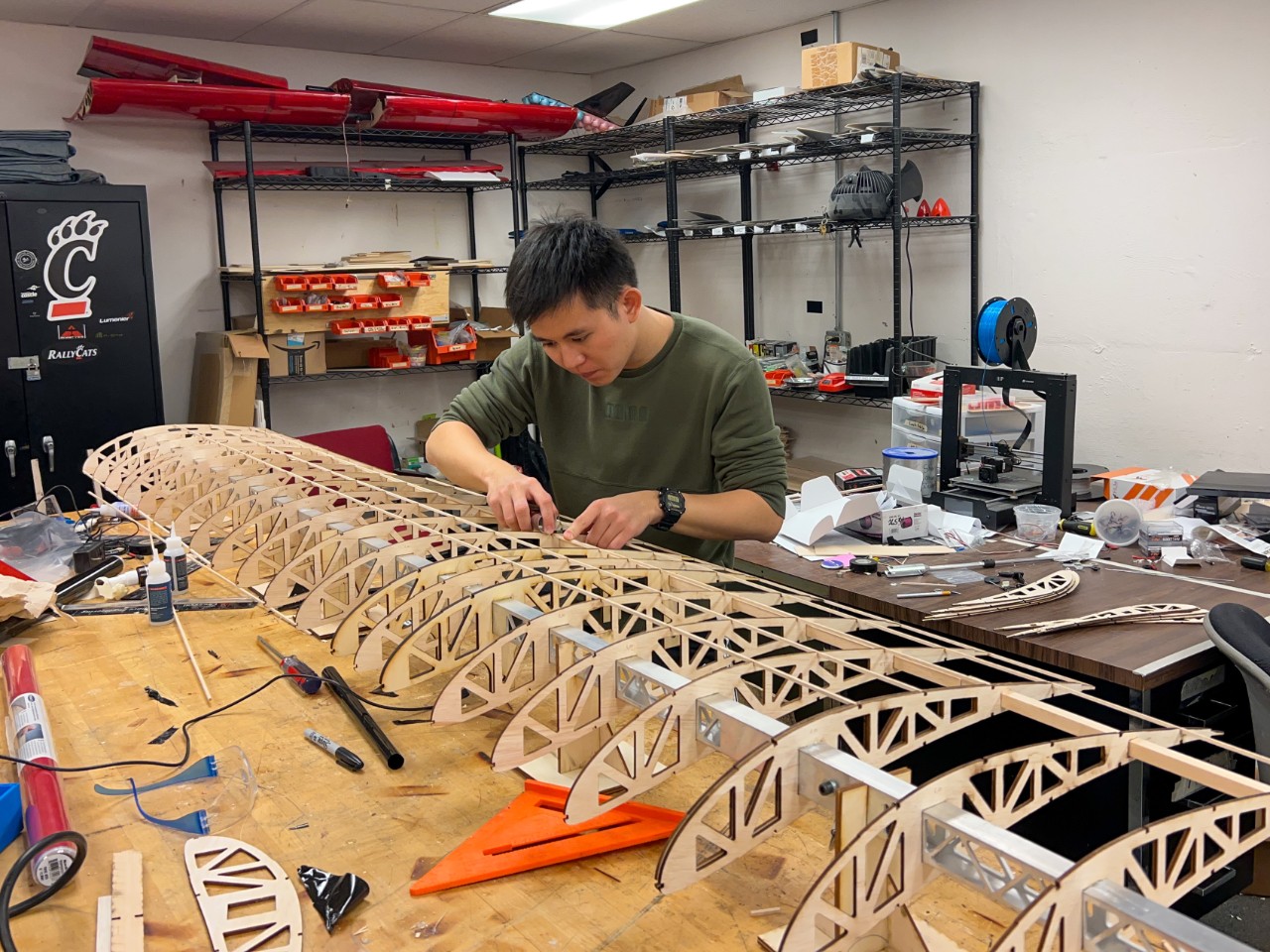 While graduate study in the U.S. tops the headlines, international undergraduates also flourish at UC.
Ou (Odin) Chin Hua came to UC as an undergraduate, a senior at his home university, Feng Chia University in Taiwan. Through an agreement with the College of Engineering & Applied Science, Feng Chia students can complete their bachelor's degree with an exchange year at UC and then qualify for a UC master of engineering program. Chin Hua chose aerospace engineering.
"There are lots of international students, so besides local people, you can meet and get to know lots of other international students," he said about UC. "People who have different backgrounds will communicate with each other, interact with each other, exchange different ideas [beyond] academics, because UC has lots of student organizations based on your interests."
Chin Hua joined the UC Aerocats in his senior year. The group designed a piloted aircraft with an 18-foot wingspan and constructed four prototypes, component by component, in a "build room" in the Old Chem Building last spring and drove it to Fort Worth, Texas, for an international competition.
"I was actually the new person in the group, because all of them knew of each other since freshman year. Luckily, all the members were so friendly," he said.
Now a master's student, Chin Hua is vice president of the Taiwanese Student Association and a member of the UC Pilot Club. He will be the first student from Feng Chia to complete the full five-year degree program at UC. He was also a recipient of the Luchen Scholarship for STEM students from five UC partner universities in Taiwan.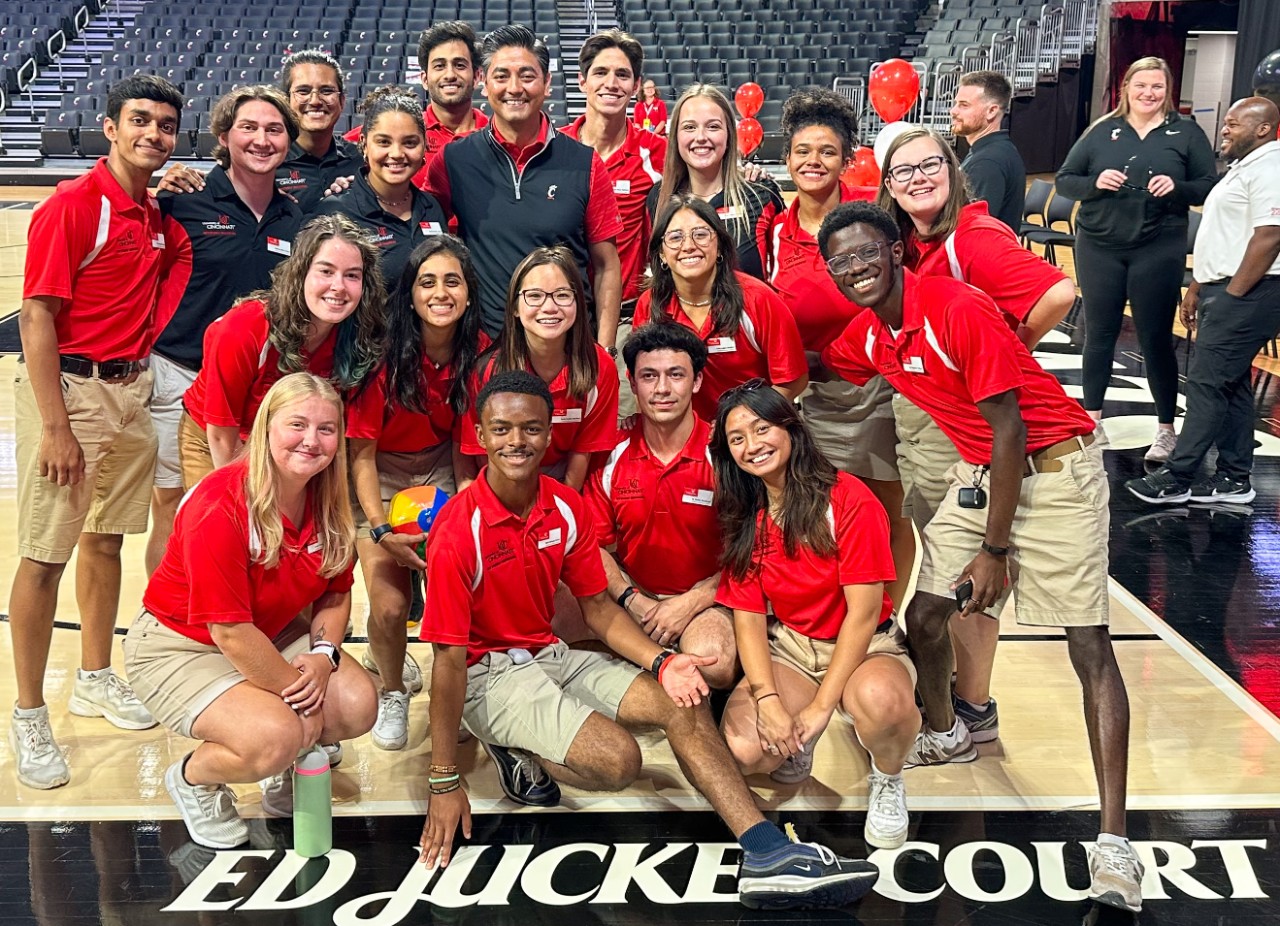 Juan Carlos Solis Galan, a second-year student from Mexico majoring in finance and business analytics, wanted to study in the central U.S., far from the borders, in order to immerse himself in the country's culture. He found UC.
"I didn't think it was going to be as international or multicultural as it is," he said.
Solis is one of the Business Fellows in the Lindner College of Business, a member of the Queen City Consulting club (a nonprofit that works with local companies) and a part-time worker at Bearcat Promise Career Studio, coaching students to prepare for job searching.
He also joined the Delta Sigma Pi business fraternity after becoming friends with many of the members during his first year at UC.
"I love those people. I found a family within that fraternity, so I love them," he said. He also likes the career development and networking aspects of the professional fraternity.
Solis trained to become a Student Orientation Leader (SOL) last summer.
"The best part of it was being able to share my experience with incoming students and make them know they belong here," he said. "Taking those first steps to move out of your country, going to a different culture … it makes you try new challenges and defy your comfort zone. What I would love to get out of UC would be that professional and personal growth."
When he finishes his degree, Solis is thinking about graduate school and a career in corporate finance at a multinational company.  
"I would recommend UC for other international students because it's a great combination of having the full college experience and having a lovely city and a lovely place to grow. The programs that we have here at UC are planned and organized in a way that is going to let you grow and take your own steps, with a lot of experiential learning that a lot of other universities around the U.S. and around the world don't have," Solis said.
Still going and going and going
UC News first interviewed Luisa Lopez from Colombia last year in a "how it started, how it's going" feature when she came to UC as one of the record 2022 international cohort. She was then a first-year public relations major, and now she is pursuing a degree in business analytics.

She said she found Cincinnati in a list of best world cities to live in, saw pictures of UC's beautiful campus and read about co-op. UC was the only global university she decided to apply to.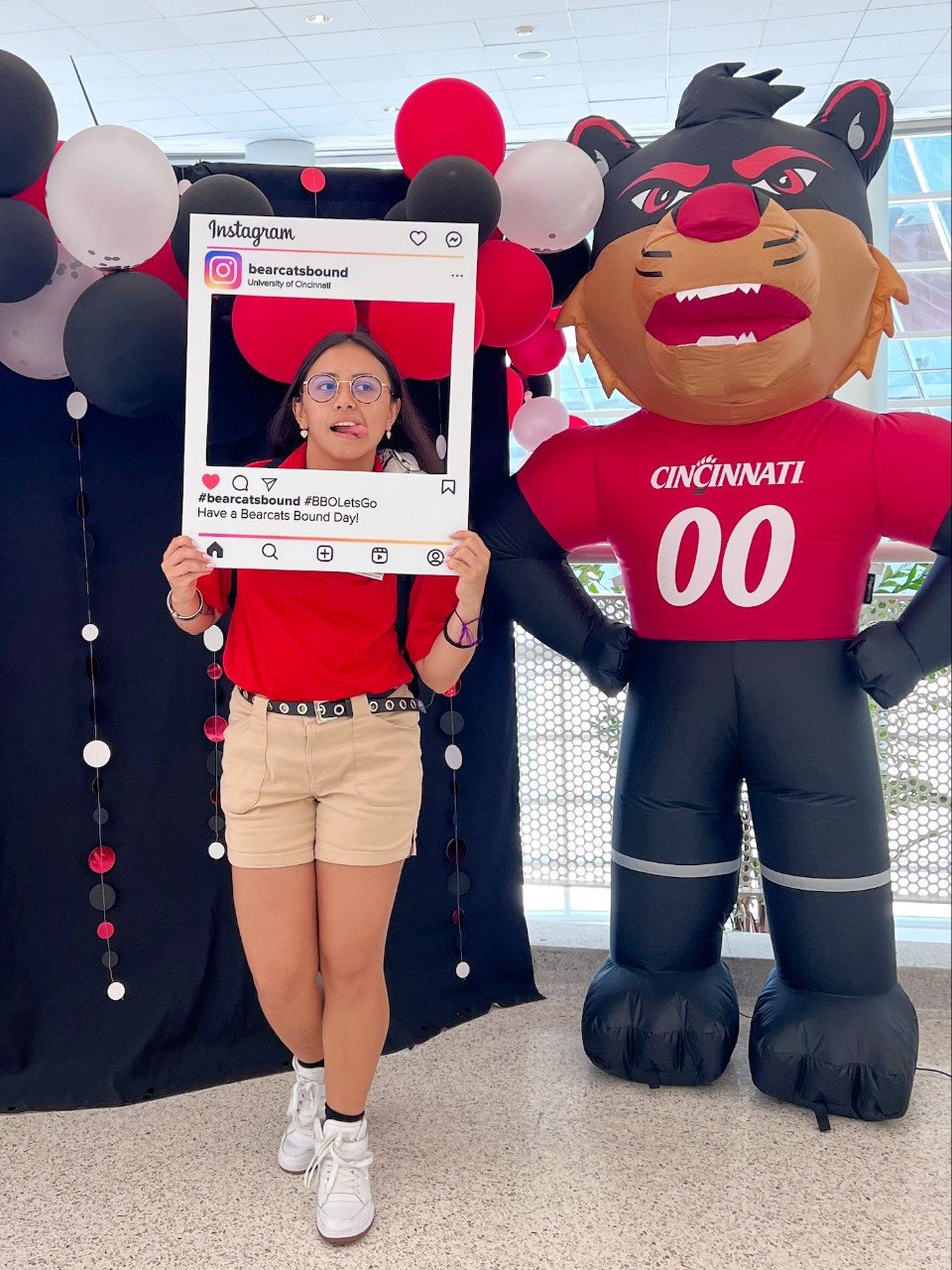 She described a late-night walk across campus last spring when she realized UC was her home.  
"I was walking back to my residence hall by myself with my AirPods on, just listening to music, and I was like, I can do this for the rest of my four years. ... I felt safe. I have very good friends that I've met here. Professors, even my employers, they're more than employers now," she said. "I know people are waiting for me and they want to know where I am, am I doing good. … I think that people caring about you in a certain place makes you feel at home."
Like Solis, Lopez decided to become a Student Orientation Leader, remembering all the help she got from UC as a new international student and the multinational community that she found here.
"You're not going to be left alone. You will not. You will have someone saying like, how do you feel? How can we help you?" she said.
Lopez has also worked in the student athletic center and is a member of the Queen City Consulting club and works in the Bearcat Promise Career Studio. She is honing her own career skills at UC.
"You can learn all the technical stuff, all the classes, but when you go to a full-time job, you also need to learn how to make connections, how to teach people, how to learn from people," she said. "I'm going to be prepared to face those unexpected challenges that we all know can happen after graduation," she said. Lopez hopes to work internationally and eventually pursue a master's degree.
Find yourself here. Discover what's Next.
Feature image: International students at UC. Doctoral student Prosper Tornyi is second left. | Photo by Kathleen Hornstra, UC International
Additional reporting by Kathleen Hornstra, Natalie Ochmann and Cedric Ricks
1
Global students thriving at the University of Cincinnati
November 13, 2023
With a new class of 1,543 for fall 2023—just 4 students short of last fall's record-smashing intake—the University of Cincinnati's international enrollment has reached 4,899 students, or 9.6% of the student population. It's the highest number in UC's history, up 15% from last year, due in part to UC's strong support for international student success.
2
With UC, you see the world
September 19, 2023
Study abroad is back to 75% of pre-COVID levels at the University of Cincinnati, and a wide variety of international study options is available to students in any program. Where do you see yourself in the world?
3
Global Technical Workforce course: Nine years, 11 study tours
May 11, 2023
This spring's Global Technical Workforce course in the University of Cincinnati's College of Engineering and Applied Science offered students in technical fields a chance to work virtually with a class of French students and travel to France or Ghana to build career "soft skills" that complement their technical skills.