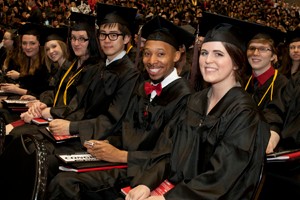 University of Cincinnati Readies for Record-Setting Commencement
The spring 2014
at the University of Cincinnati is one for the record books.
The university will award 6,381 degrees to 6,272 students
(some students earn more than one degree) at the end of April 2014, with undergraduate ceremonies set for
Saturday, April 26
, and ceremonies for graduate students set for Friday, April 25.
Those numbers represent the largest spring-term graduating class and Commencement ceremony in UC's history.
In Commencements of the past, high points included 5,411 graduates in June 1974 and about 5,500 degrees conferred in June 1999. More recently, in the June 2012 spring Commencement, 5,521 students applied for graduation. Last spring of 2013 saw 6,258 students apply for graduation.
In the last several years, rising enrollment and rising retention are a part of rising graduation rates at UC. For instance, in fall 2013, UC's total enrollment stood at a record-setting 42,656, capping several years where enrollment stood above 40,000. In addition, student retention has been steadily climbing at UC. For instance, first- to-second-year retention rates have increased from 77 percent to 85 percent over the last 10 years. Over that same period, graduation rates increased nearly 16 percent. Other factors in larger graduations include more distance-learning options on the graduate level as well as UC's conversion to the semester system in 2012.
UC will celebrate undergraduate Commencement ceremonies at
9 a.m. and 2 p.m. on Saturday, April 26
, in Fifth Third Arena, with President Santa J. Ono leading these Saturday ceremonies. A 10 a.m., Friday, April 25, ceremony is set for graduate students, also in Fifth Third Arena, and will be led by Robert Zierolf, vice provost and dean of The Graduate School.
Commencement speaker for Saturday's ceremonies will be UC alumna Tebelelo Mazile Seretse, Botswana's ambassador to the United States, and honorary degree recipients will be Kroger Board of Directors Chairman Dave Dillon and UC alumnus and top trial lawyer Billy Martin of Washington, D.C.
Tickets are required for the Saturday, April 26, undergraduate ceremonies in Fifth Third Arena. No tickets are required for the Friday, April 25, ceremony for graduate students.
Garage parking on UC's campus will be free all day both Friday, April 25, and Saturday, April 26.
Because of the expected size of the Saturday ceremonies,
three overflow spaces
will be provided that day to allow those without tickets to watch Commencement on large screens in
Again, no tickets are required for these overflow spaces.
The ceremonies will also be
.
Doors will open at 7:30 a.m. for the 9 a.m. undergraduate Commencement ceremony on April 26
. Colleges represented in that morning ceremony are the Carl H. Lindner College of Business; College of Education, Criminal Justice, and Human Services; College of Engineering and Applied Science; College of Nursing; and the College-Conservatory of Music.
Doors will open at 12:30 p.m. for the 2 p.m. undergraduate Commencement ceremony on April 26
. Colleges represented in the afternoon ceremony are UC Blue Ash College; Clermont College; College of Allied Health Sciences; College of Design, Architecture, Art, and Planning; and the McMicken College of Arts and Sciences.
MEET some of the 2014 grads and read their first-person accounts.
MEET the undergraduate Presidential Leadership Medal of Excellence winners.
SEE more about the Tyehimba Celebration set for 7 p.m., Friday, April 25.
SEE more about the UC Air Force (April 27) and Army ROTC (April 25) commissioning ceremonies for spring graduates.

1
Can cities make room for woodpeckers?
March 30, 2023
Researchers are deploying the latest mapping techniques to identify the most important suburban habitat for North America's largest woodpecker.
2
UC study: Engaging in civic leadership empowers refugees,...
March 30, 2023
Research led by a University of Cincinnati doctoral student, Christine Shi, shows that immigrants and refugees who participated in a civic leadership program felt more empowered after learning about their rights, civic entitlements and sociopolitical context.
3
Co-ops allow UC undergrad to explore passions, career path
March 29, 2023
According to national studies, as many as 75% to 85% of undergraduate students will change their major at least once before earning their degree. One in ten undergraduate students will change their major more than once throughout their college career. With over 40 majors to choose from in the University of Cincinnati's College of Arts and Sciences, declaring a major can be a comprehensive process. Fourth year undergraduate student Maggie Sweeney found her perfect fit in the International Affairs program. "I used my resources at UC and looked into a couple different majors," said Sweeney. "International affairs stuck out to me because it is an interdisciplinary major and all my interests in history, language, and social justice were encompassed into one major as a whole." 
Debug
Query for this