Campus Recreation opens to faculty, staff and students
Capacity will be limited, reservations can be made online. Renovations completed over the summer.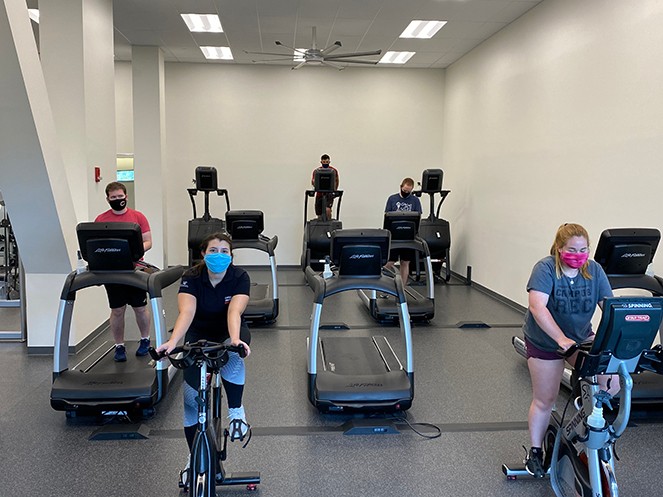 Campus Recreation Center opens to UC faculty, staff and students, Monday, Aug. 17, with Fall Semester hours beginning Monday, Aug. 24. Hours are available on the website.
Creating a safe environment for students, staff and faculty is the top priority, and many new processes and procedures will be in place. 
Reservations will be necessary, and capacity will be limited to allow for social distancing. The fitness floor will be limited to 100 individuals at a time, and the lap pool will have five lanes open, with one swimmer per lane. Reservations can be made through My Member Services on the website. Members can make one reservation per day, and reservations can be up to three days in advance. Instructions are available on the website.
University policy states that facial coverings are required at all times, including during your workout. If you are unable to wear a mask, a face shield must be worn. Swimmers must wear a facial covering to the pool side and put one back on after exiting the water. 
Facial coverings will be available for purchase at the Member Services desk. Only credit cards and the Bearcat card are accepted; no cash transactions will be accepted at this time. Members should bring a reusable water bottle as water fountains will be unavailable, but bottle-filling stations will be open. 
Virtual group fitness and guided recorded workouts are available on our Online Fitness page and will be updated weekly. Archived workouts will be available on our YouTube channel. 
While Campus Recreation was closed during the spring and summer, renovations on the building continued. Four racquetball courts were converted to an additional cardio, free weight and functional fitness area. This space is currently being used to physically distance current equipment. Lifting platforms have also been added to the fitness floor.
The Fitness Center at CARE/Crawley will remain closed until further notice. Here's a look at what you can expect when you visit Campus Rec:
Fitness floor
Cardio equipment
Weight equipment
Spinning bikes and rowers
Lap pool  (More information is available on the website.) 
Stretching space 
Functional training space
Virtual group fitness
No-touch water bottle fillers
Locker rooms for changing
Limited rental and day use lockers available
Restrooms
The gym floor will be a dining/study area
Racquetball and squash courts
Walking/running track
Multipurpose rooms 
Leisure pool
Hot tub
Showers
Water fountains
Fit floor, gym & climbing wall lockers
Climbing wall