Welcome to the University of Cincinnati! Parking for visitors and vendors is available 24/7 unless specified on the Events Calendar in all garages on the Medical Campus and most facilities on the West Campus. Rates are based on the length of stay. Surface parking lots are for permit parking.  
Check this tracker before you head to the Uptown Campuses to see real-time availability of visitor parking in our garages. For example, if it shows 75%, then 25% of visitor parking spaces are available. 

Parking Tips For Visitors
Explore parking locations in advance and pre-purchase parking when possible for events.
Check our event calendar and real-time visitor tracker before you head to the Uptown Campuses for parking availability.
Schedule visits/meetings outside of peak hours (peak parking hours are from 10 a.m. - 2 p.m., Monday – Friday).
If a department on campus provides a parking voucher or coupon code, please review instructions for proper use with them before leaving.
If you need assistance at a gated facility, Parking Services has staff on duty that can be reached from a help button on the entry or exit machine. Help phones are also located throughout campus.
Visitors will need to take their ticket with them in order to utilize the Pay Stations located in each facility. See garage descriptions for pay station locations and height clearances. The Pay Stations will accept cash payments of $1, $5, $10 and $20, as well as credit cards and a Bearcat Card.
Visitors who know they will be parked longer than 72 hours will need to contact parking services in advance of their visit.
Some short-term metered parking is available at parking meters on the Medical and West Campuses. These parking meters are enforced 24-hours-a-day, seven-days-a-week. Please be advised that a broken parking meter is not a valid parking space.
Available for large trucks and vans; contact Parking Services for information. Contact Public Safety for information about parking buses and mobile homes.
Hourly* garage rates

| Time (Hours) | Rate |
| --- | --- |
| 0 - 1 | $3 |
| 1 - 1.5 | $6 |
| 1.5 - 2 | $7 |
| 2 - 2.5 | $8 |
| 2.5 - 3 | $9 |
| 3 - 24   | $10 (Maximum) |
|   |   |
| Lost Entry Ticket  | $20 |
Evening and weekend* garage rates

| Days | Rate Per Day |
| --- | --- |
| Monday - Friday, enter after 3 p.m.  | $7 |
| Saturday - Sunday | $5 |
*Note: These published rates do not apply to events such as UC Football, Men's Basketball, FC Cincinnati, CCM or other special events.
30-minute meter rates - meters accept coins only

| Time (Minutes)   | Rate |
| --- | --- |
| 3 | $0.05 |
| 6 | $0.10 |
| 15 | $0.25 |
| 30 | $0.50 |
2-hour meter rates - meters accept coins only

| Time (Minutes)   | Rate |
| --- | --- |
| 3 | $0.05 |
| 6 | $0.10 |
| 15 | $0.25 |
| 60 | $1 |
| 120 | $2 |
Visitor Parking Payment Options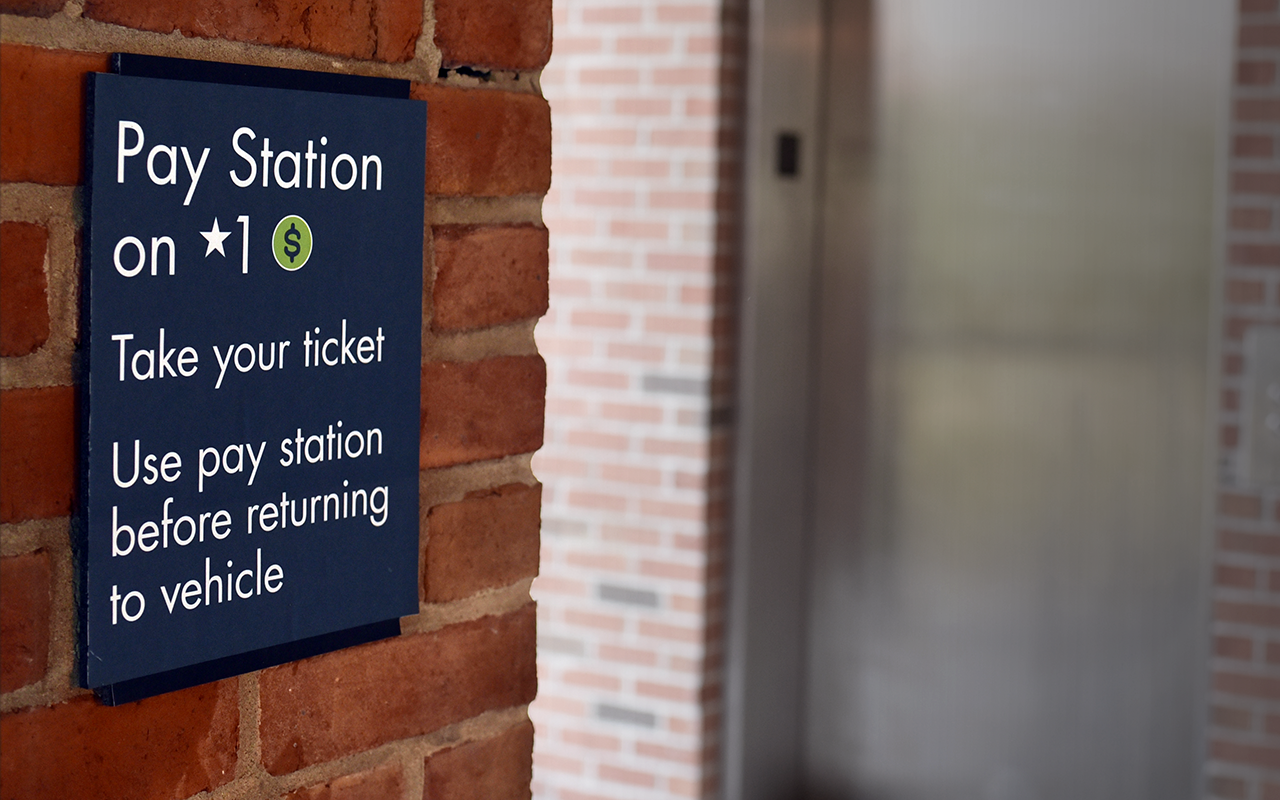 Take your ticket with you when leaving your vehicle
Signs in each facility will identify the location of the Pay Station.
Payment must be made at the Pay Station prior to returning to your vehicle if paying with cash.
The Pay Stations will accept cash payments of $1, $5, $10 and $20, as well as credit cards and a Bearcat Card.
Credit card payments may be made at the exit gate.
Visitors receiving vouchers may proceed directly to the exit lanes.
Insert ticket/receipt as indicated at the exit
For visitors who receive vouchers, scan the QR codes on your entry ticket at the exit lane.
Insert entry ticket into the exit machine.
Amount due will show on exit screen.
Scan voucher (voucher will have #2 on the back with a yellow stripe) under barcode reader.
Equipment will say discount accepted and gate will raise.
If gate does not raise, push HELP button on the exit equipment.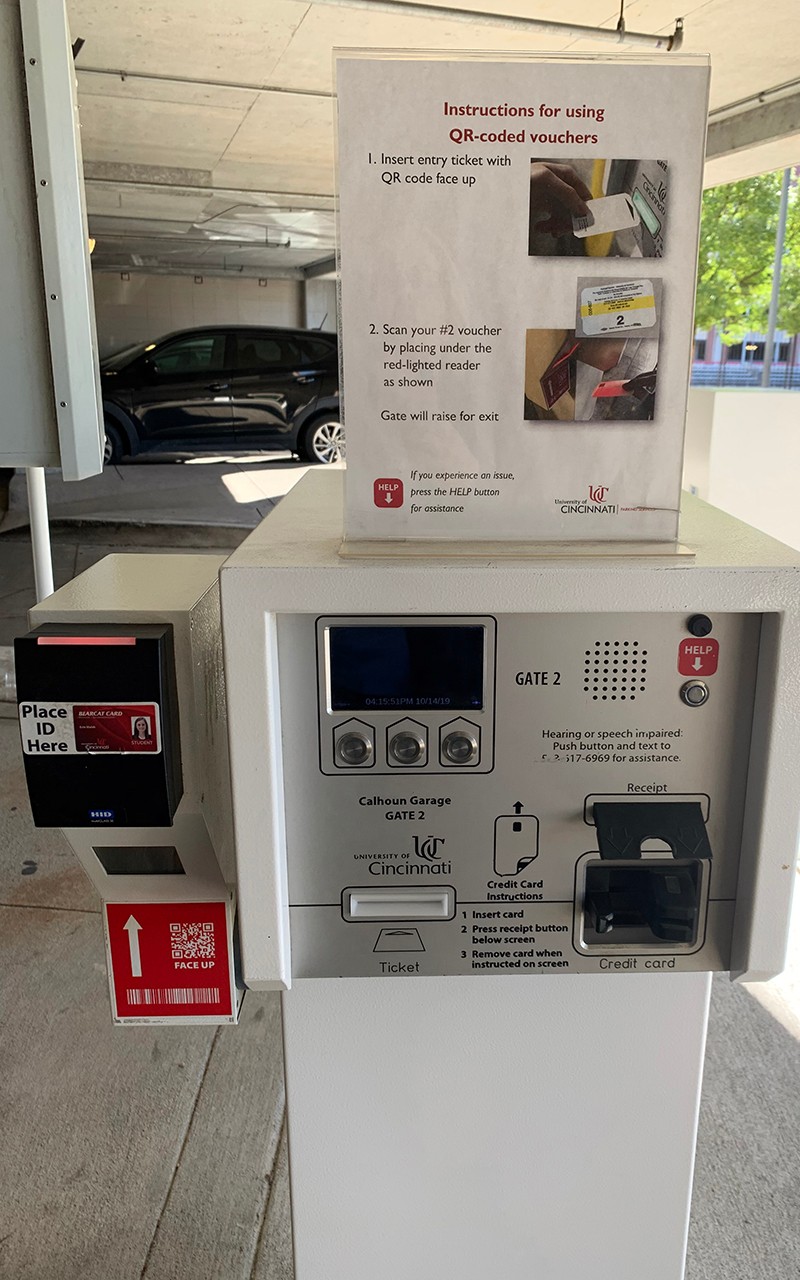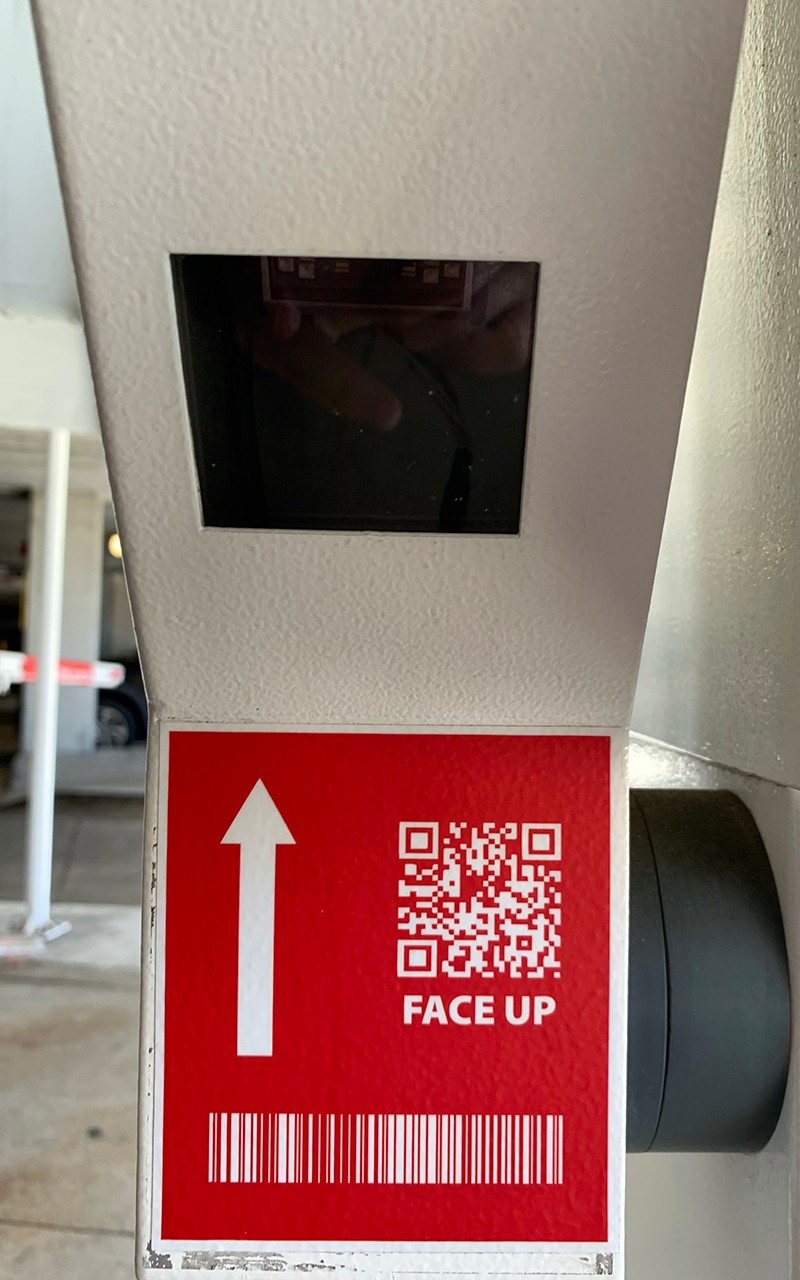 Large special events (e.g., football, basketball, FC Soccer, CCM) may alter visitor parking options. Find out more about event parking.

Parking is permitted only in marked stalls.
Yellow curbs/lines or signage designates a fire lane. Fire lanes are tow-away zones and must be kept clear at all times.
Parking in a reserved space without the proper permit will result in a citation and towing of the vehicle.
ADA Accessible Parking is available in all visitor parking facilities. A valid state-issued disability placard is required to park in an ADA-marked stall.
Oversize vehicle accommodations are available. Please contact Parking Services at least 3 business days in advance at 513-556-2283 or parking@uc.edu.
Violators parking in ADA accessible stalls, in accordance with Ohio House Bill #148, are subject to a fine and possible impoundment of the vehicle in violation.
Certain stalls are smaller and are designated for compact cars. No part of a vehicle may extend over/past painted lines.
In some facilities, signage designates spaces for vehicles that have 2 or more passengers in the vehicle.
In some facilities, signage designates spaces for electric or hybrid vehicles.
Electronic Charging Station
There is a four (4) hour maximum usage per day on the standard charging stations, and one (1) hour maximum on the fast charging station. Vehicles must be charging to be parked in the space.

Parking will not be reserved for deliveries unless a Request for Special Parking Form is submitted online in advance. The parking office will provide cost information for extended deliveries. Delivery drivers are responsible for any parking violations they incur.
Parking for loading and unloading up to 30 minutes will be granted when necessary. Permits for this purpose must be obtained from Parking Services at 4 Edwards Center and are valid only in the designated location. A valid load/unload permit must be clearly displayed at all times while loading or unloading.
When loading dock access is needed, a specific request for their use must be made.
Established garage rates will be charged for loading and unloading in garages on the uptown campuses.

Contractors working out of their vehicles must park within a construction area, if one has been designated, or in an available facility at the daily or monthly rate. Parking charges are to be paid by the contractor. Violators of these policies will be cited or towed. All contractors and/or subcontractors requiring campus drive parking must submit the request in advance and must provide verification issued by the appropriate university department.
Service or sales vehicles will be limited to visitor parking facilities unless the service person needs to work from their vehicle. In these cases, Parking Services will issue a thirty-minute temporary permit for loading and unloading. The vehicle must then relocate to a visitor facility. Service persons working on projects longer than one day will be treated as contractors and subject to contractor's guidelines.
University and Other Government Vehicles
University vehicles are subject to university parking regulations. Operators of university-owned or leased vehicles must comply with vehicle regulations. If the operator's identity cannot be determined, the department to which the vehicle is assigned will be liable for payment of fines.
Visiting government-licensed vehicles are exempt from parking permit requirements. Government vehicles are subject to compliance with parking rules and regulations.