UC's summer grads take giant leap into future
The Bicentennial summer commencement recognizes the 50th anniversary of the moon landing by UC's Armstrong
The University of Cincinnati honored 1,945 graduates Saturday at its summer commencement at Fifth Third Arena in front of thousands of their family and friends.
President Neville Pinto urged the graduates to be "Boldly Bearcat," wherever their futures take them.
Pinto noted that UC's 200th anniversary coincides with the 50th anniversary of the Apollo 11 moon landing and the first moon walk by Neil Armstrong, who would leave NASA to teach aerospace engineering at UC.
Pinto recalled watching the historic moment on TV with his father as a child.
"It was a time like no other for humanity," he said. "And my greatest anxiety as an 11 year old was would they be able to return to Earth?"
Of course, that mission was a huge success. And Pinto urged UC's graduates, too, to step into the unknown with courage and conviction.
"Like Armstrong and his crewmates, you leave behind a world of the familiar. If you feel worry and trepidation, it is understandable," he said. "Graduates, your new adventure may not take you to the moon, but it will be uniquely yours. And it will be bold in the way that only you can make it."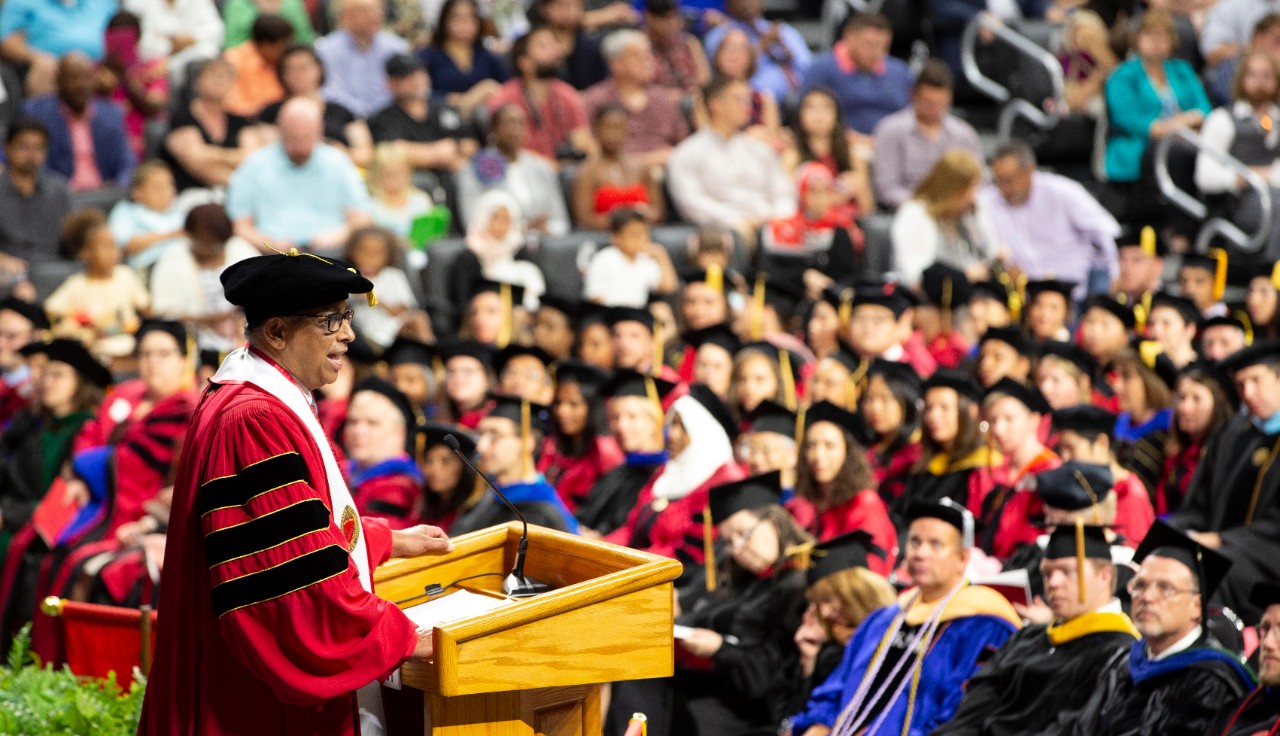 The summer class of 2019 features 242 first-generation college graduates, 92 military veterans and 53 from Cincinnati Public Schools.

The graduates come from 44 countries and 47 states. Ohio, too, is well represented with summer graduates hailing from 71 of its 88 counties.
Saturday's youngest graduate, earning an associate's degree, is just 18. The oldest graduate, who was hooded with a doctoral degree, is 67.
"The 2019 summer class represents students from near and far who are ready to share their unique talents with the world," said UC Provost Kristi Nelson. "Today marks a new beginning as each graduate transitions from student to alum, and embarks on a journey to create their ideal future utilizing knowledge and skills developed through their UC experience."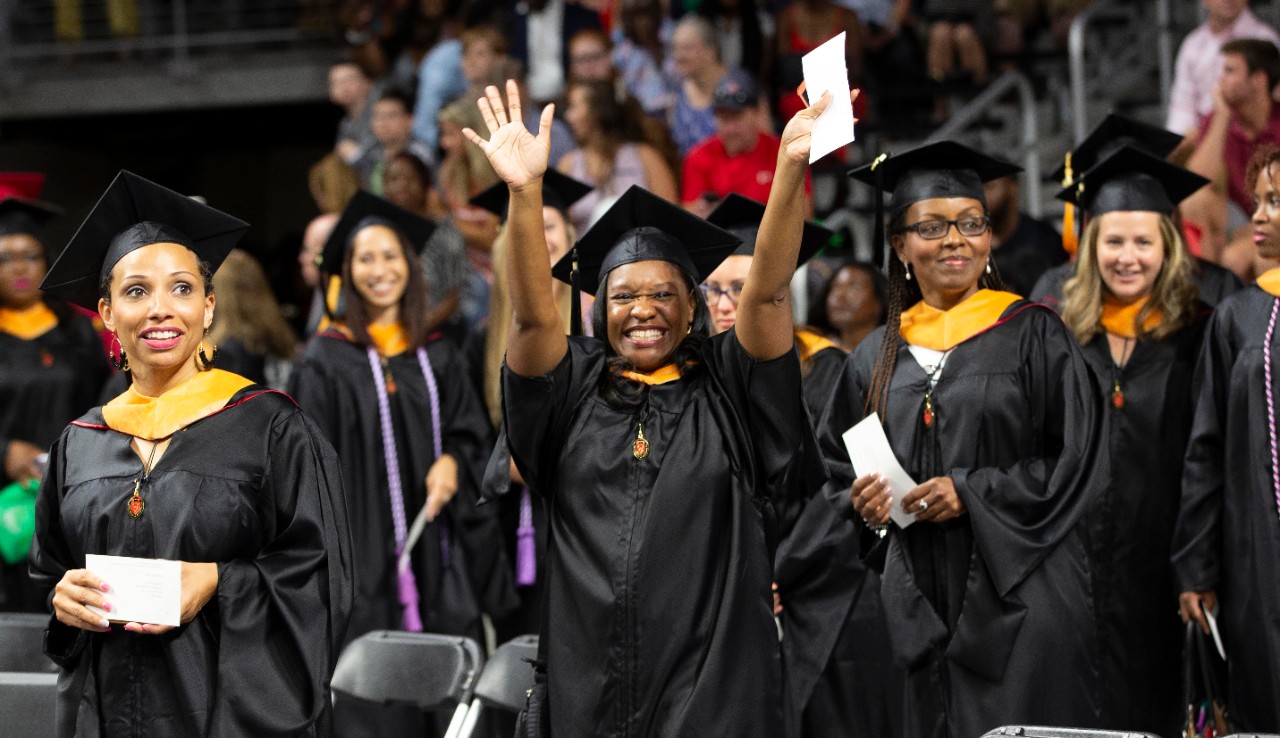 Pinto recognized UC College of Medicine graduate Courtney Giannini, a recipient of the UC Presidential Medal of Graduate Student Excellence. The award is given to graduate students who exemplify scholarship, leadership, character and service.
Giannini received a doctorate in epidemiology on Saturday.
UC's graduating class celebrated the opening of UC's 1819 Innovation Hub, the university's front door to business opportunities and a startup engine for students, faculty and staff. They witnessed the $87 million renovation of the Fifth Third Arena, funded by private donations. They cheered Major League Soccer team FC Cincinnati at Nippert Stadium. And some of them no doubt stayed in the new Marian Spencer Residence Hall.
As alumni, they know UC will continue to make them proud with the opening this year of the new $120 million Lindner College of Business and the new $61 million Health Sciences Building in UC's College of Allied Health Sciences.

In his address to graduates, UC Board of Trustees member William Portman III recognized the late Marian Spencer, a UC alumna, former Cincinnati city councilwoman and a civil rights icon who successfully led the effort to end racial discrimination at Coney Island in the 1950s and to desegregate Cincinnati Public Schools.
UC and the Greater Cincinnati community paid tribute to Spencer at a memorial service Saturday at Fifth Third Arena.
"Mrs. Spencer was a woman who lived her entire life as a passionate change-agent," Portman said, urging graduates to follow her esteemed example.
UC last year dedicated a new residence hall in her name: Marian Spencer Hall. Spencer was the honored recipient of UC's William Howard Taft Medal for Notable Achievement in 2018.
Featured image at top: University of Cincinnati graduates celebrate UC's Bicentennial summer commencement by throwing their mortar boards in the air outside Fifth Third Arena. Photo/Joseph Fuqua II/UC Creative Services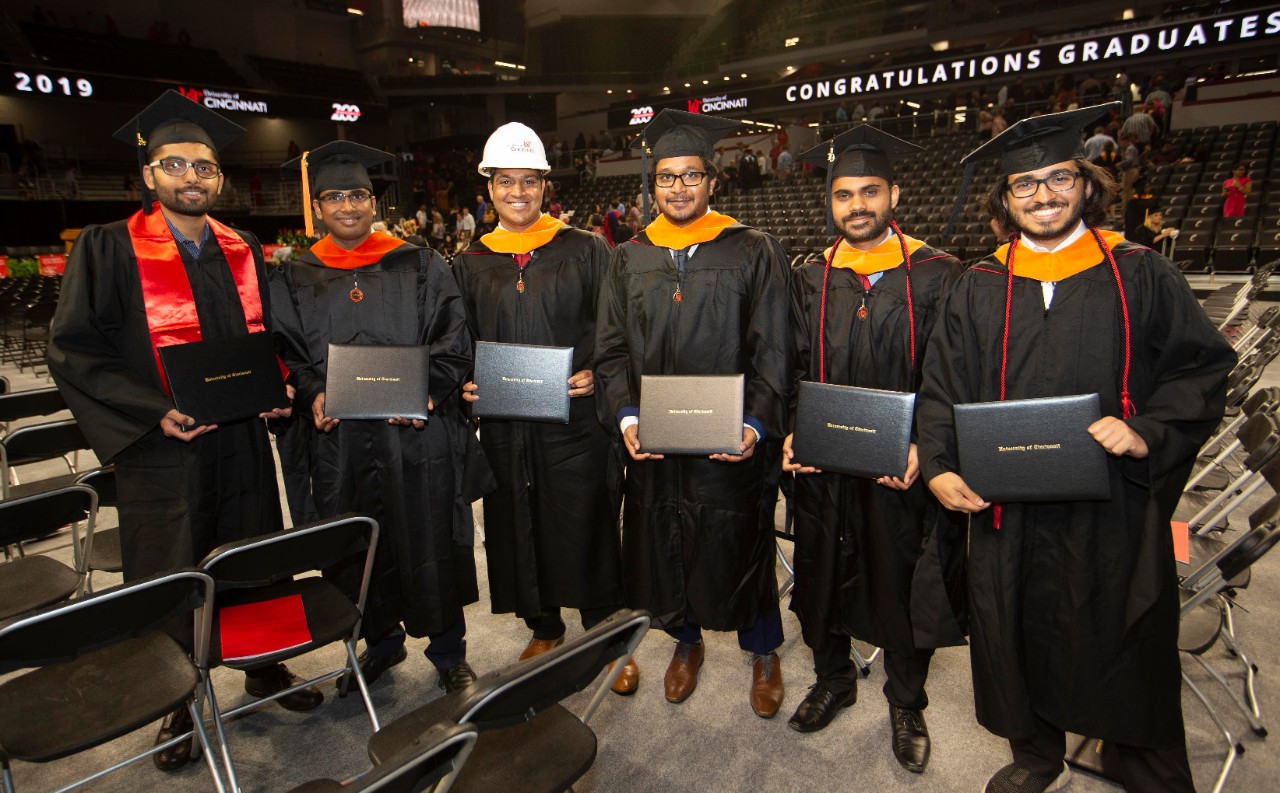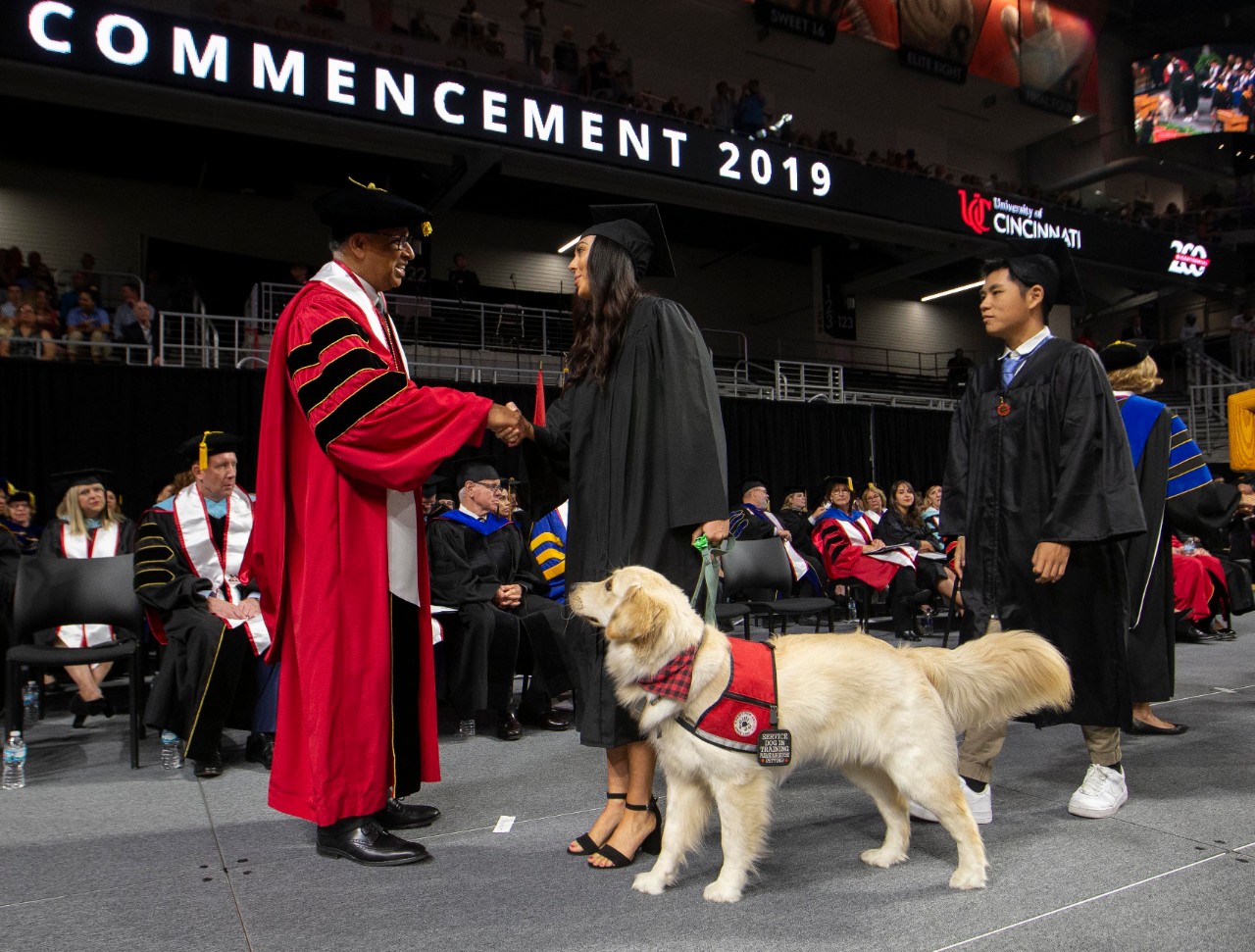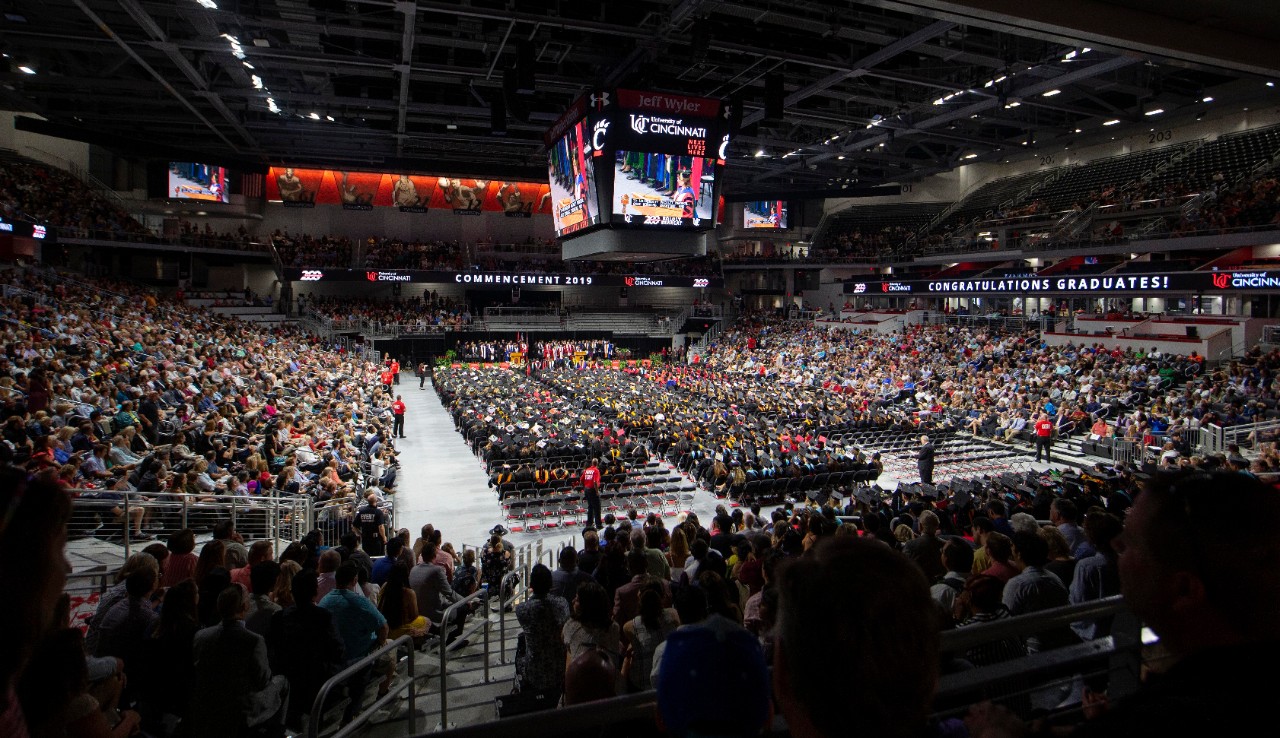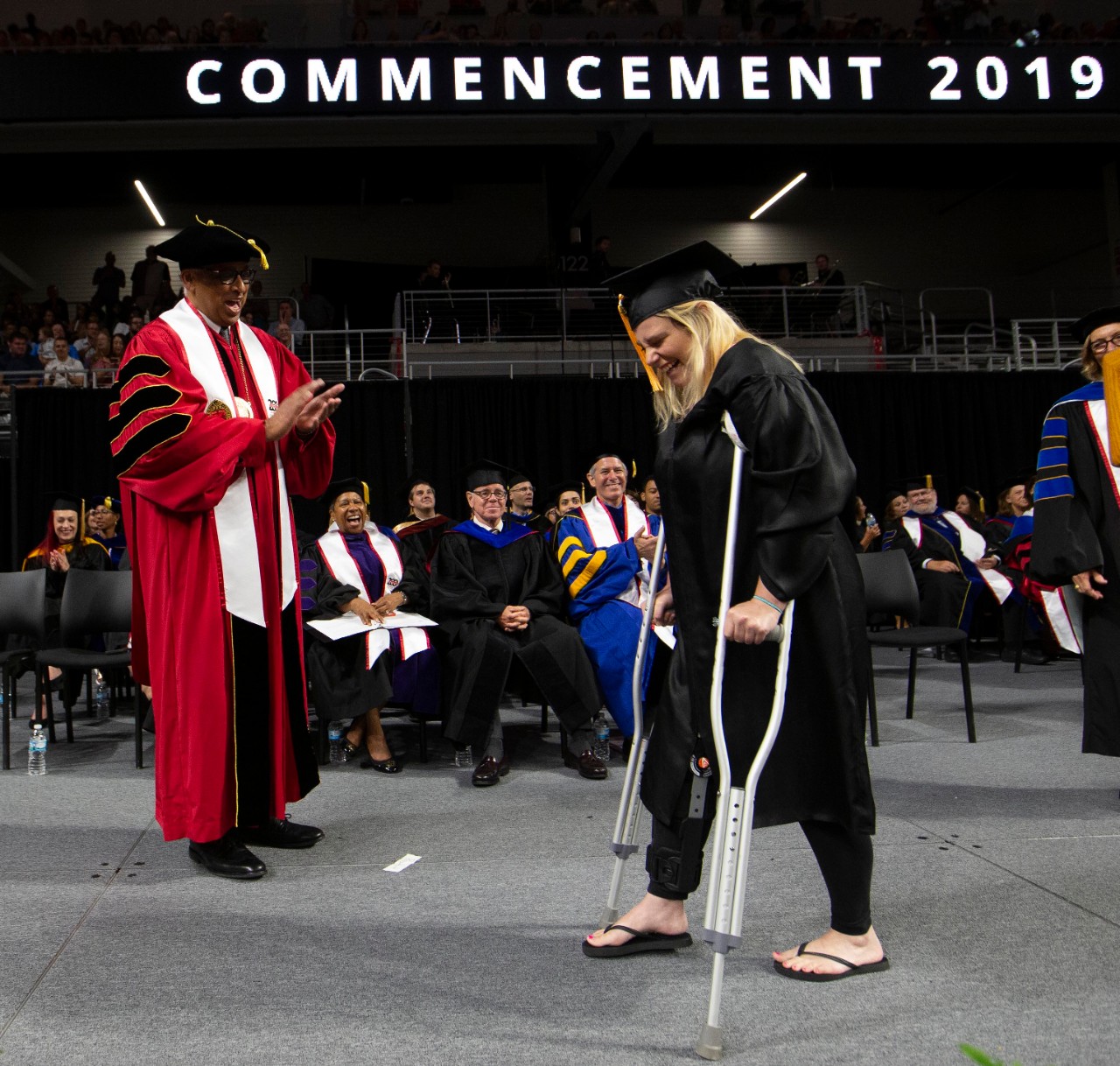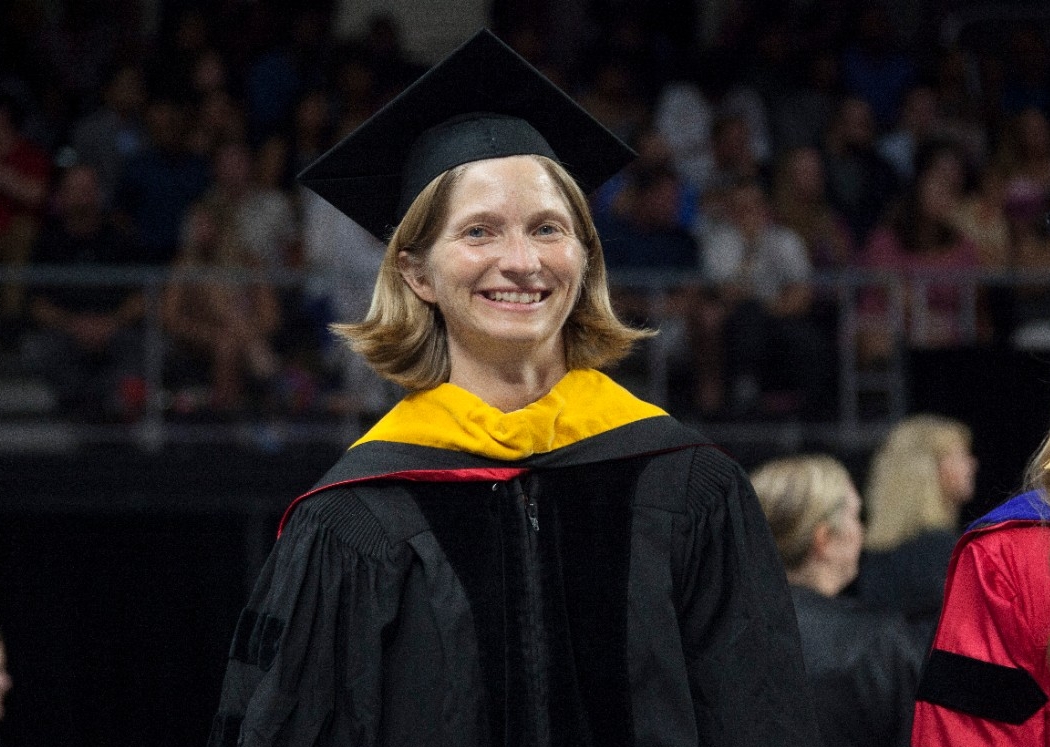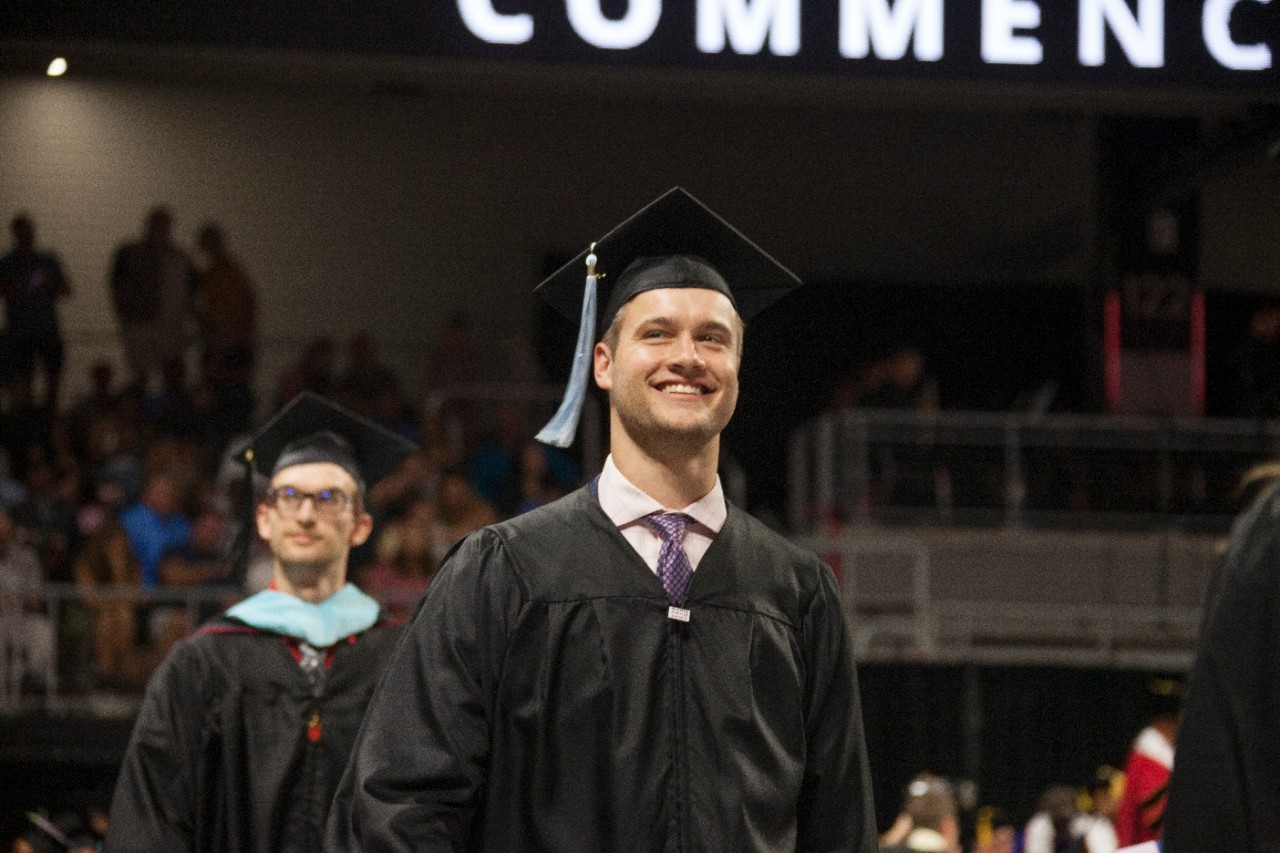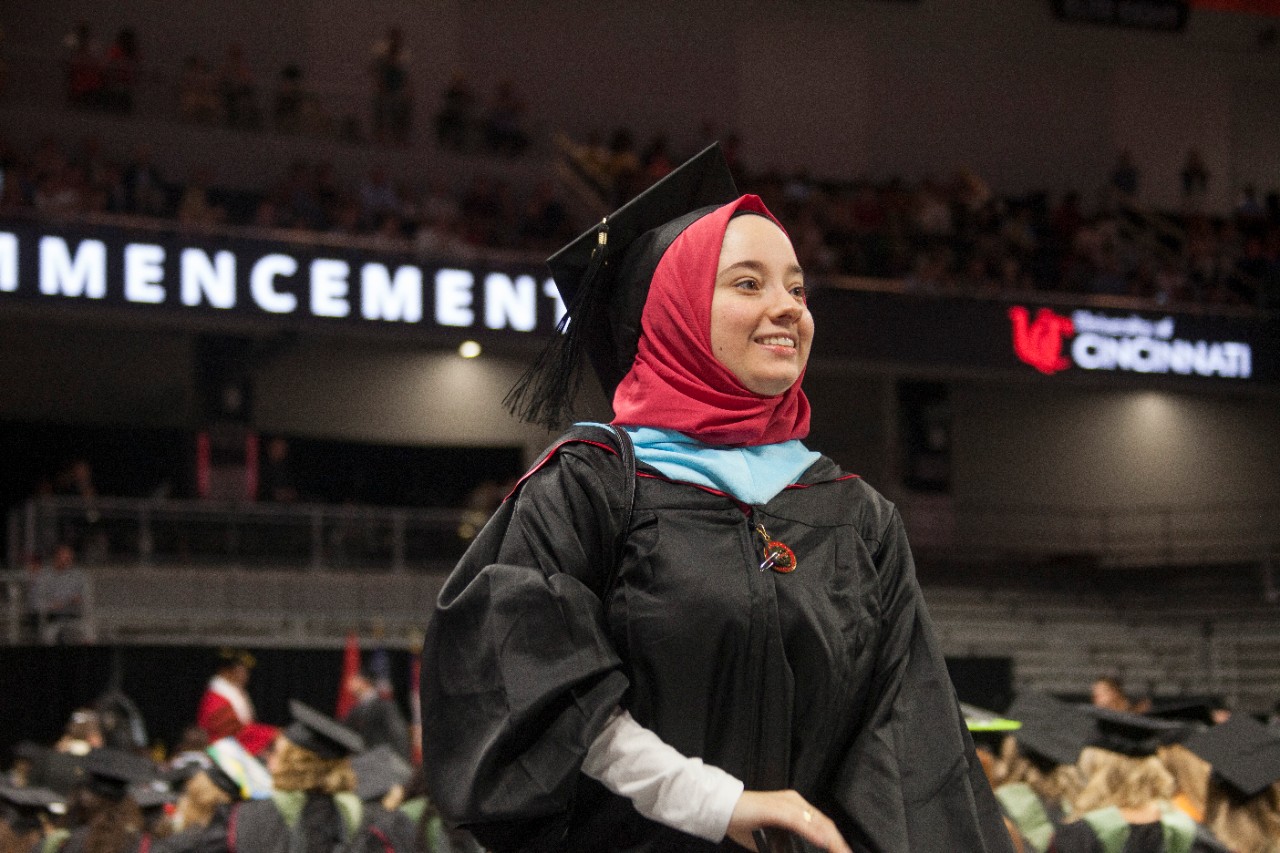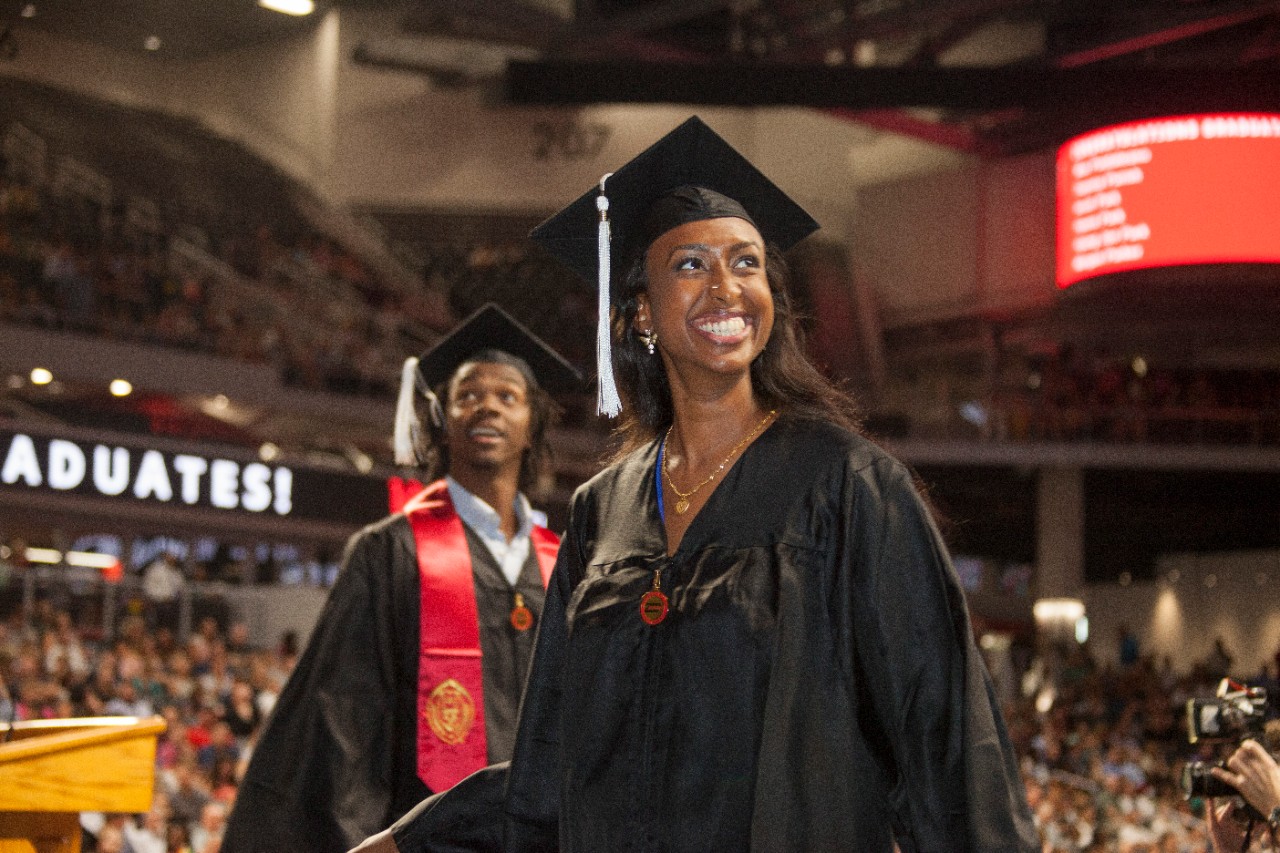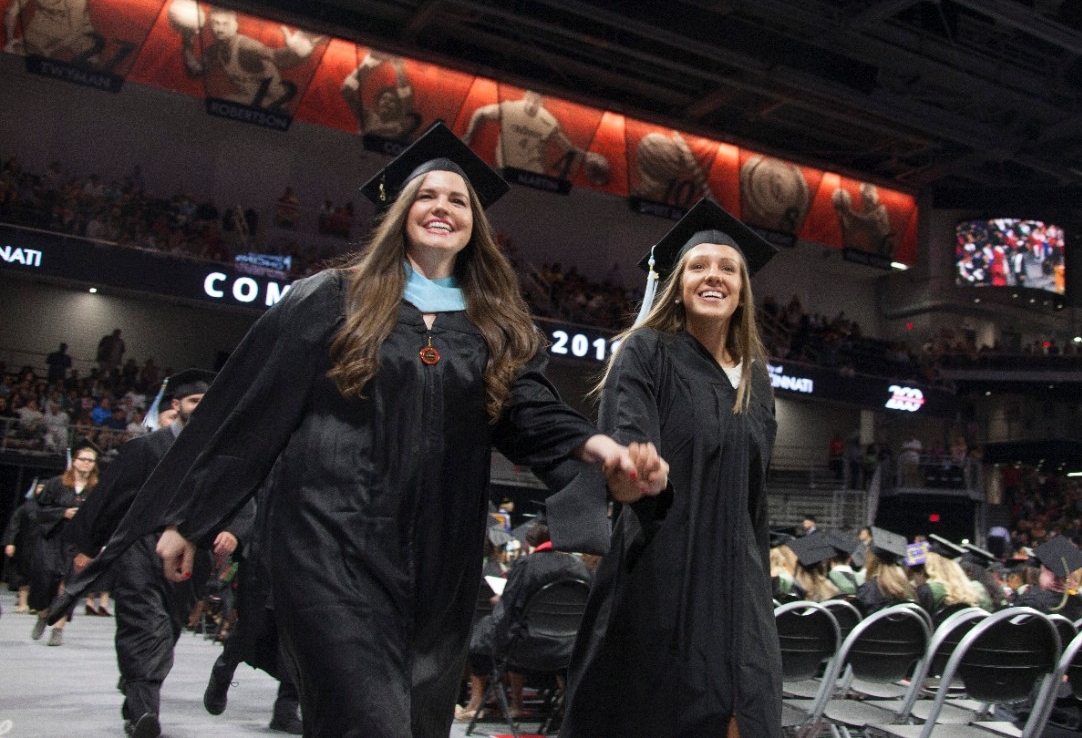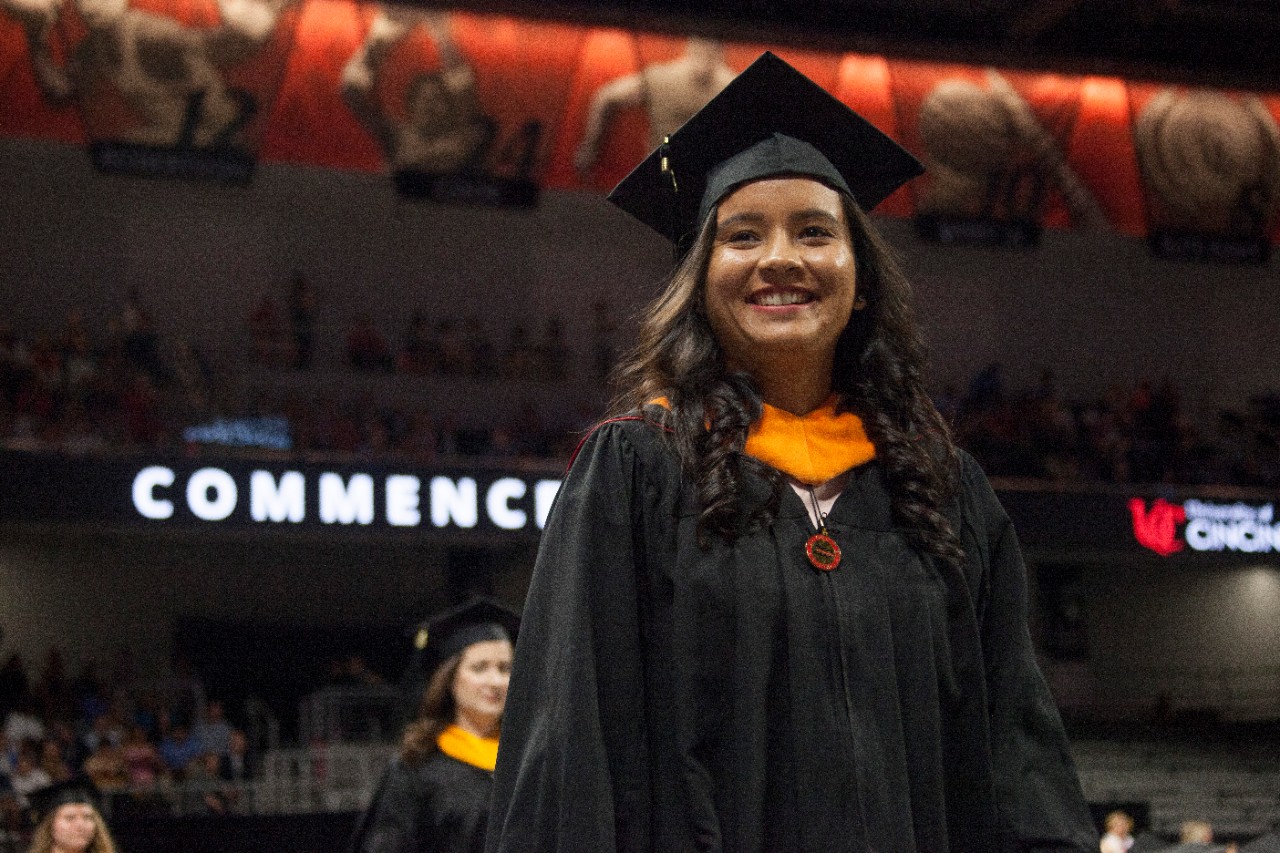 Become a Bearcat
Do you like the idea of conducting your own biology research? Apply online or get more information about undergraduate enrollment by calling 513-556-1100. Learn more about UC's many undergraduate and graduate programs.
Next Lives Here
The University of Cincinnati is dedicated to helping our students design a customized pathway to where they want to go and who they want to be. Our promise is simple: Every Bearcat graduates with a clear focus on cultivating their ideal future. Next Lives Here.
1
Cincinnati Edition: U.S. joins a growing number of governments...
March 24, 2023
TikTok has 1.5 million users in the United States, and is currently under review by the U.S. congress. The Chinese company has been accused of aggregating data for nefarious purposes, as it is ultimately controlled by the Chinese Communist Party. Cyber security expert Richard Harknett was a guest speaker on "Cincinnati Edition" to discuss measures that might be, or should be, taken to protect Americans privacy and national security
2
Narrowing the digital divide for health care
March 24, 2023
Many parts of rural America with less access to health care also have limited broadband internet that could help them take advantage of increasingly popular online health services.
3
P&G alum revs up gaming scene in UC Esports Lab
March 24, 2023
In September 2021, Brad Walsh became the coordinator for the University of Cincinnati Esports Lab, which opened the following August inside the 1819 Innovation Hub. Prior to this role, Walsh had 30 years of experience in process development as a technical director managing intellectual property at Procter and Gamble.
Debug
Query for this