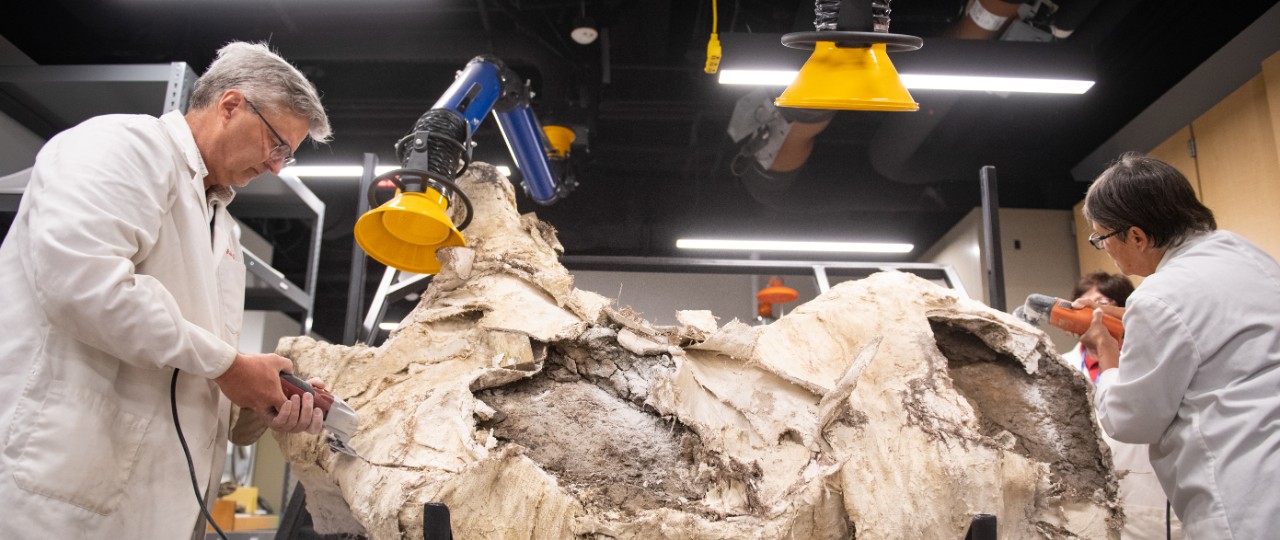 UC dinosaur expert unveils a Triceratops
Daily visitors can watch the Cincinnati Museum Center prepare the fossil for display
University of Cincinnati paleontologist Glenn Storrs cracked open the plaster protecting an enormous Triceratops skull he helped unearth four years ago in Montana.
Storrs, curator of vertebrate paleontology at the Cincinnati Museum Center, used an electric saw to slice away the burlap, plaster and toilet paper protecting the find as local news media watched in the museum's new paleontology lab.
As dinosaur-loving children might tell you, Triceratops was a three-horned plant-eater. It lived more than 65 million years ago during the Cretaceous Period. One of its predators would have been the fearsome and toothy Tyrannosaurus rex, one of which is on display in the museum's new Hall of Dinosaurs.
Storrs helped excavate the fossil from a site on federal land in 2015. It has spent the past few years awaiting attention in storage in the museum's Geier Collections & Research Center during the museum's recent renovations.
Preparing the specimen for public display could take a year or more. Daily visitors to the museum can follow the progress from the lab's dedicated viewing gallery where they can see paleontologists and volunteers working on fossils.
Fewer than 70 specimens of Triceratops have been found, Storrs said. But it was one of the most populous dinosaurs of its time, traveling in herds and using its beaked mouth to browse shrubs and woody plants like modern-day black rhinos.
I always say if you're a major league city, you've got to have baseball and football. And you need dinosaurs, too.
Glenn Storrs, UC paleontologist
Triceratops and its cousins are known for their beaklike mouths. But unlike birds, Triceratops' beak was full of grinding teeth to chew its food, Storrs said.
"Most reptiles don't chew their food. They bite and swallow. So it's kind of a sophisticated animal," Storrs said. "Every time we find a new one, that helps us know more about the anatomy of the animal. There is variation in populations."
Excavating such an exciting find is hardly a first for Storrs. In 2012 Storrs helped describe a prehistoric species of African crocodile that reached 25 feet in length and likely preyed on people living along rivers in what is now Kenya.
He also discovered several of the fossilized specimens on display in the museum's Hall of Dinosaurs, including the towering sauropod that dominates the exhibit. The Cincinnati Museum Center also has the world's only Torvosaurus specimen on public display, Storrs said. Torvosaurus was an apex predator that lived millions of years before Tyrannosaurs.
"I always say if you're a major league city, you've got to have baseball and football. And you need dinosaurs, too," Storrs joked.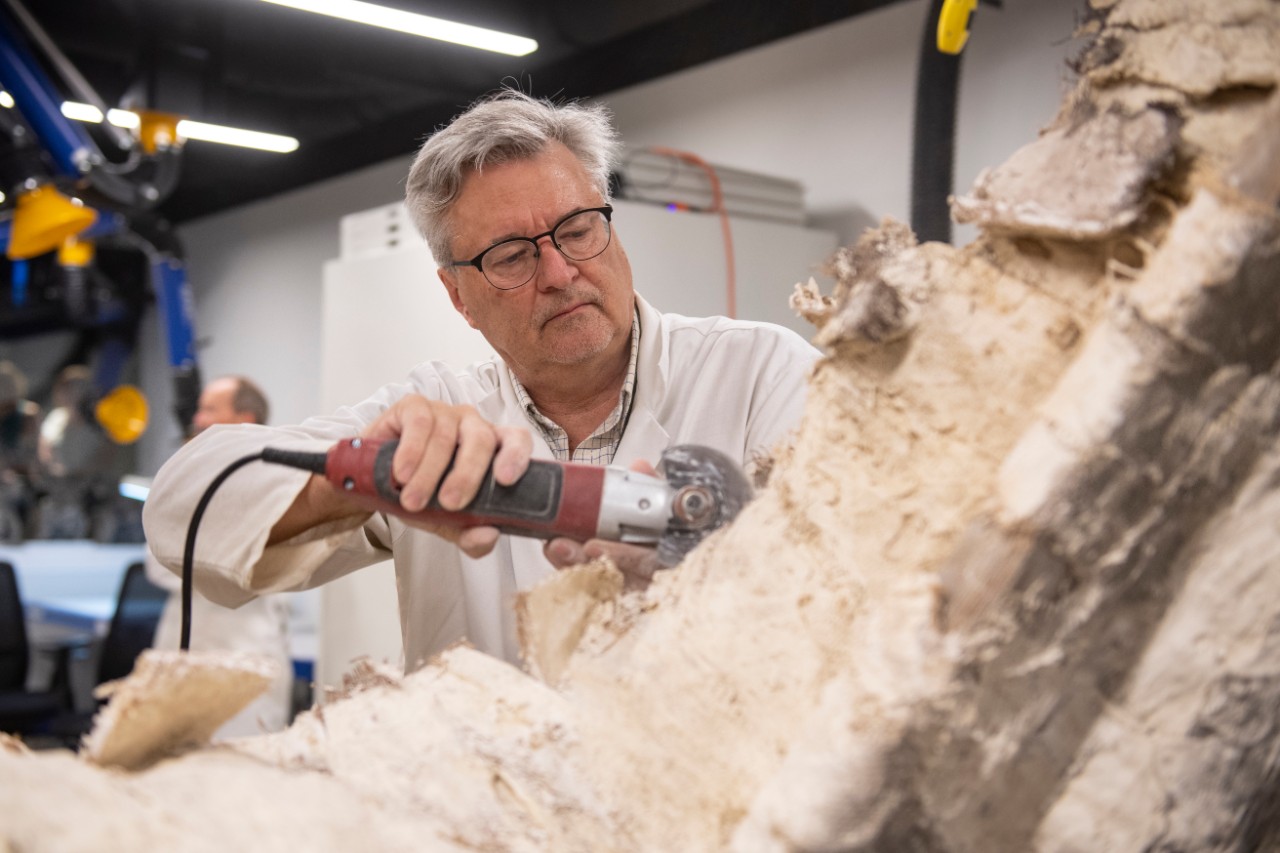 Storrs said Cincinnati will play host next year to the 80th annual meeting of the Society of Vertebrate Paleontology, putting UC and its rich heritage of dinosaur research in the international spotlight. Greater Cincinnati is known for its wealth of trilobites and other marine fossils from the Ordovician Epoch.
But for children and dinosaur nerds, few animals are as cool as Triceratops. Museum employees, too, gathered at the viewing window to watch Storrs open the enormous plaster package with the same anticipation of unwrapping a Christmas present.
Storrs said the new specimen just adds to the museum's cachet. 
"We're one of the premiere locations in the Midwest for paleontological research," Storrs said. "We have one of the largest collections in the region. It's used as a global database by scientists around the world. Every time we can add to our research collections, and our exhibits as well, that's a good thing."
Featured image at top: UC paleontologist Glenn Storrs, left, and volunteer Kani Meyer work to remove protective plaster from a Triceratops fossil. Photo/Colleen Kelley/UC Creative Services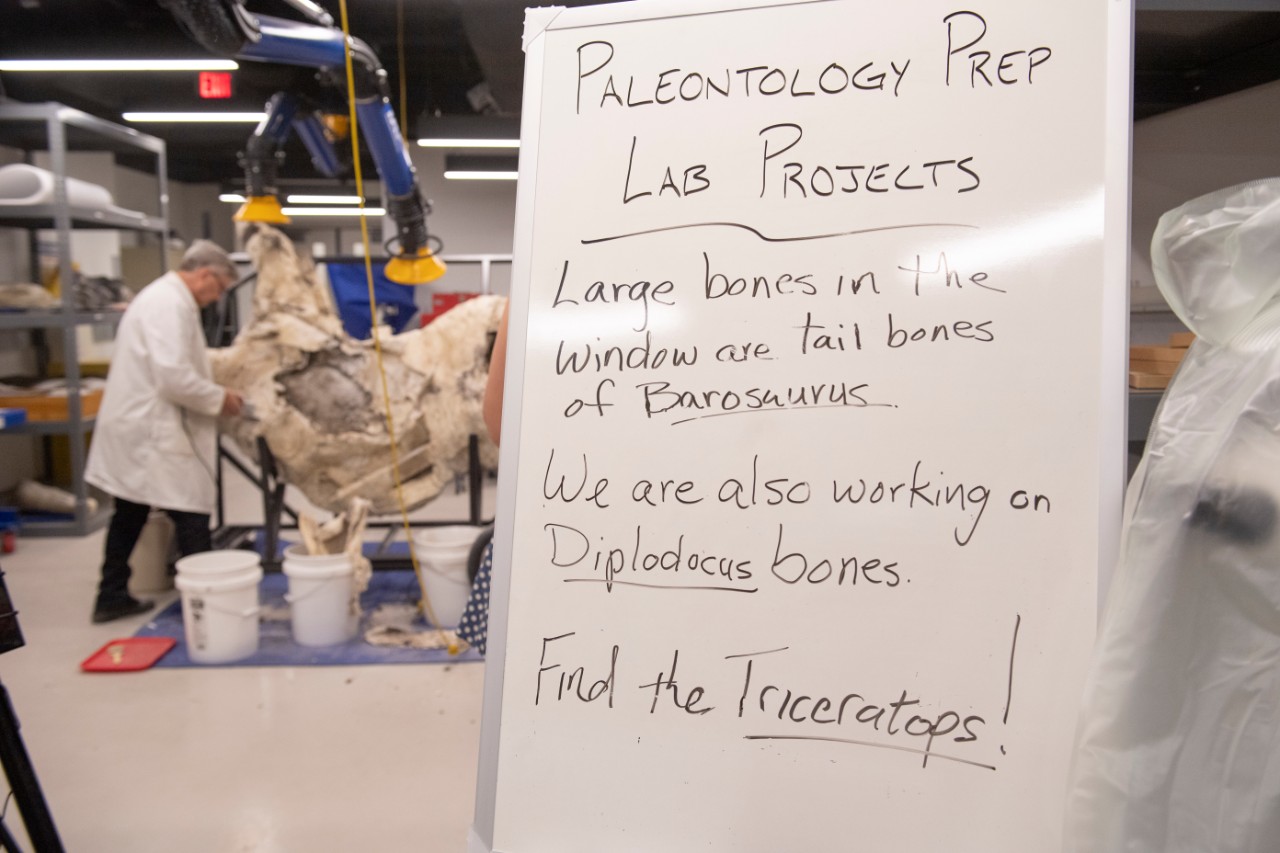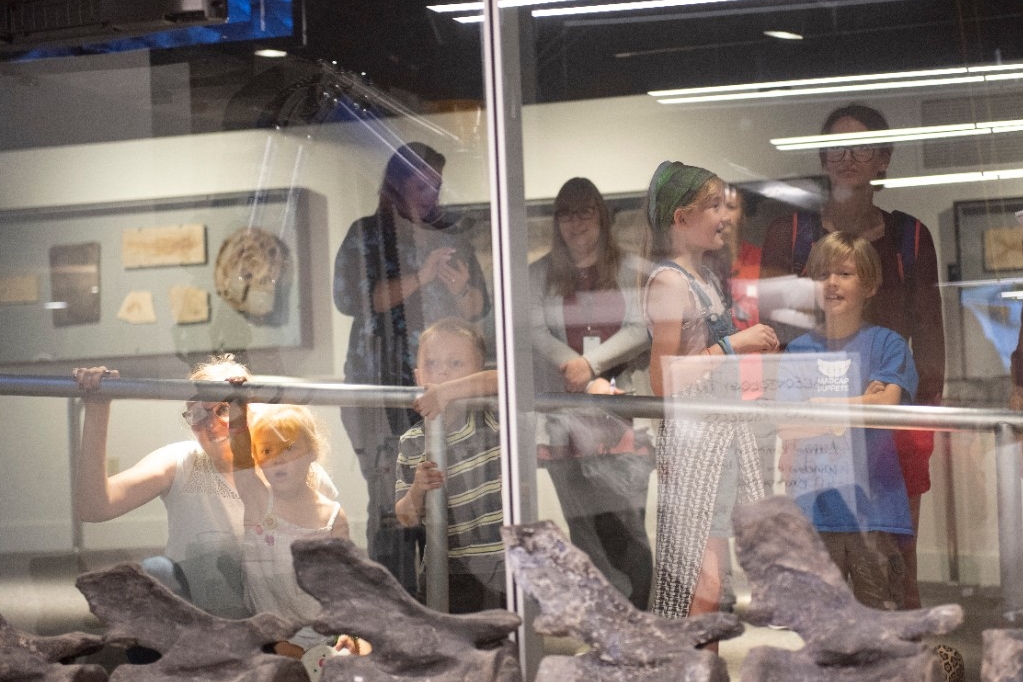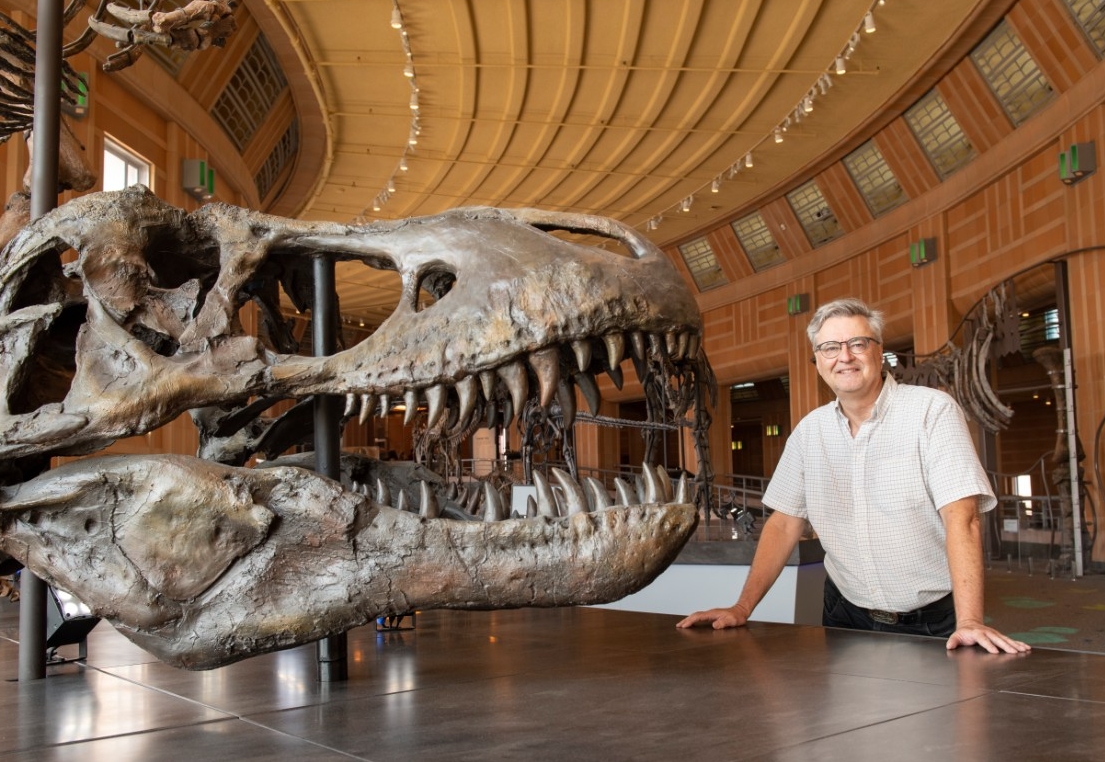 Next Lives Here
Discover UC's commitment to Next Lives Here, the strategic direction with designs on leading urban public universities into a new era of innovation and impact.
Become a Bearcat
Apply online or get more information about undergraduate enrollment by calling 513-556-1100.
Learn more about UC's many undergraduate and graduate programs.
1
New species of voiceless frog discovered in Tanzania
February 2, 2023
University of Cincinnati researchers discovered a new species of frog in Africa that has an unusual trait: it's completely silent. The Ukaguru spiny-throated reed frog does not croak, sing or ribbit. It is among the few frogs that do not vocalize to other frogs.
3
CCM Clarinet student wins position with Evansville Philharmonic...
January 31, 2023
The UC College-Conservatory of Music proudly shares the news that doctoral student Joseph Miller will join the ranks of the Evansville Philharmonic as a bass clarinetist. The Evansville Philharmonic is the largest arts institution in the Tri-State area, and performs for thousands of audience members each year.
Debug
Query for this