Summer Recap: Costume Design student's LA internship and Black Theatre Network Award
Brittannie McKenna Travis shares her experience as an intern at the Television Academy Foundation
Many UC College-Conservatory of Music students spend their summer working or interning around the world, using the break to gain professional experiences before returning to class in the fall. Second-year MFA Costume Design and Technology student Brittannie McKenna Travis took part in two different opportunities this summer — an internship at the Emmy's Television Academy Foundation in Los Angeles and a virtual presentation at the Black Theatre Network's annual conference in Detroit.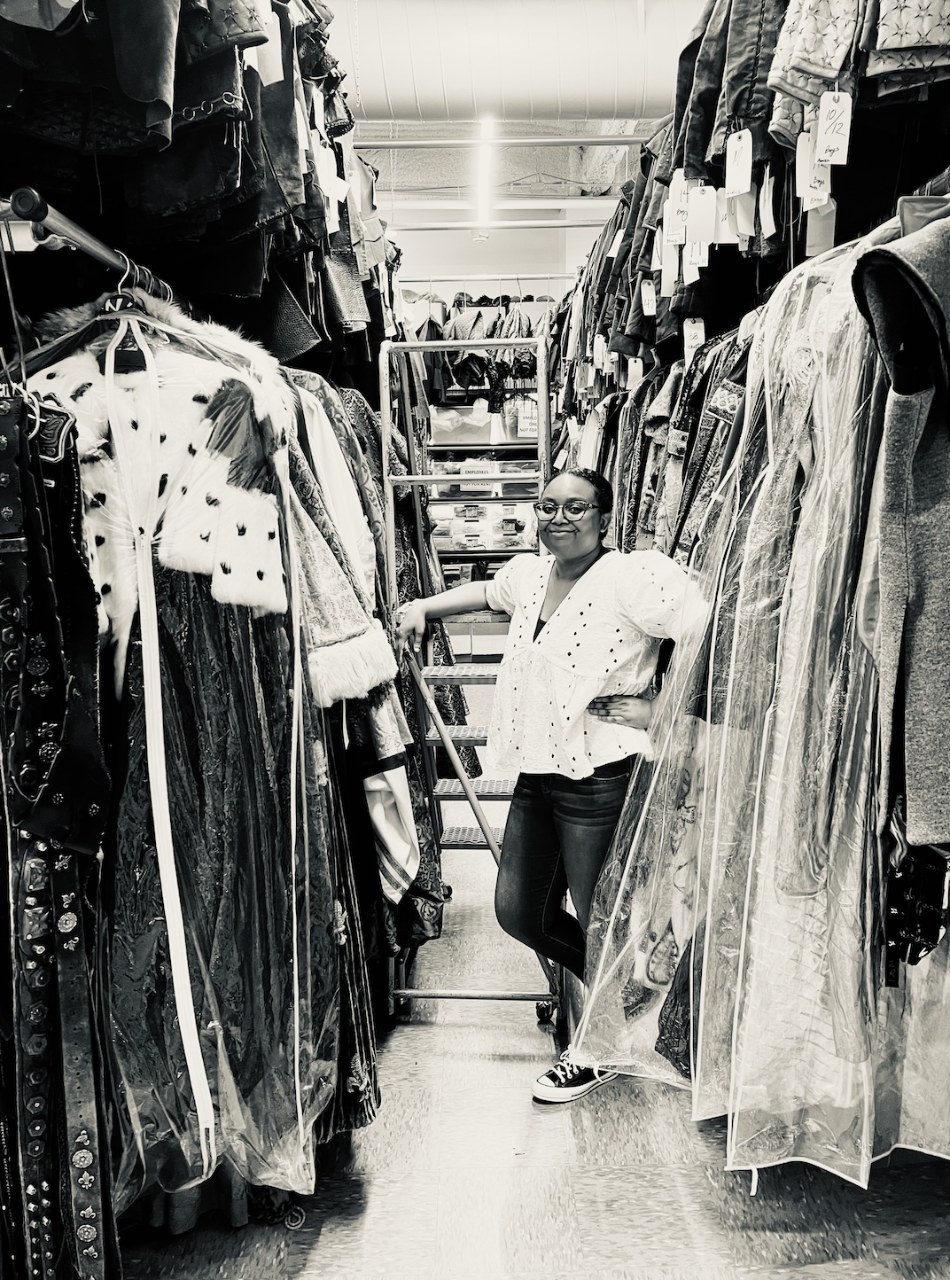 During the internship at the Television Academy Foundation, Travis' host was three-time Emmy nominated costume designer Terry Gordon ("The Nanny"), a board member of Costume Designer's Guild 892. Travis visited and networked at the Costume Designer's Guild and Local 705 (Motion Picture Costumers), Western Costume Co., Bill Hargate Costumes, Universal Studios Costume Department, the Academy Museum of Motion Pictures and more.
She interned for costume designer Bryan Roberts Kopp (Costume Illustrator for "Alice in Wonderland") on an upcoming feature film produced by Neda Armian ("Rachel Getting Married") and she worked on Samantha Kuester's ("Love Accidently") series "PBC" season two. She also visited the set of HBO's "Perry Mason" with costume designer Cate Adair ("The Man in the High Castle," "The Mysterious Benedict Society") and her team. Travis also connected with costume designer Antoinette Messam ("The Harder They Fall," "Creed," "Superfly"). Additionally, she volunteered in the Costume Designer's Guild's booth at San Diego Comic-Con International and she attended professional development meetings at the Television Academy. In a feature on its website, the Television Academy Foundation asked Travis what inspired her to seek a career in television:
"I love the aspect of using storytelling to create messages and meaning beyond myself," she answered. "Growing up, I attended schools and activities with a very diverse population. So, television series with a multidimensional ensemble cast (i.e. "A Different World," "Degrassi," "On My Block," "Outerbanks") were the narratives that I gravitated toward watching and now designing. I enjoy costuming characters with diverse personal stories that can connect or relate to the humanity within others."
At the end of July, Travis presented via Zoom for the Black Theatre Network's Board and general members at the BTN annual conference in Detroit. Her virtual presentation featured her work as costume designer for CCM's production of Blue Stockings and the CCM Idea Lab Project, "Time." The BTN selection committee selected Travis as the winner of the 2022 national Judy Dearing Costume Design Award. Travis is no stranger to winning awards for her work. She won regional and national awards during the 2021 American College Theater Festival.
During the 2021-22 performance season, Travis was the costume designer for Susan Felder's Blue Stockings and the costume coordinator on Diane Lala's Xanadu. She returns to CCM this fall to complete her final year in the MFA Costume Design and Technology program as a graduate assistant. Learn more about Travis' work on her professional website.

Next Lives Here
At the University of Cincinnati, we realize the impact our teaching, research, artistry and service can have on our community and the world. So, we don't wait for change to happen. We break boundaries, boldly imagine and create what's Next. To us, today's possibilities spark tomorrow's reality. That's why we are leading urban public universities into a new era of innovation and impact, and that's how we are defining Next for the performing and media arts.
We're about engaging people and ideas - and transforming the world.
We are UC. Welcome to what's Next.
About CCM Costume Design and Technology
A member of U/RTA, CCM offers a BFA degree in Theatre Design and Production (TD&P) with an emphasis in Costume Design and Technology as well as a three year highly concentrated MFA degree in Costume Design and Technology.
Costume technology involves the realization of the costume designer's sketches, samples, notes, research and fabric swatches into practical, effective and affordable costumes for a theatrical production on stage, television or film. This program emphasizes the dual importance of design and technology no matter in which area one's strength may lie, as knowledge and communication skills in both are critical in this collaborative art, and especially valuable for professional entry-level positions.
Both undergraduate and graduate students are given opportunities as design assistants, first-hands, cutter/drapers, crafts persons and studio designers as well as wardrobe and maintenance personnel on all CCM productions. Faculty, staff and graduate students most frequently design the main stage productions although exceptional undergraduates may also have the opportunity. Students also have the opportunity to design the college's studio productions as well as other projects in and out of the classroom.
Featured image at the top: CCM's fall 2021 production of Blue Stockings. Photo by Mark Lyons.