Growth at UC brings largest first-year class ever
Most diverse student body in school history keeps campus humming with activity
The University of Cincinnati recorded its largest enrollment ever this week as the official head count landed at 47,914 students for the fall semester. The figure represents nearly a 2.6% increase over last year's enrollment or an additional 1,204 students.
UC's first-year class is the largest ever with 8,218 students representing a nearly 16% increase. Overall, the UC student body is its most diverse ever with students of color representing 25.5%. The university saw its Black undergraduate population increase by 11% while its Latinx undergraduate population grew by 14%. 
UC continues to buck a national trend of declining college enrollment.
"We think of UC as a powerhouse on the football field but UC is a powerhouse educationally, too," explains Jack Miner, vice provost for enrollment management. "This year, UC has students from every state and the District of Columbia but we also have students from 95 different countries around the world."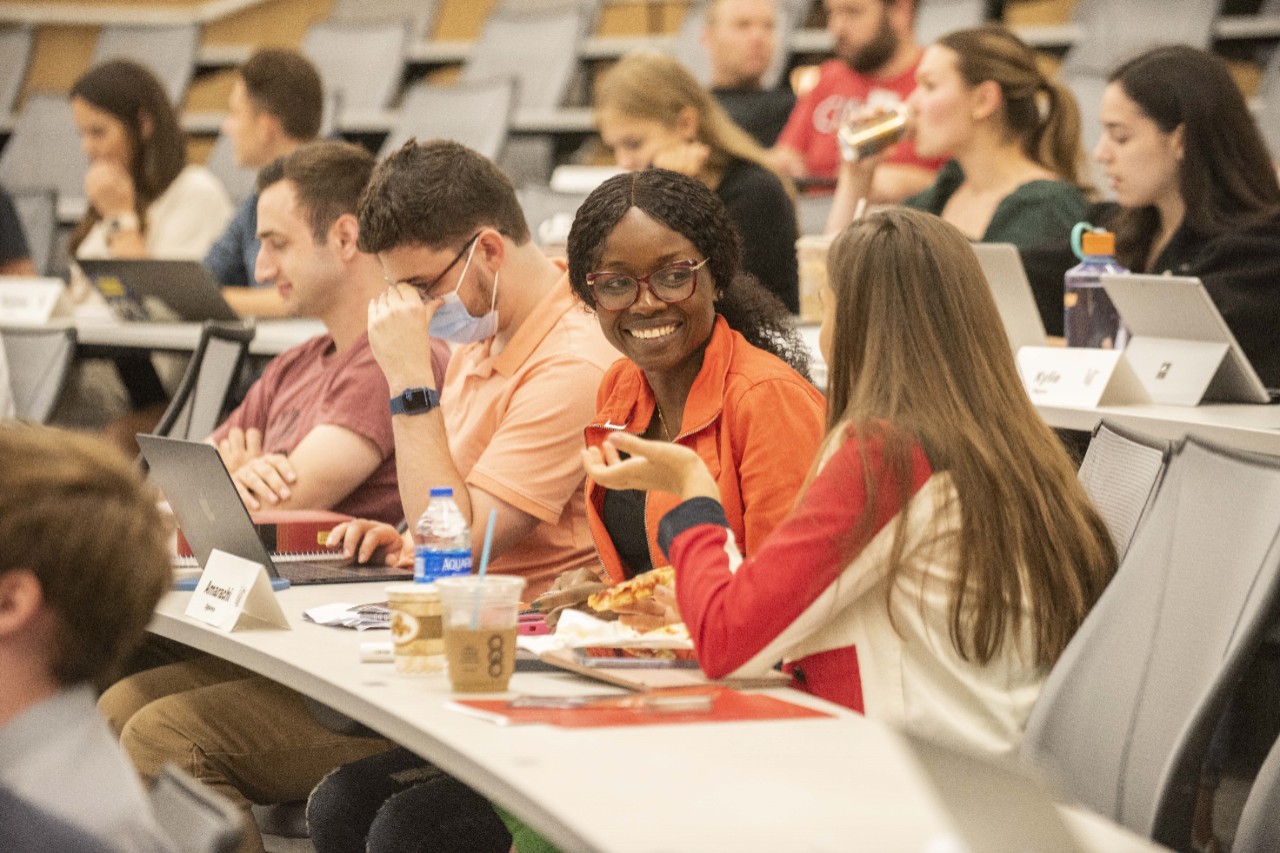 "Our first-year class is also our most academically prepared in UC's history with the average incoming GPA for our Uptown campus students at 3.74 for this fall," says Miner. "You can feel the energy of these incredible students as you walk around campus. The students energize our campus but they also energize our city."
At public universities, the enrollment tally isn't official until the "census" date, the 15th day of the fall term, which was Sept. 5, for UC.
Bearcats witness a decade of enrollment growth
2022 — 47,914
2021 — 46,710
2020 — 46,798
2019 — 46,388
2018 — 45,949
2017 — 44,783
2016 — 44,338
2015 — 44,251
2014 — 43,691
2013 — 42,656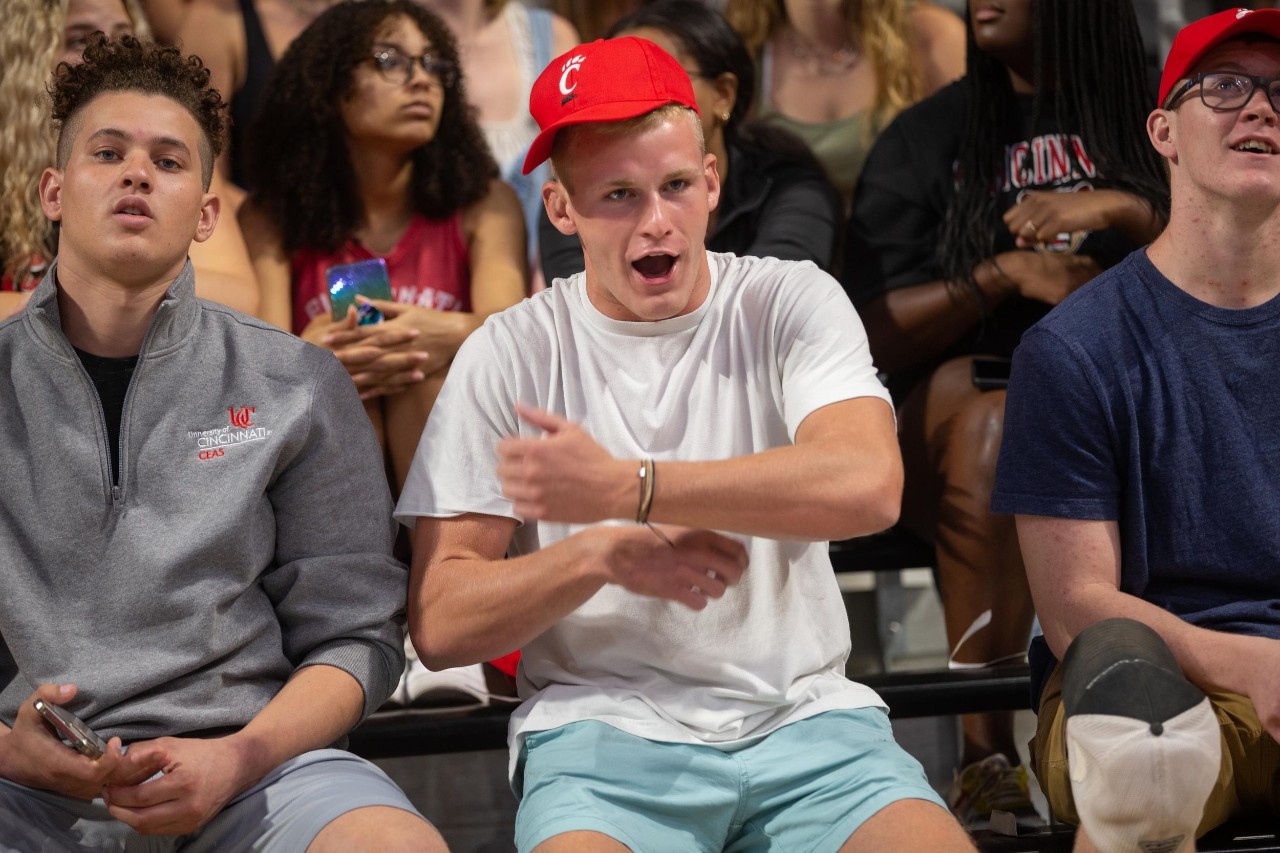 Prospective students are taking notice of UC's rise in stature as programs that emphasize cooperative education, innovation and urban impact gain more attention. UC's athletic prowess and its entry into the Big 12 has also garnered national attention and electrified school spirit for students, alumni and Bearcat fans. University leaders noted these points of pride.
The college ranking and review service

Niche released its 2023 college rankings

and gave UC the top spot in the "Best college locations in Ohio'' category. The Bearcats also ranked second in the state for student life and public universities and first for value among Cincinnati-area colleges.

U.S. News & World Report has for the first time ranked UC as a top place of innovation for national institutions. Innovation is a key platform in UC President Neville Pinto's strategic direction for the university, Next Lives Here

. Through this effort, UC is dedicated to pushing limits and challenging minds by providing the space and opportunity for people from diverse backgrounds to connect, imagine and discover.

UC's leadership in the area of co-op has been recognized by Forbes for 

improving work readiness for college graduates. UC ranks #1 among public universities in the nation for co-op, with Cincinnati's hands-on classroom extending to nearly every corner of the globe, from Fortune 500 companies to trailblazing experiences in places like China, Tanzania and South America.

UC students earn a collective $75 million annually working for thousands of employers including General Electric Aviation, Disney, Toyota, Kroger, Procter & Gamble and many more. UC has nearly 2,000 global partners for the co-op program with students participating in over 7,500 co-op opportunities each year.
UC's commitment to the Cincinnati community was further enhanced with the establishment of the Marian Spencer Scholarship

. It was launched last year to bolster UC's commitment to Cincinnati Public Schools (CPS) by granting scholarship support for

high-achieving CPS students

.

An investment of $6 million — made possible by a gift from UC alumnus and venture capitalist Jim Goetz and university matching funds — is allowing 10 CPS students a year to receive full tuition, room and board scholarships and other opportunities.
"UC has incredible momentum right now from unprecedented growth to our co-op program being named the best among public universities to rankings like Niche who rate UC as being the best college location in Ohio," says Miner. "This is our time to shine."
"Beyond just having our largest enrollment ever, it is important to recognize that UC saw growth among Black students, Latinx students and first-generation students," says Miner. "UC looks more like this city than we ever have in our history. We are serving the city whose name we say so proudly: We are Cincinnati."
Featured top image of a Bearcat pep rally was taken by Andrew Higley/UC Marketing + Brand.
Impact Lives Here
The University of Cincinnati is leading public urban universities into a new era of innovation and impact. Our faculty, staff and students are saving lives, changing outcomes and bending the future in our city's direction. Next Lives Here.

Take a UC virtual visit and begin picturing yourself at an institution that inspires incredible stories.
1
Bearcat dreams come true on Decision Day
January 23, 2023
The newest Bearcats learn they've been accepted into the University of Cincinnati on Decision Day, and UC officials surprised area students at their high schools with admission, scholarships and more.
2
A legacy of service
August 10, 2023
Dr. Chris Lewis first visited Tanzania nearly 20 years ago as a UC medical resident intent on making a difference in the country. Now he's instilling a passion for global health in a new generation of students through Village Life Outreach Project.
3
Just in: UC tops 50,000 students
August 21, 2023
The University of Cincinnati is anticipating a record fall enrollment with a projected 50,500 students. The growth represents a 5.39% increase and reflects the university's core values around academic excellence, access and inclusion, and affordability.
Debug
Query for this