Character, strength of UC trailblazers continue to influence increasingly diverse student population

In 1944, Darwin T. Turner enrolled in the University of Cincinnati at just 13 years old.


Young, gifted and Black, Turner may have been destined for greatness. His grandfather, noted biologist Charles Henry Turner, was one of the most significant UC graduates of the 19th century. The younger Turner completed his baccalaureate in just three years, and at 16 became the youngest graduate to ever do so.
Some 30 years later, UC established a scholarship program in his honor to promote academic excellence, foster diversity and provide leadership and service opportunities to incoming students.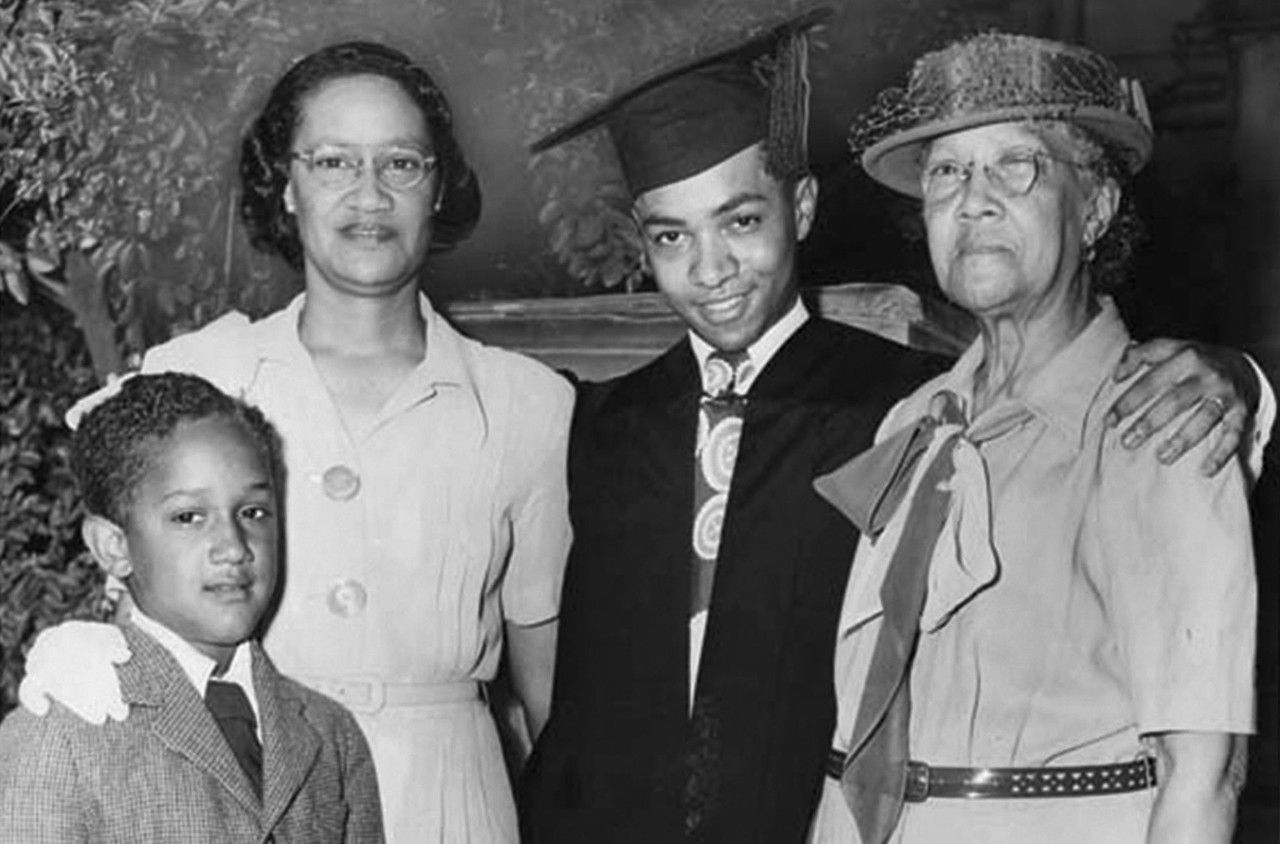 It was the Darwin T. Turner Scholarship that drew Janice Rotich from Dallas, Texas, to UC when she was still in high school.
"I visited UC and went to the Turner Scholars reception, and I immediately felt at home," Rotich recalls. "I saw the sense of family with the Turner Scholars program. I saw the Black excellence, the Hispanic excellence, the Asian excellence and just minority excellence all in one space.
"It felt less and less like a predominantly white institution, which is what I was used to. In high school, I started developing a great sense of my cultural identity. I became more proud of my Blackness, and I wanted to explore that more in college. I wanted to go to a school that would take care of me as a Black student and provide programming and support for students like me."
For Rotich, now a third-year Bearcat, that school was UC.
"Seeing that while still in high school made an impression," she says. "It let me know UC was a place I could see myself succeeding."
It's those early connections that Rotich says helped pull her into a community of students at UC, which is home to more than 46,700 students; just over 8% are Black and 24% identify as students of color. And those early ties are what convinced her to remain a Bearcat after her first year.
Establishing a sense of belonging plays an important role in retaining students, including underrepresented minorities, as they navigate one of the nation's largest universities. That inclusive sense of belonging is among the reasons UC students, staff and faculty cite for an increasing graduation rate among all students, particularly for Black as well as other underrepresented students over the past decade.
This content series looks to explore the experiences and identities of diverse student populations at UC while shedding light on support, resources and opportunities available at the university.
Explore this installment:

Diversity by the numbers: A positive trajectory
Diversity at UC has improved steadily during the past 10 years, with students of color making up an increasing share of the student body — moving upward from 17.1% in 2011 to 24.4% in 2021, according to the UC Office of Institutional Research. In fact, this past fall, the university set an all-time record for the most diverse student body in its history. 
But the story is about more than enrollment.
Institutional Research also looks at six-year graduation rates to determine success for students seeking a bachelor's degree. In 2013, the overall six-year graduation rate for bachelor's degree-seeking students at UC was 63.6%, but by 2020 that number had climbed to 72.8% — a nine point increase.
The increase in graduation rates was most dramatic among traditionally underrepresented populations, including African American, Latinx, Native American, Native Hawaiian and Alaskan Native students along with those identifying as two or more races. In 2013, the graduation rate for these underrepresented students was 50.5%, but by 2020 that number climbed to 67.9% — a 17 point increase.
"We are not just a university in Cincinnati, we are the University of Cincinnati and our students should reflect the rich diversity of the city we serve."
---
— Jack Miner | UC Vice Provost for Enrollment Management
For first-generation students (students who represent the first in their family to attend a traditional four-year college), improved graduation rates were substantial as well. In 2013, the graduation rate for first-gen students was 54.4%, but by 2020 that rate had improved to 64.8% or more than a 10 point increase. White students and Asian American students also saw their six-year graduation rates improve.
"Fundamentally, serving a diverse population of students is at the core of our value system," explains Jack Miner, vice provost of enrollment management at UC. "We are not just a university in Cincinnati, we are the University of Cincinnati and our students should reflect the rich diversity of the city we serve."
"I am proud not only in the growth in our population of students of color but in the success of those students," adds Miner. "Over the past 15 years, we have seen the graduation rate for underrepresented minorities increase by 17 percentage points. That is a testament to the hard work of the students and the support provided by our faculty and staff."
UC's future community is looking more diverse, less white
Laura Dell, EdD, associate dean of the College of Education, Criminal Justice, and Human Services (CECH), says diversity that's obtained in a way that's very intentional and aimed at improving educational access for students is helping make CECH a better place and a better learning environment for all its students.
CECH has more than 5,300 graduate and undergraduate students and one of the largest concentrations of underrepresented minority students at UC's Uptown campus, comprising more than 21% of the college. Black students alone account for 11% of the college population.
"Our communities function better when we have a diverse leadership representing our entire community."
---
— Laura Dell, EdD | Associate Dean of the
College of Education, Criminal Justice, and Human Services
"We believe it is important for all students to be in diverse learning communities because it improves the quality of education for all students," says Dell. "In CECH, we are developing leaders in key fields of our community — teachers, police and corrections officers, mental health counselors and school psychologists. We are really training the next generation of leaders in some key areas that really make communities work and function."
Nationally, changing demographics continue to highlight the importance of diversity with the Pew Research Center noting that by 2050 much of the country's population will be nonwhite. That has implications for educating and training a future workforce that will look different from today by employing many more diverse members.
"Our communities function better when we have a diverse leadership representing our entire community," says Dell. "Representation matters not just within a given field but also among its leadership. If we are going to grow this next generation of leaders in these areas, we need to also make sure we are having a more diverse group of students coming through our programs."
Faculty rooting for success; student charts her own path
For some students like third-year Bearcat Rotich, the path toward becoming our next generation of leaders may seem straightforward, though detours are often a common part of the college experience.
Once admitted to UC, Rotich faced a dilemma: While she originally decided to pursue neuroscience — "I wanted to be the Black woman who found a cure for Alzheimer's," she says — she felt compelled to consider another path she found meaningful as well.
Rotich was initially thinking about medical school or graduate school with a plan to become a researcher. "Once I realized those were my options, neither of those paths felt like quite the right fit," she says.
"I committed to college and then I had to figure out what to do next. Not what my parents wanted me to do, not the career with the most money, but actually what was my purpose in life." Political science looked like the new plan.
During her early days on campus Rotich visited the African American Cultural and Resource Center (AACRC), and met faculty from UC's Africana studies program. She says she was immediately intrigued by the program and its emphasis on an appreciation for black identity, culture and history.
"The lessons I will learn from going through this program will teach me how I can lift my community, to lift as I climb. It will help me be a champion with my people. Africana studies with political science would help me achieve social justice for my people."
"I told my adviser I wanted this on my degree plan," she says, and also informed her parents.
"My parents said, 'You can't be a full-time activist,' but I said, 'Yes you can, it's called being a lawyer.'" Since that time Rotich has decided to double major in Africana studies and political science for pre-law studies.
Rotich says she feels that faculty at UC are rooting for her.
She is part of the University Honors Program, a mentor in Bearcats Academy and involved in Project SERVE, a service opportunity offered by UC's Center for Community Engagement. 
"The professors in Africana studies care so much about me and really want me to be successful in life," she says. "When I have professors who I feel are on my side, it's what makes me feel loved. The faculty in political science have started initiatives to promote inclusive excellence. They have amazing professors who have made me feel included."
The initiative started in that department after student requests for ways to improve racial inclusiveness and equity following the death of George Floyd. His death sparked protests nationwide. Rotich says student government leaders sent a letter with a list of demands for actions on campus that would promote racial inclusiveness to university administrators.

"The political science department was one of those who reached out to us and they said it inspired them to look at our department and see how we can do better," says Rotich. "They asked me to be a part of that effort."
Forging connections on campus
Originally from Toledo, Ohio, Julian Hill chose UC after visiting institutions along the East coast and in Southern states. He also considered the University of Toledo in his hometown. But ultimately, he decided on UC: It was far enough — but not too far — from home and within his family's budget. He also had friends who were Bearcats.
He first set foot on campus during a summer orientation and connected with a networking organization, the Business Fellows program in the Carl H. Lindner College of Business that seeks to empower interested students with programming, professional development opportunities and scholarship support, with an overall focus of enhancing an inclusive learning community.
Hill says it helped him to see what lies ahead for him as a business student and is sure his participation will pay dividends in the long run. 
About a week before the first day of class approached, Hill moved into his residence hall early as part of UC's Transitions program, a first-year experience open to all providing leadership training, workshops, peer mentoring and other social and academic activities. The program is run by the AACRC and connects incoming students with faculty, staff, alumni, peer mentors and other new students.
"I was able to get acclimated early on at UC without feeling like I was getting lost in a sea of people," explains Hill.
As part of UC's Transitions program, Hill lived in the Dr. P. Eric Abercrumbie Living-Learning Community in the on-campus residence Siddall Hall, which features programming that emphasizes and advances diversity, equity and inclusion on campus. 
For Hill, programs and spaces like Transitions, Business Fellows, the AACRC and the Abercrumbie Living-Learning Community helped him find his place at UC, to have a small-campus experience and close relationships amid all the opportunities of a large, diverse campus.
"Being able to navigate the campus with other minority students, I didn't have to worry about being scared of asking for help," says Hill, now a third-year business student. "There was no fear of not knowing something.
"You need environments where you feel comfortable learning and speaking up. That's especially the case in college classes where it is important that the professors know who you are, but they can't know who you are if you aren't talking in class. If you aren't comfortable enough to talk in class, it hinders your learning and ability to grow as a student."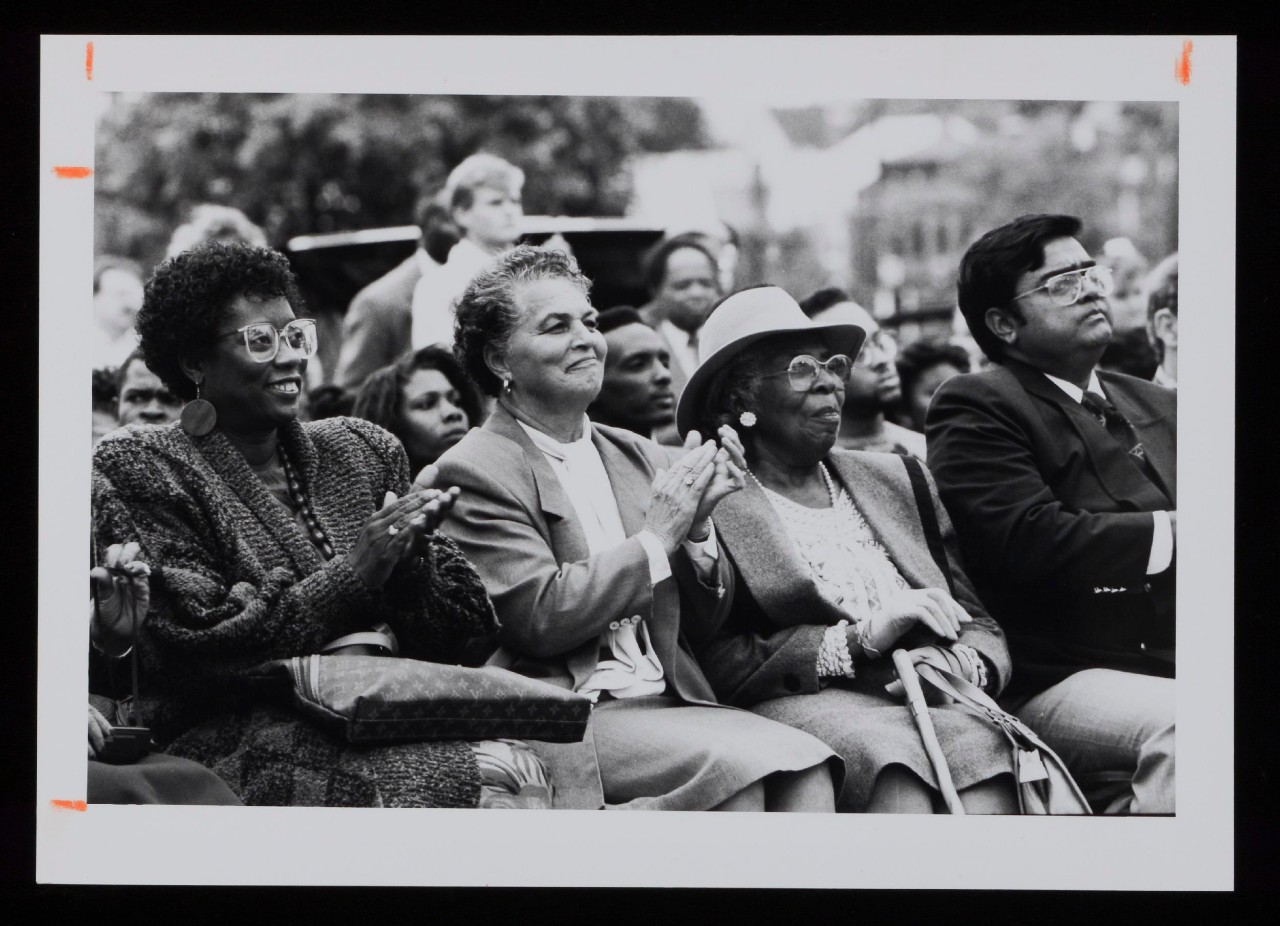 Left: Grand opening of the AACRC in 1991. Right: UC alumna Georgia Beasley (third from left) seated next to another UC trailblazer, alumna Marian Spencer (second from left). Photos/Lisa Ventre/UC Creative + Brand
'Affinity spaces' crucial for student success
Open to all, the AACRC is a student life hub, a nexus for those seeking a campus "affinity space," defined as a place where people are drawn together because of a shared interest or engagement in a common activity. The center recently celebrated its 30th anniversary.
The space was among the list of demands the United Black Association presented to former UC President Walter Langsam in 1968. Those concerns included additional Black faculty and staff, more support for Black student organizations and the promise of a cultural center. The AACRC became a reality more than two decades later on Sept. 21, 1991.
Bleuzette Marshall, PhD, UC vice president of equity, inclusion and community impact, was a student at UC before and after the AACRC opened its doors.
"It was interesting being a student 'BC' or before the center," says Marshall. 
Before the AACRC, Minority Programs and Services — later Ethnic Programs and Services — was housed in Tangeman University Center. "That was considered a center or gathering space for a sense of community, but it was very small," she says.
"It was a hub and connection for programming, counseling and support for students of color," Marshall continues. "There was such incredible energy. Sometimes, on other parts of the campus, that energy wasn't there or wasn't supported. Students struggled with being connected to campus, being the only person of color in a class, being overlooked and not included in conversations and remaining isolated and alienated in one shape or form. But when you came to Ethnic Programs and Services, you were home.
"The cultural center just gave people space to congregate and really share authentically about their experience on campus. It gave space to network and support each other with study skills and programming, and it changed the vibe and dynamic on campus," she says.
AACRC programs range from Transitions, which helps welcome and orient new students to campus life, to peer mentoring and role modeling programs such as Brothers and Sisters Excelling, Sisters Impacting Sisters and Brother 2 Brother. The Habari Gani Ambassadors help advertise and assist with many events and initiatives of the center, while the AACRC Choir, more active before COVID-19, is designed to cultivate the talents of students through song and music.
An Afrocentric graduation ceremony, Tyehimba, is hosted by the AACRC annually to highlight the achievements of graduating students. A host of programs are coordinated by the center during February each year to celebrate the accomplishments of Black people during Black History Month. Students also compete for the titles of Mr. and Miss Kuamka, two roles that allow students to serve as yearly ambassadors for the center and promote its activities.
"You have a family that is supporting you at the center," says Kristina White, Miss Kuamka 2021. As a fourth-year medical sciences student, White is one of 11 Black students in a program that enrolls 365 students. Medical sciences is among the most academically competitive programs at the university. 

"It's a place where you can be yourself, and you don't have to feel like you are alone or the only person who looks like you in your class," she says of the AACRC.
Eric Watford, AACRC program coordinator, has been with the center for 28 years. He's watched new programs develop and evolve to meet the changing needs of students on campus. "Each year our numbers reflect growth in use," he says. "Student activism is what drives the center and its programs."
"The biggest value of the center is it is a home away from home for many," Watford continues. "Its value comes from nurturing students with its focus on the Black experience. Not every Black student on this campus identifies with the cultural center, but those who do, value what we create. We know that from just listening to the students."
Black identity and 'coming to the forefront of celebration'
Brandi Elliott, EdD, executive director of identity and inclusion, says affinity spaces matter not just to Black students but to other students with shared social identity or life experiences, such as Latinx students, women, the LGBTQ community and others who find support in shared community space.
"Being connected to something really helps our students," explains Elliott.
She says the university's commitment to those affinity spaces was confirmed back in September, when UC President Neville G. Pinto announced a new center in the heart of campus in the Joseph A. Steger Student Life Building that will provide enhanced space and offerings for identity-based groups.
"Striving toward inclusivity is at the core of who we are and who we want to be," said President Pinto at the event.
The AACRC will also undergo facade improvements and some interior upgrades as part of the initiative.
"Identity-based spaces are a big factor for many of our students," says Elliott. "They want to be in spaces where they see themselves in their peers, but also within the staff and administration who make the programming a reality."
Raphael Hicks, a fourth-year chemical engineering student also working on his master's degree in business administration, says identity-based spaces can be focal points for students of color. 

"I can wholeheartedly say I couldn't imagine being at UC without the AACRC or Ethnic Programs and Services, without having those affinity spaces," says Hicks. "I couldn't imagine not having the LGBTQ Center or the Women's Center. There is something so magical about providing that space. There are so many powerful identities spread across the campus." 

"Our presence is increasing, and now 24% are students of color at UC," he continues, "but how does that break down by college or major? You start breaking that down, and you have several programs with only 1% or 2% of students that are underrepresented minority students."

The College of Engineering and Applied Science has 199 Black students, about 3% of a college of more than 6,600 students. The college has 198 Latino students, who also make up another 3%.
"So, for me, seeing those faces of individuals in identity-based spaces who look like me, we might not have the same major but we have similar experiences is very important," says Hicks.
He adds it is important to take time to acknowledge and celebrate identity.
"We celebrate Oktoberfest in Cincinnati because we like to recognize how we got to where we are today," says Hicks. "It's hard for students who are white to sometimes see that. When you are a minority, it is not something that is prevalent. It's not something that's on stage, on display; it's currently the backstudy, what's in the back room.
"Having affinity spaces allows us to come to the forefront of celebration because we aren't at the forefront of the university," he says. "There are so many students. You can't just put Black or brown people on the forefront. You have to have spaces where Black and brown people can come to the forefront and have that experience."
Recruitment and scholarships: 'Moving in the right direction'
Efforts to enhance the presence of underrepresented students on campus start with recruitment. 
Delonte LeFlore, director of admissions, explains that four years ago, UC launched an initiative called Discover Cincinnati, which focused on attracting students from historically minority-serving high schools in six cities: Cleveland, Cincinnati, Akron and Toledo, Ohio; Louisville, Kentucky; and Indianapolis, Indiana.
Admissions staff along with the Bearcat mascot would visit those cities to help students complete applications and answer questions about UC. Discover Cincinnati also began bringing underrepresented high school sophomores and juniors to UC for visits so students could see different colleges and spaces like the AACRC and interact with staff from Ethnic Programs and Services.
UC is also getting a larger percentage of its admitted Black applicants to commit to attending the university, says LeFlore.
"The number of students is definitely growing, and the university is doing great work around retention efforts," LeFlore says. "One reason students stay at UC is they develop a sense of belonging. It is a big piece of why students choose to stay once admitted. Some people think it's academics that impede students' success, but sometimes, for a lot of folks, it is that they don't feel connected."
Financial aid and scholarships are another important component in increasing diversity. In addition to the Darwin T. Turner Scholars program, the university offers the Cincinnati Pride Grant and the newly minted Marian Spencer Scholars program to Cincinnati Public School (CPS) students and graduates.

The Spencer Scholars program, made possible through a donation from UC alumnus and venture capitalist Jim Goetz and matching university funds, is the premier initiative through CPS Strong, a partnership between the university and Cincinnati's public school district to support college readiness in high school students, create access to higher education and foster success for CPS graduates at UC.
"As a public university, we must prepare a way for an exciting and equitable future for all," said President Pinto at the announcement. "That means opening our doors wide and allowing more people to be educated in the tradition of excellence for which UC is known.
"Increasing our diversity strengthens the quality of the experience on our campus for all."
"The trajectory is moving in the right direction, but it is still quite a journey."
---
— Yosmeriz Roman, PhD | Assistant Vice Provost for Enrollment Management
Yosmeriz Roman, PhD, assistant vice provost for enrollment management, says the university will use the CPS Strong initiative to help keep track of at least 30 ongoing programs across campus aimed at boosting the number of CPS students. However, recruiting from CPS alone doesn't instantly mean UC will get a diverse group of students.
Making test scores optional for students competing for admissions or scholarship programs occurred as a result of COVID-19 restrictions, but this change will continue to be evaluated going forward. It's opened the door to more students from diverse backgrounds considering UC. 
"We know that CPS has so many different schools, and each has its own individual identity," says Roman. "We are really starting to pull the curtain open to find out what it means in the context of UC and for the city of Cincinnati. We aren't the university sitting at the top of the hill. We are a university that is in the community, talking about what the major needs are and making sure we're addressing it."
Roman says CPS Strong is an important component, but that there are also other efforts particularly in admissions. Partnerships with at least 15 community-based organizations are being strengthened and expanded.
"The way that we recruit students and the way we talk about opportunities out there may be a bit different for diverse populations," says Roman.
"There has been a false perception that UC does not have diversity," says Roman. "As we share the story — that 24% of our population are students of color — we know there is still a tremendous amount of work that needs to be done, but I also don't want to sell ourselves short. The trajectory is moving in the right direction, but it is still quite a journey."
Featured images at top/Andrew Higley/UC Creative + Brand
Digital design/Kerry Overstake and Margaret Weiner